We're getting into the business end of things now. Week seven determined who would make the quarter final and it also made the end of Bake Off as we know it feel horribly, cloyingly close. Before I start with the denouement, I want to issue a reminder: we need to savour every technical with a fancy French name, every Mel and Sue-ism, Mary's cut-glass RP accent – it's "lairs" not "lay-ers", chaps – and Paul's cutting putdowns. For all those things and more, dessert week was a delicious, sweet treat. 
The signature challenge involved rolling a family-sized roulade. Mary was looking for a spiral "like a Catherine Wheel" and Paul wanted to make sure it wasn't too stuffed with filling; not too much bulging(!). In the technical, Mary asked for a marjolaine. For those without a Cordon Bleu qualification, that's a French rectangular gateau involving four "lairs"; a nutty meringue, ganache, buttercream and a jazzy stripy pattern on top. No one knew what it was supposed to look like."Vienetta but posher" was Andrew's quite accurate guess. The showstopper called for 24 mini mousse cakes, two flavours, twelve of each. Next time you eat a mousse check it's up to Paul Hollywood's standards: "The spoon should hit the top, feel the tension and then drop through." Oh, and don't forget it needs to be sufficiently aerated. 
Bakeastrophes 
Jane rolled her roulade the long way, which turned out to be the wrong way – you don't get a defined enough spiral, see? Tom's millionaire shortbread roll did not appeal in the looks stakes, and Candice's sponge was declared "rubbery". In the technical, Tom's "lairs" weren't distinctive enough, his cake was wonky and his piping wasn't up to much. Things didn't get much better for him in the showstopper, Paul and Mary were impressed with his "hipster picnic" idea, but less the fact he'd done away with moulds and piped some distinctly non-moussy filling. Elsewhere, Selasi's sizable mint chocolate cakes took liberties with the definition of mini.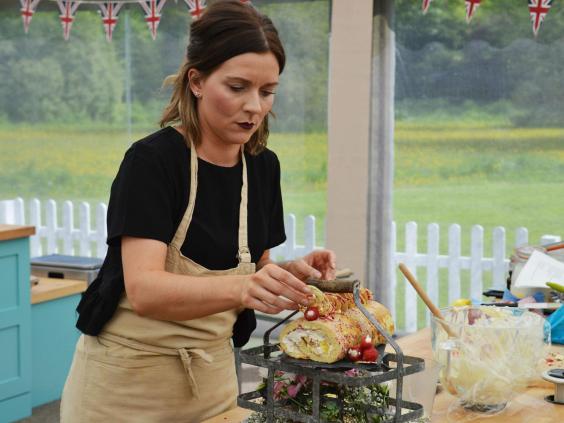 Baking Bonanzas 
Andrew impressed with his tropical-themed roulade thanks to his jazzy joconde stripes and his dad's passion fruit curd recipe. Mary and Paul wanted more curd in Selasi's signature bake. I love the fact that he put the rest in the jar to eat on toast at home. The man should also get points for ingenuity – he served his roulade on a photo frame. Andrew's marjolaine got the top spot in the technical, and his engineering skills helped him to win a lot of brownie points in the showstopper. Not only did he measure his strawberries to get the fruit to mousse ratio right, he served up his creations on a ferris wheel. Mary went in for seconds of Benjamina's cappuccino mousse cakes and Jane might have looked like she'd just come off shift at a "chocolate abbatoire", as Mel put it, but making five mousses earned her kudos with Paul and Bezza.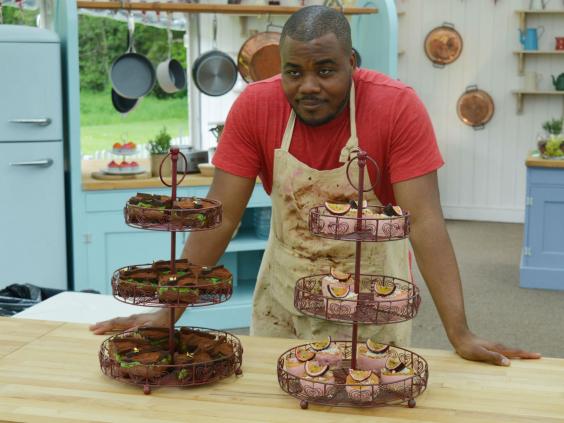 What we really saw this week is the passion that this show brings out - Jane, chocolate-smeared and red-faced, looked like she hadn't slept for a week at the end of the showstopper. Like fashion designers working round the clock before their shows, these guys are artists in love with their craft. Okay, they are amateurs and some of their designs end up a bit "informal", but for the duration of the show they are living and breathing baking - and it makes for moreish television. 
As for the results, the curse of the star baker struck again and it was self-deprecating Tom who was sent home. Andrew declared at the start that he was a "desserts man through and through," and so he proved to be. He was crowned Star Baker for the first time. I like to imagine he had a cheeky date to celebrate.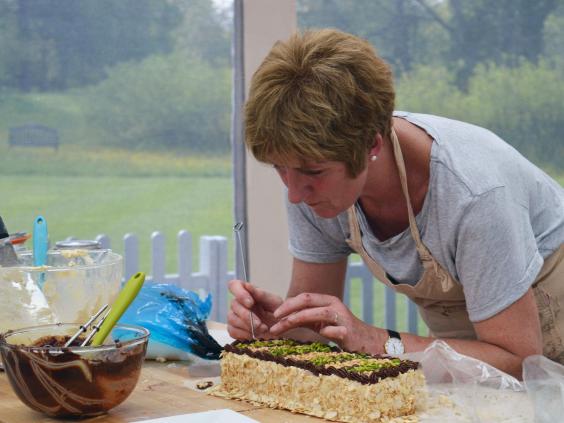 Paul's putdown of the week: "I think your idea is fantastic – on another challenge." On Tom's doomed "hipster picnic" in the showstopper. 
Innuendo of the week: "That is a lovely sight, a man spreading cream." Mel to Selasi in the signature. She did follow it with "on a sponge", but the pause was just a little too long. 
Animal cameo of the week: A jaunty black sheep who appeared midway through the technical. I still miss the well-endowed squirrel, though. 
Candice's lipstick watch: A dark, goth-inspired red
Reuse content