It was the first ever Botanical Week in the tent. In practise, that meant bakes incorporating flowers, herbs and fruit. As Tom put it, "Anything that grows, goes." It was also an excuse for the contestants to wear natty floral-patterned tops (not Paul, alas, but Mary and Selasi had a mutual love-in over their respective flowery getups). 
As for the bakes, the signature called for a citrus meringue pie; a tart curd, topped with melt-in-your-mouth meringue, in a crisp shortcrust pastry base. We were reminded that Mary feels as strongly about new-fangled blow torches as she does about deep fat fryers. She wanted the tops of the pies crisped in the oven, rather than flamed. Paul asked for a herb fougasse in the technical. That's a flat French bread in the shape of a leaf, with strategically placed slashes to make it look leafier. Fougasse is also, we learned, Tom's go-to "cinema snack". This lot's passion is undeniable; the man bakes bread to take to the flicks - it certainly beats popcorn. Mary and Paul wanted a three-tier, floral-themed cake in the showstopper. Bakers could use flowers on it, in it and decorate with them. Simple. 
Bakeastrophes
Candice attempted to add a green swirl to her lime and coconut meringue pie. It ended up looking more Halloween-ready than Mary and Paul-worthy. Selasi's grapefruit curd was too stiff, Rav's meringue was too soft, and Mary couldn't taste the citrus in Tom's pumpkin pie. 
Selasi's laid-back approach came back to haunt him in the technical. He refused to be hurried and his fougasse was underdone with the all-important leafy details in the wrong place. Andrew had flavour issues in the showstopper – Mary couldn't taste his elderflower and was underwhelmed with his simple piping. Rav spent the episode saying "I don't do pretty" and he proved himself right. He only managed one type of cake in the final round and his pastel buttercream flowers looked insipid rather than blooming. 
Baking bonanzas 
Benjamina got her pastry, filling and topping proportions just right in the signature and Paul said she had "smashed it out the park" with her grapefruit curd. High praise indeed. Tom's misspent youth baking for the cinema paid off when he came first with his fougasse. Tom looked like he'd just found out he'd been released from death row rather than won a baking contest. Candice's four tiers in the showstopper were declared "fun" by Mary and her nan's boiled fruit cake recipe won Mary's approval: "Nice flavour, well done gran." Bezza would never say "nan" now would she? Selasi told us his piping skills were "pretty good, actually", and so they were as he proved with his colourful showstopper. Tom's tea-infused Genoese sponges also impressed.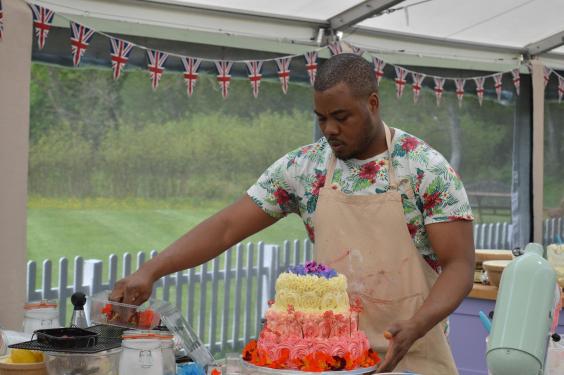 What I realised this week is that as you get to the latter stages, baking becomes more and more like a sport. It's psychological, a case of mind over matter. Like a nervous tennis player who knows his serve's not up to much, Rav had talked himself out the game before he'd got anything in the oven, while Tom's growing confidence– and belief in his tea-infused sponges, helped him go from a Tim Henman-esque failure (sorry, Tim) in the signature to roaring like Andy Murray to take the top spot on the (gingham) podium by the end. These bakers are fired up now, make no mistake. 
And so it was under-confident, self-deprecating Rav who was sent home and "bread makes me comfortable" Tom who topped the leaderboard as star baker. There's all to play for in week seven.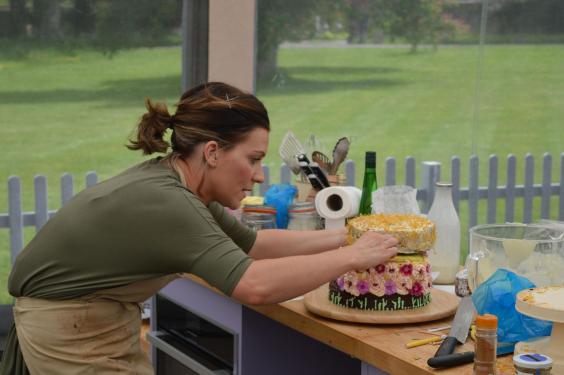 Wordplay of the week: "We're all going to need fougasse-tric bands because they'll be so delicious." – Mel announcing the technical challenge. God, I'll miss Mel. 
Baking word of the week: "semi-naked" – when you see a bit of the cake peeping through the icing. Used by Benjamina to pretty effect in the showstopper. Paul thought it looked "unfinished". Of course he did. 
Paul's putdown of the week: "It looks like mashed potato between those cakes" - on Jane's 'abstract" floral cake. 
Mary's putdown of the week (she's getting fiercer at the business end): "It's so subtle I can't find it" – on not being able to taste the elderflower in Andrew's cake in the showstopper.
Candice lipstick watch: A pretty nude/pink
Reuse content