"It's kind of, ukulele screamo rap-pop with, like, some piano and reggae beats," I try to explain to a very perplexed friend when I tell them I intend to queue from 6am in the middle of November to see a band.
But of course, Twenty One Pilots is so much more than that: it is a way of life. 
After waiting nearly thirteen hours in the freezing cold wondering if I'll ever feel my toes again, I am rewarded with a place near the front of the band's 10,000 capacity sold-out show at Alexandra Palace. After a heart-warming opening act in the form of Irish indie singer-songwriter Bry, it's time for Twenty One Pilots to prove why they were the winners of MTV Europe's Best Live Act award the previous week.
The red curtain concealing the stage lights up with silhouettes of the band members as the intro to fan favourite Fairly Local begins. "This will never be on the radio!" chants the audience, before the curtain drops to reveal lead singer Tyler Joseph rapping the verse of HeavyDirtySoul at a hundred miles per hour over drummer Joshua Dun's frantic beat. From there, they launch into a wildly energetic set, full of stunts and special effects that give the performance the dynamic element that makes it truly unforgettable.
Their music, often referred to as 'Schizoid Pop', is a fusion of ballad-like piano, cheery ukulele riffs, atmospheric synths and reggae-influenced bass-lines, underpinned by Dun's impressively versatile drumming and Joseph's multi-genre vocals. As he raps, sings and screams his way through lyrics fraught with emotion, it's easy to understand why so many people identify with the band and its genre-bending music.
Twenty One Pilots are well aware of how much of their success they owe to their dedicated fans, and are determined to ensure the audience feels like they are a part of the show itself. From getting all ten thousand attendees to crouch down before exploding into a mass of dancing bodies during the reggae-infused Lane Boy, to pushing Dun, complete with a drum kit, out on to the audience for an epic drum solo during Ride, this performance pulls out all the stops when it comes to audience participation – at one point, Joseph even rolls across the room in a giant inflatable hamster ball.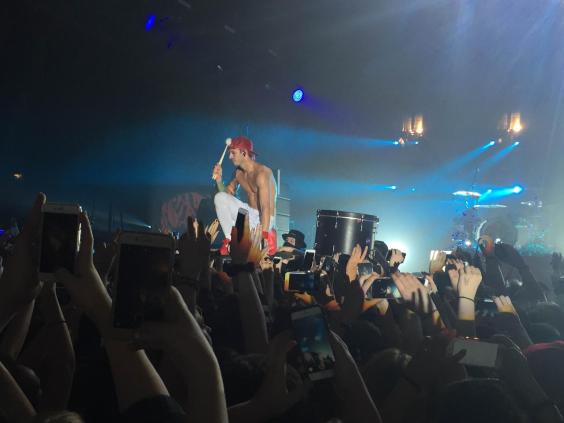 The show isn't all irreverent dance numbers and lightning rapping however – despite their distinctively upbeat tracks, their lyrics deal with darker themes, often describing fear, insecurity, isolation, and Tyler Joseph's own battles with depression. At one point the lights dim and the band disappears from the main stage, magically appearing on a tiny B-stage at the rear of the room to play a medley of songs from the albums they released before they were signed to their record company, the heart-wrenching breakdown in Kitchen Sink reduced me (and most of the hall) to tears.
Returning to the main stage to play several of their most popular songs (and throwing in a cover of House of Pain's Jump Around just for good measure), Twenty One Pilots have the whole crowd enraptured. The entire audience joins the lead singer when he appears in the middle of the room during the iconic performance of Car Radio towards the end of the set, climbing rigging in a balaclava and screaming the words with an intensity that really proves how personal and close to his own heart his lyrics are.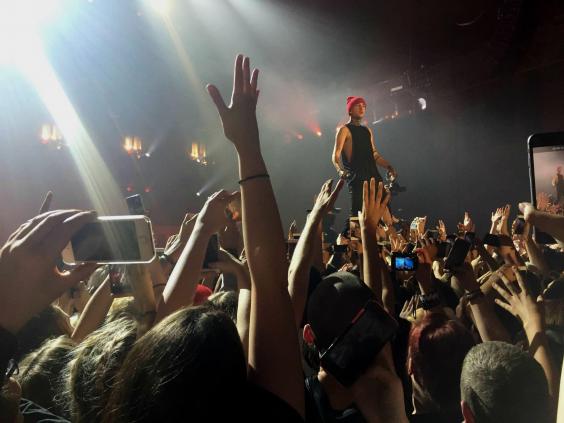 The band's encore consists of a stirring rendition of Goner, before closing with the epic synth-laden anthem Trees, where both Josh and Tyler venture out onto platforms held up by the audience, red confetti exploding from their drums and raining down onto the audience. "We're Twenty One Pilots, and so are you," Tyler Joseph tells us all when he returns to the stage to take a bow alongside Josh Dun.
And after the two-hour emotional roller coaster that was their set where we were all immersed in Joseph's entirely relatable emotional struggle, the words ring true.  
Reuse content