The controversial badger cull received further bad publicity today after a badger that had been shot in the abdomen was discovered in Somerset.
The female, dubbed "badger 41", was found by an anti-cull patrol in the Somerset cull zone, and is evidence that the animals are suffering "cruel" deaths, campaigners said.
Marksmen are meant to hit the badger in the chest area which kills the animal quickly, whereas a shot to the abdomen is likely to result in a slow death, experts said.
Mark Jones, a vet and the executive director at Humane Society International UK, said: "The discovery of badger 41 confirms our worst fears about the horrendous animal suffering the so-called trained badger cull marksmen will be inflicting."
The animal is the 41st badger to be taken to the Secret World Wildlife Rescue Centre – most of the other badgers it has tended to have had nothing to do with the cull. 
"The Government assured us that the badger cull would be carried out more humanely this year, but within a week of it starting, here's a badger that has clearly suffered. The bullet missed its vital organs so it would have taken several minutes to die. This is appalling, it's cruel and it's unacceptable. How many more badgers are there dying in the same way, without ever being found," said Dominic Dyer, of the Badger Trust and Care for the Wild.
The National Farmers Union has cast doubt on reports that the badger had been shot in the cull, however.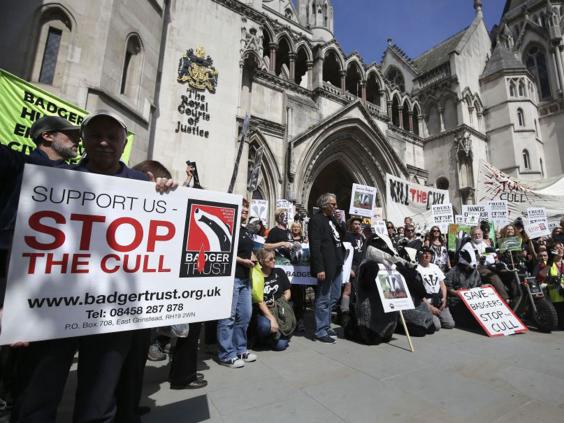 An NFU spokesman said: "There is no evidence that this badger died as part of the cull. We would suggest that it is handed over to the proper authorities in order that they can do a post mortem examination to determine the cause of death. All badgers shot as part of the cull have been accounted for."
The badger cull has just entered its second phase, following a highly controversial first phase last year, in which an independent panel found it did not kill the animals humanely or effectively enough. However, despite failing these key tests, Owen Paterson, the Environment Secretary at the time, decided to press ahead with the trial nonetheless.
The Secret World Wildlife Rescue Centre confirmed that the badger, discovered at 2.30am by protesters near the village of Sampford Brett last Monday, appeared to have been shot in the wrong place.
"From initial veterinary examination, including X-rays, it was evident that the badger had an obvious rifle shot wound to its abdomen that had forced its intestines through its abdominal wall," a charity spokesman said.
Reuse content