Pope Francis was about to take a major step backing the science behind ­human-driven global warming, and Philippe de Larminat was determined to change his mind.
A French doubter who authored a book arguing that solar activity — not greenhouse gases — was driving global warming, de Larminat sought a spot at a climate summit in April sponsored by the Vatican's Pontifical Academy of Sciences. Nobel laureates would be there. So would U.N. Secretary General Ban Ki-moon, U.S. economist Jeffrey Sachs and others calling for dramatic steps to curb carbon emissions.
After securing a high-level meeting at the Vatican, he was told that, space permitting, he could join. He bought a plane ticket from Paris to Rome. But five days before the April 28 summit, de Larminat said, he received an e-mail saying there was no space left. It came after other scientists — as well as the powerful Vatican bureaucrat in charge of the academy — insisted he had no business being there.
"They did not want to hear an off note," de Larminat said.
The incident highlights how climate-change doubters tried and failed to alter the landmark papal document unveiled last week — one that saw the leader of 1 billion Catholics fuse faith and reason and come to the conclusion that "denial" is wrong.
It marked the latest blow for those seeking to stop the reform-minded train that has become Francis's papacy. It is one that has reinvigorated liberal Catholics even as it has sowed the seeds of resentment and dissent inside and outside the Vatican's ancient walls.
Yet the battle lost over climate change also suggests how hard it may be for critics to blunt the power of a man who has become something of a juggernaut in an institution where change tends to unfold over decades, even centuries. More than anything, to those who doubt the human impact of global warming, the position staked out by Francis in his papal document, known as an encyclical, means a major defeat.
Six million flock to see Pope in Philippines
Six million flock to see Pope in Philippines
1/10

Six million people attended the event in Rizal Mark, Manila

2/10

Dancers put on a show for the spectators

3/10

People standing with their families and friends at the event

4/10

Pope Francis also wore a poncho to protect from the rain

5/10

The pope making his way through the crowd in the pope-mobile

6/10

Dancers dressed in elaborate costumes

7/10

More followers of the Catholic faith in the Philippines amid the six million who attended

8/10

The pope leading the huge outdoor Mass session

9/10

A military scout watches the event from a nearby rooftop

10/10

Pope Francis talking to 12-year-old girl Glyzelle Palomar
"This was their Waterloo," said Kert Davies, executive director of the Climate Investigations Center, who has been tracking ­climate-change deniers for years. "They wanted the encyclical not to happen. And it happened."
Papal advisers say Francis signaled his intent to draft a major document on the environment soon after assuming the throne of St. Peter in March 2013. His interest in the topic dates to his days as a bishop in Buenos Aires, where Francis, officials say, was struck by the effects of floods and unsanitary conditions on Argentine shantytowns known as "misery villages."
In January, Francis officially announced his goal of drafting the encyclical — saying after an official visit to the Philippines that he wanted to make a "contribution" to the debate ahead of a major U.N. summit on climate change in Paris in December.
But several efforts by those skeptical of the scientific consensus on climate change to influence the document appear to have come considerably later — in April — and, maybe, too late.
In late April, the Chicago-based Heartland Institute, a free-market group that serves as a hub of skepticism regarding the science of human-caused global warming, sent a delegation to the Vatican. As a Heartland news release put it, they hoped "to inform Pope Francis of the truth about climate science: There is no global warming crisis!"
It was meant to coincide with the same April meeting that de Larminat was trying to attend. Heartland's activists were not part of the invited contingent, either, Heartland communications director Jim Lakely said.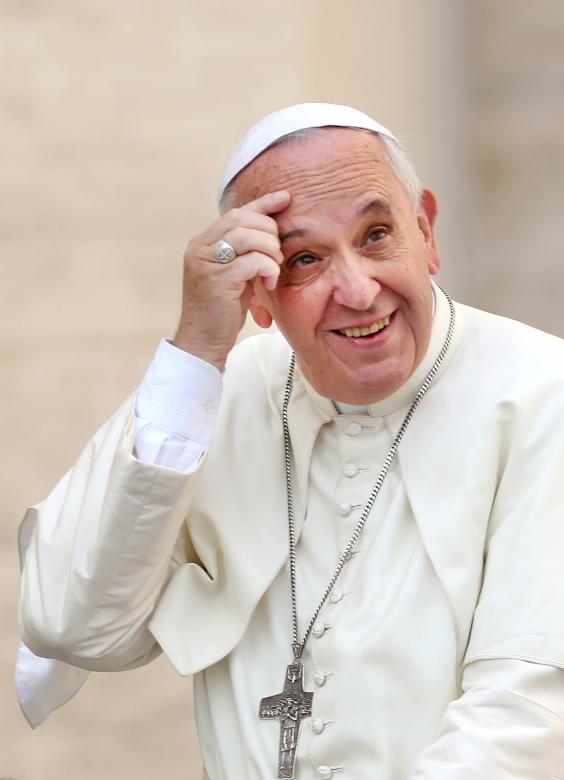 "It was a side event," he said. "We were outside the walls of the Vatican. We were at a hotel — literally, I could throw a football into St. Peter's Square."
Seven scientists and other experts gave speeches at the Heartland event, raising doubts about various aspects of the scientific consensus on climate change, even as several also urged the pope not to take sides in the debate. It's impossible to know how that influenced those in the Vatican working on the pope's document — which one Vatican official said was at "an advanced stage." But Lakely said his group did not see much of its argument reflected in the final document.
"We all want the poor to live better lives, but we just don't think the solution to that is to restrict the use of fossil fuels, because we don't think CO2 is causing a climate crisis," Lakely said. "So if that's our message in a sentence, that message was not reflected in the encyclical, so there you go."
One member of the Heartland delegation was E. Calvin Beisner, a theologian and founder of an evangelical group called the Cornwall Alliance for the Stewardship of Creation. In April, the group launched an "open letter" to the pope, signed by more than 100 scholars and theologians, arguing that climate-change models "provide no rational basis to forecast dangerous human-induced global warming, and therefore no rational basis for efforts to reduce warming by restricting the use of fossil fuels or any other means."
Beisner said he thinks that "between a quarter and a third" of the signers were Catholic. He said he is not totally unhappy with the pope's encyclical — he appreciates the sections on the need to help the poor and "the sanctity of human life." But as for the climate section, he said, Francis is "writing in an area that is not his own background, and it looks to me as if he was poorly served by his adviser."
Based on the people he recently appointed to his council for science, Francis was also seen to have made up his mind on the question of global warming. Some prominent conservatives — particularly economic and environmental conservatives — were consulted by the Vatican during the process, but "many were sort of shocked that none of their contributions made it in there," Raymond Arroyo, news director at the Catholic mega-channel EWTN, said Friday.
Instead, the pope sought to build on the progressive environmental platforms established by his immediate predecessors, Benedict XVI and John Paul II. For advice, he turned to a number of scientific advisers who support the consensus that human activity is warming the Earth. They included Hans Joachim Schellnhuber, founding director of the Potsdam Institute for Climate Impact Research in Germany.
A professed atheist, Schellnhuber nevertheless saw a chance for a massive coup in the climate debate if a sitting pope issued an ode to Earth and the ills of carbon emissions. But not everyone, he said, seemed to want the encyclical to take sides.
He said he was stunned to hear that de Larminat, the French doubter, almost made it to the key Vatican climate summit in April. To him, it showed that "even within the Vatican, there were some people who would like to see something that presented both sides."
De Larminat had a cordial meeting in March with Cardinal Peter Turkson, a senior member of the clergy and a key supporter of the pope's encyclical. At the meeting, both men said, Turkson promised to try to secure a space for the Frenchman at the April summit.
However, Bishop Marcelo Sánchez Sorondo, chancellor of the Pontifical Academy of Sciences — a body of luminaries, religious and not, dating back decades but with roots in the 17th century — effectively vetoed de Larminat's presence. Asked why, Sánchez Sorondo responded in an e-mail, "because he's not an academic authority in this field, neither a religious authority nor a U.N. authority."
Environmental Photographer of the Year 2015
Environmental Photographer of the Year 2015
1/15 Fishing net checking, Vietnam 2014 by Hoang Long Ly

Fishermen check their nets in Vietnam. The marine economy is one of the strongest economic sectors of Vietnam; it is targeted to reach 53 to 55 percent of GDP by 2020 and to comprise more than 60 percent of the country's export turnover

2/15 Glacier 1987, Mount Kenya 2014 by Simon Norfolk

Climate change and the melting of Lewis Glacier, Mount Kenya, from a series entitled 'When I Am Laid in Earth'. The flame line shows the Lewis Glacier's location in 1987. The glacier has receded about 120m. In 1987 the Curling Pond's surface was 15m higher than presently and the back wall was a tall wall of ice, the glacier's snout. The fire is made from petroleum. The photographer insists that his images contain no evidence that the glacier's retreat is due to man-made warming (glaciers can retreat when the don't get sufficient snow, or if the cloud cover thins, for example,) but it is nonetheless my belief that humans burning hydrocarbons are substantially to blame

3/15 Plastic tree #20, Bolivia 2014 by Eduardo Leal

Plastic bags are part of the landscape in the Bolivian Altiplano. The accumulation of plastic bags on the environment cause deterioration of the landscapes and agriculture soils and it is associated to the death of domestic and wild animals. The world consumes over one million plastic bags every minute

4/15 Collecting crabs, Satkhira 2014 by Kazi Riasat Alve

This man has a huge area of land capable of being farmed productively. A severe cyclonic storm Aila hit the west Bengal coast, west of the Bangladesh border, on 25 May 2009. It caused a storm surge of 2-3m above tide levels along the west Bengal and Bangladesh coasts, with severe devastation to these areas. His land was waterlogged and is no longer cultivable due to the high salinity of soil and water. Now he supports his family by collecting crabs and selling them at the market

5/15 Sandstorm in the city, Kuwait 2011 by Rizalde Cayanan

On Friday 25 March 2011 a severe sandstorm very suddenly enveloped parts of Kuwait. It shut down Kuwait's International Airport and the dust storm reduced visibility to less than 500 metres; in some areas, there was reportedly no visibility at all

6/15 Beauty Salon, Lagos, Nigeria 2014 by Petrut Calinescu

Two women, dressed in purple and holding hair weaves, stand in the doorway of a hair and beauty salon, one of several such waterside establishments in Makoko, Nigeria. They are usually very busy on Sunday, when the women of the local community are preparing for church

7/15 The abandoned village of Geamana, Romania 2014 by Glyn Thomas

The abandoned village of Geamana in the Apuseni Mountains in Romania - a village that was deliberately abandoned and flooded to form a tailings pond for a vast copper mine.400 families were evacuated and the village flooded to create a tailings pond for the toxic waste from the nearby copper mine at Rosia Poieni. The church tower and a few houses are all that remain, engulfed in contaminated sludge

8/15 Retrace our steps, Fukushima 2014 by Carlos Ayesta and Guillaume Bression

Midori Ito is staged in an abandoned supermarket in Namie City inside the Fukushima no go zone. In this area, nothing has changed since the disaster happened. The products stored in the supermarket have passed the date by sell for several years now. Ironically, a sign written in Japanese says « Fresh products ». The photographers asked former residents or inhabitant from the Fukushima region, and in some cases, the actual owners of certain properties, to join them inside the no-go zone and open the doors to these ordinary, but now unfriendly, places. Facing the camera, they were asked to act as normally as possible, as if nothing had happened. The idea behind these almost surreal photographs was to combine the banal and the unusual. The fact of the historical nuclear accident gives these images a real plausibility

9/15 Cladonia Forest, USA 2014 by Matthew Cicanese

The anatomy of forest micro-biomes consists of an intricate web of organisms with highly complex relationships, interactions, and elements. This photographic series illuminates the beauty of various micro-biota that reside on the forest floor. Earths biodiversity is being snuffed out by the exponential growth of the human population. It is the photographer's goal as an environmental documentary artist to photograph these miniscule lifeforms in a way that voices the splendor and magnificence of their existence, and promotes the conservation of ecosystems and biodiversity

10/15 Life in tidal flood 3, Chittagong, Bangladesh 2014 by Jashim Salam

A family watching TV, waits for water to recede during a tidal flood in Chittagong. In the past few years, tidal surge – sea levels rising significantly - has begun to affect the city, resulting in frequent flooding of residential and business areas. Considering the present warming trends, the report warns that even 20 to 30 years from now shifting rain patterns could leave some areas of the country underwater. If the sea level rises 65cm in 2080, around 40% of arable land will be lost in southern Bangladesh. It notes about 20 million people in the coastal areas are affected by salinity and will be climate refugees. Chittagong is often regarded as the commercial and industrial capital of Bangladesh. If things continue to worsen, most of Chittagong could become completely submerged in the near future and millions will be climate refugees

11/15 Life in the ship breaking yard, Chittagong 2014 by Yousuf Tushar

The ship breaking industry at Sitakunda started its operation in 1960. Due to low labour costs and less stringent environmental regulations Chittagong ship breaking yard boomed in a very short period of time. It has destroyed thousands of trees in the coastal area. It results in constant harmful oily substance leakages from ships, dangerous vapours and fumes from burning materials making this coastal belt a highly polluted area

12/15 Namaj and City, Bangladesh 2015 by Joydeep Mukherjee

On the Day of Bishwa Ijtema, that takes place in Tongi near Dhaka, is the world's third largest Muslim congregation. People from all over Bangladesh and its neighbourhood gather here to offer Namaj for peace and prosperity

13/15 Solar Portrait, Myanmar 2014 by Ruben Salgado Escudero

Daw Mu Nan, 45, a Padaung farmer and mother of eight, at her grandson's home in Pa Dan Kho Village, Kayah State. This portrait depicts the lives of inhabitants from remote areas of Myanmar who for the first time have access to electricity through the power of solar energy. Each subject was asked how having electricity has affected their life. The portrait was set up within their environment, according to the sitter's wishers. The scenes have all been lit only by solar powered light bulbs which are contributing to the improvement in these peoples standard of living

14/15 Berber 2, Turkey 2011 by Hayri Kodal

A lone barber shop stands in Konya, Turkey, with its electricity supply still working. Konya is best known as a busy university city, and an economic boom town. But this photograph tells a somewhat different story

15/15 The Devil's gold, Indonesia 2014 by Luca Catalano Gonzaga

Inside the womb of the Ijen Kawah volcano, in Eastern Java, Indonesia, the miners go deep in search of the 'Devil's gold', as sulfur has always been known. lpan, 27, a sulfur miner of ten years, looks for sulfur slabs under the toxic fumes
Turkson, however, said that he was told only that the summit was "well overbooked."
During Francis's 27 months as pope, something of a conservative resistance has formed to his more progressive tone. It particularly showed itself during fierce theological debates in October that saw conservatives successfully scrap language in a church document that would have recognized "the gifts and qualities" of gay people.
Some conservatives, including U.S. Cardinal Raymond Burke, have publicly denied a rift with the pope while also openly warning of a liberal strain coursing through the church. And a number of leaks in the Italian news media — including of the encyclical itself — have sparked a flurry of intrigue over possible conspiracies inside the Vatican.
Luigi Vicinanza, editor of the magazine L'Espresso, which published the leaked draft of the encyclical, said he had personally obtained it from a source. He would not identify the source but said he did not think the person was "out to harm the pope."
Still, some pope watchers blame several leaks on an anti-Francis cabal inside the Vatican walls. Others say that not enough evidence has emerged to pin the leaks on a specific agenda.
Sánchez Sorondo, however, denied that there had been significant internal opposition to the pope's encyclical. He insisted that rather than from inside Vatican City, the primary pressure against its message had come from climate-change deniers — particularly in the United States.
"But it is clear that this pope is very courageous," said Sánchez Sorondo, who, like Francis, is an Argentine. "He is not a politician. He is not a diplomat. He is someone who is willing to say what others are afraid to say."
Mooney reported from Washington. Michelle Boorstein in Washington, Virgile Demoustier in Paris and Stefano Pitrelli in Rome contributed to this report.
Copyright: Washington Post
Reuse content