A newly discovered species of frog – which lives high in the Andes Mountains of South America – has been named after the British broadcaster and naturalist Sir David Attenborough. Attenborough's rubber frog, Pristimantis attenboroughi, is the first amphibian to bear his name but one of numerous different species – from beautiful flowers to a flightless weevil – to do so.
The frog, which grows to just 2.3cm long, less than an inch, was discovered by US-based scientists Dr Edgar Lehr and Dr Rudolf von May while they surveyed the mountains of central Peru between 2012 and 2014. They initially thought it was a different kind of frog, until genetic analysis showed it was a new kind of rubber frog. It was found living at altitudes of up to nearly 4,000 metres (more than 13,000 feet) and, unlike most frogs, does not produce tadpoles.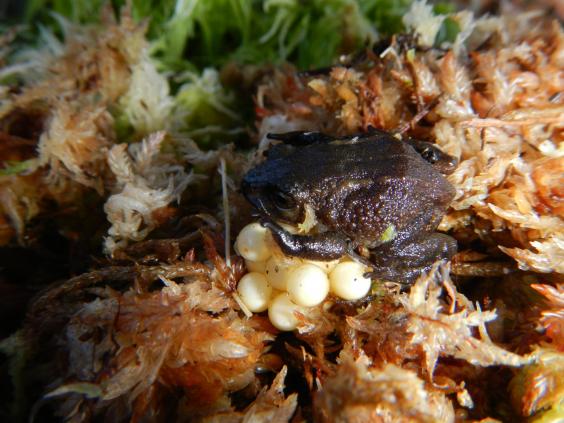 Instead the female lays eggs in moss and then guards them from potential insect predators until they hatch as fully formed baby frogs. This is thought to be an adaptation to the high altitude, where tadpoles would struggle in ponds that often freeze. Dr Lehr, of Illinois Wesleyan University, said he had not really heard of Sir David, but that all changed when he moved from Germany to the United States in 2009.
"I frequently use Attenborough material in my classes and my students love him," he told The Independent. "This is one of the very few people I can say I deeply honour – he's a hero for me. "What he is doing is working to create awareness of animals and nature and the need to protect it, which is very important."
He said he had been involved in discovering 89 new species and decided to name one after Sir David after watching a TV programme in which the broadcaster celebrated his 90th birthday. "I probably should have done it much earlier," he said. In December, Dr Lehr wrote a letter about his plans to Sir David, who responded saying he would be "thrilled". He also revealed he had kept a European tree frog as a pet when he was a child.
Speaking to The Independent, the broadcaster said: "One of the nicest compliments one biologist can pay another is to name a new species after him. This is a very great compliment from this scientist, who I don't in fact know personally." He said of his childhood pet tree frog that it was "very beautiful" and he had been "delighted to have one".
The scientists who discovered Attenborough's rubber frog believe the species to be "near threatened" by extinction because of climate change, pollution, fires set by humans and fungal infections.
Animals in decline
Animals in decline
1/8 Harbour seal (Phoca vitulina)

Where: Orkney Islands. What: Between 2001-2006, numbers in Orkney declined by 40 per cent. Why: epidemics of the phocine distemper virus are thought to have caused major declines, but the killing of seals in the Moray Firth to protect salmon farms may have an impact.

Alamy

2/8 African lion (Panthera leo)

Where: Ghana. What: In Ghana's Mole National Park, lion numbers have declined by more than 90 per cent in 40 years. Why: local conflicts are thought to have contributed to the slaughter of lions and are a worrying example of the status of the animal in Western and Central Africa.

3/8 Leatherback turtle (Dermochelys coriacea)

Where: Indonesia, Malaysia, Mexico, Costa Rica. What: Numbers are down in both the Atlantic and Pacific. It declined by 95 per cent between 1989-2002 in Costa Rica. Why: mainly due to them being caught as bycatch, but they've also been affected by local developments.

Alamy

4/8 Wandering albatross (Diomedea exulans)

Where: South Atlantic. What: A rapid decline. One population, from Bird Island, South Georgia, declined by 50 per cent between 1972-2010, according to the British Antarctic Survey. Why: being caught in various commercial longline fisheries.

Alamy

5/8 Saiga Antelope (Saiga tatarica)

Where: Kazakhstan, Mongolia, Russia, Turkmenistan, Uzbekistan. What: fall in populations has been dramatic. In the early 1990s numbers were over a million, but are now estimated to be around 50,000. Why: the break up of the former USSR led to uncontrolled hunting. Increased rural poverty means the species is hunted for its meat

6/8 Swordfish (Xiphias gladius)

Where: found worldwide in tropical, subtropical and temperate seas. Why: at risk from overfishing and as a target in recreational fishing. A significant number of swordfish are also caught by illegal driftnet fisheries in the Mediterranean

7/8 Argali Sheep (Ovis mammon)

Where: Central and Southern Asian mountains,usually at 3,000-5,000 metres altitude. Why: domesticated herds of sheep competing for grazing grounds. Over-hunting and poaching.

8/8 Humphead Wrasse (Cheilinus undulatus)

Where: the Indo-Pacific, from the Red Sea to South Africa and to the Tuamoto Islands (Polynesia), north to the Ryukyu Islands (south-west Japan), and south to New Caledonia. Why: Illegal, Unregulated and Unreported (IUU) fishing and trading of the species
A problem shared by many species adapted for life at high altitudes is that as the temperature warms, they are not able to climb higher to remain in the conditions to which they have evolved to live in. They can also face competition from similar animals that are able to move into their territory. For example, a leopard was recently caught on camera in snow leopard territory high on the Tibetan plateau.
Reuse content