Plucked from the bed of a river in Aberdeenshire, the best freshwater pearls in Scotland were once so prized that they were used to adorn the country's crown jewels. But Holyrood's official conservation agency has now concluded that the rare mussels that produced them have died out, severing an important link with history. 
A combination of overfishing, climate change and pollution has meant that the River Ythan, which provided some of the key jewels used in Scotland's crown, is "to all intents and purposes dead" as a source of freshwater pearl mussels, conservationists at Scottish National Heritage (SNH) said.
According to newly published research conducted by SNH, freshwater pearl mussels are now absent in 11 Scottish rivers where they were previously recorded. The species is one of the UK's rarest freshwater molluscs, but populations are declining nationwide despite efforts to encourage them to breed.
The 11 rivers where pearl mussels are now apparently extinct include Lunan Burn, Clunie Water, the River Lossie and the River Lussa as well as Allt Sheangain and Allt na Claise Fearna in the western Highlands. But their loss in the River Ythan will be most painful for historians.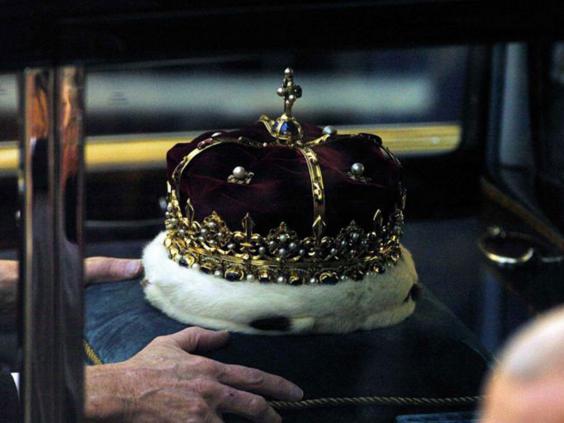 The Kellie Pearl, believed to be the largest freshwater pearl ever discovered in Scotland, was found in a tributary of the River Ythan and was  incorporated into the country's ancient crown. Collectively known as the Honours of Scotland, the jewels include the crown, an elaborate sword and a sceptre, which all date from the 15th and 16th centuries. They were first used together to crown the infant Mary Queen of Scots at Stirling Castle in 1543 and were then used at the coronations of James VI in 1567, Charles I in 1633 and Charles II in 1651. 
Following the 1709 Treaty of Union with England, the Honours were "lost" for more than 100 years until the celebrated writer Sir Walter Scott became convinced that they were hidden somewhere inside Edinburgh Castle. In 1818 he was proved right, and they are now viewed there by more than a million visitors every year.
"The bearing of pearls for jewellery is part of our cultural history, and I think it's an enormous shame that the species in [the River Ythan] is consigned to history now – you don't have that living link any more," said Iain Sime, SNH's freshwater and wetlands adviser.
"The River Ythan has suffered from considerable amounts of diffuse pollution because it's quite intensely managed for agriculture."
Reuse content