Numbers of new onshore windfarms are to be scaled back after George Osborne put the brakes on subsidies for the giant turbines strongly opposed by many MPs.
The Chancellor's intervention provoked dismay within the renewables industry which warned energy prices would rise as a result, but was welcomed by countryside campaigners. Sources close to Mr Osborne said "protecting our natural environment" was an important factor in his decision.
The Liberal Democrat Danny Alexander, the Chief Secretary to the Treasury, confirmed that state support for onshore wind and for solar energy was being reduced "slightly" in favour of offshore wind turbines.
But he denied the Coalition had bowed to the strength of opposition to windfarms among Conservative backbenchers, who argue they are unsightly and inefficient.
"We have looked in detail at how much it costs to do offshore windfarms and onshore windfarms and big solar schemes and we are reducing slightly the subsidy we are providing to onshore wind and to these big solar schemes," Mr Alexander told BBC Radio.
The development of onshore windfarms has been a major source of tension between the Coalition parties. The Liberal Democrats argue that land-based turbines, which are far cheaper to develop than those at sea, are crucial for Britain to hit its targets for renewable energy use.
But senior Tories have spoken out against them and their hostility is understood to be shared by Mr Osborne. The UK Independence Party has also said it would scrap subsidies for windfarms.
But Gordon MacDougall, the chief operating officer of the renewable energy company RES, said investment confidence would suffer because of the announcement.
"It will cut the deployment of onshore wind, the lowest cost renewable energy technology in the UK's energy mix.
"By undermining onshore wind before it reaches maturity and substituting it with more expensive low-carbon energy, the cost to the consumer will increase," he said.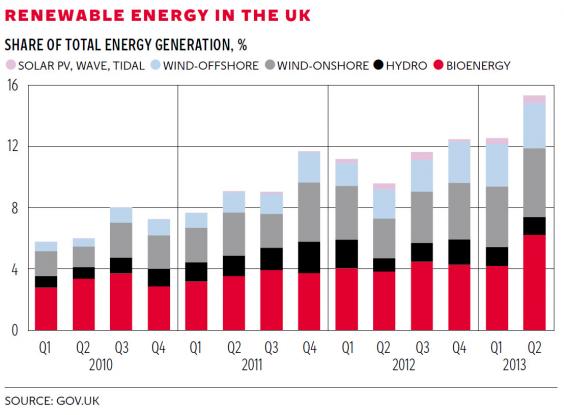 Sarah Johnson, the head of renewables at the National Skills Academy for Power, said: "It is disappointing to see the Government's lack of commitment for onshore, which is an established technology with a track history that investors can rely on."
But Shaun Spiers, the chief executive of the Campaign to Protect Rural England, said: "Any slow-down in the rate of growth of on-shore wind is good news. People are fed up with having such things forced on them."
Greenpeace's policy director, Doug Parr, said: "Cuts to onshore wind and solar support schemes show how quickly the cost of clean energy technologies are falling.
"Onshore wind farms will power our homes and factories more cheaply than new nuclear stations, and the same is expected of solar."
Reuse content