The cost of flooding to businesses across southern England became increasingly apparent yesterday as a new report warned that floods pose a greater risk to Britain's economy than any other in Europe, except Germany.
The high concentration of commercial centres, private property and infrastructure in areas susceptible to flooding, together with a relatively strong economy and rainy weather, makes Britain one of the most vulnerable countries to flooding in the world, in terms of lost economic output.
Despite having some of the best flood defences in the world, Britain's geography, weather, population concentration and economic distribution give it the seventh highest "economic exposure" to flooding in the world, and make it second in Europe, the report finds.
Furthermore, with climate change set to wreak stronger and more frequent storms, the British economy is "facing severe tests", said Dr Richard Hewston , principal environmental analyst at the Maplecroft  consultancy behind the report.
"Predictions for the UK suggest climate change is likely to boost the frequency of major storms and increase risks to economic output as a result of flooding," he said.
"The future scale of the problem will depend heavily on the government continuing to build resilience and apply resources through flood mitigation and risk management schemes," Dr Hewston added.
The report, published today, comes after the Somerset Chamber of Commerce yesterday gave a "first glimpse" of the economic impact of the flooding on the county's businesses. Its survey of local businesses found that those affected by flooding had lost an average of £17,352 in the six weeks since flooding began.
The Chamber said its survey responses indicate that the flooding has had an impact on 70 per cent of businesses in the county, with almost 40 per cent seeing  a reduction in customers and more than 35 per cent reporting a drop in sales.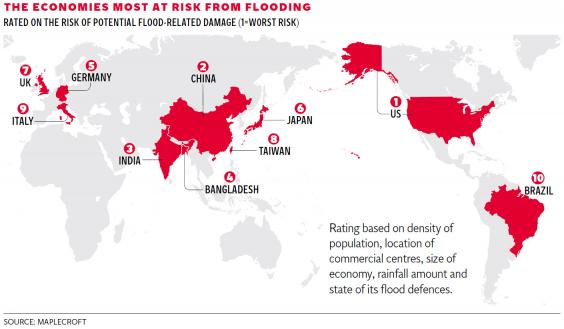 Futhermore, the survey showed that the average employee had lost 10 working days' worth of time this year as they were unable to get to work, or arrived late.
The floods are set to take a huge toll on the insurance industry, with Justin Gott of insurance firm Hiscox predicting the cost to insurers could top £1bn if the rains continue into March or April.
David Cameron held a summit with Britain's leading insurance heads yesterday where he called on them to process claims as quickly as possible.
Insurers have paid out about £14m in emergency payments since December 23, with individual households receiving between £500 and £3,000, the Association of British Insurers (ABI) said.
A further £24m has been spent on hotels, bed-and-breakfasts and rented homes, it added, with the average cost per household expected to come in at about £16,500.
Homeowners in areas of high flood risk were disappointed yesterday when, straight after his meeting with the prime minister, ABI's head of property Aidan Kerr refused to rule out an increase in premiums as a result of the floods. "It's too early to say whether this will have an impact on premiums," he told Sky News.
Labour branded the meeting between Mr Cameron and the insurers "a vacuous PR stunt".
Shadow Cabinet Office minister Michael Dugher said: "The government's transparent attempt to try to grab a few headlines does nothing for those affected by the floods. Three hapless junior ministers booking a meeting room does not constitute a serious response to the flooding crisis."
However, flooding minister Dan Rogerson said the insurers had stressed their commitment to the Flood Re scheme, which was agreed with the government over the summer and will provide affordable insurance for 350,000 homes at high risk of flooding.
The flooding crisis manifested itself in another, unpleasant, way yesterday as the wet ground making burials virtually impossible in some areas.
Authorities say there is little they can do about weather-related funeral delays, which have created dangerous conditions for gravediggers.
Tim Morris, chief executive of the Institute of Cemetery and Crematory Management, said: "It's absolutely terrible for people but there's very little the burial authorities can do until the water subsides."
"You can imagine it's impossible to excavate a grave for a funeral where parts of the cemetery are under two feet of water," he added.
The Department for Environment, Food and Rural Affairs said yesterday that the weather would calm down over the next few days.
"We are heading into a period of typical winter weather, still unsettled but more in line with what would be expected at this time of the year. We are not expecting to see the extremes of wind or rain that we saw last week," a Defra spokesman said.
However, the spokesman cautioned that large parts of the south would remain at threat of floods in the coming weeks, whatever the weather.
"Groundwater levels continue to rise across the south increasing the likelihood of localised flooding – levels are likely to remain high for some weeks to come," he said.
Reuse content