This year is on course to be the hottest on record not just in the UK, but across the globe – and human influence is likely to blame, experts have warned.
While average temperatures in the UK from the beginning of January to late November have been 1.6C above average, global temperatures to October have been up an average of 0.57C.
Although a cold December could change the overall outcome, if the pattern seen so far continues, 2014 would be the warmest in the UK since records began in 1910, the Met Office has said.
Globally, both November and December have yet to be recorded and analysed, but the trend has so far suggested 2014 is just ahead of the current record of 0.56C set in 2010 in records which date back to 1850.
The announcement comes as forecasters warn parts of Britain could see the coldest night of the year so far this week, as the arrival of winter sees temperatures plummet below freezing.
While the Met Office has warned against reading too much into record years, wildlife and nature in the UK has certainly been somewhat confused in 2014, continuing a trend seen in recent years.
With daffodil shoots appearing in November, butterflies and bees refusing to hibernate and summer flowers blooming until well into autumn, wildlife experts have once again been witnessing odd behaviour in plants and animals in the UK.
Matthew Oates, nature and wildlife specialist at the National Trust, said the confused behaviour was witnessed on the back of a "warm, moist summer, then a very dry September and a warm October with an absence of frost".
Mr Oates said summer flowers were "proliferating in both the gardens and the countryside" by late October and early November.
Early in November, he said: "The weather's been so mild so they are just coming out again."
While annuals and late summer plants had not been killed off by the frost, spring flowers had also been appearing, Mr Oates said.
He said this autumn had also seen white dead nettle flowering "quite strongly", something which is normally expected to be seen in March and April.
"I think it is just confused," said Mr Oates.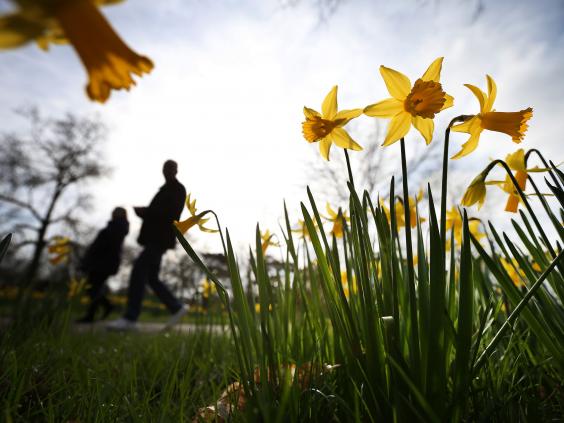 Meanwhile, insects including butterflies, bees, dragonflies and moths have all been surviving much longer into the year and refusing to hibernate.
"Things like butterflies, if they are carrying on emerging in quite mild, moderate weather, they don't actually achieve anything," Mr Oates said.
"If they are supposed to be in hibernation and they keep waking up then they are wasting their energy reserve and they might not get through the winter properly or they might not get through winter at all."
Experts have attributed the hot year largely down to record high global sea surface temperatures, which have contributed to heavy rainfall in many countries and extreme drought in others.
Royal Society predictions: Extreme weather
New research meanwhile has suggested that it is much more likely the record will be broken because of human activity affecting the climate.
Peter Stott, Head of Climate Attribution at the Met Office, said: "Our research shows current global average temperatures are highly unlikely in a world without human influence on the climate.
"Human influence has also made breaking the current UK temperature record about ten times more likely."
This year is also set to be notably wet for the UK, with 1,162mm of rain falling between 1 January and 25 November.
Average rainfall for the rest of the year would see 2014 rank as the fourth wettest in the UK since records began.
It would also be the 11th in the longer running England Wales precipitation series which dates back to 1766.
Colin Morice, a climate monitoring scientist at the Met Office, said: "Record or near-record years are interesting, but the ranking of individual years should be treated with some caution because the uncertainties in the data are larger than the differences between the top ranked years. We can say this year will add to the set of near-record temperatures we have seen over the last decade."
Experts said the global figures, announced as countries meet for UN talks in Lima, Peru, to discuss action to tackle climate change, showed an "underlying warming trend".
WMO secretary-general Michel Jarraud said: "The provisional information for 2014 means that 14 of the 15 warmest years on record have all occurred in the 21st century. There is no standstill in global warming.
"What we saw in 2014 is consistent with what we expect from a changing climate: record-breaking heat combined with torrential rainfall and floods destroyed livelihoods and ruined lives."
Energy and Climate Change Secretary Ed Davey said: "More record warm temperatures in the UK and across the world are yet more evidence that we need to act urgently to prevent dangerous climate change.
"UK actions such as our doubling of renewable electricity and our stretching targets for cutting carbon are a good start but we must be frank and acknowledge there is more to do."
Mr Davey warned the whole world needed to act, adding success in building talks towards a global climate deal at Lima was critical to stop temperatures rising to "dangerous" levels.
WWF UK chief executive David Nussbaum said: "With countries meeting in Lima to lay the foundations for a climate deal to be agreed in Paris next year, this is yet another reminder of how our global climate is already changing."
Additional reporting by PA
Reuse content