Think non-stick and the brand that immediately jumps to mind is Tefal which has been making Teflon-coated cookware since not long after the magical, slippery substance was invented by accident in the 1940s.
However, Teflon pans contain PFOA and despite it having been proven that the risk of exposure to the chemical is very low from cooking pans, there are still enough potential links to cancer and other health problems to stop some people from using them.
Several cookware makers have subsequently developed PFOA and PTFE free non-stick coatings for pans, with the most common being ceramic for its durable and equally non-stick effect.
Ceramic pans vary from high-end to affordable and no non-stick pan (made from any material) should be used forever as once the coating starts coming off they need to be thrown away. But there are some excellent options currently on the market.
Don't use metal utensils on ceramic pans as it damages the coating. And, try to avoid washing with soapy water. A wipe with a kitchen towel to remove the grease is usually sufficient.
1. Green Earth Frying Pan by Ozeri, 20cm: £25, Amazon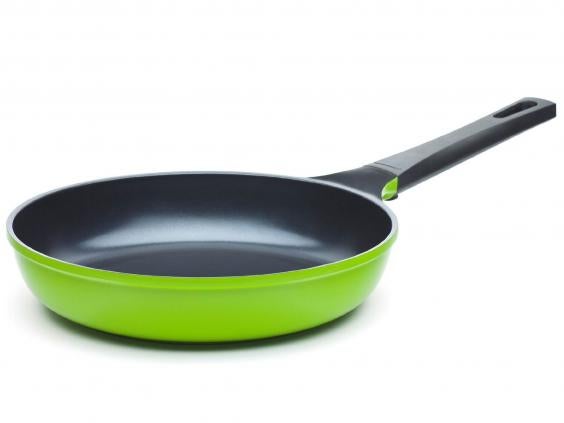 Available in three sizes, this is not only scratch-resistant, but it also has a 100 per cent ceramic coating devoid of heavy metals. Coming in tree-frog green, it feels solid. The non-stickiness is not in question, but this pan does need to be treated more like an enamel or cast-iron pan, meaning it needs a little more fat than some on the list.
2. Bergner BG-6669 Ceramic Frying Pan, 22.5cm: £30, John Lewis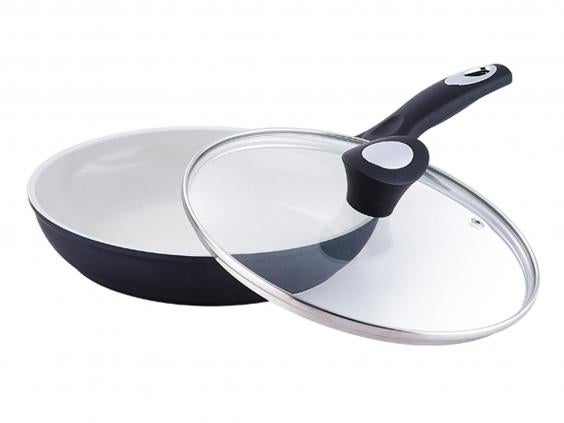 Disclaimer: there is Teflon in this product. But it is on the outside of the pan, not the interior non-stick bit, which is white and made from a ceramic coating. A good mid-range product that comes with a handy glass lid, it's lightweight and feels robust.
3. Mauviel M'180 ceramic interior frying pan, 28cm: £97, Amazon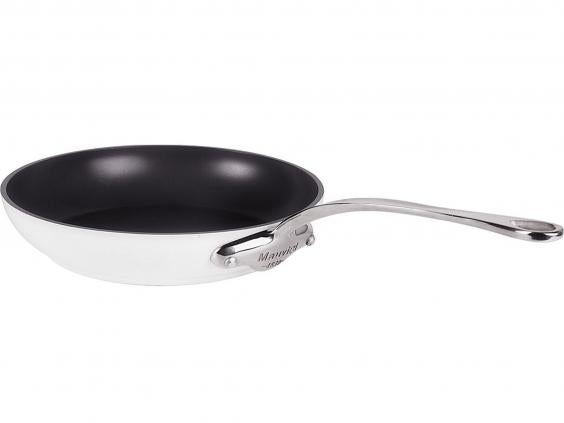 This uses an eco-friendly Thermolon coating. A clean, contemporary piece of design, it has a sleek white lacquered exterior. Mauviel is known for making copper-bottom pans, so this is a bit of a departure. What it carries with it is the brand's sureness of quality, materials and style. Plus it makes a crisp pancake.
4. GreenPan Rome Ceramic Non-Stick, 20cm: £27, Amazon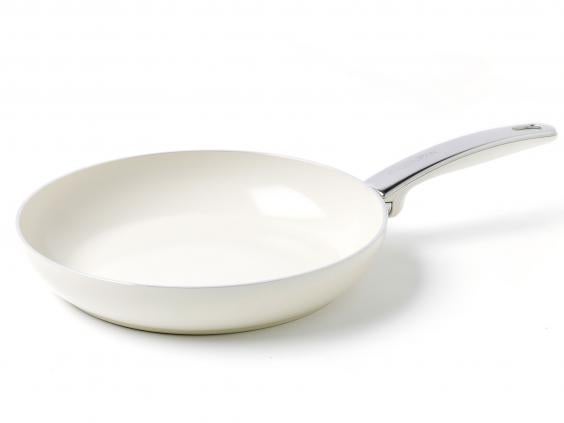 This reasonably priced range is not only excellent quality but has good environmental credentials too. GreenPan prizes itself on eco-friendly production. The pan has a Thermolon ceramic coating and is handsome and relatively lightweight despite having a heavy-gauge aluminium bottom. My only criticism would be that the handle feels a little flimsy.
5. Scanpan CTX, 28cm: £114, Amazon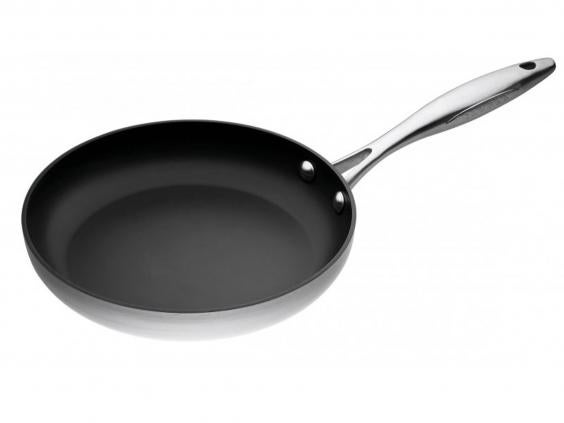 The most beautiful on the list, its shiny, curvy, silvery exterior and handle are offset by a robust, black ceramic coating. It is heavy and takes some time to heat up but produces excellent results on a low heat. Again little fat needed and detailed instructions from the manufacturer are enclosed to keep it in top-notch, non-stick condition.
6. Fissler Ceramic Comfort, 24cm: £62, Amazon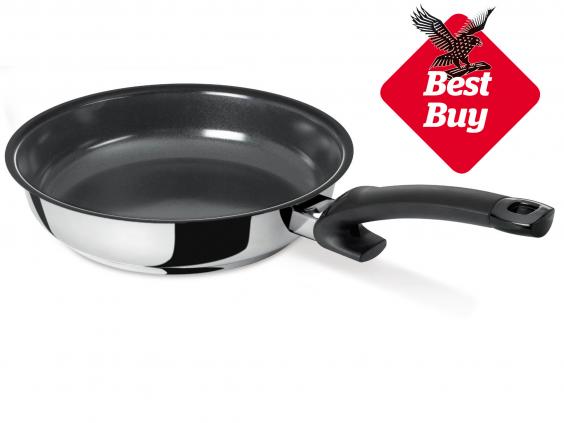 This is a seriously heavy duty, scratch-resistant piece of German engineering. It has a safety handle with a nifty feature that allows you to attach a spatter shield and there is an optional tempered glass lid to go with it. It made the best, crispy and evenly cooked pancakes with only a teaspoon of fat and cleaned with a wipe of a paper towel.
7. Colourworks Ceramic Non-stick Frying Pan, 24cm: £10, Amazon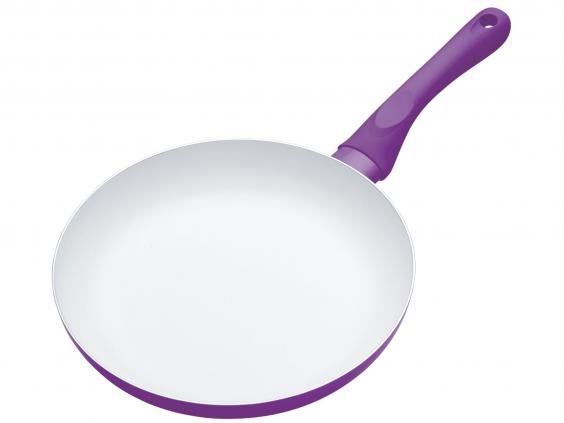 If you want to try a low-budget example before investing in a lifetime-guaranteed model, this is the one. Coming in a range of bright hues, it's not the most durable piece of kitchen apparatus, but is a workable low-cost example of ceramic, non-stick cookware.
8. Titanium Ceramic Frying Pan, 24cm: £25, John Lewis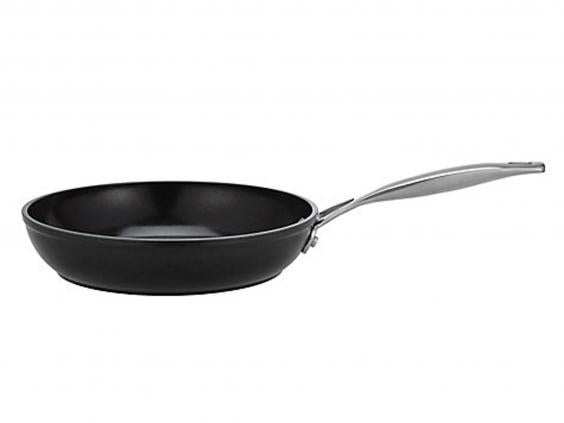 This is great quality for the price from John Lewis. It has a titanium-infused ceramic coating that looks both robust and pleasingly sparkly. Unlike most non-stick pans, this is dishwasher safe and ovenproof up to 240C. The riveted metal handle stays cool, too. This was another solid performer on the pancake test and also carries a lifetime guarantee.
9. Kuhn Rikon Induction Ceramic Frying Pan, 20cm: £21, Amazon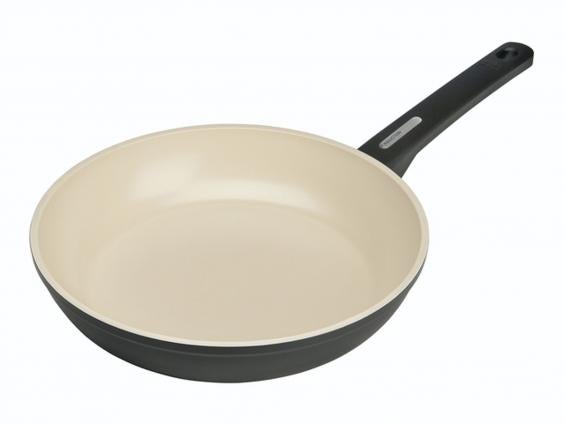 Swiss-made and with a simple, contemporary design, this punches above its weight for the price. Best used with a high-temperature cooking oil such as peanut, it is a good solid weight and has a sturdy handle that doesn't retain heat. Easy to clean and with a black base that doesn't discolour with use, it's on the small side but is still a useful addition to your kitchen cupboard.
10. Le Creuset Cast Iron, 24cm: £125, Debenhams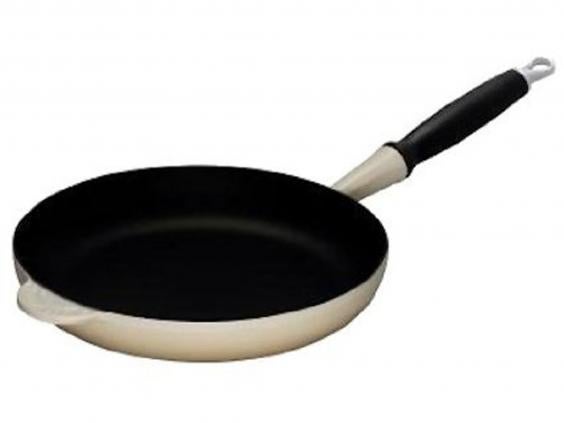 This classic frying pan has an enamel coating and really looks like it'll live up to its lifetime guarantee. Giving an even, crisp heat with no hot spots, it is seriously heavy duty. Anyone with weak wrists should avoid this orange beast. It is a stunning design and looks great in the kitchen. We love the volcanic colour (although it comes in five others including almond, cerise and slate) and the hook at the end means you can hang it up (if you have a very very sturdy hook). Remarkably it is also dishwasher safe unlike an older iteration which had a wooden handle. It scored very well on the pancake test but did take some time to get hot enough.
IndyBest product reviews are unbiased, independent advice you can trust. On some occasions, we earn revenue if you click the links and buy the products, but we never allow this to bias our coverage. The reviews are compiled through a mix of expert opinion and real-world testing
Reuse content