Whether it's a Fraser Fir or a Norway Spruce, keep things traditional when it comes to the centrepiece of your festive decorations
It's easy to assume that a fake tree is better for the environment, but in fact for every tree cut down at Christmas time, at least another two are planted. In any case, most artificial trees are made in China and therefore have a far bigger carbon footprint. There are other reasons to go for a real tree too – they smell and look great.
Not sure which type to go for? The vast majority (around 80 per cent) of Christmas trees in British homes are Nordman Firs, which is why you'll find them taking up half of our recommendations. That wasn't always the case, though, with the Norway Spruce the traditional tree of choice for Brits – in fact, they only started losing favour when people realised the Nordmans have better needle retention. There are other options too. Fraser Firs – the traditional choice in the USA – are gaining popularity over here due to their elegant looking needles and symmetrical shape, for example, while Germany's tradition of a Blue Spruce is taking off over here due to their gorgeous aroma, silver-blue foliage and ridged branches.
So when should you buy your tree? Many people will remember their tree from childhood being bought and decorated just a few days before Christmas, but nowadays the British Christmas Tree Growers Association says anytime from December 1 should still see your tree lasting until the big day. If you buy a potted version, it matters less, of course – and if you get a cut one, don't get caught short without a stand.
1. Pines and Needles Nordman Fir: from £36.95, Pines and Needles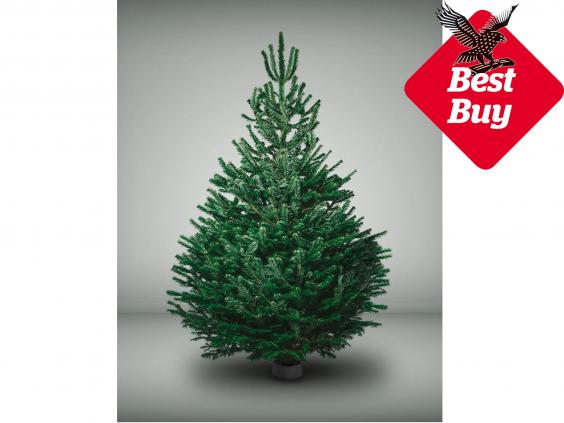 These Nordman Fir trees, which are available as high as 12ft tall, are the most beautifully shaped of all the trees in our round-up, and the branches are robust. We tried out Pines and Needles' decorating service this year, which has become increasingly popular – the staff couldn't have been more efficient, thorough and friendly and the result was truly stunning.
2. Premium Christmas Trees Fraser Fir: from £55, Premium Christmas Trees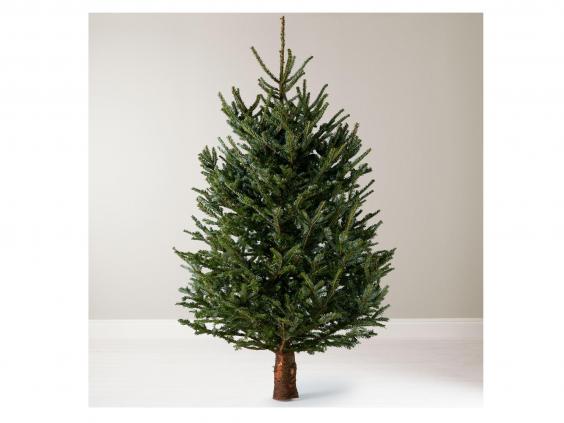 The shape of the beautifully scented Fraser Fir is similar to the Norway Spruce, but it is far superior when it comes to hanging onto its needles – and the narrower base means it's good for tight spaces. The Americans love them – it's usually the White House Christmas tree option. This one has soft dense needles and smells citrusy. Available in either 5ft or 6ft.
3. Aldi Nordman Fir: £19.99, Aldi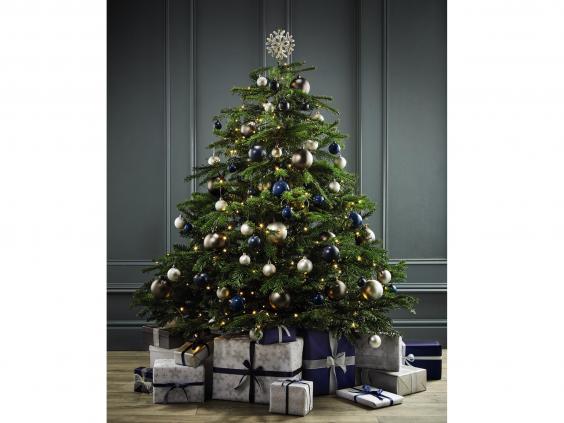 At less than 20 quid, these Scottish-grown beauties are an absolute steal. But even though Aldi has over 17,000 available, be warned that every single one sold out last year – and well before Christmas too. Standing at roughly between 5ft and 6ft tall, ours had a traditional shape and strong needle retention – but unfortunately they don't deliver.
4. Marks & Spencer Christmas Postal Mini Tree: £25, Marks & Spencer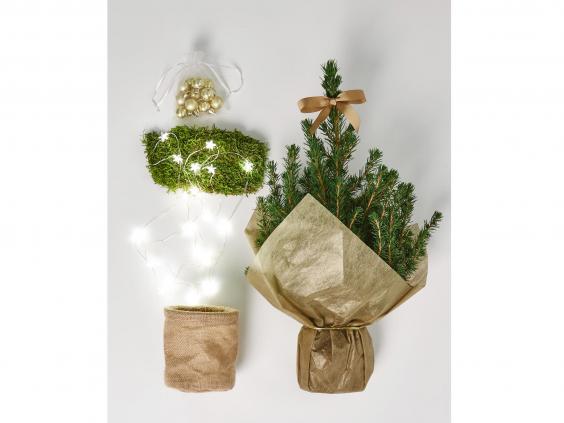 This fun and festive miniature tree is so small that it can be delivered through the letterbox. Simply remove it from the box, stand it up in its hessian pop-up bag and pull out the branches, then decorate it with the mini lights, ribbon and baubles and place the moss inside to cover the roots. We think it makes a gorgeous centrepiece.
5. The Kilted Tree Company Nordman Fir Luxury Gold Star: £32, Christmas Tree Land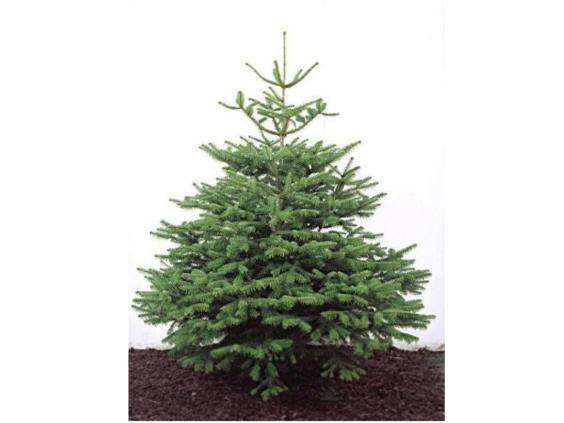 One of the problems we've found with Nordman Firs that you order online is that the very bottom branches can arrive a bit rotten. Not so with this one, which has healthy branches all the way up. We found very little needle drop once we'd settled it into the living room, too. Our tree was both bushy and wide, with a lovely deep green colouring. Available from 3ft to 9ft.
6. YouGarden Pot Grown Norway Spruce: £31.80, Amazon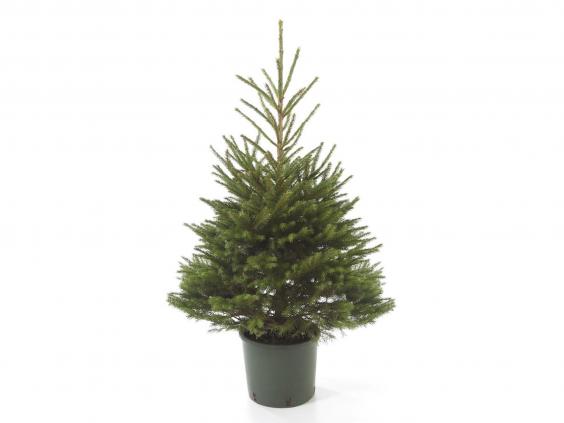 One for the traditionalists, this aromatic tree has been popular since Queen Victoria reigned. In recent years, it has fallen out of favour due to poor needle retention, but that poses no problem with this pot-grown version, which arrives around five years old and can be kept either inside or out. It's a strong, sturdy tree with a classic pine fragrance, but be warned: it's heavy. Stands roughly three-and-a-half feet tall.
7. Waitrose Nordman Fir: £75, Waitrose Florist 
These trees have a lovely symmetrical shape, with strong, bushy branches. Care had been taken to cut ours straight across the bottom, as well as removing annoying knobbly bits – something that doesn't always happen and which makes securing it in the stand much easier. You can order this one to arrive with a stand too – handy if you don't already have one. Stands 6ft tall.
8. Farmer Tom's Famous Sussex Fir: from £39, Send Me a Christmas Tree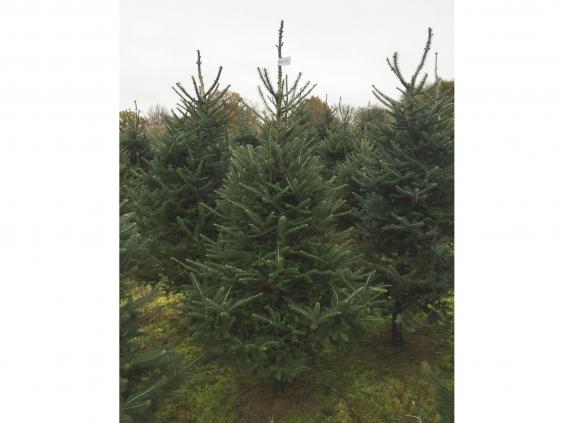 The first thing you notice about the Sussex Fir when you unfurl the tree is the gorgeous smell – intense pine with a hint of orange. The variety hails from Canada, but these are grown in the Home Counties and are known for that citrus scent and for keeping their needles. Our generously proportioned six-footer was bushy in all the right places; a rich festive green and stayed intact while we lugged it into place on a stand. Available from 4ft to 8ft.
9. Ikea Nordman Fir: £25, Ikea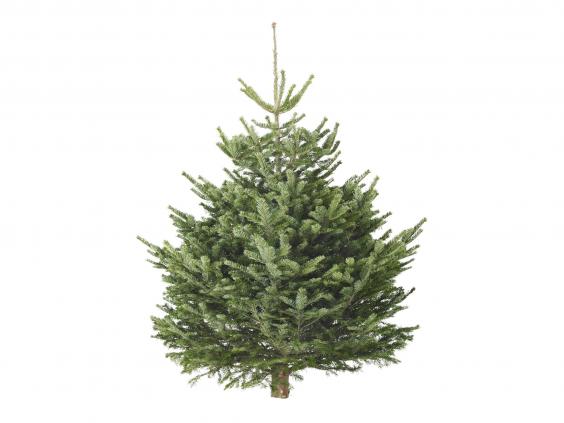 If you play your cards right, this Nordman Fir – which measures around 5ft tall and is very bushy – will only cost you a fiver. You buy a Christmas tree voucher in store for £25, then you exchange it for the tree of your choice, with which you also get a £20 Ikea voucher. But (and this is the clever marketing bit) you can only use it in store between January 16 and February 12 next year.
10. Marldon Christmas Trees Petit Noël Bleu: from £20, Marldon Christmas Trees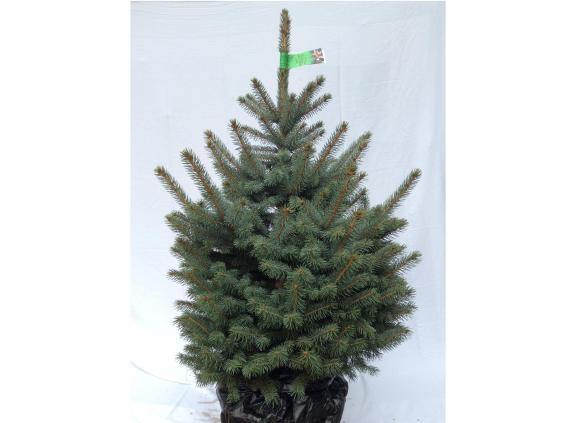 The Blue Spruce is the most popular Christmas tree in Germany, where they place real candles on its strong, prickly branches. Boasting magnificent silver-blue foliage and ridged branches that give it a distinctive look, it also has a beautiful festive scent that lasts longer than other trees. We love this potted version that's available in pots from 40cm to 150cm. 
11. John Lewis Nordman Fir: from £65, John Lewis 
While it's the trampoline you'll have fixed your eyes on in this year's John Lewis Christmas ad, one of these glossy trees also features in the on-screen family living room. We found the shape of this Scottish-grown tree is second-to-none and it has exceptional needle retention. Available with or without a stand and as 5ft, 6ft or 7ft tall.
12. Send Me A Christmas Tree Serbian Spruce: from £39 to £69, Send Me A Christmas Tree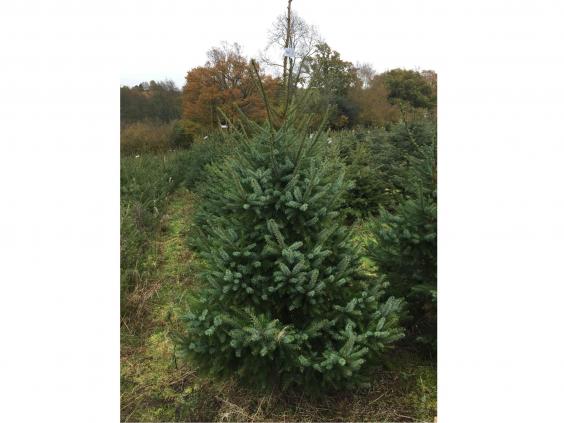 Native to the northern parts of Europe and Asia, this tree arrives with a strong, fresh scent. The shape is bushy without being cumbersome, and there are branches all the way to the top of the tree, so it doesn't look at all spindly. It comes with useful instructions on how to get the best out of the tree – cutting an inch off the bottom and placing it in water, for example. Available in 4ft to 8ft.
13. Deliver Me a Christmas Tree Non-drop Real Christmas Tree: from £34.95, Deliver Me a Christmas Tree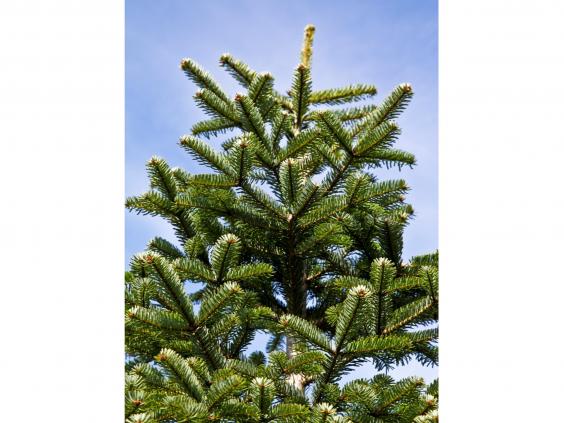 This company makes a killing on its Blue Spruce and traditional Norway Spruce trees, but it's the Nordman Firs that the public has really warmed to, says owner Jeremy Aves, whose tree quality is so renowned that he's supplying Westminster Cathedral again this year. There's a great decorating service available if you're feeling lazy. Available from 4ft to 12ft.
14. B&Q Buxus Pyramid Topiary: £25, B&Q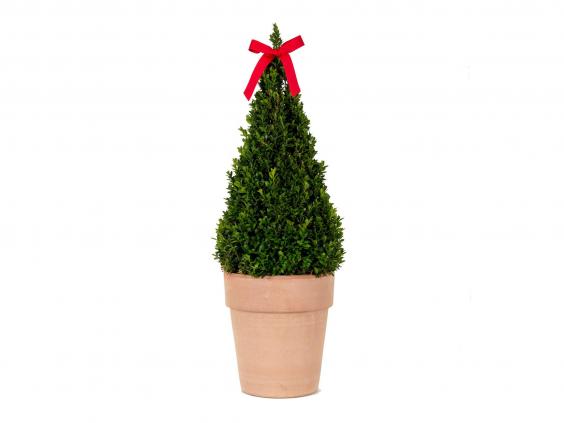 If you know you don't want a tree inside your home this year, and you don't really want the hassle of one outside either, why not treat yourself to this little potted topiary which has been made festive with a cheery red ribbon. Just the thing to sit by your front door – ideally with another one the other side – you can justify the spend by knowing it will last all year round. 
The Verdict: Real Christmas trees 
If you want a service with all the bells and whistles – that is, a tree delivered, set up and decorated – Pines and Needles gets our thumbs up. Even if you slum it and decorate it yourself, its trees are fabulous. Ikea's Nordman Fir is easily the best in our round-up for value for money, while Premium Christmas Trees' Fraser Fir is a beauty if you want something out of the ordinary this year. Can't be bothered with the hassle of a real tree at all? Go for Marks & Spencer Christmas Postal Mini Tree for your table centrepiece or B&Q Buxus Pyramid Topiary for outside your front door.
IndyBest product reviews are unbiased, independent advice you can trust. On some occasions, we earn revenue if you click the links and buy the products, but we never allow this to bias our coverage. The reviews are compiled through a mix of expert opinion and real-world testing
Reuse content