You've successfully served a juicy turkey, the wine is flowing, and you've averted a near disaster when setting the Christmas pudding alight. There's only one thing left to do: cut the cake. 
No Christmas day – or indeed cups of tea and coffee in the many, many weeks following – would be the same without a slice of a rich, boozy fruit cake.
Made to last, these Christmas staples should be filled to the brim with fruit, nuts and citrus peel, soaked with lashings of booze, and yet not too heavy. Whether you're a fan of an iced top, or a nutty finish, toppings should be decadent and rich. 
Here's our pick of this year's best Christmas cakes, which should see you well into 2017 too. 
1. Meg Rivers Classic Fully Iced Christmas Cake: £25 for 1.2kg (10 portions) exclusive to Ocado or £38 for 1.9kg (16 portions) from Meg Rivers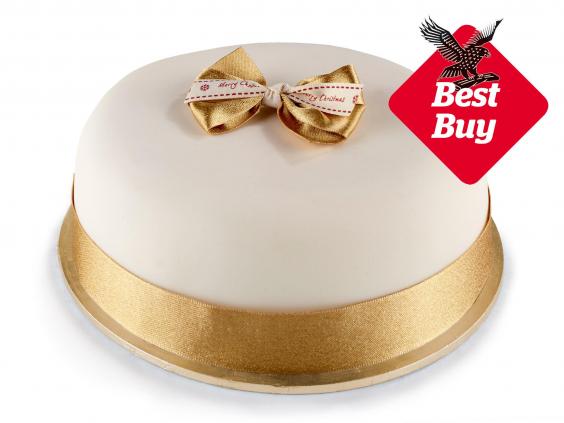 Don't be fooled by its deceptively simple appearance – this fruit and nut-packed cake is complex, nuanced and dangerously moreish. This fully iced number gets the balance right between a moist, creamy, butter-rich sponge, and the almond sweetness from a generous layer of marzipan, with melt-in-the-mouth icing. Aged for a minimum of three months in French brandy, the booze levels are just right, while the overall cake manages – somehow – to avoid being too heavy. Opt for the bigger size as you'll want to keep coming back for leftovers of this quintessential Christmas cake.  
2. Waitrose Christmas Spiced Fruit Cake, 1kg: £16, Waitrose (serves 16)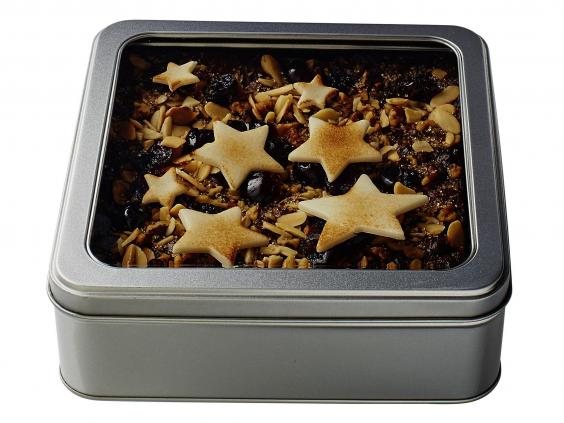 This modern twist on a classic certainly catches the eye with its decorative layer of fruit, nuts and marzipan stars. You might say it's Christmas cake 'deconstructed'. While the citrus, spiced, brandy-soaked cake itself is smooth with punchy hints of ginger, the topping provides a satisfying crunch. In fact, that layer of almonds, cherries, a generous amount of brown sugar and a slight toasting to the marzipan, is what really kept us coming back for more.
3. Tesco Finest Rich Fruit Cake, 907g: £6.66, Tesco (serves 16)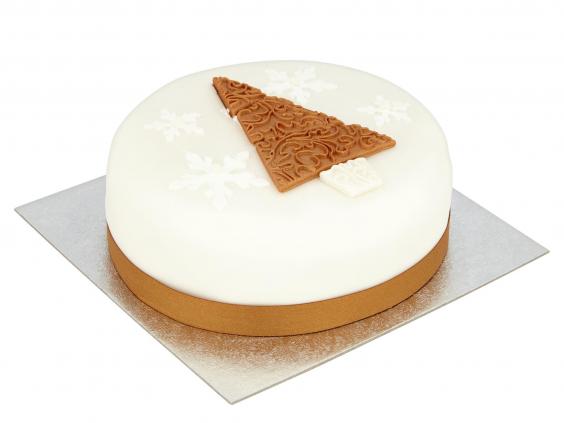 Icing can be a deal breaker when it comes to Christmas cake. Too dry or too thin and it's an instant turn-off. Too sticky or too thick and it's a sickly mess. This cake then is the goldilocks of the bunch, having got the balance just right. Hats off to Tesco for this attractive little cake, which also scored highly for its generous amounts of marzipan and deep fruitiness, imparted by both brandy and an oak-aged cognac. It says it serves 16, but if your family is anything like ours, you can easily halve that number.
4. Meg Rivers Festival Wreath Cake, 2kg: £49, Ocado (serves 20)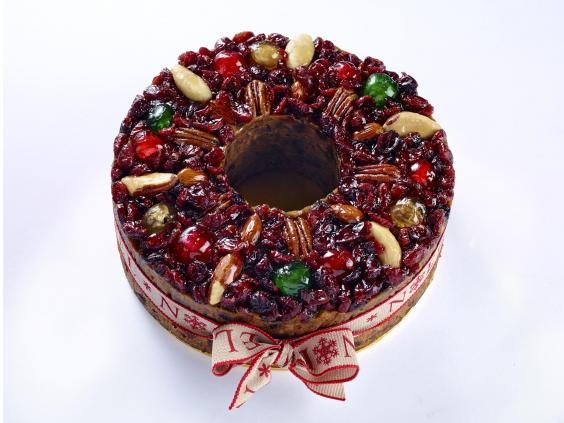 If we could get away with it, we'd hang this on our front door. Pretty as a picture, Meg Rivers scores another hit with this beauty of a cake. Piled high with brazil nuts, pecans, dried cranberries, almonds and jewel-like glacé cherries, this crowd-pleaser delivers a crunchy texture, rich with crystallised pineapple, apricots, juicy vine fruits and a hit of French brandy. Even though this is by far the biggest cake we tested, it's so delicious that you might not have any left to save.
5. Iceland Luxury Christmas Cake, 1kg: £7.50, Iceland (serves 16)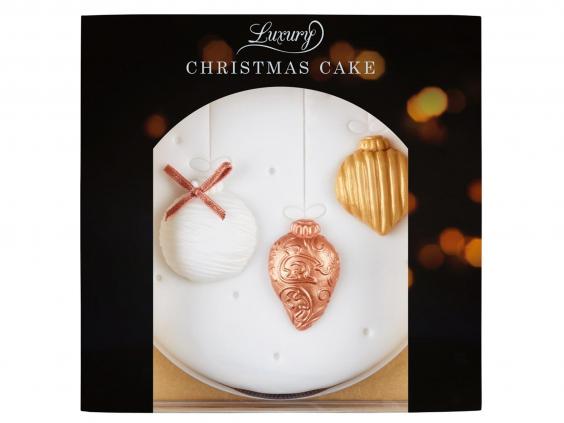 One of the most festive-looking of the bunch, this great value offering from Iceland has the appearance and taste of a much pricier cake. For the money, you get a decent layer of marzipan, light, fluffy icing and a generous amount of brandy and cognac. It's not perfect, but you won't find better value for money than this. 
6. Selfridges Selection Medium Christmas Cake, 600g: £14.99, Selfridges (serves 8)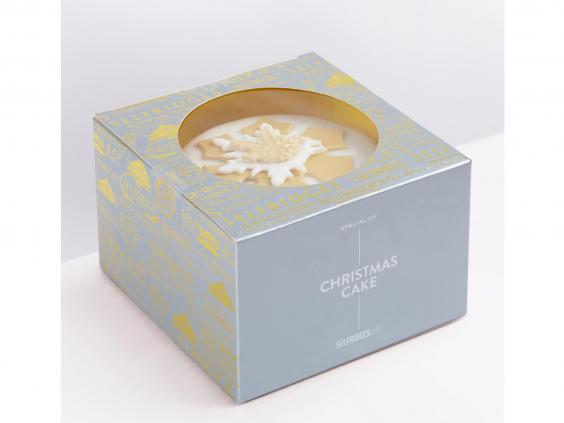 Spoiler alert: if you don't like the taste of cinnamon and cloves, then you're not going to like this small but perfectly formed treat from Selfridges – though we very much did. The icing was a little dry, but this spice-heavy cake really delivered when it came to the sponge which was packed with cognac-infused vine fruits, crushed ginger and a generous amount of walnuts. It's great if you're serving just a few people this year, though a bigger, 1kg size is also available if you're catering for a larger group.
7. Sainsbury's Taste the Difference Star Garland Iced Fruit Cake, 1.74kg: £15, Sainsbury's (serves 24)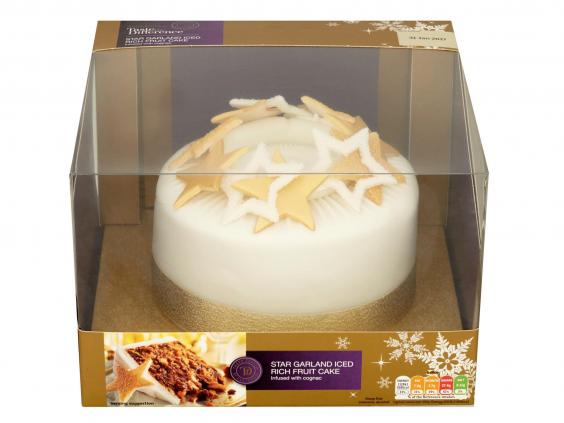 Adorned with real gold leaf-covered sugar decorations (don't worry, they're edible), and stuffed full of cognac-soaked cherries, nuts and spices, Sainsbury's has stuck to a traditional recipe for this cake. However, we found the alcohol levels a little strong, so it might not be to everyone's taste. However, having said that, this cake serves a whopping 24 people, so it offers incredible value.
8. M&S The Collection Jewelled Poinsettia Christmas Cake, 1.35kg: £25, M&S (serves 22)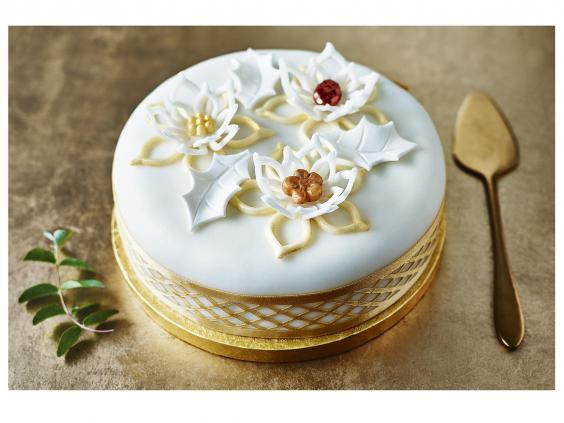 This sparkly, hand-decorated cake definitely looks luxurious, and would make a great table centrepiece. However, if we could use one word to describe the taste, it would be buttery. So, while the icing is delicate, soft and sweet, the raisin, cherry, almond and brandy infused cake ends up on the heavier side. But if rich desserts are your thing, you'll be in heaven with this one. And though we first questioned if the cake really could serve 22, upon tasting it became clear that only small portions are needed.  
9. Aldi Exquisite Christmas Cake, 1.9kg: £9.99, Aldi (serves 24)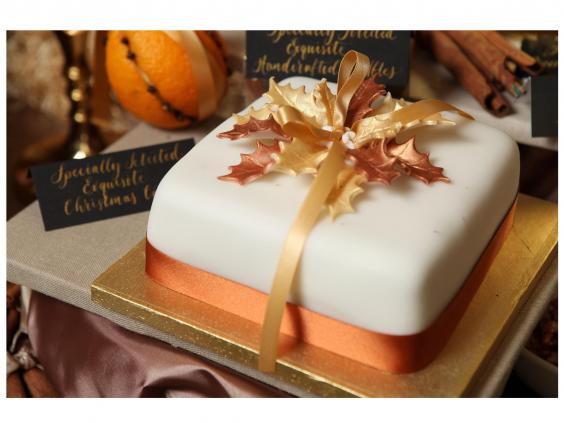 No brandy or cognac here. Aldi has won a place in our hearts by replacing the traditional alcohol component of its cake with a generous measure of sloe gin. So you'll certainly get a rosy glow after polishing off a slice of this one. And it also scores highly for its rich décor too. There are a lot of plus points to this good value cake, although the layer of icing could have been a little thicker.
The Verdict: Christmas cakes
Though pricey and decidedly understated (some would say classy) when it comes to decoration, the taste of the Meg Rivers Classic Fully Iced Christmas Cake just couldn't be beaten. Order the large size if you want to have left overs to pick at after the big day. And trust us, you'll want to.
IndyBest product reviews are unbiased, independent advice you can trust. On some occasions, we earn revenue if you click the links and buy the products, but we never allow this to bias our coverage. The reviews are compiled through a mix of expert opinion and real-world testing
Reuse content