Everyone's skin is different, but all skin has one thing in common – needing regular exfolation. This is an all-too-often skipped step in skincare regimes, but it's vital in the fight against fine lines, dead skin and impurities.
 If everyone's skin is different, it stands to reason that they all require a different type of exfoliation, and it's important to find a product that fits your lifestyle, so you'll actually use it.
The world of facial exfoliators, scrubs, polishes and resurfacing liquids can be difficult to navigate, especially in these microbead-free times.
In case you haven't heard, microbeads are those harmful little plastic pellets found inside so many face scrubs, that don't dissolve during water treatment and so end up in the ocean, causing major environmental nightmares and enough of an outcry to have them banned by 2017.
With this in mind, we've evaluated the best of microbead-free face exfoliators, selecting the most effective products to suit all different skin types and lifestyles. Different products also have different usage methods and recommendations – some daily, some twice a week, some alone or with other products – so be sure to read the packaging carefully for the best possible result. 
1. Kiehl's Epidermal Re-Texturizing Micro-Dermabrasion: £40.00, Kiehl's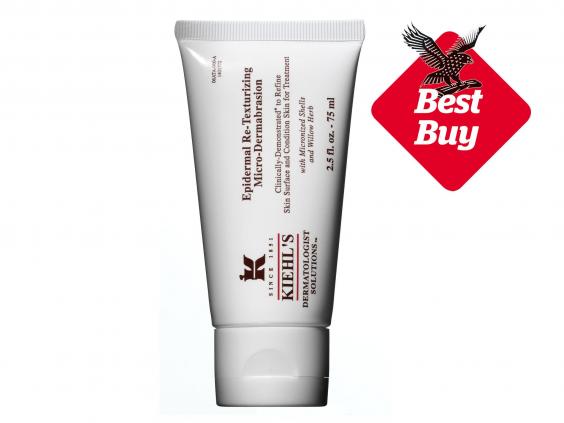 Kiehl's consistently wins awards across their range for luxurious but effective skin treatment, but this is the ultimate in ultra-efficient exfoliation. The product had an immediate and noticeable effect – our skin felt smoother and tighter, with decreased visible pores. The fine, gentle grains mask a very powerful exfoliation, so it's easy to see why it's recommended for scarring and discolouration. The speed of the effect vastly outstripped the other contenders, but it didn't dry the skin out either. It also comes in an easy to use and transport squeezy tube. As it is so efficacious, we'd suggest only using once or twice a week.
2. Clarins One Step Gentle Exfoliating Cleanser: £21.00, Boots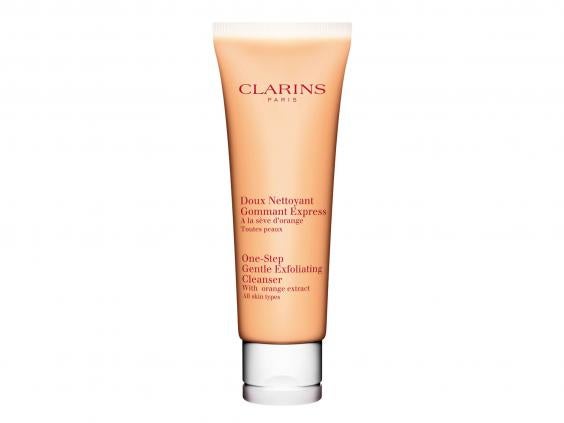 For those who want to incorporate exfoliation or scrubbing into their skin regime, without taking the extra time, this product is perfect. It works well as both an exfoliator and toning cleanser, coming in a shower-friendly easy-to-use squeezy bottle. Gentle enough for daily use and soap free, the orange ingredients were also highly effective and refreshing on oily skin. If you like an easy, quick wake up scrub in the morning or shower, this is for you. 
3. Simple Kind To Skin Soothing Facial Scrub: £2.30, Boots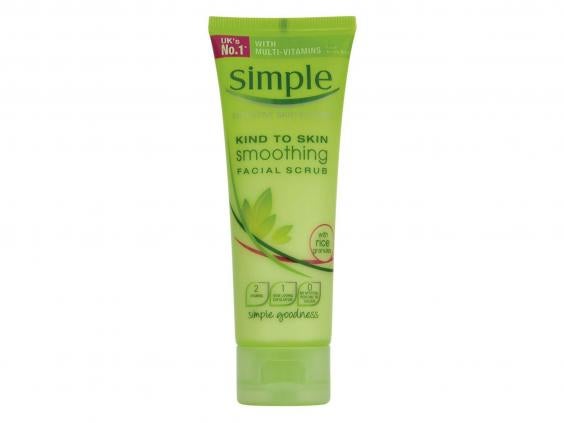 The Simple brand is a pioneer in affordable, natural and nourishing skin care. This product is neither highly fragranced nor overly moisturising, so it's the best choice for sensitive skin. The ratio of rice grains to facial wash allows it to be an effective scrub on the oilier T-zone, as well as areas that need a more gentle scrub, like the cheeks. The small, lightweight bottle is easy to use and makes this a great product for travel.
4. Dermalogica Daily Microfoliant: £41.75, John Lewis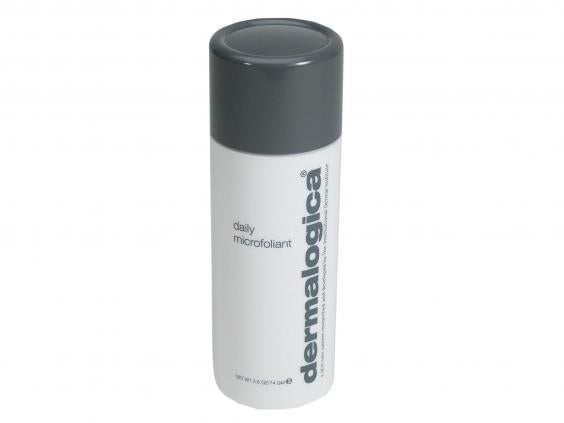 This isn't built like your average facial exfoliator (for example grains within a gel or a cream), it's actually just the grains alone, which you pour into your hands like a salt shaker. When you add water, the rice-based powder is activated into an extremely fine, creamy exfoliator. Our favourite aspect was that you could control the consistency depending on how much water you added. Perhaps not the best product for the shower, but it's perfect for the more break-out prone skin types. It glided onto the skin easily and left it feeling velvety soft, without any irritation. As the Dermalogica brand is primarily geared towards those with problematic skin, it's best to only use this product once a week.
5. Espa Refining Skin Polish: £28.00, John Lewis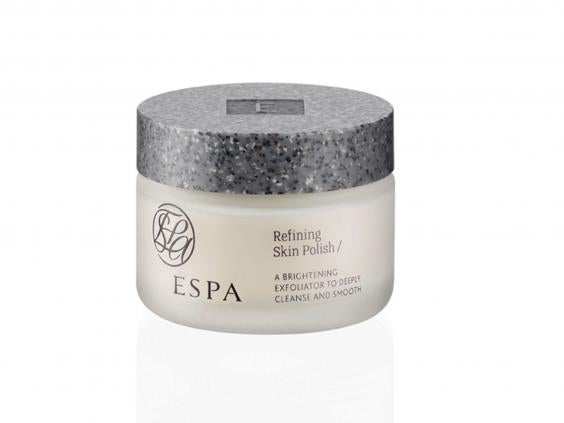 Espa products offer spa-like skincare at home. This beautifully scented, luxurious little jar is no exception. With highly delicate grains, this was by far the best product for very dry skin, which requires gentle but intense exfoliation. You only need a tiny amount to create a really effective skin polish, so this pot will last. Espa also provides an informative online skin e-clinic, which can advise you on any of your complexion concerns.
6. Bobbi Brown Buffing Grains for Face: £32.00, John Lewis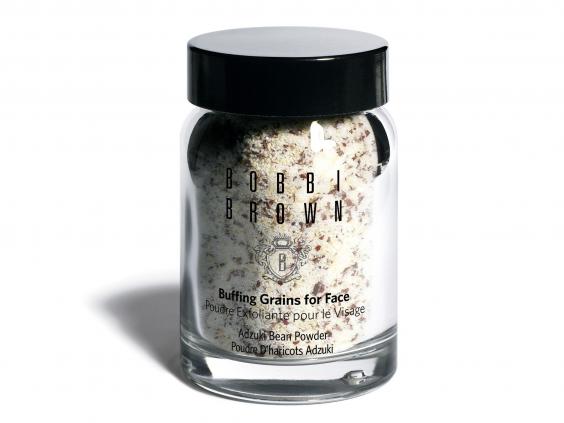 Bobbi Brown gets the prize for the most fun product to use. Formulated with Japanese adzuki bean powder (an alternative to microbeads), these grains can be added to your regular cleanser to transform it into an exfoliator, which means it's great for the fussier customer, or simply mixed with water. The thick, vintage-looking glass jar, modelled on the type you might find a note rolled in, also adds a hint of luxury, but be warned, it's not the easiest product to dispense. Pour with caution.
7. Alpha H Liquid Gold: £33.50, Look Fantastic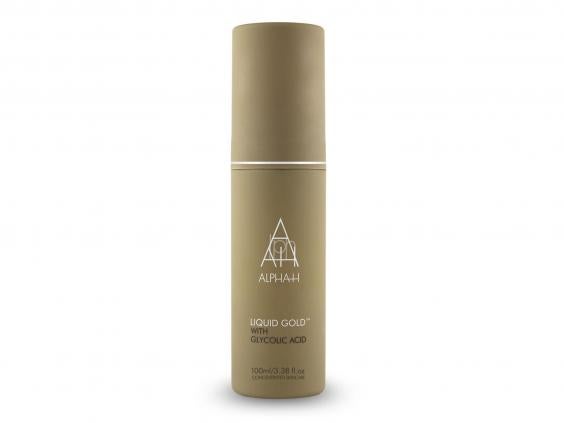 A cult favourite with celebrity make up artists and beauty editors alike, this liquid product has the Midas touch for skincare. Marketed as a 'resurfacing and firming lotion' rather than exfoliator, this product nevertheless achieved intense exfoliation and quick results. It's perfect for those who prefer not to scrub the face, or for skin complaints such as scarring and sun damage. Apply to your skin with a cotton pad every other night, allow it to sink in, tingling, and finish with a moisturiser.
8. Sukin Oil Balancing + Charcoal Pore Refining Facial Scrub: £9.99, Holland & Barrett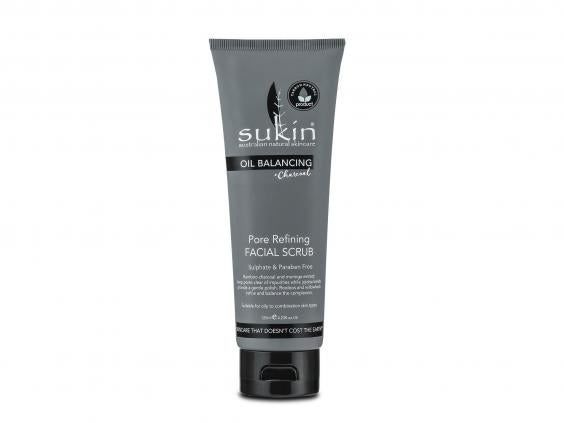 Top selling Australian skin-care brand Sukin has, in our opinion, finally cracked that age old conundrum of how to deal with combination skin. Neither drying nor overly moisturising, this silky product is gentle enough to use as a daily cleanser, while balancing the complexion and minimising oiliness. It also detoxifies with the moringa extract (which is used to purify water in Africa, incidentally), and the dark charcoal adds an enjoyable spa vibe - that feeling of a 'proper' facial.  
Verdict
For a powerful and effective micro-dermabrasion in a bottle, invest in Kiehl's. The Espa skin refining polish looks, smells and feels delicious, while the Simple scrub is a great budget and chemical-free choice. 
IndyBest product reviews are unbiased, independent advice you can trust. On some occasions, we earn revenue if you click the links and buy the products, but we never allow this to bias our coverage. The reviews are compiled through a mix of expert opinion and real-world testing
Reuse content