The composition of an eyeshadow palette – bringing together complementary tones, shades and textures – needs to be stunning as they're often fairly expensive, and something of an investment piece. 
But they should also tick as many practical boxes as possible – neutral base shades, darker tones for definition and lining, and lighter shades for highlighting are a must. Shimmery shades are generally fairly forgiving, while matte works well as a base and looks ultra-modern – so a mix of the two is helpful. 
A range of shades allows you to change up your eye look, with the same palette taking you from day to evening. A beautiful compact and a good quality, doubled-ended tapered brush are a bonus.
1. Stila Matte 'N Metal Eye Shadow Palette, 12g: £39 for 12 shades, Marks & Spencer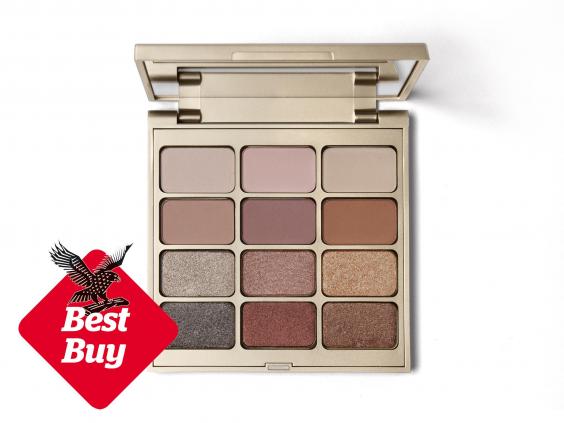 This luxurious-looking, heavyweight compact is excellent value, with an impressive 12 shades – all can be used wet or dry, for a stronger or more delicate look. There are six completely matte neutrals in gentle rosy pinks, taupes and tans and six metallic shades including a smoky, gunmetal grey, rose gold, coppery bronze and soft, shimmery mink. Easy to blend and a good, strong pigment – but you will need to provide your own brush.
2. Hourglass Modernist Eyeshadow Palette in Exposure, 5g: £56 for 5 shades, Net-a-Porter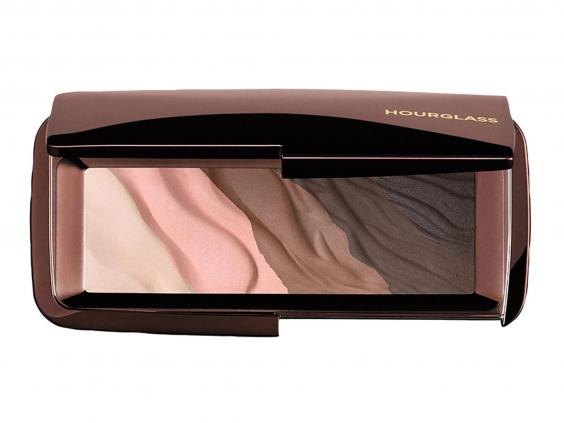 This palette has five shades of plum, gold and neutral, which blend excellently and suit all skin tones. It's free from parabens, gluten, nanoparticles, fragrances and sulphates. And that comes at a cost, but if you can invest in your make-up, this is worth spending on. There's a great quality pigment that gives a rich colour pay-off, and with mattes and shimmers you can easily go from day to night with just this palette.
3. Sunkissed Natural Eye Palette, 20.4g: £6.96 for 12 shades, Tesco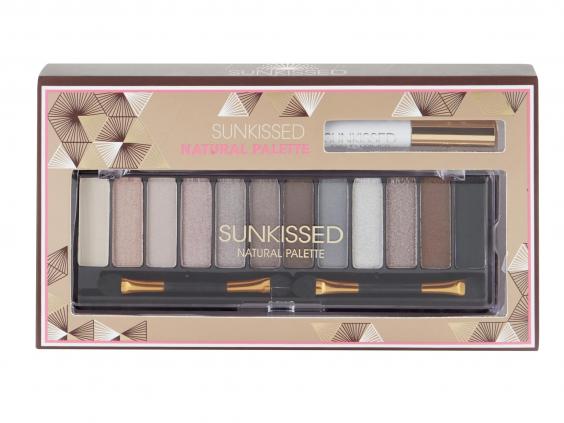 Astonishingly good value for money, this kit also includes an Eyelid Primer to ensure the eyeshadows stay put for as long as possible. It's a mix of 12 shades including soft, neutral creams, fawns and taupes, rich chocolate browns and smoky charcoal and greys. This palette doesn't have the most highly pigmented shadows tested, but it's a good place to start for smoky eye novices, as you can build up the colour intensity slowly and blend the shades together.
4. Laura Geller The Delectables Eye Shadow Palette in Smokey Neutrals, 5.6g: £33 for 14 shades, Debenhams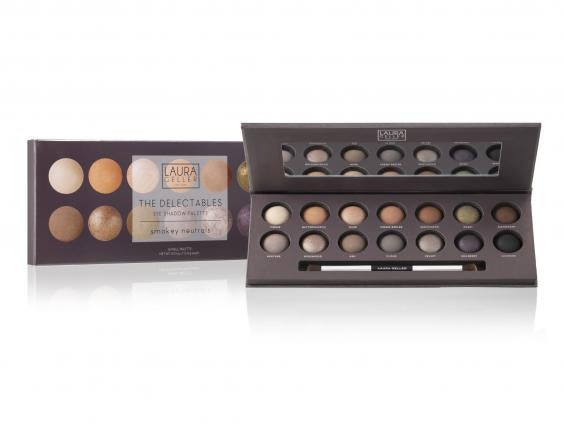 This one doesn't come with the usual free sponge applicator, but instead an excellent double-ended brush – there's a small, soft shadow brush on one end and on the other, a stiff, slanted brush for lash lining, and for definition in the crease of the lid. There are 14 smoky neutrals with a superb intensity and colour pay-off. Smudge- and crease-free once applied, the shades can be used wet (for a richer hue) or dry, and as a liner. It's long-lasting and paraben-free, while the jojoba oil gives it a smooth, creamy blend-ability without any weight.
5. Too Faced Sweet Peach Eyeshadow Collection, 17.1g: £39 for 18 shades, Debenhams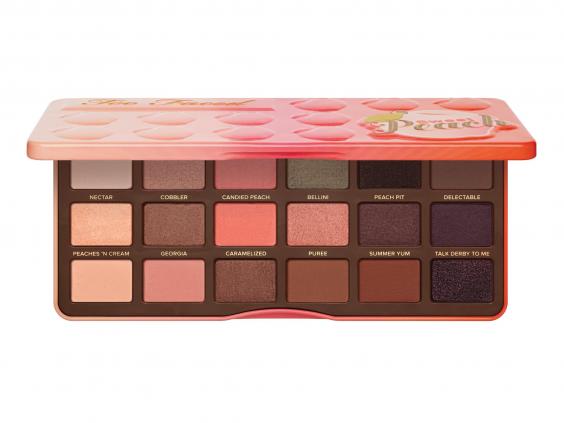 If you've had enough of taupe, brown and fawn shades and you're looking for a modern twist on neutrals, then this is worth a try. It boasts peachy-toned pinks, corals and bronzes, combined with darker, smoky charcoals and plums for contouring. The textures range from matte to shimmer and all the way up to a full sparkle, with a rich pigment and great colour intensity. Infused with peach essence, just opening the tin gives a fruity hit. It's great value for money, too, with a whopping 18 shades at nearly 1g each. Also contains a how-to guide for three eye looks.
6. Max Factor Masterpiece Nude Palette Contouring Eyeshadows in Golden Nudes, 6.5g: £7.99 for 9 shades, Boots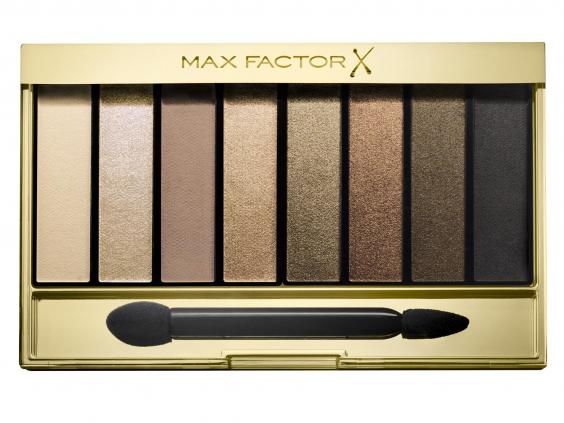 This is a selection of matte, metallic and sparkly golds and bronzes, with a darker charcoal to contour and line the eye – think bronzed, Californian, beach-girl skin and you've got the measure of this palette. Highlight tanned summer complexions with an quick swish over the eyelid using the flat neutral cream, followed by some definition with a darker shade, and under the brow with a lighter shimmer. This palette also works perfectly for glossy, grown-up evening eyes – just add a little more definition with the charcoal and go glam with the golden or bronze sparkle. High-pigment and smooth enough for an effortless blend, this is another easy-on-the-purse-strings palette.
7. Make Up Forever 9 Artist Shadow Palette 4, 11.7g: £37 for 9 shades, Debenhams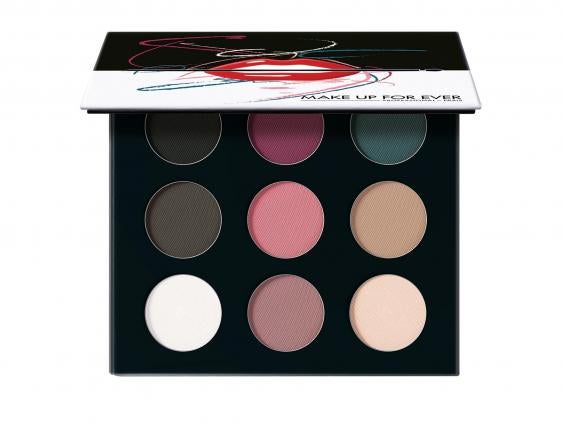 Coming from an innovative, cult brand, coveted by make-up artists since the early Eighties, this palette contains nine shades that can be used in isolation, or as three separate trios. The booklet gives three looks – Vamp, Romantic and Seductive – and explains exactly where to use each shade on the eye. For novice users, this is the ideal place to start if achieving a smoky eye feels a little intimidating. The gel-powder formula ensures ultra-smooth blending, the matte shades are great for sculpting and enhancing, and it includes a rare white (for creating light effects under the brow bone to open up smaller eyes).
8. YSL Couture Palette in Rosy Contouring, 5g: £35 for 5 shades, YSL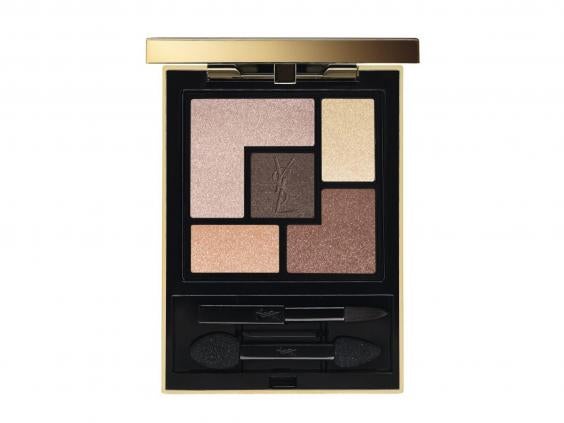 This is a chic gold palette with a large, soft, rosy pink base shade, accompanied by an apricot pink, and a darker rose shade (so you can choose between a lighter day or darker evening eye), plus a rich plum shade to line the eye and give definition. The fifth shade is a shimmery gold to illuminate and highlight under the brow bone.
9. By Terry Eye Designer Palette in 2 Color Design, 14g: £69 for 10 shades, Space.NK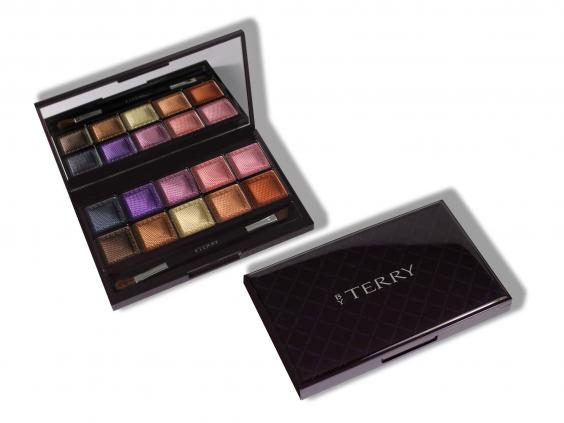 A bolder selection of shades than most palettes offer, this dazzling compact contains neutral base tones alongside some more daring choices for a vibrant pop of colour. The texture is velvety smooth and easy to blend for good colour build up. The double-ended eyeshadow brush is a great quality one too – with a softer brush for blending and a firmer, angled brush for definition and lining along the lashes and crease.
10. Clarins 4-Colour Eyeshadow Palette Limited Edition, 6.8g: £34 for 4 shades, Clarins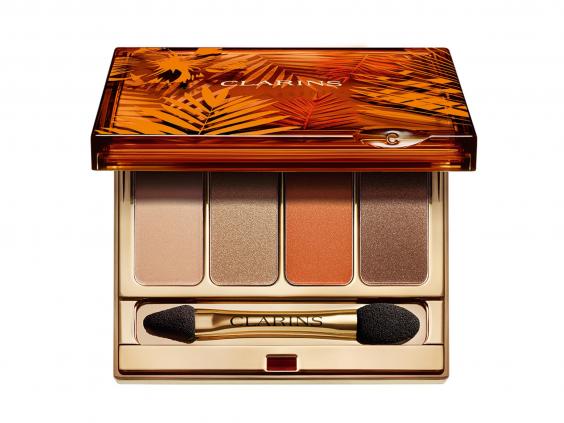 Arguably this is a palette that will come into its own in the summer, when we're all a bit more sun-kissed. The warm beige, gold and bronze tones play a low-key base role compared to the head-turning, burnt orange shade. Apply wet to increase the intensity, and use the enclosed card, featuring two different looks, if you're not sure where each shade works best.
11. Blank Canvas Cosmetics Master Series Palette One, 11.3g: £30.20 for 12 shades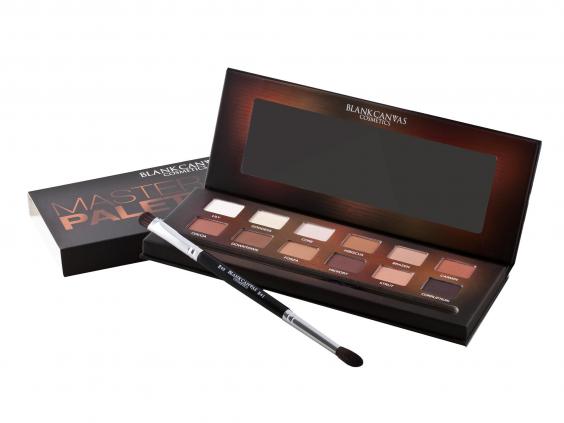 Not one for the handbag, this oversized palette of 12 flattering neutrals is excellent value for money and a real make-up kit staple. The pigment is superb – just a delicate sweep of the brush and you can pick up enough colour for a full eye. Velvety soft and simple to blend, the shadows are all matte except one shimmery champagne highlighter. It also includes a full-sized, double-ended, tapered brush – one end is a firm shorter brush to line, define and blend in the crease, and the other is larger for excellent blending and smudging.
12. Maybelline The 24 Karat Nudes, 9.6g: £9.99 for 12 shades, Boots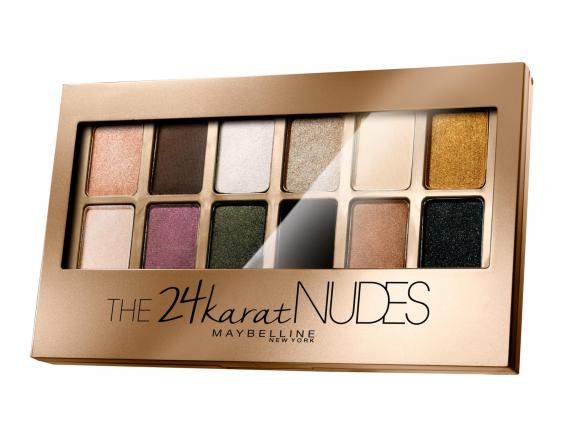 This may appear to be a random selection, but it can actually be divided into quads, trios and duos of complementary shades that work together. Instructions on the reverse of the palette indicate where to apply each shade, and whether it's best for base, crease definition, lining or highlighting. Shimmers, mattes and pearlescent shades ensure this works from day to dusk to dawn, and it's great value too.
13. Bagsy Savannah Miller Dawn to Dusk Eyeshadow Palette, 9g: £24 for 5 shades, Feel Unique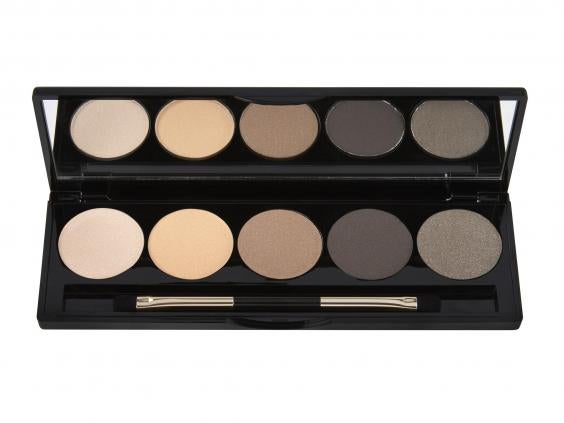 These shades aren't going to rock the boat, but they're pretty much universally flattering, so you can't really put a foot wrong with them.  For a pretty daytime look or a shimmering evening eye, the five shades can be blended to work for both. They're not overly rich in pigment, which means you can control the colour level as you build up the intensity – great for newcomers to the smoky eye – and they're long lasting and crease-free.
14. Pixi By Petra Mesmerizing Mineral Palette in Sunset Mattes, 5.76g: £15 for 6 shades, Pixi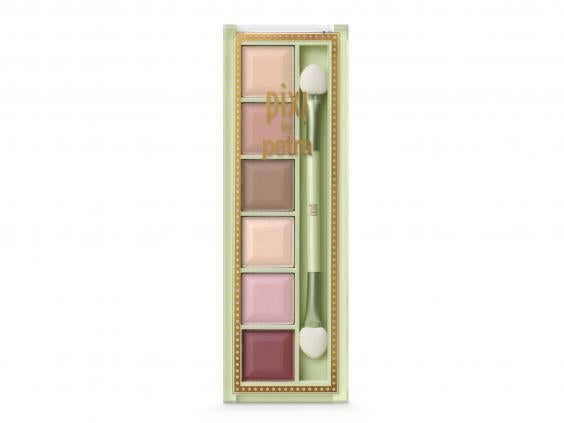 A palette of mattes isn't for everyone, but if you're a dab hand with a shadow brush then you won't need the more forgiving shimmers and metallics in your palette. The vitamin E here nourishes and protects while the mineral content gives a smoothness to the formula, so there's no dragging as you apply (yes, you read it correctly – even with a matte, no dragging). There's a pretty combination of rose pinks, rose golds, soft fawn and neutrals for a simple daytime eye (we think it's ideal for bridal make-up). The applicator is better quality than most free sponge applicators in a palette too. It's double-ended and longer than usual, with a better quality, firmer sponge for more effective colour pick-up and more precision blending.
The Verdict: Eyeshadow palettes
Laura Geller's smoky neutrals are easy to blend and can be used wet or dry, Sunkissed is astonishingly good value for money, and Hourglass, although it only contains five shades, will suit all skin tones. But the Stila compact is pick of the best as it's luxurious and great value for money, can be used wet or dry and has an almost perfect selection of mattes and metallics in shades that will all be used.
IndyBest product reviews are unbiased, independent advice you can trust. On some occasions, we earn revenue if you click the links and buy the products, but we never allow this to bias our coverage. The reviews are compiled through a mix of expert opinion and real-world testing
Reuse content