As spring approaches it's time to march away from your winter wardrobe and get back out into the big wide world. Swap Netflix and comfort food for alfresco dining and meandering around the parks (promising yourself that it will get warmer eventually).
With any wardrobe change and leap back out into the big wide world, you're going to need to upgrade your accessories, and the best place to begin is with the humble backpack. Sure, a messenger bag looks cool, but are you really going to be able to carry everything you need in it? And if you get a caught in a spring shower, how far is that canvas bag going to get you, eh?
Whether it's a trip into work or out and about in the evening, the backpacks below are the perfect blend of style and substance. They'll transport your gear, but also not look like you're about to head out on a survival course with Bear Grylls. From the wallet-friendly to the luxury end of the market, here's a range of bags that won't skimp on quality or fashion appeal.
So, say it with us now… "Papa's got a brand new bag."
1. Eastpak Rowlo Into: £70, Eastpak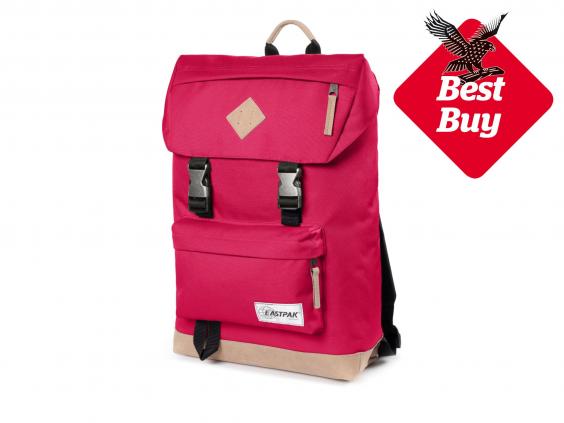 On the outside of this bag you have touches of leather and industrial-looking buckles to secure the pack. Inside, within the 24 litre capacity, there's a special tie to seal it tight against the elements. Your tech stays safe with a huge padded section (it'll fit a laptop up to 40x17cm) and there is plenty of room for everything else besides, without looking bulky or like you're headed off on a two-month camping trip. Eastpak always shows off with a dazzling array of colours and patterns and Rowlo is no exception – designs range from a bright red to a stylish camo. Plus, this particular backpack comes with the company's impressive 30-year guarantee – so you know it's built to last. 
2. The Cambridge Satchel Company Bridge Closure Backpack in Leather: £270, The Cambridge Satchel Company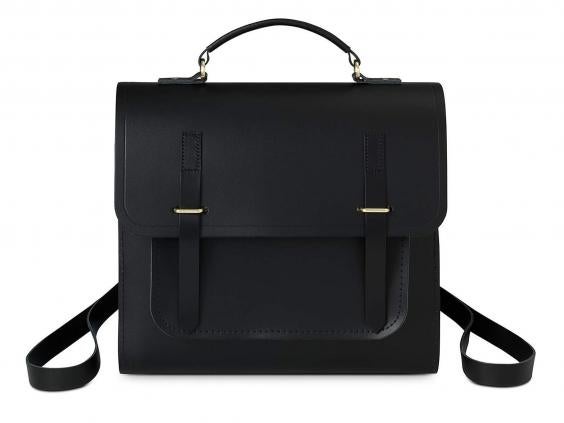 The Bridge Closure backpack is a stylishly simple choice that does exactly what's required. It boasts a cavernous amount of storage, all  within a clean-cut leather housing. The clasp and seal for these backpacks are always a nice touch – this one comes with a bridge housing method (two metal brackets you pop the leather straps through in order to secure the top flap of the rucksack). There are a variety of colours available, and you can personalise with monograms (£7 per letter) or a symbol (also £7 each). If leather doesn't do it for you however, there is a lovely canvas option out for SS17, costing £190. With a more traditional way of securing the upper flap, this light and comfortable bag is perfect for the new spring season. In comparison to the other backpacks on this list, the Cambridge Satchels don't have any additional padding on the shoulder straps, so long term comfort can be factor if you're lugging around lots of stuff. 
3. Coach Flag Backpack: £795, Coach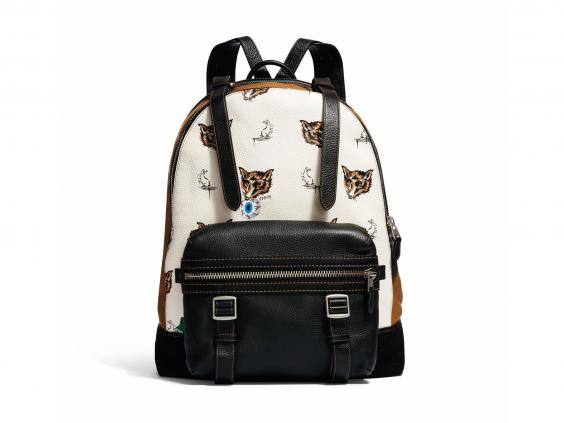 One for the larger budgets, this from the high-end New York brand is a big and bulky pack – but in a very good way indeed. It has an excellent weight to it, feeling reassuringly substantial, and the quality of leather is divine. You might think the fox and bunny print is slightly over-the-top, but we think it's rather adorable. It reminds us of early Fantastic Mr Fox illustrations, slightly dark but also ridiculously cool. Inside the main compartment there's a section with a tough popper seal for a tablet or small notebook and an extra zip pocket for your bits and bobs. Then, at the back is another large, separate compartment for a laptop. Initially one might worry about the lack of padding in this section, but it's always going to be against your back and boasts a sturdy zip and hardy leather. All of this coupled with the generously sized leather front pouch means you have an excellent backpack that's very stylish and practical. If we had to choose any backpack on the list, it would be this one, but that price-tag is rather massive.
4. Ted Baker Lacool: £119, Ted Baker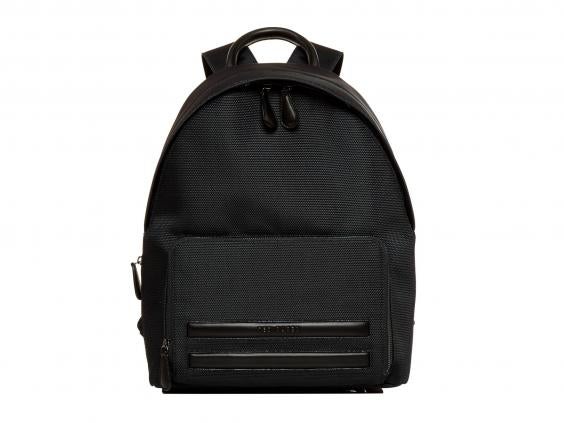 The exterior of this bag is distinctive and the colour is fantastic. Inside, the attractive green design keeps things interesting and the extra padded section for a notebook or tablet is a welcome addition. The small front pocket is more for show, housing small, light objects rather than anything substantial, but with backpacks like these it would look slightly strange to not have front zip-up pocket. There's excellent padding on the straps and back, making this a superbly comfortable carry, regardless of what you're lugging around on the inside. A lovely extra detail is the leather top handle, which is comfortable to use, while we also like the subtle Ted Baker logo on the buckles and front of the bag. Available in navy or chocolate brown.
5. Bric's Moleskine Roll Top Backpack: £299.99, Moleskine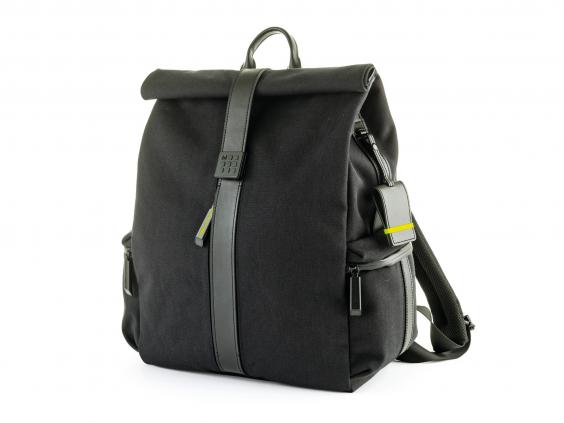 This classy-looking backpack is collaboration between Moleskine, the Italian brand best known for its stationery, and luggage specialist Bric's. It has a black canvas design, leather carry handle and a leather strap finish around the pockets. Inside, you'll find a pocketed section with various compartments – of course, one of them perfectly fits a Moleskine notebook. It can also house a 17-inch laptop, and has a clever back sleeve so you can attach the bag to your wheelie luggage if you're heading off on a longer trip. There's also a brilliantly bold, lime-green lining inside, which matches the elastic near the handle (you'll not misplace this bag – not that you'd want to, either). We're also fans of the catch and locking mechanism – it's a pull-down lock catch to bring the main flap downwards, accompanied by a magnetic seal for the roll-top seams. It's a secure and hassle-free system.
6.  Mad Rabbit Kicking Tiger Kendrick Backpack: £99, MRKT Store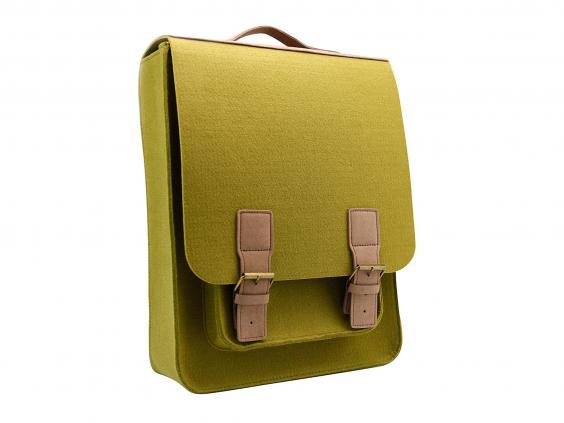 This backpack is based on the massively popular Japanese randoseru bags, typically carried by school kids. This design, however, is a lot slimmer and is made from felt and vegan leather. With two magnetic clasps to seal the flap and an additional zip for the main compartment, your belongings will be safe and sound. It comfortably fits a 13-inch laptop, but we would recommend one of the lighter notebooks or a tablet for this bag – you don't want to overfill it, because the shoulder straps have relatively little padding. It's a stylish, distinctive pack that is guaranteed to stand out.
7. H&M Backpack: £29.99, H&M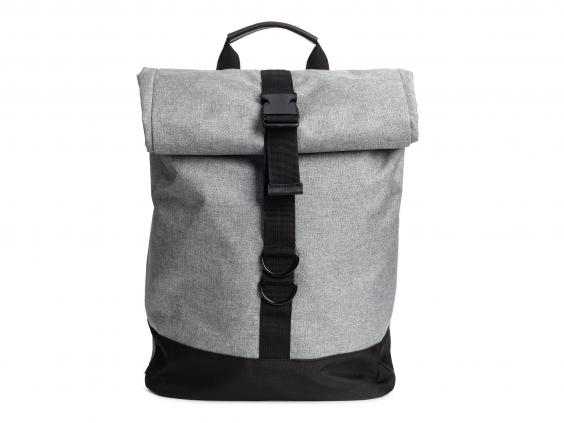 This pack is one of the cheapest on the list, but don't let its price tag fool you. It's a smart little bag that's both comfortable to wear and boasts plenty of storage. The roll-top design is very on trend right now and is excellent way to keep your belongings dry from the spring showers. Elsewhere, the padded back and straps make it a superb day-to-day bag on a budget. It's only available in grey, though.
8. Tumi Alpha Bravo Luke Roll Backpack: £530, Tumi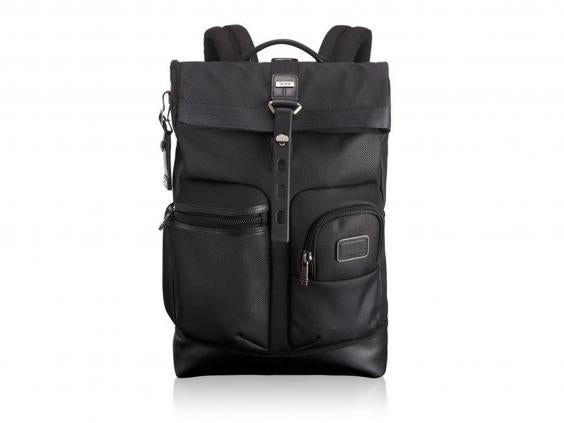 It's another roll top, but this one is a beast. It's got a huge amount of space and a very cool-looking inner lining. The main compartment will happily house your belongings for a short trip away, as well as a 15-inch laptop and other bits and bobs, while the multiple chunky pockets will take everything else. The USP for this bag though is the visibility. The reflective silver effect means it lights up like a Christmas tree at night, while in the daytime it just appears to be a silver-black mesh mix. This, coupled with the cavernous storage, makes it a great option for the bikers out there.
9. Knomo Cromwell Roll Top Backpack: £89, Knomo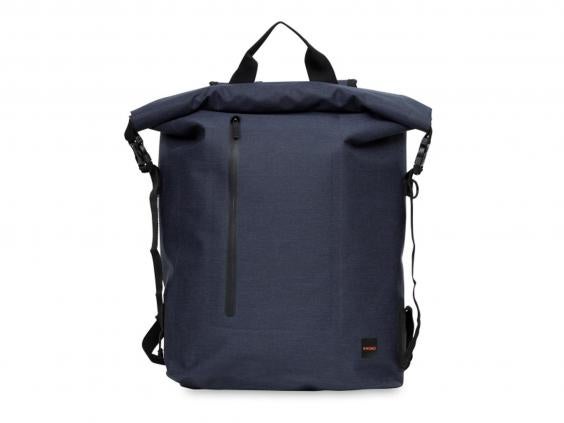 The final roll-top on our list, this is the Cromwell from Knomo, a brand which specialises in understatedly stylish bags, but which also applies its expertise to cases for tech. The bag is made up of welded nylon – each piece is heat-bonded together, rather than piercing the fabric by stitching it – which means no leaks and less chances of wear and tear. The storage for this pack is huge and pleasingly simple. There are sections for your doohickeys (because what backpack doesn't nowadays?) and it also boasts a huge main section for everything else – it will store your laptop, gym clothes and packed lunch with ease. The shoulder straps are comfortable and there's a well-padded back section, making this is a brilliant all-rounder.
10. Sandqvist Alva: £139, John Lewis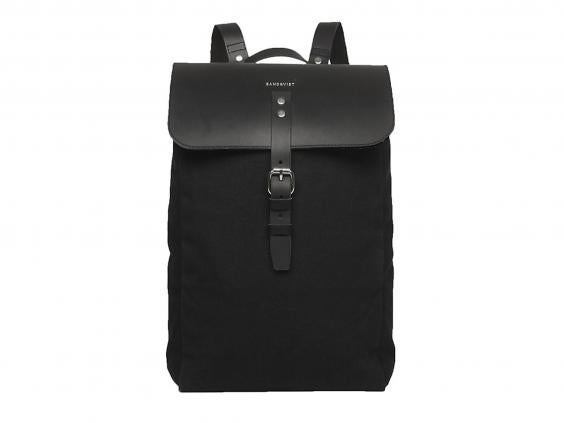 The Alva is a stunning canvas and leather combo that is guaranteed to withstand the ups  and downs of the fashion world for the next few years. With a simple, leather top flap that buckles to the front and a cord-sealed interior, your gear is safe from the showers. The interior will comfortably house a 13-inch laptop and your others bits and bobs for a day at work . The straps, plain, strong and sturdy vegetable tanned leather, look great but can be a tiny bit uncomfortable if you over pack. The way they attach to the backpack, through two silver hoops, is a lovely touch as well. There are two colours to choose from.
The Verdict: Men's backpacks
If distinctive style is your thing, you really can't go wrong with the Kendrick Backpack from MRKT – you're unlikely to see it out and about too often and its beautifully simple design is bound to turn heads. If functionality is your forte and you're in need of a heavy hitter in the storage department, opt for the Cromwell Roll Top – it's resistance to the spring showers will also be a blessing. But if you're hunting for a good all-rounder and a pack that isn't going to break the bank, we recommend the Rowlo from Eastpak, a brand which has become one of the most reliable backpack brands for a reason.
IndyBest product reviews are unbiased, independent advice you can trust. On some occasions, we earn revenue if you click the links and buy the products, but we never allow this to bias our coverage. The reviews are compiled through a mix of expert opinion and real-world testing