Packing to go away can be a nightmare, especially if you've booked last minute and need to throw everything in a case and run to the airport. Having a trusty wash bag with all your toiletries ready to go is a vital part of being prepared for a weekend break, and not ending up stranded in Barcelona without a toothbrush.  
But for an essential product, the variety in price and functionality is really quite surprising. For those happy to invest, some luxury brands have offerings for well over £200, crafted from luxury Italian leather. But for those who are prone to losing their luggage and looking for something on a budget, there are still plenty of cheap yet practical bags to choose from. 
Look out for different styles to get the bag that suits you – from the classic pouch with handle to roll-out versions which hang on the back of your bathroom door. The material also makes a difference, and our offerings include wipe-clean, canvas and leather.
1. Ted Baker Lanclot Pebble Grain Leather Wash Bag: £65, John Lewis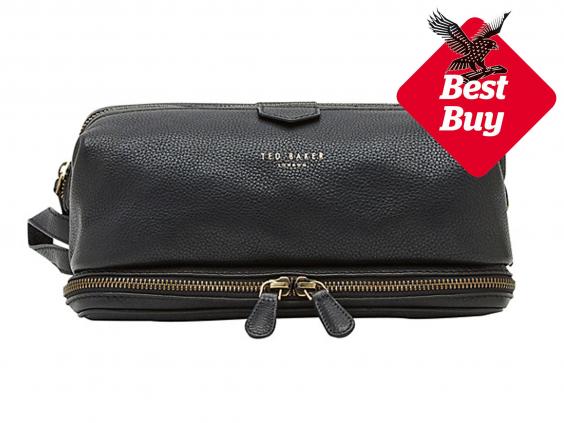 This bag from Ted Baker has all-over pebble grain leather, dark purple highlights at the edges and a deep navy lining. It also has a large compartment underneath with built-in netted pockets, and several elasticised pockets in the main compartment. It opens widely, making it easy to rummage around and find your toothpaste, and is finished with that signature gold branding to the front. 
2. Chapel Cards Bicycle Wash Bag: £20, Not On the High Street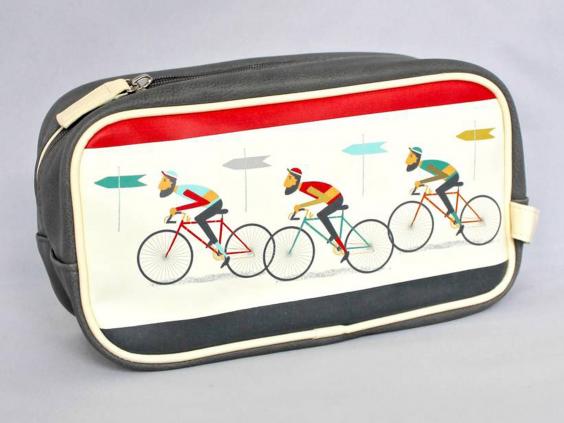 For the cycling enthusiast on a pedalling holiday, this bag from gifts brand Chapel Cards has a cool design on both sides and is constructed from a strong, wipe-clean vinyl material. The inside is waterproof, just in case your shampoo leaks, and there are spare pockets for extra razor heads or other small items. To top it off, Chapel will save you the hassle of wrapping it if it's a gift, and send it with a ribbon to the lucky recipient.
3. Carhartt Watch Wash Bag: £25, Asos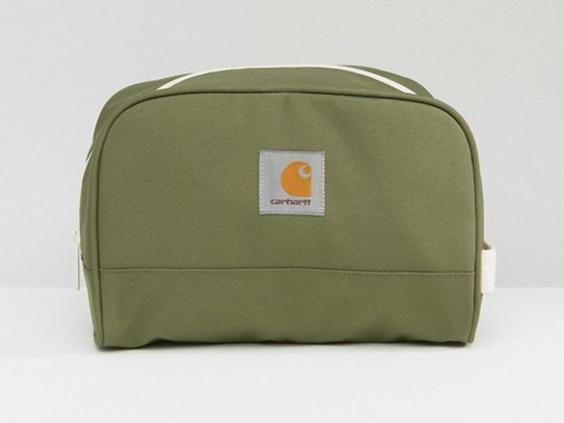 This surprisingly big wash bag from Carhartt has a white zip across the top and a durable fabric handle on one side. The workwear brand is known for reliable products with sturdy construction, so you won't have to worry about the safety of your shower gel with this one. The inside of the bag is made of canvas with a waterproof layer beneath, making it lightweight and leak-free.
4. Herschel Supply Co. Chapter Wash Bag: £25, Trouva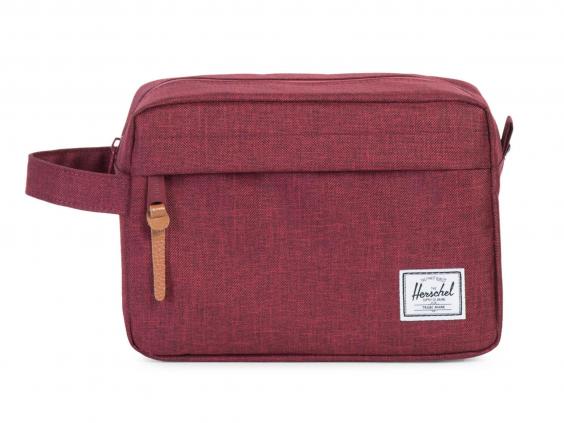 Herschel has a reputation for its trendy, understated designs, and this wash bag is no exception. Although the outside of the bag is fabric, it's fully waterproofed from the inside and over the zip across the top. The signature red-striped inside fabric – made famous by the brand's rucksacks – also makes an appearance, in the spacious interior with netted pockets. An extra pocket across the front gives you a space to tuck your razor away safely. 
5. Smythson Burlington Wash Bag, Navy: £395, Matches Fashion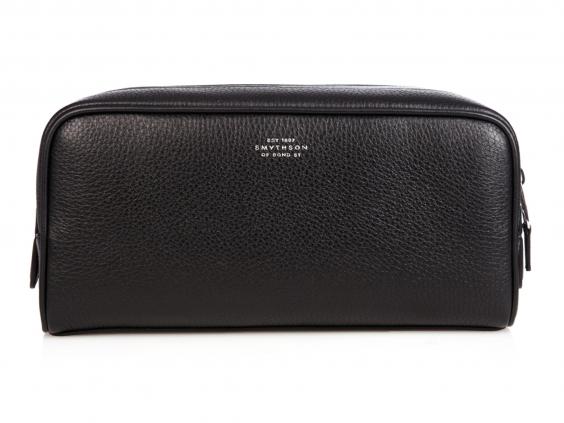 This super-luxury bag from Smythson is made from very soft Italian leather and has a slightly weighty feel to it. The interior is made of a rich red fabric, and the insides of the pockets are a muted mustard colour that complements the navy exterior. There's space inside for plenty of toiletries, and the zips reach almost to the bottom of the bag, so you don't have to root around inside for long to find what you need. 
6. Wild & Wolf Gentlemen's Hardware: £24.95, Coes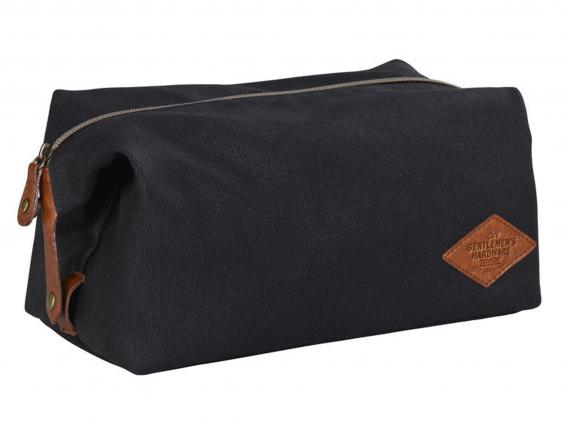 This wash bag, from the British gift company Wild & Wolf, has a rustic leather-look logo on the front warning it's "for true gents". It has one large compartment and a side pocket, and leather tabs either side of the zip that can be turned into handles by using the popper fasteners to attach them to the bottom. A chunky, masculine design with an inside that'll care for your stuff.
7. Stanley Wash Bag: £35, John Lewis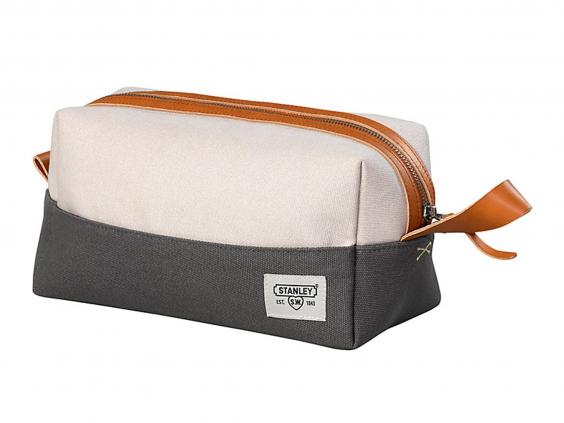 For the handy man, this bag comes from Stanley – the same Stanley responsible for the original Stanley Knife. The bag comes with lots of leather extras on a rugged canvas base in earthy colours. A long pocket across the front offers space for a razor or toothbrush, with an extra, smaller one inside. The fabric gives the bag a soft feel while looking sturdy – it would be equally at home on a plush hotel duvet or at the bottom of your bag for a camping trip. 
8. Fossil Shave Kit: £119: House of Fraser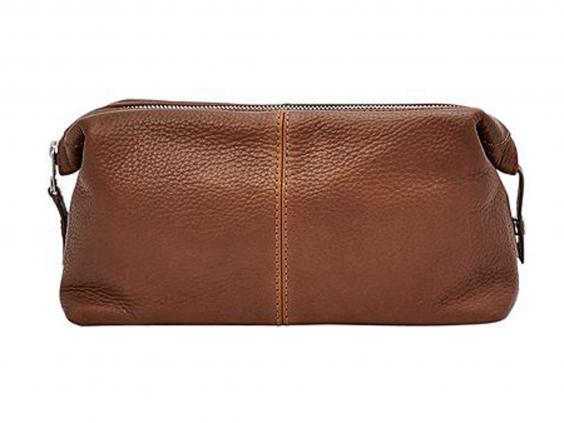 Fossil's products typically cater to the stylish man, and this offering has a distinctly premium feel, which is backed up by the price tag. The material is what Fossil calls "waxy tumbled" leather, which makes it soft to the touch, and the bag is very wide, giving it masses of space inside. The inside of the bag has a waterproof lining stitched into it, and the small internal zipped pocket has a leather pull. Each side of the bag has a popper on it, giving you two handles when the bag is zipped up, making it easy to carry and hang up.
9. Linea Pebble Leather Washbag: £40, House of Fraser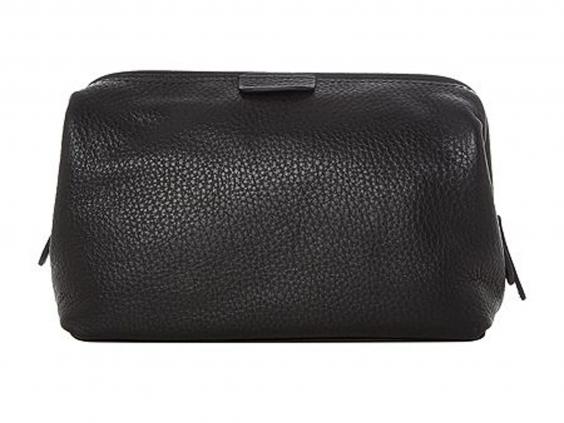 If you value simplicity done well, then this is the wash bag for you. It's pebble texture exterior is made from 100 per cent leather, and inside is a large, undivided space for all your toiletries – great if you just want to chuck it all in there without worrying too much about organisation. The zip fastening means it will all stay secure.
10. Catherine Aitken Harris Tweed Toiletry Bag, £45, Not On the High Street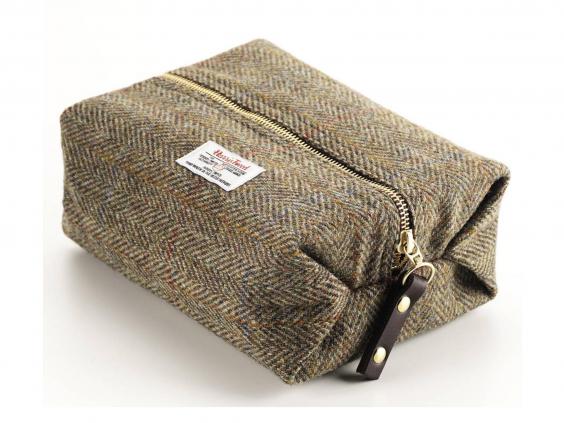 This bag from Catherine Aitken is constructed from genuine Harris Tweed, hand-woven in the Outer Hebrides. The zip and leather pull have a durable feel to them and the bag is available in green or grey herringbone. The inside of the bag is made of a lightweight canvas, and the stitching at either end allows it to fold flat when empty.
The Verdict: Men's wash bags
Our Best Buy is the Ted Baker black leather wash bag, for its sturdy design and spacious double compartments. For a quirky gift, the Harris Tweed bag from Catherine Aitken is designed to be noticed, and for a premium option, we liked Smythson's Burlington bag.
Reuse content