Compact or automatic, patterned or plain, however you want your brolly, in the UK it's essential you have one. These isles aren't blessed with tropical temperatures and a rainy day comes once too often. But don't let it get you down. Here's our selection of the best umbrellas. Some are specifically built for blusters, some are more stylish handbag-sized options (otherwise known as compact umbrellas), some are bubble brollies where the dome shape of the canopy offers more protection, and some are automatic (opening with a simple push of a button), but all will protect you from the elements. 
1. Totes Auto Open Close Xtra Strong Multi Dots Scarlet Umbrella: £28, Totes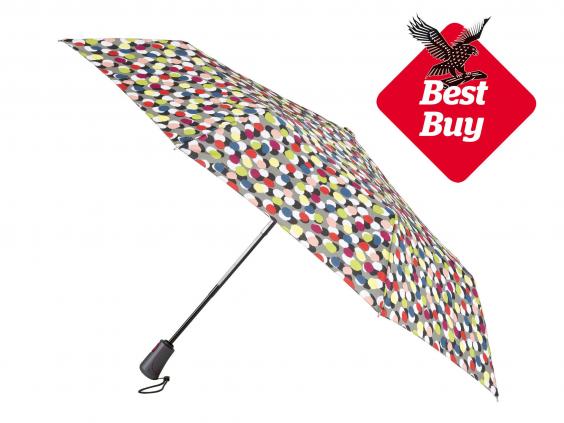 Colourful and bright, this umbrella is part of Totes' X-TRA STRONG umbrella range. This means it's great for wet and windy days – you won't have to worry about it awkwardly blowing inside out on your way to work. The canopy is larger than your average brolly too, meaning most of your body is sheltered from the rain as you walk. It's also automatic so a simple press of the button on the handle will kick it into action. Coming with a case, there are other (non-patterned) designs available too. 
2. Blunt Umbrellas Classic Windproof Stick Umbrella Forest Green: £55, Blunt Umbrellas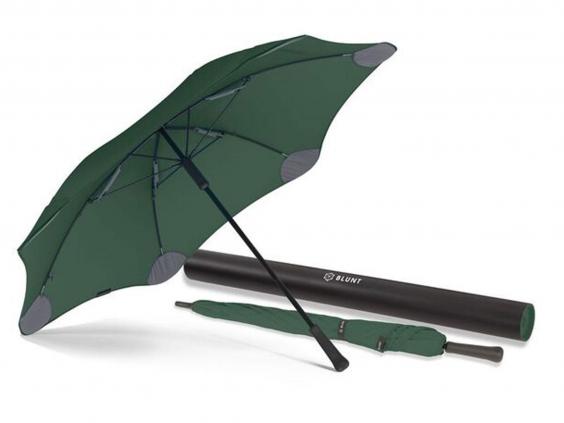 If you're willing to invest a little more money into your rain protector, then try out Blunt Umbrellas for a sturdy and safe option. The brand's main aim is to build umbrellas that last, so you aren't chucking broken brollies away every week. And we think it's done a great job. This classic style comes in a variety of colours, has safety tips (no poking people's eyes out as you march to work) and won't let you down in a heavy downpour.  It's all you could really ask for from an umbrella.  It's large though, so not for someone looking for a bag-friendly option.
3. Next Black Automatic Open/Close Umbrella: £14, Next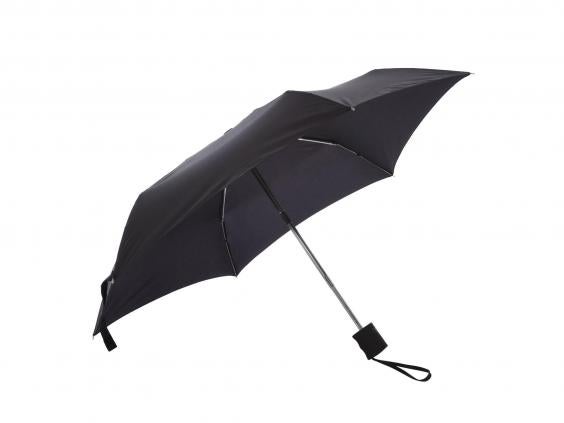 If you're looking for a no-frills option with an appealing price tag, this is the one for you. The simple black model is automatic, so you press the arrow on the handle and it pops open. Be careful though, as this mechanism is powerful, so make sure no one is standing too close when you do this. It's able to handle heavy downpours well and covers a decent amount of your top half.  It also comes with a case. 
4. Fulton Umbrellas Lulu Guinness by Fulton: £28, Fulton Umbrellas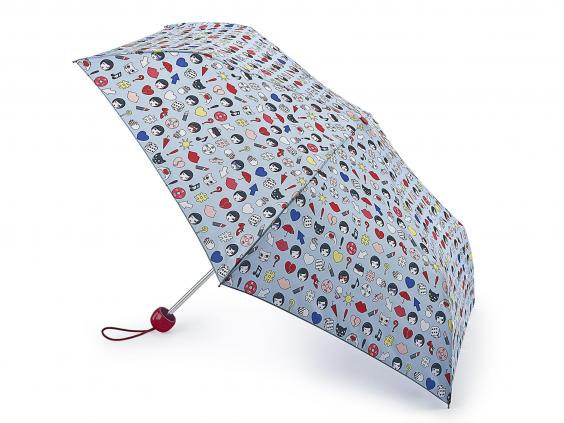 This umbrella's print was created by fashion accessories designer Lulu Guinness and it is the perfect size for fitting in small handbags. Coming with a matching cover and a handle embossed with Lulu's initials, the jazzy print adds a stylish edge to a compact brolly. It's lightweight and covers a good proportion of your head and shoulders and has a simple push and click mechanism.  There are other Lulu Guinness designs available if this doesn't appeal.
5. James Smith & Sons Pencil Umbrella with Leather Crook: £95, James Smith & Sons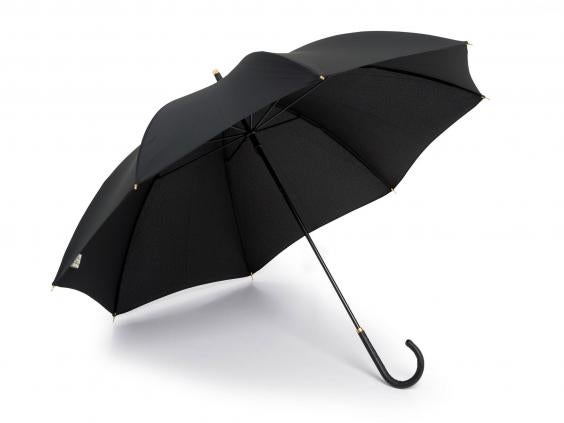 James Smith & Sons has been selling umbrellas since 1830. This handmade umbrella, designed for ladies (although there is a male version too), is the ideal wind and rain protector. It's the detail that makes this one stand out – a button fastening to keep the umbrella canopy compact, gold spoke tips for a touch of elegance and a black rope loop for hanging it up when you get in. It's sleek, stylish and understated, with the crook-shaped Italian leather handle designed to slot over the arm. Available in a range of colours.
6. Aspinal of London Ladies Marylebone Stand Up Umbrella: £195, Aspinal of London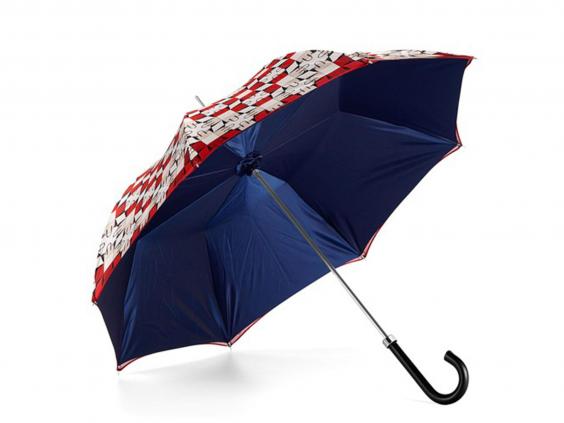 If you're looking to indulge in something designer then you'll love this large umbrella with a red geometric print on the outside and a navy blue lining. It's luxurious and high quality. The canopy is made from Italian satin-finished waterproof fabric and the hook handle is made from Italian leather. But we were most impressed with the concealed spoke design, which makes this model look all the more stylish. It's pricey but if you're willing to splash out, you'll be pleased with your purchase.
7. Hunter Women's Original Moustache Bubble Umbrella: £32, Hunter Boots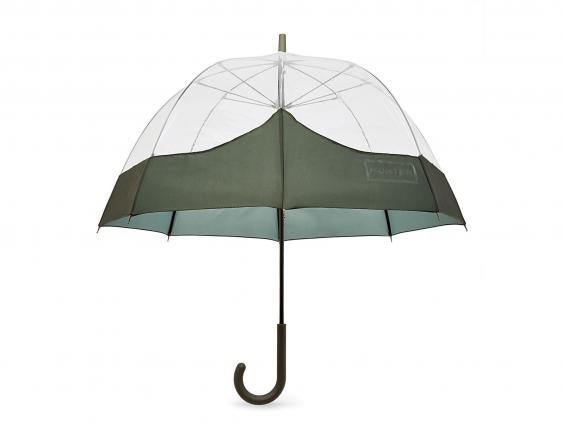 Best known for its wellies, Hunter also has a range of country-style bubble brollies. We think this one is ideal for taking on wet walks in the countryside; you can even get matching wellies. Largely transparent, apart from the coloured trim at the bottom (or moustache as Hunter phrases it), the logo is also printed on the side. The style means it sits comfortably over you and combats wind well, while also keeping you dry. The rubber hook handle has good grip and is better than button handles we tested on smaller brollies. This is a big umbrella though, so not really suitable for carrying on the commute.  
8. Ted Baker Diamond Printed Compact Umbrella: £25, Ted Baker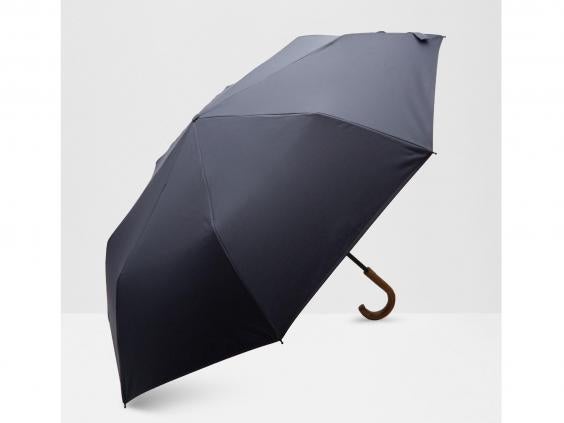 Marketed for men (but we think it works for anyone), this Ted Baker brolly has a hidden floral print on the inside, making it much more stylish than a plain umbrella. Ted Baker is also printed on the outside and there's a wooden hook handle at the base, adding to its distinctive design. Despite the hook handle it's still compact, so won't take up much space in a larger bag or brief case. For a designer brolly, it's also a reasonable price. 
9. Trouva Susino Cat Umbrella: £10, Trouva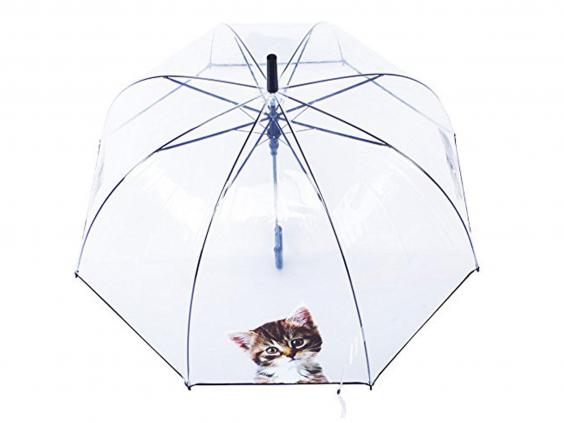 The see-through design of this umbrella makes it practical when it comes to navigating through crowds on busy pavements. You can see exactly where you're going and who's around, avoiding any awkward collisions. The bubble shape is ideal for keeping head and shoulders covered too, meaning you can avoid a bad – and wet – hair day. The fun kitten print on the side makes it more interesting than your standard umbrella but there's a dog print version too for pooch lovers. 
10. Original Duckhead Black Grid Umbrella: £22, Asos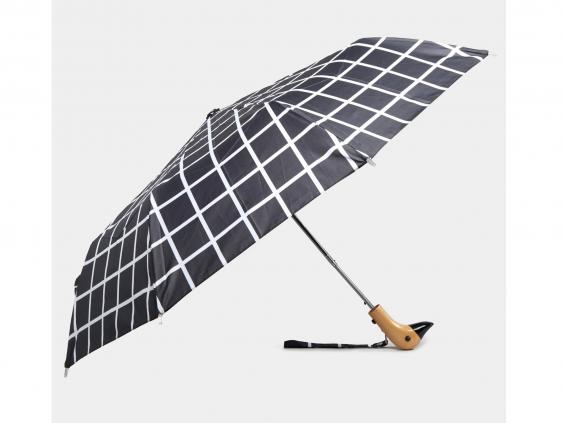 Make sure you instantly recognise your brolly in the umbrella stand at work by buying this reasonably priced model from New York-based umbrella brand Original Duckhead. The black and white square print will make you stand out from the crowd – but not by too much – while the duck handle hides a button which makes the brolly open automatically. Available in a range of colours with various animal-themed handles, it's a fun brolly to have at the ready. 
The Verdict
For wind and rain protection that also fits in your bag, go for Totes. Blunt Umbrellas also has a great design with its classic model, if you don't mind a bigger brolly. And Next's automatic umbrella is ideal for anyone not looking to spend much
IndyBest product reviews are unbiased, independent advice you can trust. On some occasions, we earn revenue if you click the links and buy the products, but we never allow this to bias our coverage. The reviews are compiled through a mix of expert opinion and real-world testing
Reuse content