Every bridal party is going to be made up of girls of different heights and shapes. That's a given. Some will need more support in the bust area than others, at least one will prefer sleeves to sleeveless numbers. Others would rather plump for a maxi over a midi or knee-length dress. Or vice-versa. You might have a mum-to-be in your bridesmaid squad too, as well as girls spanning multiple decades.
The result is that often, a one-size-fits-all dress won't cut it. Anyone who has seen the grooms do a last-minute sale-rail dash in Don't Tell the Bride can attest to that. 
We've stepped in to give anyone organising a wedding a helping hand. Rather than dresses from brands' main collections that could work for a bridal party, the options on this list are lines that are specifically pitched by retailers as bridesmaid dresses.
Some are high street collections, with new lines from the likes of Topshop and Hobbs, and others are from long-standing bridal party go-tos like Monsoon, Debenhams and Ghost. There are also bridesmaid and occasionwear specialists from both the UK and the US.
The high street options are generally off-the-peg, and this season pale pink and navy seem to dominate – though expect darker colours to drop as we head into autumn. 
If you want your party in the exact same shade, ranges by the same brand in different styles may work. Or you might be up for hues of one colour. For inspiration, try Googling Rihanna and her girl gang in variations on purple at the wedding of her assistant Jennifer Morales in 2015, or model Ana Beatriz Barros, whose statuesque bridesmaids all wore dresses in pretty shades of pink. 
Most of these come in standard dress sizes, and options range from UK size six to 24. Some brands have their own measurements and you will need to check yours against their sizing. If required, some can make bespoke sizes on request. 
We've tried all these and many more, and have taken recommendations from bridesmaids who have already walked down the aisle. Fabrics range from classic chiffon to modern jersey or slinky satin. We even think that many of these will also work for black tie events and special occasions after the big day.
We've taken into account the quality based on look, feel, fit, material and ultimately, how the collection makes a girl feel when she's got all the eyes in the room on her. For each brand, we've chosen our favourite dress from its current line – but if you don't like our selection, there should be plenty more to pick from.
A US import, but with the dresses made in London, we think Twobirds' multi-way dresses are ingenious: they can be tied in loads of ways to accommodate different looks and figures, and come in over thirty colours. The same dress can be styled so that it's strapless, halterneck, one shoulder, with capped sleeves or with various looks at the back – we love the Grecian twists.
While the wearer might need some help, the online videos are simple to follow. Made from a heavy jersey fabric, with a generous skirt, we found these to be universally flattering; they also work for pregnant ladies. If anyone in your line-up wants more coverage at the front, you can get a matching bandeau top.
There is a version of the multi-way design which comes a thigh-high split. There's also a shorter version, and a design with a tulle overlay – although it comes in fewer colour options – as well as choices for junior bridesmaids. There is also a new, slightly cheaper "Party" range with  dresses that have a pretty ruffle detail. These can also be styled a number of different ways.
There's an extra-long version for your tallest bridesmaids, but the standard-length dresses do come up long anyway, so expect to factor in time to have them taken up for the more petite girls. 
IndyBest Pick: Classic Ballgown: £250, Twobirds Bridesmaid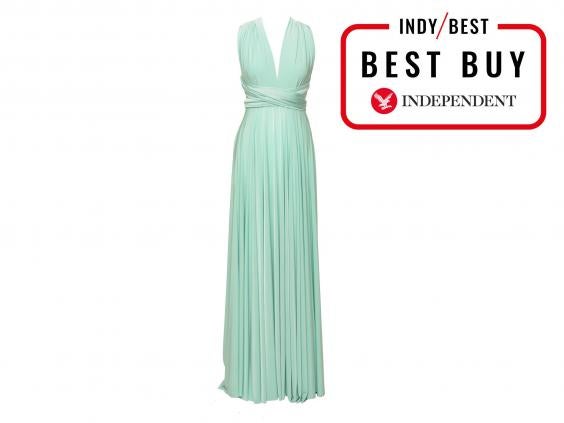 For our money, the classic ballgown is the best value as it can work for other formal events well beyond the wedding, and it comes in the biggest range of colour options – including a strong suite of bold shades (hurrah!). 
British occasionwear specialist Ariella has a small range of bridesmaid-specific dresses: all elegant options. Predominantly maxi styles, in easy-to-wear, soft tulle, sizes run from 8-18 and designs range from a classic one-shoulder style with a flowing skirt to a modern-feeling gold halterneck with just a subtle hint of sparkle.
The collection also offers a 50s-style prom dress if your bridal party doesn't want to go full-length. Colour options are more limited than some on the list, but the pretty shades of pastel will work for many wedding themes. 
IndyBest Pick: Octavia One-shoulder Maxi Dress: £125, Ariella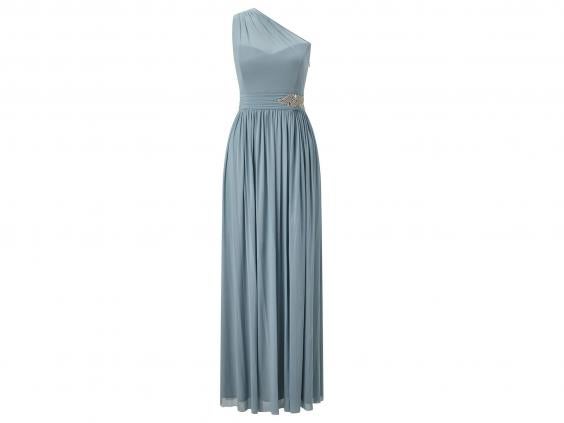 The one-shoulder Octavia makes us think of a Greek goddess – with a twist. The embellished crystal on the waistband adds a bit of bling, and gives it a vintage feel. The layers on the gathered skirt combined with the nipped-in waist and boning on the chest keep it flattering. Choose from pretty duck egg or mauve, we just wish this one came in some bolder colours for us pasty girls who don't do pastels. 
Hobbs' bridesmaid collection is new this year, and our testers were impressed with the quality of the dresses from the British high street store. In navy, blush pink and mint green hues, there are maxi and knee-length options in soft chiffon that we found to be universally flattering and more premium-feeling than some ranges. Sizes go from 8 to 16, and our panel thought them true to size. 
IndyBest Pick: Andrea Dress: £79, Hobbs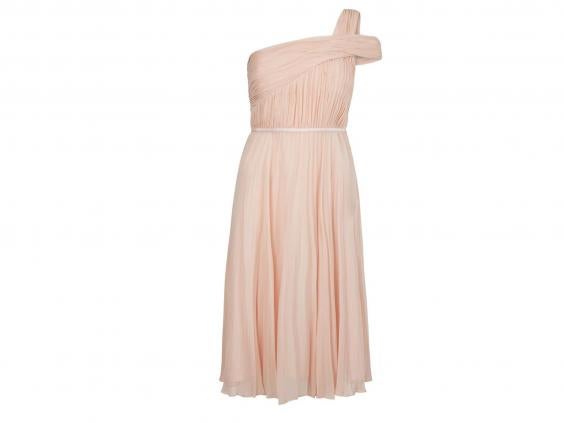 We love the ethereal-feeling Andrea, with a flattering gathered skirt and bust with a pretty two-strap detail across one shoulder. Our tester felt that thanks to the supportive boning in the top, bridesmaids with fuller busts would be able to go braless if necessary, and the gathered pleats made it more forgiving than some she tried.
Plus, you could wear this easily to other formal summer soirees without it screaming "bridesmaid". Currently on offer. 
I wore a Ghost dress the first time I was a bridesmaid, and lots of people commented on the flattering bias-cut style that skimmed my body in the right places – the less said about my dodgy spray tan, the better. These come in a number of glamorous maxi styles, with different necklines and colours ranging from pastel to bold jewel tones.
Each dress has its own colour options, but there are also 13 other shades available through the useful "dye-to-order" service (you will need to allow four-six weeks for those). Sizes run from "petite" (a UK 6) to XL, the equivalent of a 16. The weighty lined satin fabric keeps things flattering, though some bridesmaids might find it slightly less forgiving than tulle or something more gathered.
These dresses are seriously long –  even for one of our 5ft 9in testers – so factor in that most girls will need them taken up. That said, the size 6 is 10cm shorter than the regular length.
IndyBest Pick: Edie Dress: £265, Ghost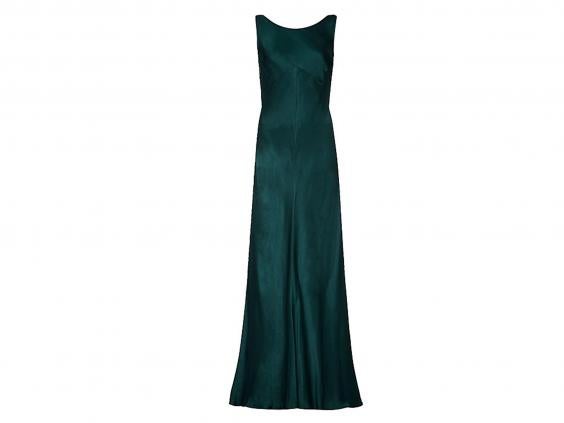 The elegant Edie has a super-glam deep cowl at the back and is available off the peg in silver or emerald, and other shades via "dye-to-order". These dresses aren't cheap, but they don't look too bridesmaidy – I've since worn mine to some posh dos. 
Do you want your bridesmaids in the exact same colour, but they don't all suit the same design or fabric? US brand Dessy's "mix and match" dresses come in hundreds of styles and fabrics – from crepe to velvet, via numerous types of chiffon – and each design can be made in a range of colours.
There are plus-size choices and even dedicated maternity options, as well as dresses designed with younger bridesmaids in mind. The brand has its own sizing system, so you'll need to find a retailer near you that stocks the style you want (there's a postcode search function on the UK website).
You will then need to go into the shop to be measured up so that they can order you the right size from the corresponding design. Stylists say to expect some kind of alteration to really tailor the fit to each girl (plus the brand advises extra length for anyone 5ft 7in or taller). This does mean dresses can cost a little more than the listed price, but you get what is essentially a made-to-order piece.
Our tip: order colour swatches online before you go and view dresses to help you narrow your search, and make sure you allow plenty of time to get these made and altered – UK stockists recommend allowing 12 weeks. 
IndyBest pick: Dessy Collection Bridesmaid Dress 6758: From £250, Dessy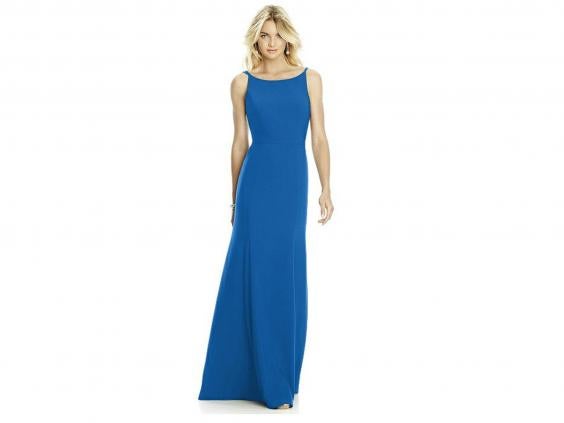 We like this crepe maxi style for its simplicity. It comes in over 30 colours and manages to look grown-up while still youthful. If anyone in the party feels like she might need a bit more support, there are very similar styles with thicker straps.  
Britsh wedding dress designer Sassi Holford launched Sassi B bridesmaid collection last year. All the dresses are handmade in the UK and you won't find chiffon here – the dresses are made from a stretch jersey that gives a smooth silhouette.
There are eight elegant, unfussy designs to choose from, ranging from an above-the-knee frock with an on-trend Bardot neckline to a maxi with a flattering v-neckline, and a high neck at the back that gives full coverage (unusual in the bridesmaid market).
Each dress is available in a dozen colours, with bold shades like a regal purple, sky blue and a rich teal alongside more traditional colours, so you could have all your party in the same colour but different styles. Comes in S, M or L, with the large being a size 14. Our panel found sizes come up quite small, so you might want to go up one from your usual, and you'll need no-VPL underwear as any lace or detail does show up.
IndyBest Pick: Style 04HL, Sassi Holford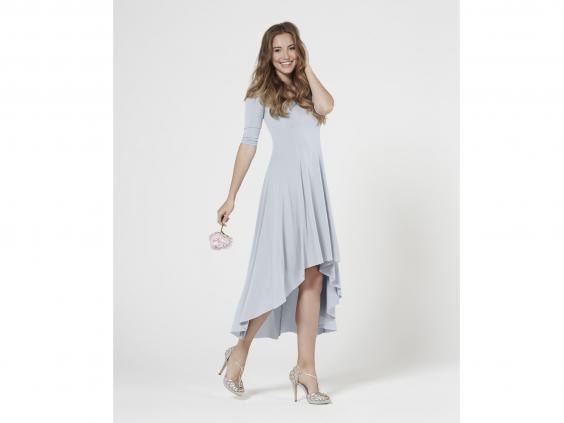 With three-quarter-length sleeves and a waterfall hem, this dress really feels like a style you can get a lot of use out of. Plus, it's ideal for any girls like me who prefer to keep tops of arms covered – a sleeve this length suits everyone.
Email info@sassiholford.com to order
For anyone on a budget with bridesmaids of different heights and sizes, Dorothy Perkins' Showcase range is a good bet; there are petite, tall and plus-size options (dresses go up to a 28). The chiffon styles are on the classic side, and colours this season are either very pale – dove grey, blush pink or lemon – or bright colbalt, coral and navy. The collection gets bonus points for being machine washable. 
IndyBest Pick: Showcase Natalie Maxi Dress: £65, Dorothy Perkins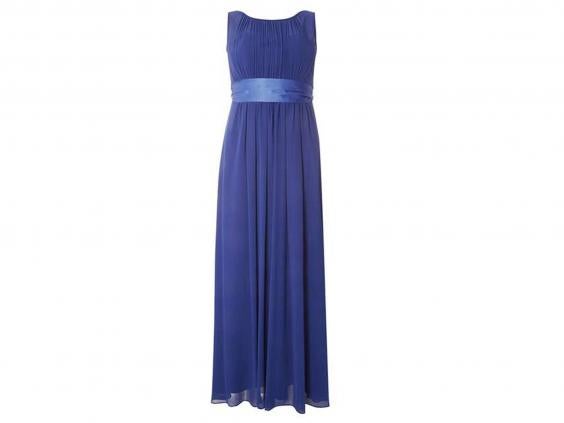 The tie waist and ruching on the Natalie maxi means there is some give for any girls in your bridal party between sizes. It's flattering on, helped by boning on the bodice. The satin belt can be folded or worn wide and it currently comes in six colours, including this vibrant colbalt. 
Coast is a high street go-to for occasionwear. Though a lot of its dresses would work for bridesmaids, the dedicated collection this season is in pale pink, navy and baby blue (are you seeing a theme here?). The designs are more trend-led than some, with midi lengths, Bardot necklines and skirt / top combos in the mix.
Our panel found the dresses true to size, and these feel like quality pieces that will last you for seasons and parties to come. Sizes run from 6 to 18, although again we wish there were other strong colours to go with the navy. 
IndyBest Pick: Ella Soft Midi Bridesmaid Dress: £119, Coast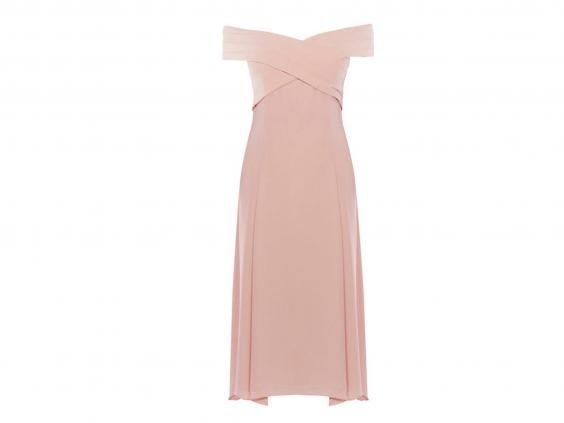 Another Bardot neckline, we love the pretty asymmetric hem on this and the fact it departs from tulle or chiffon. It's lined but as with all pale pink dresses, keep underwear nude. 
As the name suggests, Fulham-based Maids to Measure started out crafting bespoke dresses exclusively for bridal parties, rather than the bride herself.
It is still the UK's only dedicated adult bridesmaid shop, but sizing is standardised. You give your measurements and they'll pick one of their sizes out for you. The core collection is made up of elegant maxi dresses with different necklines in easy-to-wear chiffon, with eight different classic shades to choose from (pastels and navy again).
Unlike some on the list, there are options from size 8 up to a 24 in the main range, though the newer, cheaper more trend-led line "Maybe Baby" collection only runs to a 16. If you do need bigger or smaller sizes, they can be made to order.
IndyBest pick: Charlotte Floaty Dress, £155, Maids to Measure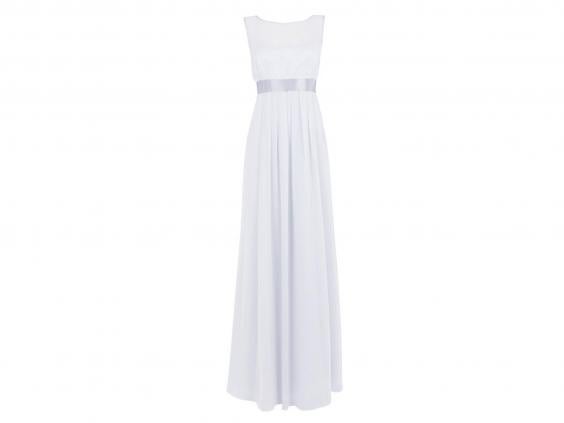 "This is the most traditional-looking dress I've tried," said our tester of the Charlotte. It's made from lightweight chiffon with a flattering cinched-in waist and a small, elegant train.
The double lining means you don't have to worry about VPL and if you want something a bit slinkier, there is a version with less material in the skirt. Comes in eight colours. 
Monsoon's dresses are at the more affordable end of the price spectrum and sizes go up to 22. Pieces err on the traditional, with lots of maxi options and a few knee-length choices in the mix in fit-and-flair designs.
You're in luck this season if you're looking for dusky pink, mint or blue in various hues as those are the colours dominating, though there are more online-exclusive options such as gold or red. 
IndyBest pick: Briar Rose Dress, £99, Monsoon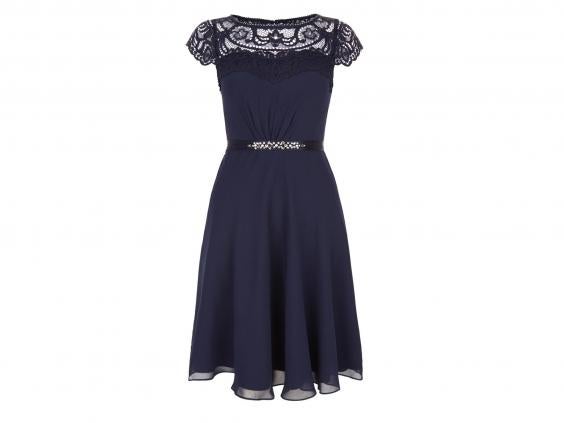 This is one of Monsoon's bestsellers, and  it also comes in a maxi length. We like this shorter version as we think it makes it more wearable for other occasions. The A-line skirt is flattering for most girls, and is gathered and lined. The sweet-heart bodice with lace is pretty and we love the detail on the lace back. Also available in a pale pink. 
Debenham's own brand occasionwear is well-priced – most under £100 - and proved popular among bridal parties we spoke to. Debut has classic dresses, as well as a well-priced multi-way dress that comes in five pastel and dark hues.
The No 1 Jenny Packham collection is also worth looking at, for elegant maxis with lace and quality-looking embellishment on the waist. Sizes run from 6 to 22. Dresses come up long and may need altering, and our testers found some size variation in the range, so it may be worth ordering a few different styles to find the one.   
IndyBest pick: No1 Jenny Packham Belgravia Beaded Midi Dress: £160, Debenhams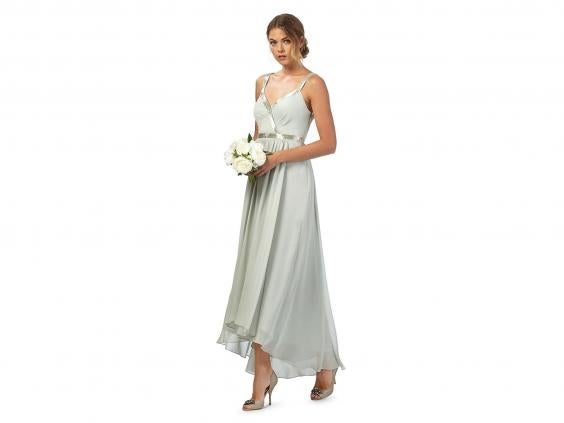 Debenhams has a number of dresses in pale green this season, and this ethereal style with pretty beading on the neckline and waistbands is our favourite. Girls in the bridal party who prefer to be more covered up can match in one of the other styles in the same colour. Currently half price.
New for this year, Topshop's bridal collection was a hit with our testers for its fashion-forward but wearable feel. One described the vibe as "boho wedding meets festival" and we think that's spot on.
Alongside slinky satin slip-style dresses – unlined and in pastel hues, so girls will need to make sure they wear no-VPL underwear – there are floaty, luxurious silk options that feel like they should be worn with a flower crown and bare feet. As with most Topshop lines, sizing goes from 4-16. 
IndyBest pick: Vintage Silk Godot Midi Dress: £225, Topshop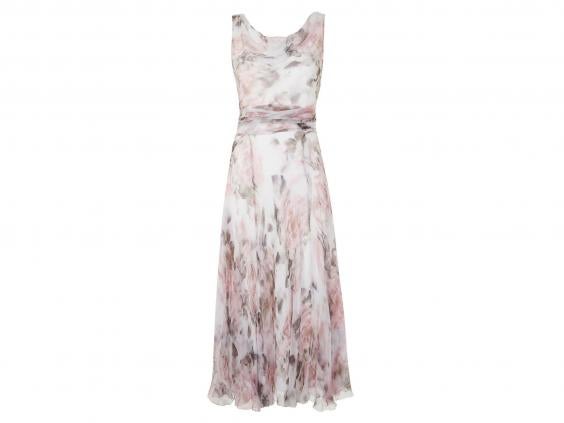 This was one of the panel's favourite dresses in layers of silk with flowing waist ties; it could be styled in multiple ways. It comes in navy (obviously) and this pretty floral print. 
The Verdict: Brands for bridesmaid dresses
For something super-versatile that your bridal party can wear way beyond the wedding day, we think Twobirds' dresses are worth the money, particularly in the jersey as they look less obviously bridesmaid-y than tulle or chiffon. From the high street, Topshop gets top marks for its fashion-forward and very pretty new collection, as does Hobbs for its high-quality pieces. Dorothy Perkins also deserves a mention for its impressive size range and excellent value for brides on a budget. 
IndyBest product reviews are unbiased, independent advice you can trust. On some occasions, we earn revenue if you click the links and buy the products, but we never allow this to bias our coverage. The reviews are compiled through a mix of expert opinion and real-world testing
Reuse content