I've written this piece for all the girls out there like me who've spent a lifetime turning-up sleeves, cuffing trousers and getting skirts and dresses rehemmed. Or in my case, bribing my long-suffering mum to do it for me.
Our mates and family might call us "short" (or worse), but the fashion world has a more elegant name: we're "petite". That's women 5ft 3in and under (or 5ft 4in for some brands). We're in stylish company. The likes of Ashley and Mary Kate Olsen (5ft 1in and 5ft respectively), Natalie Portman (5ft 3in), Judi Dench (5ft 1in) and Emilia Clarke (5ft 2in) are all of diminutive stature, but unlike them, we don't have designers queuing up to make us perfectly proportioned pieces.
Instead we have to rely on what's out there on the high street and online.
For me at 5ft 1in and with a 28-inch inside leg, it's not even worth looking at trousers or jumpsuits in a lot of stores. Full length ones trail on the floor, as in most shops, 32-34-inches is standard for the inside leg. Then the culottes, cropped trousers and midi skirts that look so chic on my taller friends, hit my short legs in all the wrong places. Or they just become full-length or maxi and don't hang as they should. Tops too can be problematic, not least those pretty fluted sleeves that are everywhere at the moment. On me they end up looking more clown-like than chic. A standard-length top will hit my hips at the widest point, and jackets and coats with an average shoulder width can make me look like I've been over-doing it at the gym.
What does petite mean?
Petite girls come in all shapes and sizes, weight doesn't come into it, it's about height – and getting proportions just right. So, generally that means shorter torsos and legs, and narrower shoulders, with boobs, bums and hips to factor-in too. 
"I remember working on my collection back when I was a design student and the pieces I created myself never fit me," says designer Jenny Liu from Bomb Petite, a British brand designed exclusively for shorter girls.
"That's because fashion students are taught to design on a 'standard' size mannequin and even many experienced designers don't realise that petite clothing is not just about shortening garments. There are over 20 measurements – such as distance from shoulder to bust and shoulder width – that affect petite fit."
It makes sense then, that girls like me should look for collections specifically designed for shorter women, something that is now a no-brainer for 25-year-old petite fashion blogger Holly Deryn Court, who measures in at 5ft nothing.
"My advice? Don't even bother with mainstream lines," she says. "Sure, sometimes you can get lucky and find a pair of jeans or a coat that fits you from non-petite ranges, but this happens once in a blue moon. Our legs are too short and our arms just aren't long enough.
"More and more brands are considering us little ladies and bringing out petite sections. It is worth just going straight to those for, well, everything really."
I asked Holly for her go-to brands for petite girls, as well as adding my own favourites and consulting shorter girls from sizes 2-20 on where they get both their wardrobe staples and more trend-led pieces. All the brands on this list have dedicated petite ranges with those all-important altered proportions, as opposed to just shorter leg lengths and hems on select pieces. There are shops from the UK and US, but only those from the States that won't sting you on hefty duties and taxes at the checkout. 
Here I've given an overview of each brand's range, as well as picking a favourite piece from its latest collection. The selection is divided into three to suit different budgets. A few of the stores here disappointingly only go up to a size 14 (when is the fashion world going to realise that women of all heights need a range of sizes?), but there are plenty of other options to choose from. 
Fast-fashion (under £50)
"I've relied on Asos' petite section for years," says Court. "Designs are creative and edgy, with perfectly proportioned hems and sleeves. I always head straight here if I need a 'going out' dress or one for an occasion." Asos has a large own-brand range that covers all the bases from its catwalk and street style-inspired main collection, as well as offering plenty of petite exclusives alongside collaborations with brands that don't usually offer petite-specific styles.
Holly's Pick: John Zack Petite Smock Dress with Fluted Sleeve: £42, Asos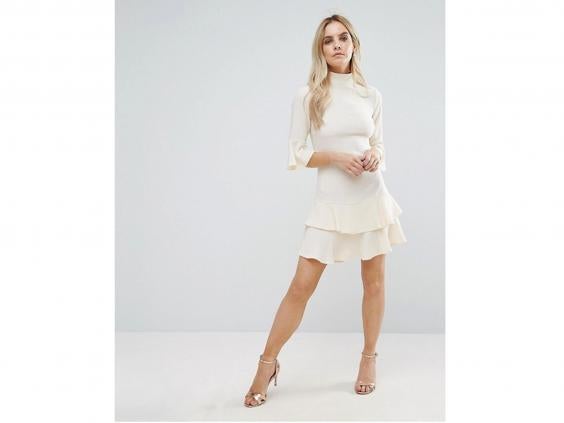 "I love this super-elegant cream smock dress with its three-quarter-length fluted sleeves that won't drown a small frame." It's a collaboration with partywear specialist John Zack and exclusive to Asos. Available in sizes 4-14.
Dotty Ps is another brand known for its catwalk-inspired pieces at purse-friendly prices. Its petite offering has styles from Dorothy Perkins' main range, as well as some petite exclusives, going up to a size 18. The collection is particularly strong on dresses and tops, both for casual and more formal looks, and there are lots of denim styles to choose from, including super-comfy jeggings.
IndyBest Pick: Lace A-Line Dress: £45, Dorothy Perkins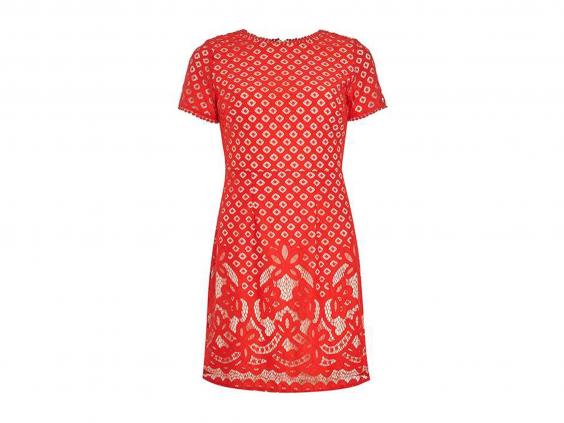 This bright red dress has a higher waist than the regular-length version so will nip you in at just the right place, while the A-line skirt skims the hips. It also comes in black with the same nude lining, but why not go for a pop of bright colour for a spring occasion? Available in sizes 8-18.
"Missguided is a brand with plenty of sass and my go-to for finding affordable, on-trend pieces," says Holly. "I could spend hours browsing the section." If you're after a last-minute outfit for a glam night out and are on a budget, there are loads of dresses and tops to choose from that translate catwalk looks into wearable pieces. Sizes run from 4-14.
Holly's Pick: Petite Exclusive Blue Frill Detail Bardot Top: £25, Missguided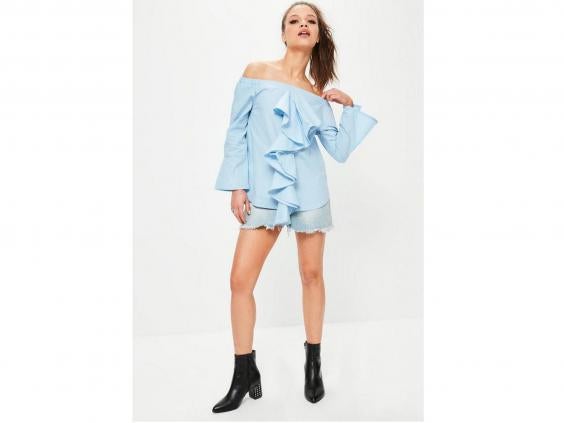 "Bell sleeves and cold-shoulder blouses are everywhere right now, but sleeves are long enough at the best of times – especially when your arms are on the shorter side. This one gives us diminutive girls the chance to channel Brigitte and look fierce in frills too."
Wallis has petite pieces across its affordable range, with new styles coming in each week in sizes 8-18. It's particularly good on occasionwear and smart tops in the right proportions (no more turning up the sleeves), as well as stocking a decent selection of jeans in both straight leg and skinny styles.
IndyBest Pick: Blush Cropped Blazer Jacket: £40, Wallis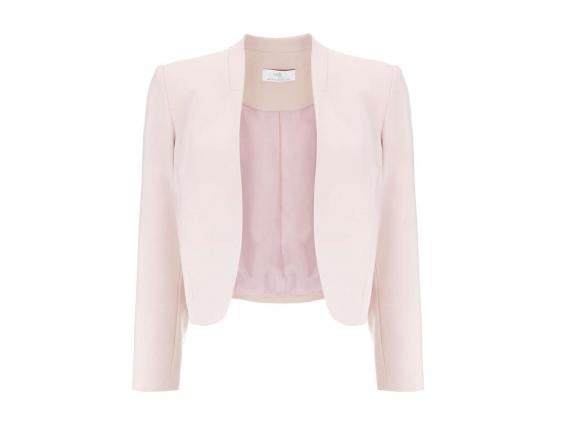 A cropped jacket will nip you in at your slimmest point – your waist – but only if it falls in the right place. This dusky pink blazer ticks that box and is ideal as a cover-up for a spring or summer wedding. 
"My dreams came true last year when River Island launched its petite section, ending my short-girl problems in this store," says Holly. The range is full of playful pieces for girls who like to follow the latest trends. The collection is strong on denim and fashion-forward separates, both for dress-down days and those occasions where you need to bring your A-game. "The petite tailoring is spot-on," says Holly. "The trouser and sleeve lengths are just right for me, and I've yet to go wrong with a piece from the range."
Holly's Pick: Petite Light Blue Ripped Mom Jeans: £42, River Island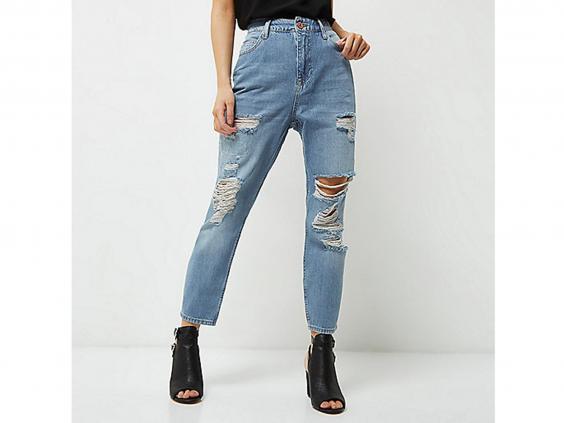 "Jeans are a petite girl's worst nightmare, but I can always find a pair that fit at RI. I love these light blue ripped mom jeans. Everyone seems to be wearing this high-waisted, straight leg style right now, but standard sizes sit too high on the waist or long in the leg. With their altered proportions, these are just right."
Another one for affordable, trend-led pieces, the fast-fashion retailer has a selection of catwalk-inspired pieces, as well as casual staples like jeans, leggings and nightwear in petite sizes from 4 to 16. Like Missguided, nothing in the collection will set you back much more than fifty quid.
IndyBest Pick: Lilac Split Back longline Shirt: £22.99, New Look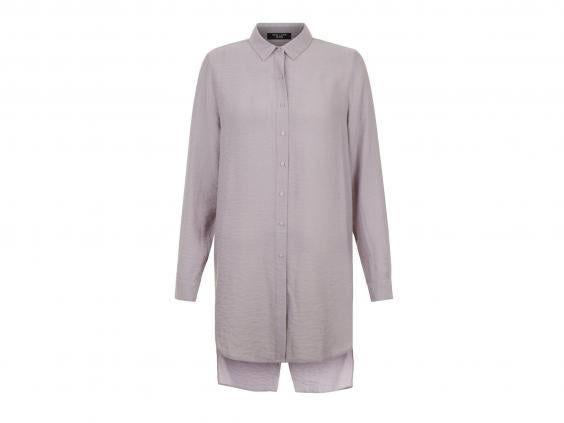 A long-line shirt can look super-chic with jeans, but less good if it comes down to your knees and the sleeves are too long, as is often the case with pieces from mainline ranges. Hurrah for New Look for catering for us shorter girls with this pretty lilac version.
Mid-range (under £100)
Topshop is one of my go-to brands for both wardrobe staples and more trend-led pieces. It covers all the bases, with new styles coming in all the time. Its shorter-leg trousers are particularly good (finally, culottes that actually fit!) and there is a regularly restocked selection of jeans in its popular styles like Jamie (high-waisted skinnies) and Lucas (boyfriend fit), alongside seasonal arrivals. It also gets points for having a regular roster of hard-to-find jumpsuits, as well as plenty of dresses, both for occasionwear and every day. Some of the pieces can come up on the small side – particularly tops, in my experience – and most styles only go up to size 14.
IndyBest Pick: Black Pinspot Jumpsuit: £52, Topshop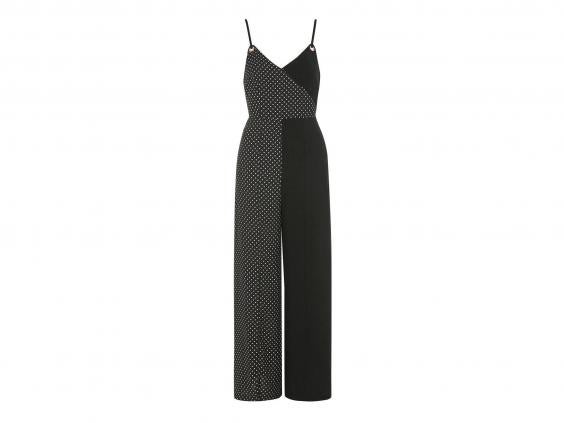 I'm very happy that culotte jumpsuits seem to be here to stay, and this one is particularly chic. With black and polka-dot panels and skinny straps, wear over a roll neck now and then on its own in warmer weather. Just add white trainers. Available in sizes 4-14. 
Do you struggle to find office-appropriate pieces that flatter? Then try Jeetly's collection, entirely designed for women under 5ft 3in and under, with a focus on perfectly proportioned, competitively priced workwear. There is a selection of suits, dresses, shirts and blouses in both neutral hues and bold brights. Bust, waist and hip measurements are the same but it's all-change everywhere else to fit shorter girls at those points where we usually have to rely on alterations.
IndyBest Pick: Freda Pussybow Blouse: £49, Jeetly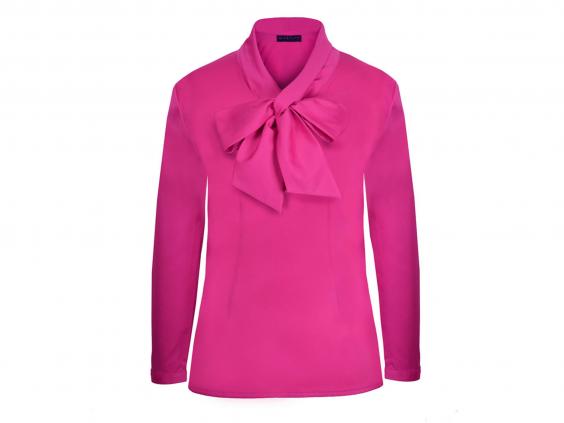 Pink is one of the colours of the season and I love the fuchsia shade on this Eighties-inspired pussybow blouse. Jeetly offers lots of useful detail on sizing on its website and suggests that if you want a relaxed fit, then opt for one size bigger than usual. This also comes in emerald green, white and black and in sizes 6-14. Unlike lots of workwear, it's machine washable. 
Next has a bigger selection than most high street stores, with hundreds of pieces across its reliable range – from workwear to occasion dresses, with pretty much everything in between – available in petite sizes.
IndyBest Pick: Plisse Midi Dress: From £25, Next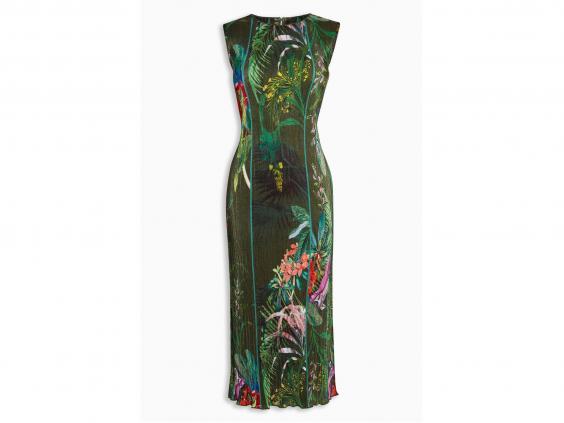 Just looking at this tropical print dress makes me think of summer holiday. It's midi length, always a godsend to find in petite sizes, and comes in sizes 6-18. 
This British brand offers lots of its hero styles in petite sizes, in plenty of pattern and colour options, and in an impressive size range: 6-22. More classic looks than trend-led, these are hard-working pieces made from durable fabrics that will stay in your wardrobe for seasons to come. Boden is particularly good on off-duty style – think relaxed fit chinos in pastel hues and easy-to-wear patterned jersey dresses – that will keep you looking put-together however frazzled you're feeling.
IndyBest pick: Twist Front Jersey Maxi Dress: £90, Boden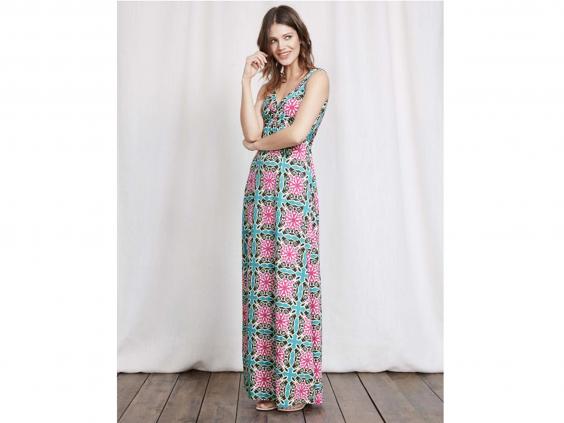 This flattering v-neck maxi comes in six different patterns and colours and won't crease if you throw it in your suitcase. There's a bit of stretch but larger-busted women might find it a bit on the snug side. 
Precis is another rare, all-petite brand, and has a good range of smarter pieces for work, as well as being a safe bet for occasionwear. You'll find dresses in plain and floral patterns as well as super-useful cropped jackets in a range of colours. Cuts are classic and flattering, and the sizes run from 6-18.
IndyBest Pick: Petite Rose Check Shift Dress: £119, Precis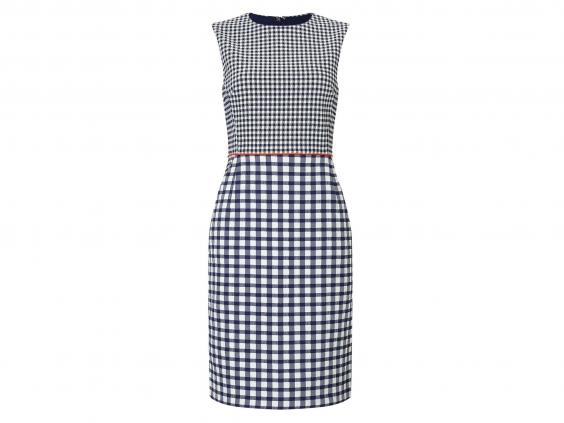 Gingham is everywhere this season, and while the pattern reminds me of my primary school summer uniform, this smart shift proves it works for grown-ups too. Nipped-in at the waist, with a skirt that falls just above the knee, this one will carry you from desk to bar this summer. 
While it doesn't have as extensive a range as some of the high street stores, M&S has a decent selection of dresses, smart separates and outerwear in its petite collection. It gets brownie points for trousers that come in an extra-short length, and like M&S's main range, these are well-made pieces that will last for seasons to come. 
IndyBest pick: Belted Trench with Stormwear: £45, Marks & Spencer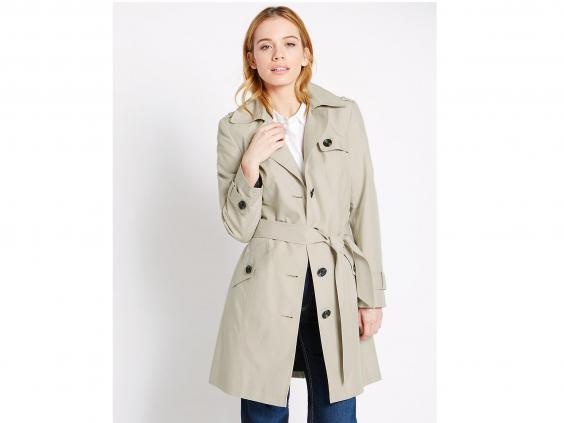 A trench is ideal for the tricky transitional season, but standard sizes can swamp small frames and make shoulders look unflatteringly broad. This good-value, mid-thigh-length one should solve that proportion problem and comes in black or classic stone. 
High-end
Bomb Petite started life as an online destination for girls under 5ft 4in looking for style advice and shopping inspiration. It linked to petite collections sold by British and US brands. Now founders Yuliya Petryk and Jenny Liu have designed their own six-piece capsule collection for spring. The aesthetic is minimal, with the emphasis on wearable, versatile pieces in flattering crepe and soft jersey. Details like unusual draping, pleating and piping make these out-of-the-ordinary. Bomb Petite also has a range of dresses and co-ords, all exclusive to them, created in collaboration with emerging and independent designers. Be sure to check out London-based Bulgarian brand Petriiski's pieces with its bold, kaleidoscope-style prints and Narrow Arrow's minimal-with-an-edge wardrobe staples.    
IndyBest Pick: Petite Wrap Blouse: £128, Bomb Petite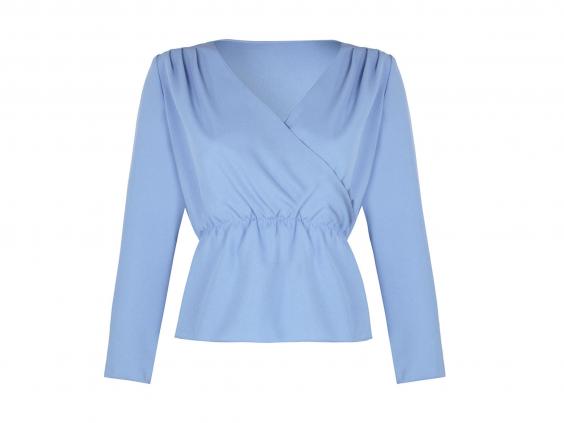 I'm lusting after this light blue crepe wrap top from the new collection that ruches and drapes in all the right places. The v-neckline helps draw the eye down and give the illusion of height, while the elasticated waist means it sits just where it should. Unlike lots of wrap tops, this one won't gape. It comes in sizes 6-14 and is also available in cream.
Anthropologie has a small selection of petite styles from its in-house brands. All the dresses, trousers and jumpsuits channel Anthro's distinct grown-up boho vibe. They are the sort of relaxed pieces you could pull on to lounge around the grounds of your Ibizan villa of an evening, say (we can but dream).
IndyBest Pick: Byrd Tapered Trousers: £88, Anthropologie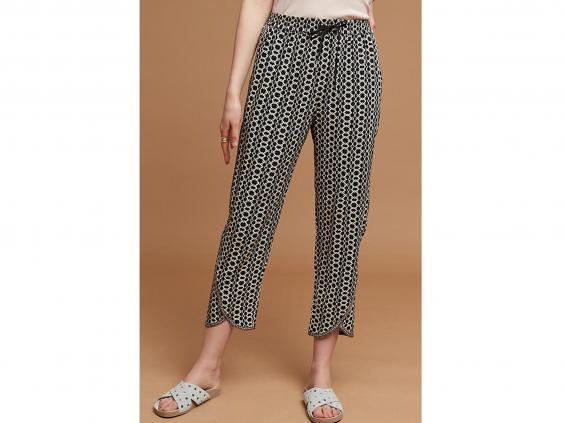 These drawstring trousers made from comfy rayon are ideal for cooler summer evenings. Plus, the petite proportions mean that they sit where they are supposed to – just above the ankle, rather than full-length.
US import Eileen Fisher nails a luxe-casual look. You get chic separates in relaxed shapes, made from premium sustainable fabrics like organic cotton and silk. The result is clothing that is soft and super-comfortable to wear, but very elegant. Shipping is from the US but is a flat £5 rate.
IndyBest Pick: Silk and Organic Cotton Interlock Stripe: £330.79, Eileen Fisher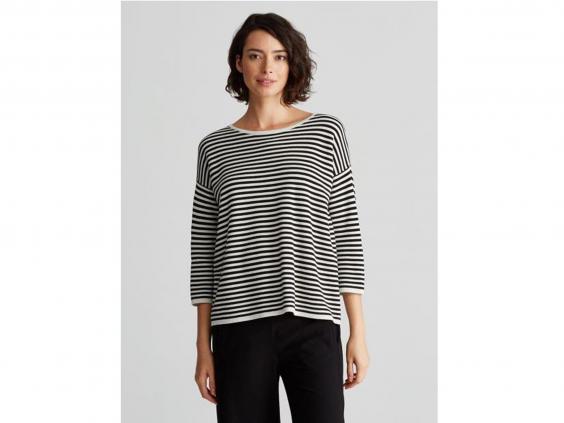 Stripes are a no-brainer for spring. This silk and organic cotton knit with a bateau neck, dropped shoulders and ubiquitously flattering three-quarter-length sleeves is a classic piece that is worth investing in.
As J. Crew fan Michelle Obama can attest, the US brand nails separates with a preppy, put-together vibe. So, pieces that channel trends but that you'll wear from season-to-season. Stars of its petite offering include blazers (with not-too-long sleeves – hurrah), cigarette pants and jeans, plus dresses in block colours, as well as some sharp workwear. I particularly love the fact the brand does pyjamas in petite, so no more turning up your PJ bottoms. Don't go into the London stores hoping to find the petite range like I did though, the collection is online only.
IndyBest Pick: Striped Bell-sleeve Top: £85, J.Crew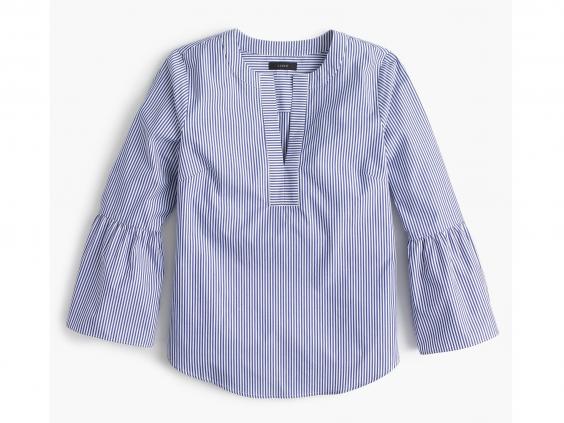 Shirting is one of J.Crew's strengths, this one has on-trend bell sleeves but they're subtle enough that you don't feel like a slave to the catwalk (and won't accidentally dangle them in your lunch). The stripes keep things fresh and spring-feeling. Also comes in a red version.
5ft 1in lawyer Jennifer couldn't find the sort of classic, elegant petite clothing she was after, so she set up her own brand. Jennifer Anne is the result. It's a collection of British-made clothes, designed with professional women in mind.  Cuts are classic - think lined shift dresses in plain colours that sit just above the knee, smart tops that will see you from day-to-night, and hard-working cropped jackets that could double-up for office and occasions. The more tailored pieces are fully lined and the prices reflect that this is positing itself as a premium brand. The silk crepe de chine shirts and the cotton sateen A-line skirts are winners for us, we'd just like to see more natural fibres in the mix on the dresses. Sizes run from 6-12 but Jennifer Anne says that there are plans to expand the range. We found the sizes run a little small, so think about getting the size up. If you live in south west London, the brand offers a "try before you buy service" too. 
IndyBest pick: Persephone Silk Crepe de Chine Pocket Shirt: £180, Jennifer Anne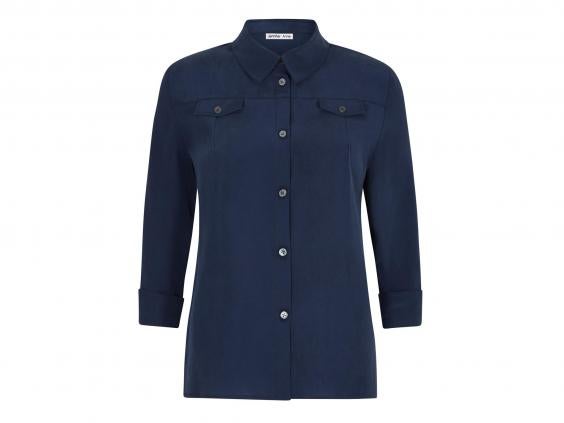 As soon as I put on the Persephone shirt, I knew that it was the sort of piece that would fast become a wardrobe staple. The three-quarter-length sleeves with turned back cuffs are super-flattering and the shorter length means when you tuck it into high-waisted skirts or trousers, you don't have reems of fabric to hide. Mother of pearl buttons and the luxe fabric make this one I'd open my purse for. It currently comes in three colours, including this classic navy.  
The Verdict: Petite clothing brands
For trend-led styles and pieces that make you feel like you're keeping up with the fashion pack, without the designer price tag, I'd say head to Topshop (though please, Sir Philip Green, remember to cater for girls of all sizes). For its huge range and collaborations with designers who don't usually design for petites, Asos is always worth a look. For those with a bigger budget for their petite wardrobe, and anyone looking for more classic pieces that will look as good in five years as now, try Eileen Fisher. If you want to feel in-the-know and get your hands on an up-and-coming brand you won't see everywhere, check out Bomb Petite.
IndyBest product reviews are unbiased, independent advice you can trust. On some occasions, we earn revenue if you click the links and buy the products, but we never allow this to bias our coverage. The reviews are compiled through a mix of expert opinion and real-world testing
Reuse content