Fed up of using a mish-mash of saucepans, some of which look as though they should have been thrown out years ago? Or perhaps you've got a new cooker, or even kitchen? Whatever the reason you want to update your saucepans, investing in a whole set will doubtless save you money and always look good.
Do bear in mind the kind of hob you have when making your choice: all pans will work on electric and gas hobs, but pans for induction hobs require a certain amount of ferrous metal, such as iron, in order for the electromagnetic waves to be able conduct the heat. If you're not sure whether a pan is suitable for induction, you can test it by seeing if a magnetic sticks to the bottom of the pan – if not, avoid.
1. Raymond Blanc Hard Anodized 5-Piece Set: £124, Amazon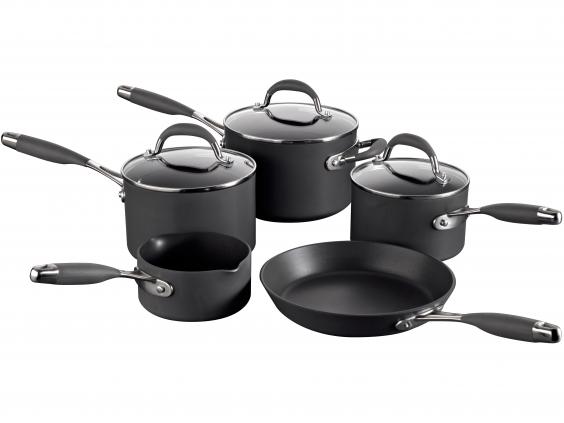 Raymond Blanc may put his name to a lot of products, but this one is well deserving of his endorsement, thanks to the triple layer metal, which makes for fantastic heat distribution and is non-stick and non-scratch. If you like to minimise the amount of oil you cook with and pans you can bung in the dishwasher, it's a winner.
2. 4 Piece Cookware Set: £330, pamperedchef.co.uk
This is the most expensive in our round-up, but the attention to detail is worth the price-tag. The chunky base and thinner upper mean you get fast yet even heat distribution and the patented materials make them both durable, non-stick and easy to clean. Plus, they're oven-safe.
3. Tefal 4-Piece Saucepan Set with Removable Handle: £60, homeandcook.co.uk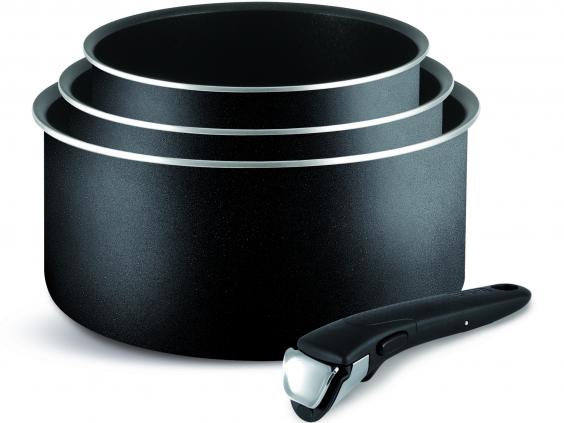 Patented detachable handles make this set ideal for those short on storage space as it means they can nestle inside each other, whilst the glass lids with fold-flat knobs also stack easily. It also means you can use the pans in the fridge or on the table without taking up too much space and in the oven.
4. Toughened Non-Stick 3-Piece Set: £269, lecreuset.co.uk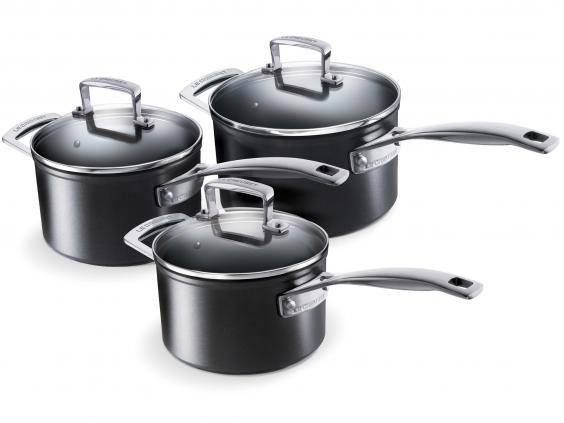 You'll want a lot of pan for your penny at this price and, although they do chip a bit over time, they otherwise deliver, heating evenly on any heat source and withstanding all kinds of utensils. We like the glass lids, too – good for peeping without interrupting cooking.
5. The Pan Set 5-Pieces: £99, johnlewis.com
This is a great buy that comes with a milk pan, frying pan, two saucepans and a wok – all of which are induction-friendly – making it particularly versatile. The pouring lip is handy and the lids are nice and deep. Other colours available.
6. 3-Piece Flare Pan Set: £169.99, lakeland.co.uk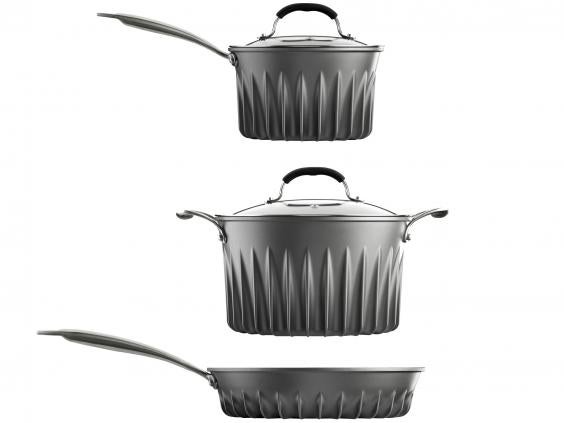 As soon as you get these two cast aluminium saucepans and frying pans out of the box, you can see that they're top quality. Reassuringly heavy, without being too weighty, they are also as elegant as pans can be. Best of all, they heat through incredibly fast, though, sadly, they're not dishwasher-safe.
7. Value Range 3-Piece Set: £9.99, argos.co.uk
Don't expect top quality, but for less than a tenner you get three decent enough pans with glass lids and handles that stay cool – great for anyone on a budget, at university or moving into a starter-home. No good for induction, but fine for gas and electric hobs.
8. Prestige Stone Quartz 3-Piece Set: £79.99, wayfair.co.uk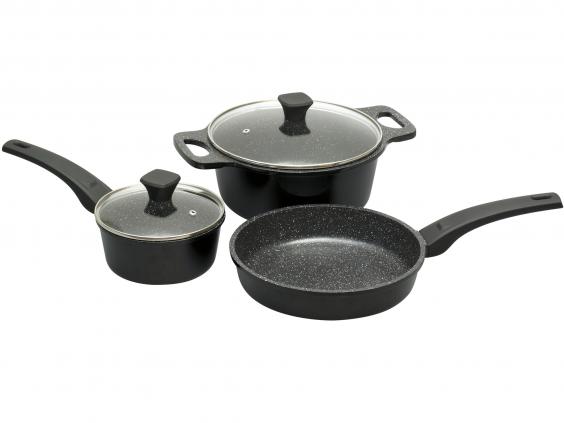 Suitable for any hob, including induction, these boast a unique, speckled surface that really is both non-stick and anti-scratch, standing up to some pretty rigorous testing. They're dishwasher safe and the pans heat up really quickly.
9. Stellar 3000 Ruby Red 5-Piece Set: £134.95, trendycookshop.co.uk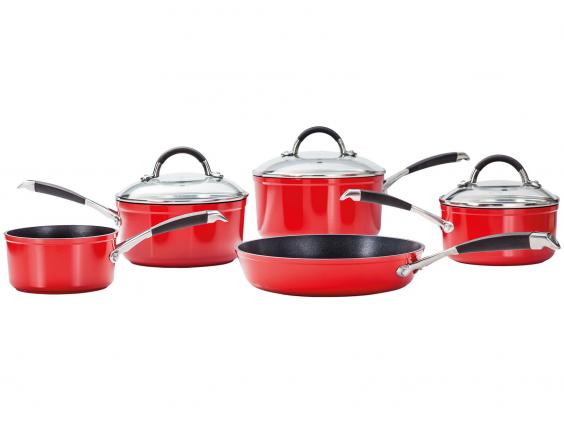 This comprehensive and glossy red set is the newest from Stellar, is dishwasher- and oven-safe and works on all hob types, including induction. The non-stick coating works well and the non-slip handles are good for people who are accident-prone.
10. Classic 5-Piece Pan Set: £92.99, lakeland.co.uk
This set has a durable non-stick surface and a high-gloss black exterior. It's a good price for the quality and number of pans you get and the handles are soft to hold and heat resistant. There's a handy drainage system in the lids to save you using a colander and they are easy to clean.
11. Judge Natural Ceramic Cookware Set: £94.95, hartsofstur.com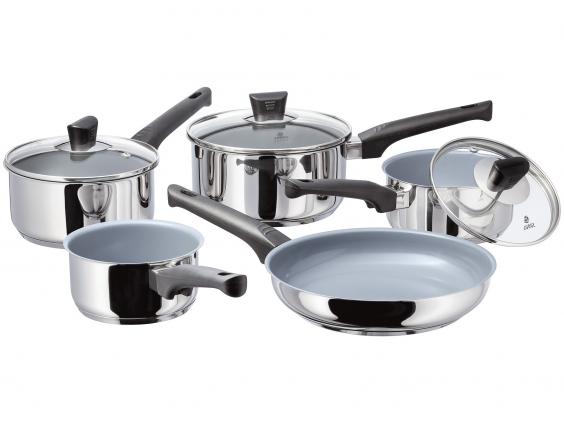 Judge has long had a good reputation for making durable pans in all shapes and sizes. A ceramic finish makes these easy to clean as well as exceptionally non-stick and the heavy base makes it suitable for all hob types. The packaging is eco-friendly.
12. Stainless Steel Saucepan Set: £225, agacookshop.co.uk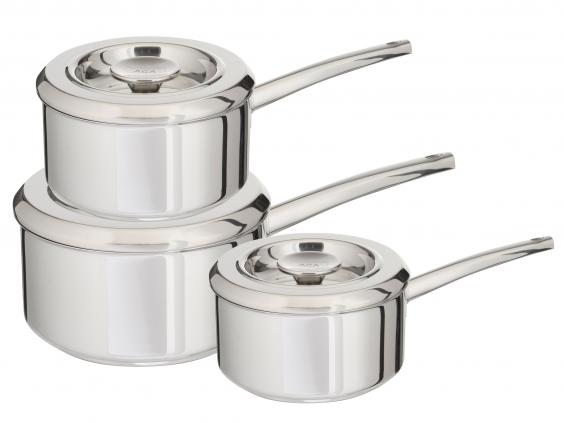 You don't need an AGA to get the best out of these pans as they work on hotplates, burners and even in the oven. The weight is spot-on, they heat up really quickly and they come out of the dishwasher absolutely sparkling. They are lovely and easy to stack and store and will last you years.
Verdict:
Lakeland's Classic 5-Piece Pan Set is a great price for an excellent quality set of pans that will see you through years of culinary delights. If you've got deeper pockets and cooking is your real passion, we also love the Pampered Chef 4 Piece Cookware Set.
IndyBest product reviews are unbiased, independent advice you can trust. On some occasions, we earn revenue if you click the links and buy the products, but we never allow this to bias our coverage. The reviews are compiled through a mix of expert opinion and real-world testing
Reuse content