It just wouldn't feel quite like Christmas without smoked salmon making an appearance. Whether you're creating luxurious canapés or pairing with eggs and prosecco for an extra-special breakfast, we've rounded up the very best fish we could find, for all budgets. 
On this list there are traditional options as well as innovative new flavours (mojito-flavoured salmon is one we never thought we'd see). Smoked salmon is an excellent source of protein, as well as Omega-3, which can help lower the risk of heart disease and arthritis, among other health-boosting properties. Nutritionists recommend that we should aim to eat oily fish about three times a week, so that's all the excuse we need to indulge. 
When selecting your salmon, be sure to look out for provenance – Scottish is widely considered to be king – and colour (aim for a natural pink, a bright orange suggests it could have been dyed). Although often served with a wedge of lemon, good quality smoked salmon really shouldn't need it – it's only used to cut through any unwanted greasiness.
The Crummbs team were on the lookout for a good balance of smoke, salt, which is added to the fresh fish to start the curing process, and that all-important something special. 
1. Daylesford Organic Smoked Salmon: £6.99 for 100g, Ocado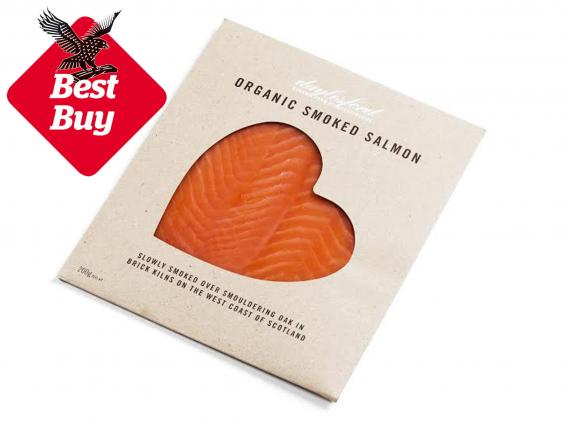 From the award-winning Inverawe Smokehouse in Scotland, we found this succulent and tender fish melted in the mouth. It's made using traditional brick kilns to slow smoke for up to 72 hours, allowing for the most delicious, full-bodied, oak-smoked flavour. Not at all greasy, there was no need to use lemon: instead, we let the delicate flavour shine through. Keep things simple and serve with brown bread and butter and freshly cracked pepper as a traditional starter.
2. Forman's Smoked Salmon Taster Pack: £29.95 for 200g, Forman & Field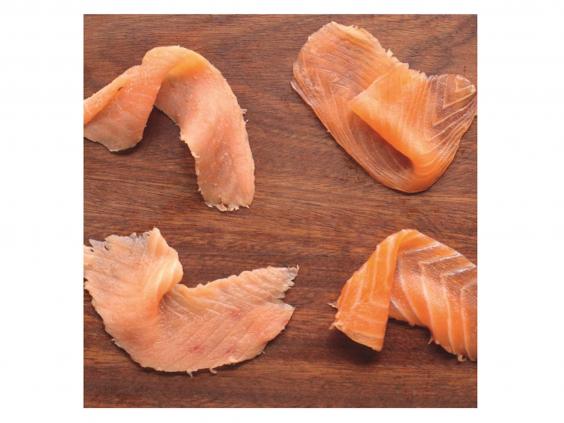 A favourite with foodies, those in the know and used by top chefs, Forman's "London Cure" is our go-to when we want to impress. H Forman & Son is the oldest producer of smoked salmon in the world and although you'll find it located opposite the former Olympic Stadium (now London Stadium) in East London, the fish is Atlantic salmon from Scottish waters. This special pack allows you to sample all four varieties – Genuine Wild Lean has a firm texture with a gamey flavour, Genuine Wild Fatty gives a fuller flavour, Grade One Lean is softer than wild and more subtle in flavour, and Grade One Fatty has a higher fat content, which gives it a more velvety texture. This is one for the smoked salmon connoisseur in your life.
3. Lidl Deluxe Oak & Applewood Smoked Salmon: £2.29 for 100g, Lidl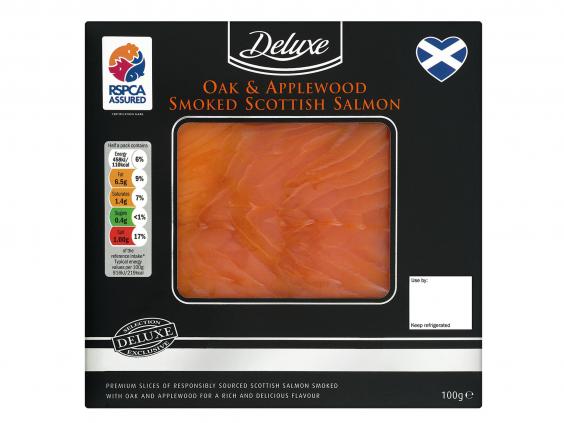 Rich and creamy, this smoked salmon is extremely good value without cutting any corners – Lidl only uses fish from RSPCA-assured farms. While the basic packaging leaves a lot to be desired, the strong, smoky flavour worked wonderfully with scrambled eggs at breakfast.  At this price there's really no need to save for special occasions.
4. M&S Mild & Delicate Lochmuir Smoked Salmon: £5 for 100g, M&S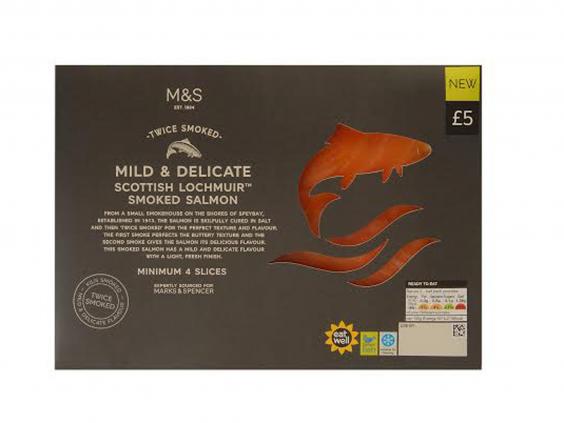 M&S uses a "twice-smoked" method, resulting in a well-balanced fish, with just a touch of smoke and an overall mild flavour. You'll love this if you like just a hint of smoke and a smooth, velvety texture. Try with cream cheese as a luxurious sandwich filler for the whole family.
5. Morrisons The Best Whisky Gold Smoked Salmon: £3.50 for 120g, Morrisons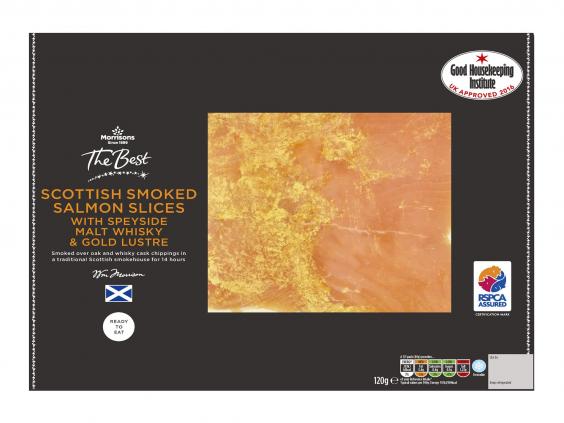 If you're looking for a special centrepiece to wow your guests, look no further than Morrisons. The fish has an attractive-looking gold lustre that doesn't impact on the taste. but gives it a festive feel. Smoked over oak and whisky-cask chippings in a traditional Scottish smokehouse for 14 hours, this has a strong scent with a subtle hint of sweetness. Try piling strips of the salmon onto a striking serving plate to make the most of it. Available mid-December.
6. Selfridges British Cocktail Cured Salmon Trio: £12.99 for 180g, Selfridges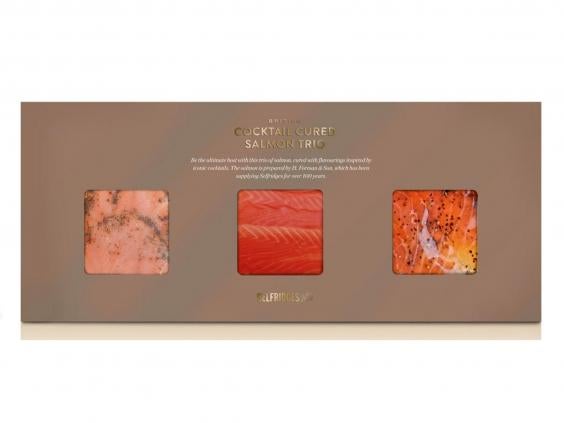 The luxe gold packaging makes this a great gift – if you can bear to share. We were impressed with the striking cocktail flavours, each unique and easy to identify. The mojito was bursting with salt, sugar, mint, lime and rum. The whisky version had an old-fashioned flavour to it with the addition of orange, while gin and tonic tasted of fresh juniper berries. The quality of the fish is some of the very best we tried, provided by smoked salmon expert H Forman & Son. This is a fun twist on the traditional flavour and great for a cocktail party.
7. Sainsbury's Birch & Alder Rich Scottish Smoked Salmon: £4.50 for 120g, Sainsbury's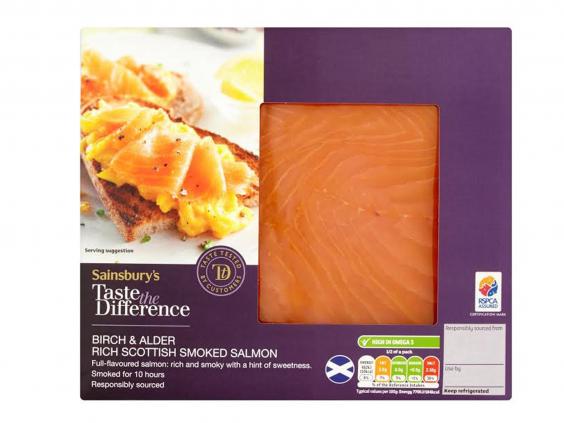 Sainsbury's smokes its salmon over birch and alder chippings for 10 hours, ensuring a rich, full flavour with a hint of sweetness. The creamy texture and strong flavour will make this a hit with the traditionalists. 
8. Waitrose Treacle Smoked Salmon: £4.99 for 100g, Waitrose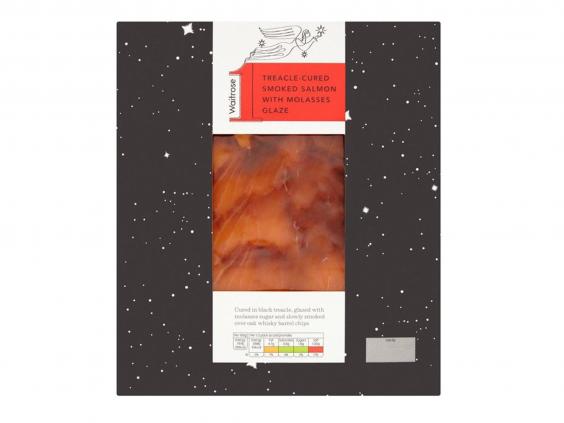 Cured with treacle and spices over oak whisky barrels, this has a strong sweetness to it. The darker glazed edges lend themselves to striking canapes, try with a squeeze of lemon or horseradish to cut through the sweetness for a truly memorable nibble your guests will love you for. 
9. Hansen + Lydersen King Olav: £7.90 for 100g, Hansen & Lydersen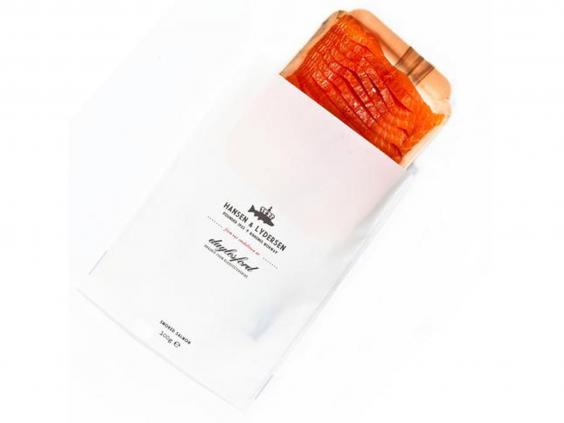 Founder Ole Hansen's smoked salmon has long been one of London's best-kept secrets, where it can be found in Broadway Market and top restaurants alike. This is smoked salmon – but not as you know it. Produced to a traditional Norwegian family recipe dating back to the 1920s, the smoked salmon is vertically cut in thick slices, sashimi style, meaning you can taste all the different flavours of the fish in each slice – from the smoked surface to the fresh flesh near the skin. It's naturally strong-coloured and smooth-textured, with a wonderfully buttery finish.
The Verdict: Smoked salmon
It's a tough call, but Daylesford's Smoked Salmon from Inverawe just pipped the others to the post. However, If you're looking for a milder flavour, you'll love H Forman & Son's Grade One Lean Salmon. For something a little different, try Hansen + Lydersen's thick-cut sashimi-style fish. You just can't beat the taste that these traditional smoke houses produce with their tried and tested methods.
For more food and drinks reviews, chef interviews and recipes, see cruumbs.co.uk
IndyBest product reviews are unbiased, independent advice you can trust. On some occasions, we earn revenue if you click the links and buy the products, but we never allow this to bias our coverage. The reviews are compiled through a mix of expert opinion and real-world testing
Reuse content