Spring is in the air, and for chocoholics that can only mean one thing. Easter eggs are inspired by the traditional symbolism of the egg as promising new life, but for anyone who's started a new life as a vegan or is dairy intolerant, they can evoke sad memories of an easier life when you didn't have to check ingredients lists before buying. 
Luckily the dairy-free egg market gets stronger every year, and we found plenty of quality, tasty options to try.
Everything on the list is dairy-free. Some of the chocolate uses Fairtrade-certified ingredients and some is organic. Prices range from £4 to £30. Not everything we've featured is a hollow chocolate egg, but everything is seasonal and has an Easter twist of some kind. 
And across the board, what we looked for was the quality of chocolate – flavour, richness, sweet or bitter balance – as well as how the eggs were packaged and presented, and whether we thought they were good value for money.
1. Cocoa Loco Dark Chocolate & Ginger Easter Egg, 225g: £11.99, Cocoa Loco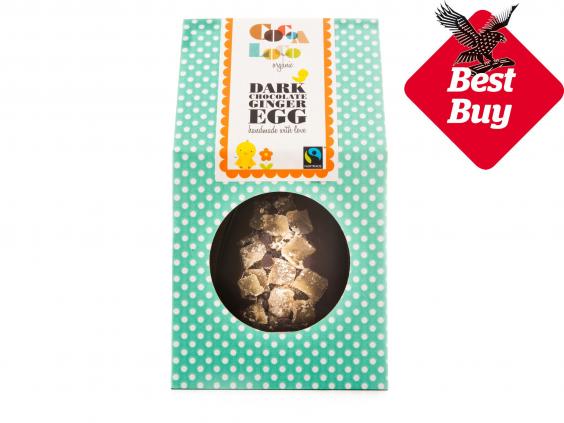 This thick dark chocolate egg by the West Sussex-based chocolate maker has a generous serving of large crystallised ginger pieces incorporated into a section of the chocolate (and choccy buttons inside). We think it's good enough to rival dairy options in the luxury market. The chocolate cracks reassuringly loudly when you open it, the flavour is rich and intense, and ginger provides a spicy change of texture and taste that makes this one stand out from the competition. It gets bonus points for being both Fairtrade-certified and organic. 
2. Hotel Chocolat Hard-Boiled Easter Egg 70% Dark, 190g: £15, Hotel Chocolat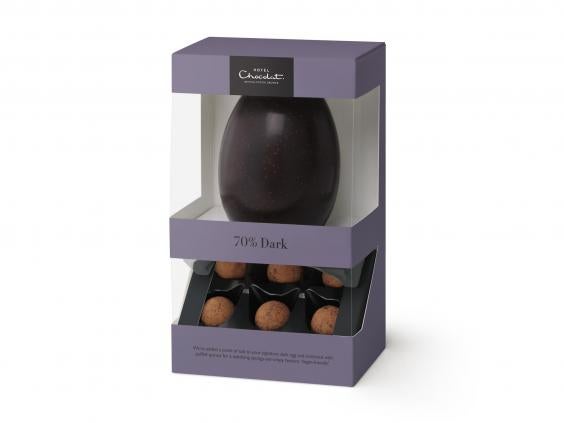 Dairy-free chocolate can lack flavour when compared to the real deal, but not this egg. The sea salt permeates through the chocolate making for a rich taste – more usually found in milk chocolate. Egg aside, the best thing about this one is the hazelnut praline truffles that come with it, which are indulgent and rich. It's on the more expensive end of the scale but warrants the price tag - the chocolate is top quality, and the addition of the truffles makes it a generous treat. 
3. Plamil Organic Fairtrade Alternative to Milk Chocolate Easter Egg: £3.99, Holland & Barrett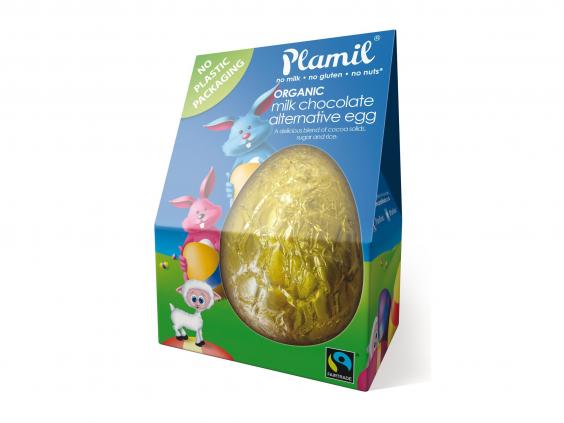 Sweet and creamy, this egg is a great alternative to all the grown-up dark chocolate options in the dairy-free aisle – perfect for kids. It's called a "milk chocolate" egg, but the dairy-like texture actually comes from its cocoa butter and rice ingredients. It's the cheapest egg on the list, organic and packaged without using any plastic. The range also includes solid chocolate eggs, which would make good decorations for dairy-free Easter cakes. 
4. Booja-Booja Large Almond and Sea Salt Caramel Egg: £26.99, Planet Organic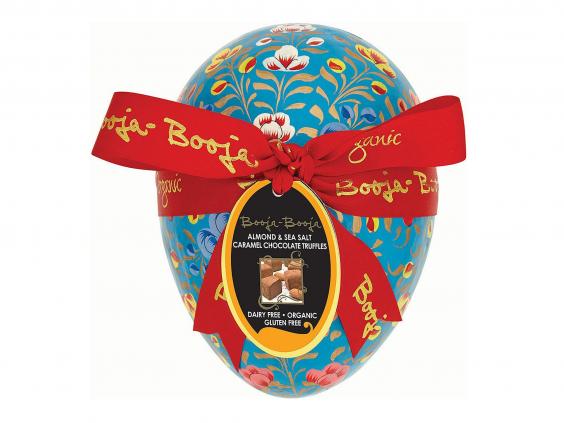 The best-looking of the bunch, luxury organic dairy-free chocolatiers Booja-Booja's Easter egg is a hand-painted, purple-velvet-lined case with dusted truffles inside. Rich ganache cubes dusted with cocoa are elevated above your average truffle thanks to the addition of the perfectly paired salted caramel and almond flavours. The company makes large and small eggs, and also sells them with champagne, hazelnut and coffee truffles inside. But sorry folks, there's no actual chocolate egg involved here. 
5. Raw Cocoa Easter Chocolate Gift Box: £29.90, Raw Cocoa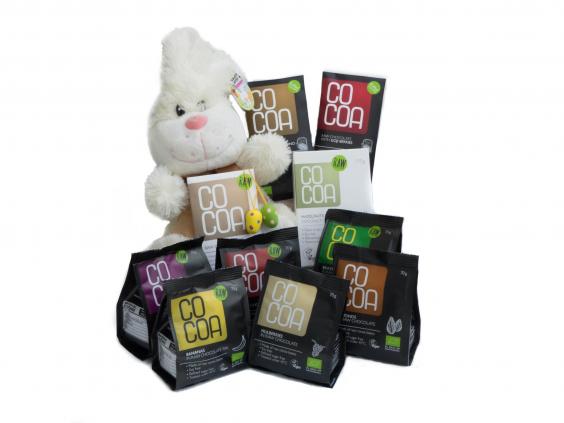 Sometimes Easter eggs can feel, well, a little hollow, but this hamper of dairy-free chocolates made from raw cacao is great value for money. But Raw Cocoa, an online brand that sources all its cocoa beans itself from organic farmers and makes all its chocolate without cooking it, has a generous bundle for its Easter range. Goodies inside, including figs and Brazil nuts coated in raw chocolate, are in little packets that are easy to pop into your bag for a snack long after Easter is over. But in the meantime, a stuffed toy bunny and an Easter ribbon gives this a festive feel. The raw chocolate is tasty but not too intense, which means this is the ideal gift for those without a major sweet tooth.
6. Montezuma's Dark Chocolate with Cocoa Nibs Eco Egg: £7.99 for 150g, Montezuma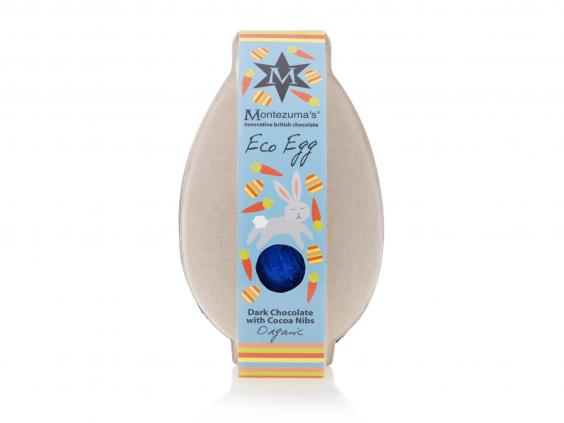 This egg proves that non-dairy can be just as, if not more, indulgent than milk chocolate. The sparse cardboard packaging may not look particularly luxurious, but under the electric blue foil the chocolate egg is rich and flavourful, and has moreish floral undertones. The packet of chocolate nibs inside makes an egg that's grown up in flavour a little more playful.
7. Large Speckled Dark Chocolate Easter Egg: £39, Paul A Young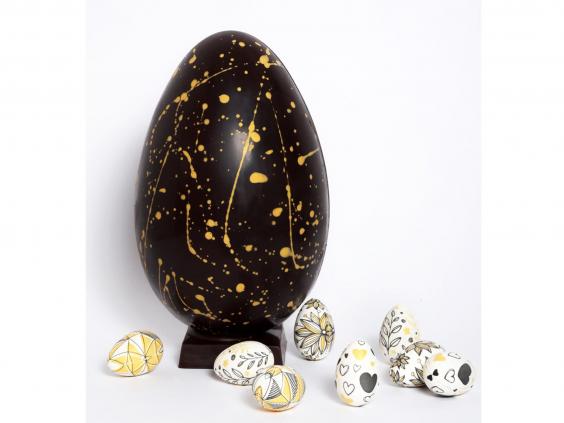 We sampled this luxe dark chocolate offering from British chocolatier Paul A Young at a dinner party and no one around the table guessed the speckled egg was dairy-free. The rich chocolate hit the spot for an after-dinner cocoa fix. It's a shame the pretty patterned white chocolate eggs inside aren't dairy free, but the combo makes it a good grown-up choice for an Easter table with different dietary needs. This one is available from one of the brand's three London shops, as well as by delivery in the capital through AmazonFresh soon. 
The Verdict: Dairy-free Easter eggs
If you've got to have an actual hollow chocolate egg on Easter Sunday, then we like Cocoa Loco's satisfyingly thick egg with a ginger kick. Booja Booja's painted egg case is a showstopper for the Easter table, and the truffles are extremely high quality. But admittedly, it bends the rules of its category seeing as you can't eat the egg (unless you've got a taste for papier mache).
IndyBest product reviews are unbiased, independent advice you can trust. On some occasions, we earn revenue if you click the links and buy the products, but we never allow this to bias our coverage. The reviews are compiled through a mix of expert opinion and real-world testing
Reuse content