With Valentine's Day fast approaching, the question is how best to share the love with your other half? A romantic city break? A poetically written love letter? Incorrect. The answer is: chocolate.
And lots of it. Here, we've rounded up a feast-worthy collection of the good stuff ready to be rapidly scoffed. Love it or loathe it, most of the offerings out there are heart-shaped, but if you can embrace the cliché, then your taste buds will surely thank you.
1. Marks and Spencer Large Heart Box of Chocolates: £25, Marks and Spencer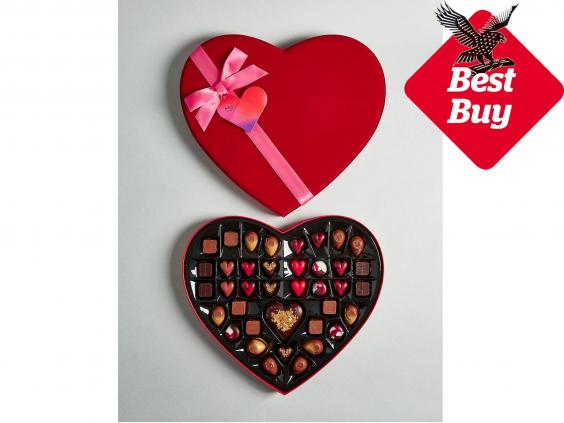 The huge, heart-shaped, textured and cushioned box that these chocolates come in seems like a gift in itself, but of course the real treats are inside. There are more than 35 delicious chocolates to indulge in, with flavours ranging from marc de champagne to alphonso mango. And, to top it all, the centrepiece is a big heart-shaped choc – good luck deciding who gets to eat it. 
2. Hotel Chocolat Love Potions: £10, Hotel Chocolat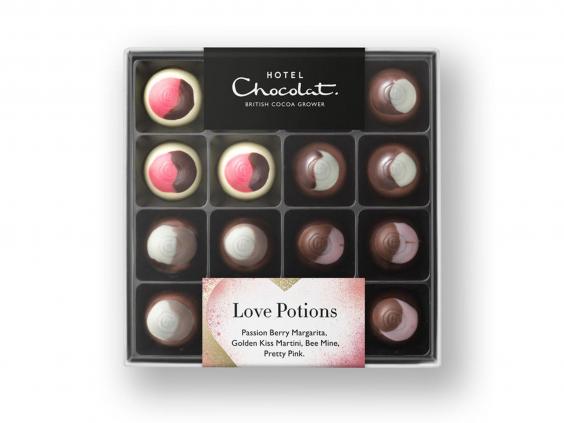 A coming together of cocktails and chocolate – what's not to love? Although there's not a trace of alcohol in them, you wouldn't know it once you bite in and release the deliciously gooey concoctions inside. There are 16 chocolates in total, with the flavours ranging from passion berry margarita to golden kiss martini. Eat responsibly.
3. Charbonnel et Walker Sea Salt Caramel Hearts: £30, Charbonnel et Walker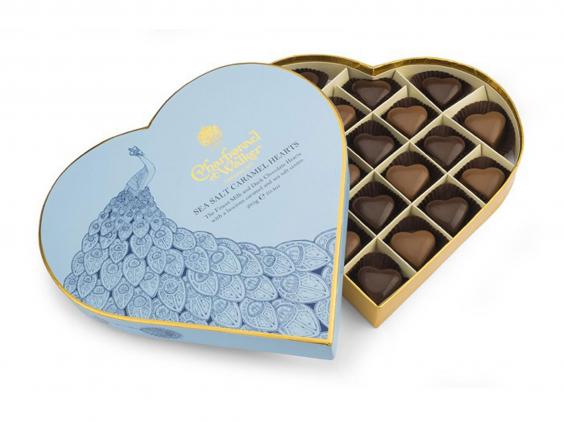 Salted caramel is most definitely the chocolate flavouring of choice at the moment – in fact, it has been for a while. If you're not already a convert, then you need only tuck into this box to understand the craze. The small heart-shaped treats – which are made either of dark or milk chocolate – have an excellent balance between the salt and the caramel, with neither becoming overpowering. And, as an added bonus, the peacock design on the box itself looks great.
4. Godiva Coeur Grand Chocolates: £21, John Lewis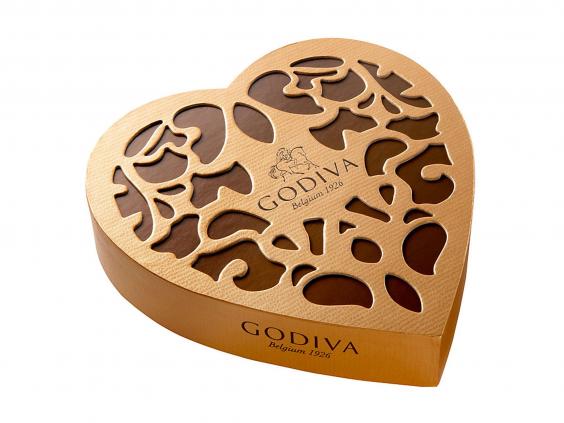 The not-so-secret love affair between Belgium and chocolate is long established, and there are few tastier results of that affection than this selection box from Godiva, the Belgian chocolatier. Inside the heart-shaped box are, unsurprisingly, lots of smaller hearts, made from white, milk or dark chocolate, and filled with either praline or ganache, each one entirely sumptuous. 
5. Divine 70% Dark Chocolate Hearts: £4.50, Waitrose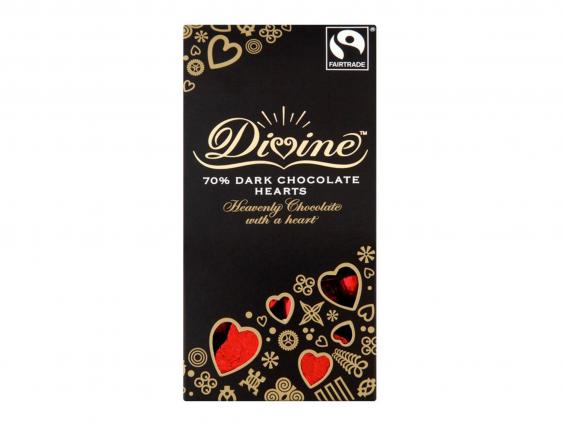 Sweet flavours and Valentine's Day-themed chocolates seem to go hand in hand, but if you or your recipient are missing their sweet tooth, these are a great alternative. Inside each packet is a mini dark chocolate heart, each with giving an intense hit of flavour. Divine is one of our favourite fairtrade chocolatier, owned partly by the cocoa farmers themselves. At this price, you can afford to buy two or three packets to feast on.
6. Chococo Valentine Medium Selection Box: £14.95,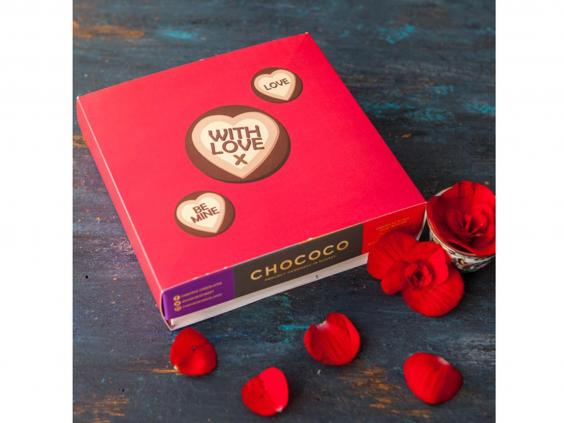 As the Dorset-based Chococo deals exclusively in fresh chocolates products, each of its boxes comes accompanied by the warning that they must be consumed within two weeks – but we're not sure you'll any prompting to finish these off in record time. This selection box contains two of each flavour – from the couldn't-be-anymore-Valentinesy-if-tried rose, to passion fruit – and is available in a larger size too. What's more, you can get it wrapped up as a gift for no extra cost.
7. Fortnum & Mason Chocolate Covered Freeze-Dried Fruit: £13.50, Fortnum & Mason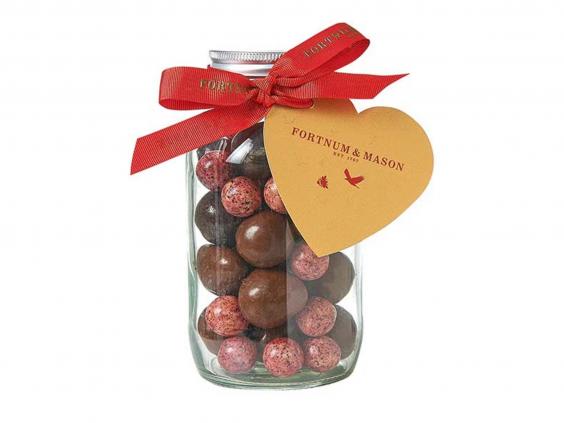 If you want an interesting alternative to the heart-shaped boxes (ok, there is still a heart-shaped label on this one) then these chocolate-covered fruity treats from Fortnum & Mason make a great choice. Inside the jar you'll find a mix of shapes and sizes, giving a pleasantly homemade feel, with both milk and dark chocolate encasing blackcurrants, raspberries and strawberries. As the fruit has been freeze-dried, each one has a definite crunch to it, which might not exactly be what you were expecting. Fiendishly moreish.
8. Prestat Fine Chocolates Heart Box: £18.99, Selfridges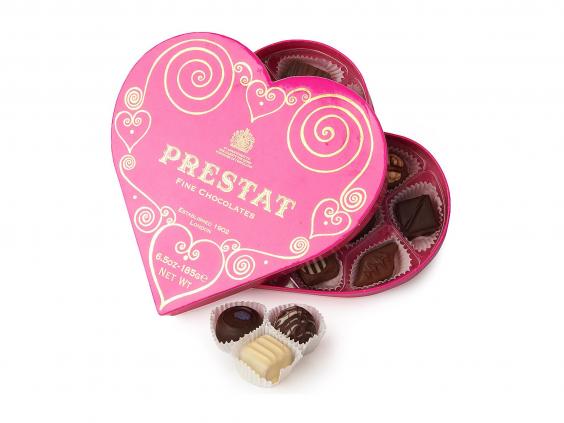 Prestat was founded by descendants of the man who is thought to have created the world's first chocolate truffle – so you can trust to find some delicious variations on that theme in this heart-shaped box. There's a great variation of flavours, from striking passion fruit to – you guessed it – salted caramel. Prestat's boxes are always hugely popular at this time of year, so be sure to buy soon.
9. Choc on Choc Chocolate Oysters and Champagne Truffles: £14, Choc on Choc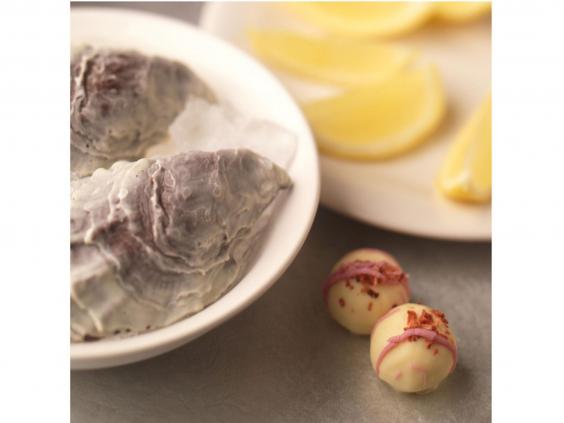 With Choc on Choc, the Somerset-based chocolatier founded by a father-daughter duo back in 2003, how the chocolate looks is almost as important as how good it tastes. From the stunningly realistic-looking chocolate "cheese and crackers" to the so-called "5-a-day vegetables", you'll take time to marvel at the treats before chomping them. For Valentine's Day, we'd recommend the chocolates shaped like oysters and champagne truffles masquerading as pearls.
The Verdict: Valentine's Day chocolate gifts
Of all the selections on our list, the most giftable has to be the offering from Marks and Spencer and, considering how tasty its contents are, it gets our Best Buy. We also love the originality of Choc on Choc.
IndyBest product reviews are unbiased, independent advice you can trust. On some occasions, we earn revenue if you click the links and buy the products, but we never allow this to bias our coverage. The reviews are compiled through a mix of expert opinion and real-world testing