When it comes to baby monitors there's an overwhelming number of options, brands and models, covering all sorts of functions you never knew you needed (and quite often don't) - choosing the right one can be perplexing.
The best place to start is by deciding what's important to you: where will you use the monitor and how far away are you likely to be from your baby while he or she sleeps? Do you want a simple audio device or to be able to see your child via video? Are you prepared to invest in a monitor with a motion sensor? Then there's the technology – do you want interference-averting digital or analogue? Some argue the latter avoids the long-term effects of microwave radiation from wireless technology on the developing brains of children, although scientific studies have yet to prove a link (also, remember that most houses hum with invisible waves already, through wi-fi, mobile phones and so on). Price is also likely to be a motivating factor, with monitors ranging from £20 right up to £200, with a decent, mid-range option costing around £60.
But try not to be distracted by frills - lullabies and light shows can be impressive, but you're buying peace of mind while your baby sleeps, so prioritise key functions before succumbing to endearing additions. And bear in mind that the more functions a monitor features, the more you're going to be looking or listening out for during those precious moments your child is asleep.
1. Motorola MBP160 Audio Baby Monitor: £35, Amazon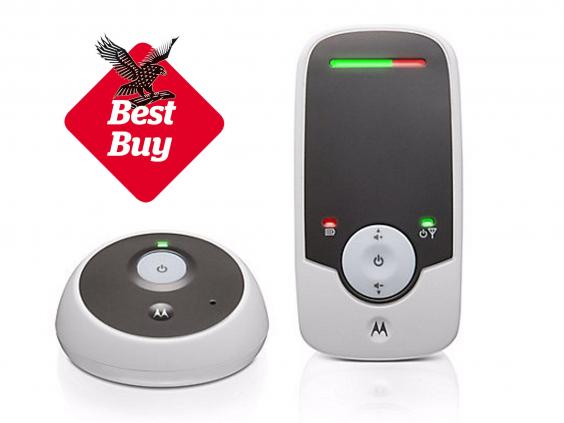 Employing wireless DECT technology, this affordable, fuss-free monitor takes minutes to set up (though you have to factor in an initial 16 hours' charging time) and takes up minimal space, making it a good option for travelling, particularly since the charged parent unit can be used without its power adapter. It has a clear range of 300 metres, though indoors this reduces to around 50 metres. The sound suffers very little static, but can be a little muffled at times. Handily, a warning signals on the parent unit if the baby unit loses power or if the units are out of range.
2. Summer Infant Babble Band: £40, Amazon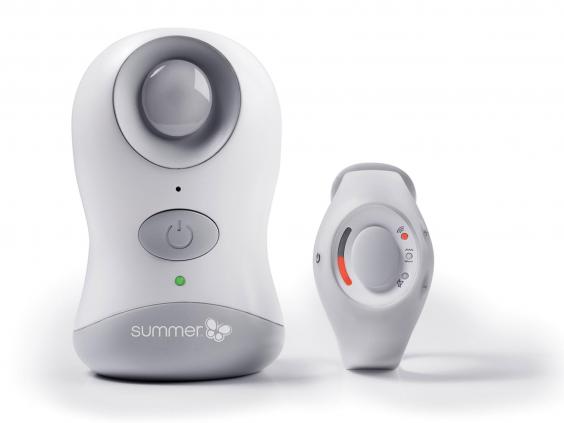 This is another digital audio choice that liberates parents with the use of a wearable, watch-style receiver. The baby unit feels a little lightweight, but the sound quality on the band is good - simply place it on the baby unit to charge for five to six hours and you're ready to go. There are three options on the band: audio, vibration and mute/light, with a range of 240 clear metres (again this reduces indoors) and up to eight hours' battery life on a fully-charged band. This offers the convenience of moving rooms without having to remember to pick up the parent unit as you go.
3. Babymoov Digital Green Baby Monitor Expert Care: £80, Mothercare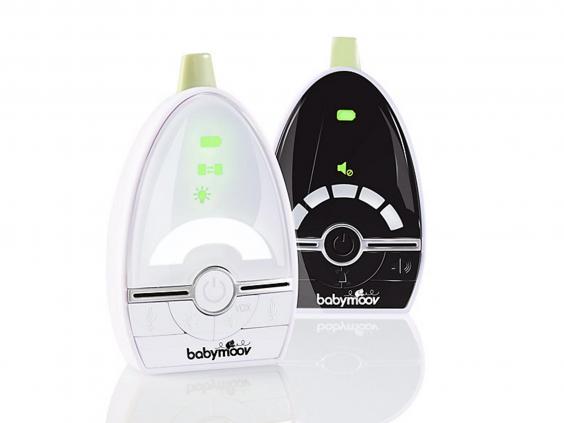 If you're concerned about "electrosmog" in your home, this audio monitor could offer a compromise. Using Babymoov's "Digital Green" technology, it claims to emit up to a third fewer waves than similar monitors. Rather than streaming constant noise, the parental receiver vibrates and plays back sound only when prompted by your baby's device; you can also switch it to mute with a visual light alternative. The two units are both compact, with the option to run the parent unit on batteries if you need to be mobile (it also comes with a belt clip) and there's a night light on the baby unit. The device also claims an impressive range of 1,000 clear metres - impossible to substantiate in all but the most palatial of homes and reduced indoors - and comes with a lifetime guarantee.
4. Motorola MBP853 Connect Wifi HD Video Baby Monitor: £107, Amazon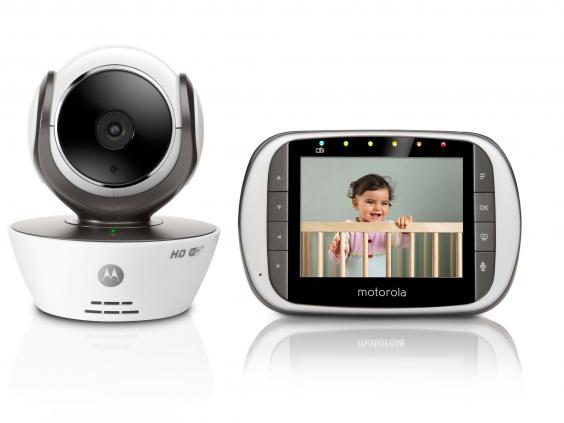 This is an investment, but relatively reasonable for a video device with so many functions, which is also easy to set up. The chargeable, portable 3.5-inch LCD parent display unit delivers clear images which you can pan around and zoom into, monitors the temperature of your baby's room with alerts when it's too hot or cold, enables you to play five different tunes to your child (sombre classical melodies rather than soothing lullabies) or speak to them through the built-in microphone and speakers. It has range of 300 clear metres (50 metres in a typical house) and decent infrared night vision, though the microphone could do with being a little more sensitive.You can also pair your Android or iOS smartphone or tablet with the camera via the Motorola Hubble app to keep watching while you're away from the house and to take your own recordings or snapshots remotely. For an additional subscription (£2.99 to £29.99 per month), you can add a motion-triggered recording service.
5. Philips Avent UGrow Smart Baby Monitor: £120, Amazon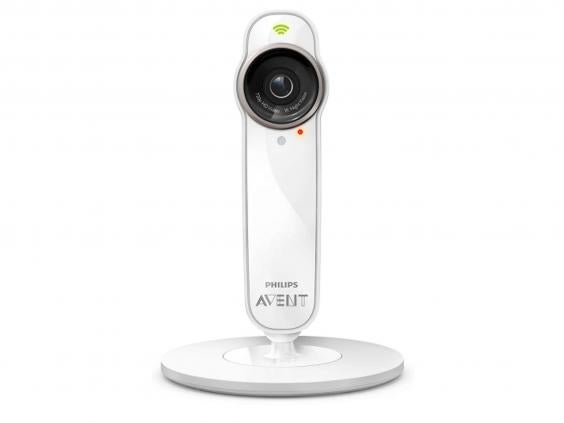 This digital video monitor streams images from its highly sensitive base video camera to your smartphone or tablet, so you'll need to have decent wi-fi to ensure it works smoothly; even with superfast broadband, we found it dropped out of the network occasionally (it notifies you when it loses connectivity). It claims to be highly encrypted, ensuring privacy on a wi-fi or mobile network. Functions include the ability to take HD snapshots and receive notifications when your baby cries, when their room gets too hot or cold or humidity too high. You can also play lullabies, communicate with your child remotely and switch on a timed night light, and even choose its colour. It's also possible to invite other devices to access the video streaming. The video quality is impressive in both daylight and darkness, though there's no option to pan or tilt the lens remotely, which is disappointing considering the high price tag. However, the camera unit has a good manual viewing range and a wall mount is also supplied.
6. Angelcare Movement and Sound AC401: £75, Amazon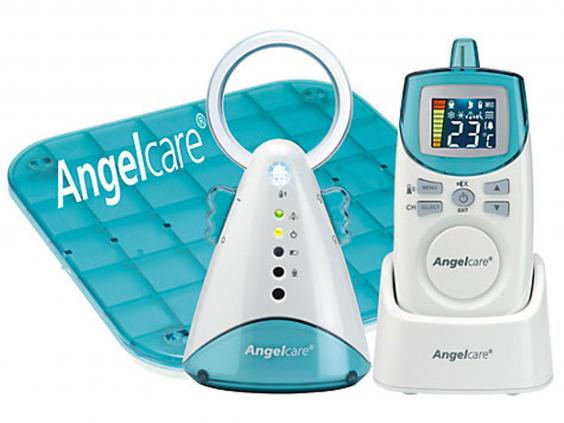 Offering value in the motion sensor range, this digital monitor will notify you if it doesn't detect movement from your baby's cot for 20 seconds. There's a dial to select sensitivity, but the sensor mat requires a piece of hardboard - which isn't supplied - underneath to operate on a level surface beneath the mattress, so this isn't an option for moses baskets. The cable between the mat and monitor is also relatively short which means you'll need somewhere within close range (though not closer than 1m) to position the nursery unit that's still out of baby's reach. Both units have the option to run on mains or battery and the nursery unit is an attractive angel design with a silhouette night light around its edge. We found the sound quality to be crisp. The parent unit, with a clear range of 250m (reduced indoors), features a temperature display with the option to set an sound/vibrate alarm if your child's room gets too hot or cold as well as to indicate out of range, low battery and lapsed movement. There's also a ticking feature to reassure you the sensor is operating while your child is fast asleep.
7. Tommee Tippee Closer to Nature Digital Sound and Movement Monitor: £70, Amazon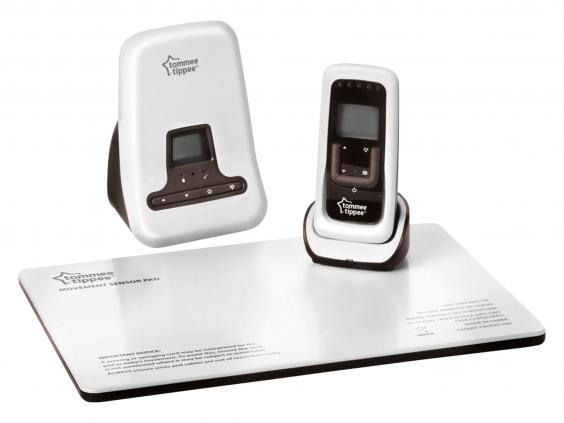 This monitor's movement sensor pad will only operate in a cot or crib with a completely level surface, so is unsuitable for moses baskets. With a clear range of 300m (around 50m indoors), it delivers crisp sound, however we found that it didn't pick up sneezing during testing. The set-up is straightforward, although the rechargeable battery cover is fiddly to replace on the parent unit and the cable from the sensor pad to the nursery monitor is relatively short and some cots may have to be modified to accommodate it. There's an option to switch on a night light and communicate with your child via the parent unit, as well as monitor the temperature of the child's room. The ticking function will reassure you that the sensor is working during calm periods though you may wish to opt for the less distracting visual flashing light.
8. Babymoov Touch Screen Digital Video Baby Monitor: £150, Amazon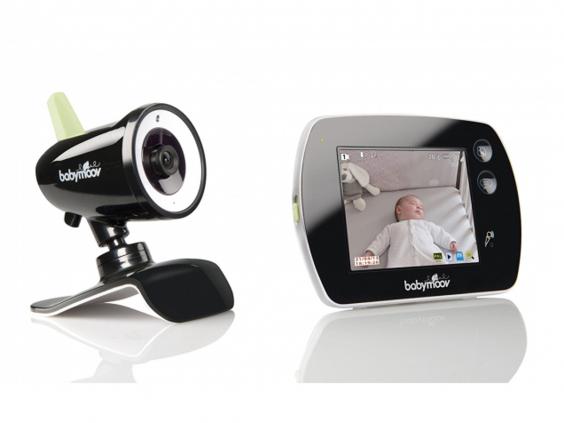 This premium digital video monitor offers the ease of a touch-screen parent unit and the option to slot in an SD card (not included) for recording photos and videos and link up to three additional cameras (ideal for twins or triplets). The picture quality could be a little sharper and the menus a little more user-friendly, but the unit has a decent clear range of 250m and sensitive audio monitoring. The camera's positioning can be adjusted, though there's no remote pan function, only the option to zoom in and out. Additional features include two-way communication, three lullabies, a night light and motion and temperature sensors. While this monitor is an investment, it both looks and feels robust and also comes with a lifetime warranty.
9. BT baby monitor 350 Lightshow: £40, Amazon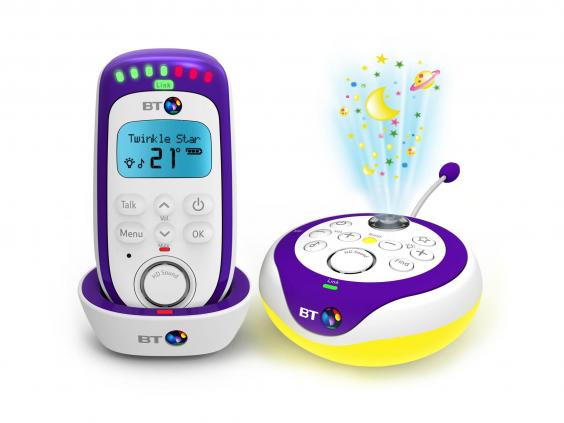 A popular, easy to install and use audio monitor, with a 300m/50m outdoor/indoor range. The digital sound quality is clear and crisp, with a light on the parent unit indicating communication between the two devices and audio warnings for out of range and low battery. The parent unit is a little cumbersome but portable after charging (with a reasonable battery life). Justifying the price tag is a range of functions, including a projected starry night light show, room temperature monitor, feed timer, adjustable night light, talk back function and a range of lullabies and sounds including white noise and soothing womb sounds - a hit with our infant tester.
10. Summer Infant Baby Glow Video Monitor: £117, Amazon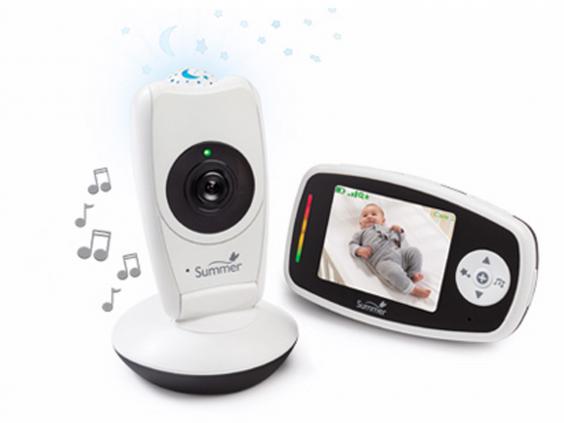 Summer Infant's digital video monitor makes security its selling point, guaranteeing "100 per cent digital privacy" via the use of encrypted digital technology. It's easy to use, with five hours' charging required on the portable parent unit before you're ready to go and simple functions that are easy to navigate without having to refer back to the instruction manual. The day and night vision displays are reasonable though not crystal clear, with the option to zoom in or turn off video and switch to audio, but again at this price it'd be useful to have a pan function on the camera. Features include two-way communication, a changing colour starry sky projection, a selection of lullabies and soothing nature sounds and EU plug adaptors, making this a good choice for travelling abroad (it's also light and compact). It has a clear range of 200m, reduced inside, but we didn't encounter any interference during testing. The unit also comes with fixtures should you wish to mount the camera on a wall.
Verdict
For simplicity, reliability and a range of functions, BT's 350 lightshow monitor is a popular audio option, though Motorola's MBP160 Digital Audio monitor offers a decent no-frills alternative. For added peace of mind, the Motorola MBP853 Connect HD Wifi Video Baby Monitor has excellent video quality plus an impressive range of functions to justify the investment.
IndyBest product reviews are unbiased, independent advice you can trust. On some occasions, we earn revenue if you click the links and buy the products, but we never allow this to bias our coverage. The reviews are compiled through a mix of expert opinion and real-world testing