If you're tired of getting all tangled up with wired headphones while trying to listen to your music, a pair of wireless headphones could be the solution.
Each of the headphones we've featured connect to your device simply and easily via Bluetooth – and some connect via NFC (near field communication), which will connect your headphones to the device just by holding them in close proximity, provided your device is NFC-enabled. 
The obvious benefit here is the complete lack of wires. This does mean, however, that you have to be careful about the battery running low, because once that's gone, so goes the Bluetooth. That said, all the cans we've included do come with cable and jack for emergencies, so you'll still be able to use the headphones without them being charged.
In terms of design, the biggest choice to make is between on-ear and over-ear headphones. The former often have smaller cans, and therefore sit upon the ear, while the latter fully encompass the ear. On-ear options are often suited to people with smaller heads, but it of course comes down to personal preference.
Some of the headphones we've featured here feature active noise cancelling. These models have small microphones on the outside. When they pick up sound waves coming from the world around them, they create waves which are 180 degrees out of phase with the penetrating ones, thus cancelling out the noise. The result in the best noise-cancelling headphones is an eerie near-silence, but all the of the ones we've featured are adept at cutting out bothersome low-frequency noise, while letting in an acceptable amount of high-frequency noise – in other words, you won't be able to hear that rumble of the aeroplane engine, but you shouldn't miss any vital announcements by cabin crew.
Noise-cancelling capabilities do add a considerable amount to the price, as do extra features which add to the functionality, such as touch-sensitive controls on the headphones.
We tested the headphones among the chatter of the IndyBest offices, on a rattling Tube train, walking along a busy high street, and also while in quiet surroundings. Chief among our considerations were audio quality – Bluetooth connections can pale in comparison to wired connections when it comes to richness of sound, so we've picked ones where that isn't the case – as well as comfort, build quality and functionality.
1. Sony MDR-1000X: £360, John Lewis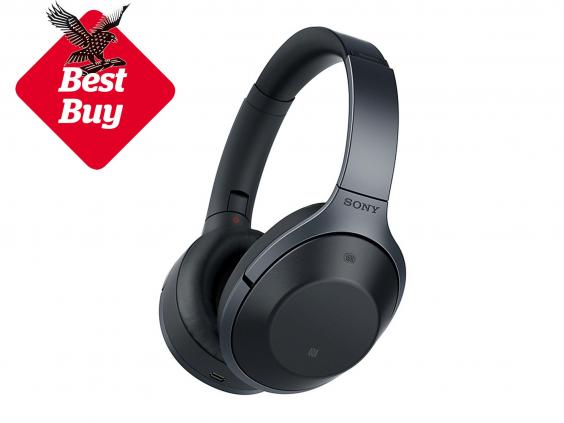 Sony's attempt to tackle the big players of the high-end noise-cancelling market is a very strong one. The noise-cancelling itself is excellent, allowing us to pick out fine details in the music even while walking down the high street at rush hour. And there's certainly a lot of detail to pick out – the soundscape is wide, nuanced and impactful. The ambient noise feature is useful, dimming your music and enabling you to hear voices with ease. This can be achieved either by pressing a button, or by holding your hand over the right can (the latter is best for listening to something briefly). The touch-sensitive controls, also on the right can, which allow you to play, pause, skip and change volume, are responsive and simple. We found them perfectly comfortable to wear, too. Gives around 20 hours of battery life.
2. Sennheiser PXC 550 Wireless: £330, John Lewis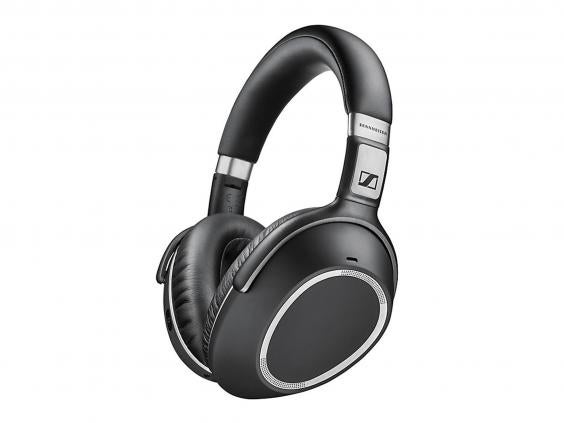 We reckon the sleek, understated design of these cans might just be the best of Sennheiser's current range – they're certainly a far cry from the more hardware-heavy Momentum 2.0 pair. They're on-ear, but the large cushioning covers the ear sufficiently and comfortably, so much so that they sometimes even feel like over-ears. The noise-cancelling is excellent – definitely in the same league as the Bose and Sony pairs on our list – and it adjusts itself according to how much noise there is to cancel. Or, you can flick a switch to turn the noise-cancelling on full whack. In terms of sound quality, it's what you'd expect from Sennheiser (and this price), delivering full, true sound that's capable of tackling pretty much any genre. The headphones turn themselves on and off as you twist round the cans, which is handy if you get into the habit of packing them away in the carry case after use. Can connect via NFC and will give around 30 hours of battery life.
3. Bose QuietComfort 35: £330, John Lewis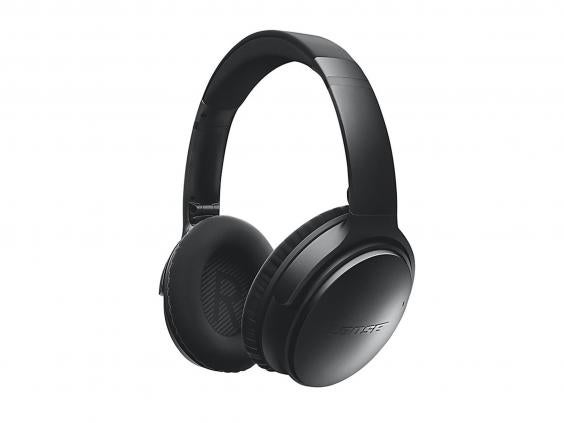 Thanks to its QuietComfort series, Bose has long been considered the definitive name in noise-cancelling. And with this latest iteration, the reputation holds firm. While its rivals are certainly catching up, Bose still leads the pack in silence creation, especially when you consider that sub-£300 price tag. The lower price is a result of barely any added features, but that simplicity allows Bose to focus on what it does best – beautifully textured, versatile sound capability and exceptional noise-cancelling. Truth be told, the improvement in quality from the QC25 to the QC35 isn't huge, but it's like taking the lift from the second-to-top floor of the hotel into the penthouse suite. The QC25 was wired only and there's still the option of wiring here. The big ear cushions sit comfortably on our (admittedly also rather big) ears with the all-encompassing design meaning no outside noise leaks in. In terms of looks, things haven't strayed too far from the QC25's far-from-flashy style, although there are now volume controls on the right headphone. Can connect via NFC and gives around 20 hours of battery life.
4. Plantronics BackBeat Pro 2: £225, Amazon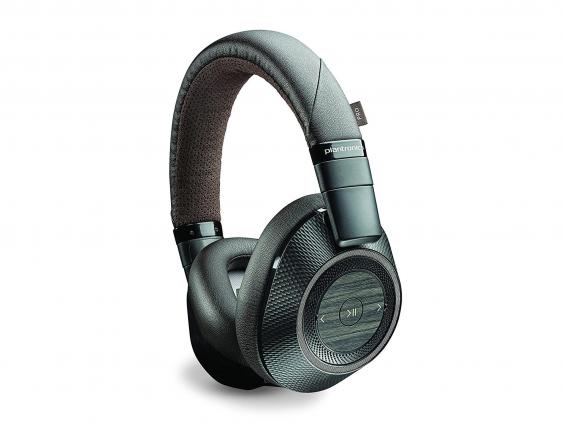 This Plantronics pair sits at the lower price range of the noise-cancelling scale and offers great value. As would be expected, the silence isn't as complete as that achieved by the Bose and Sony models (which are significantly more expensive) but the active noise-cancelling – turned on by a switch on the left ear – still does enough to make sure your listening experience remains largely unhindered. The audio is clear and true, dealing well with both jazz and electronic music in our test, and there's the possibility of wired listening thanks to the supplied cable. The open listening mode helpfully allows you to tune into the world around you, and the music pauses when the headphones are taken off, thanks to sensors (although we found these sensors can, at times, be overly sensitive). Controls on the ear, to play, pause, skip and change volume, are simple and intuitive. A very solid offering which will give around 24 hours of battery life. 
5. Audio-Technica ATH-SR5BT: £149, John Lewis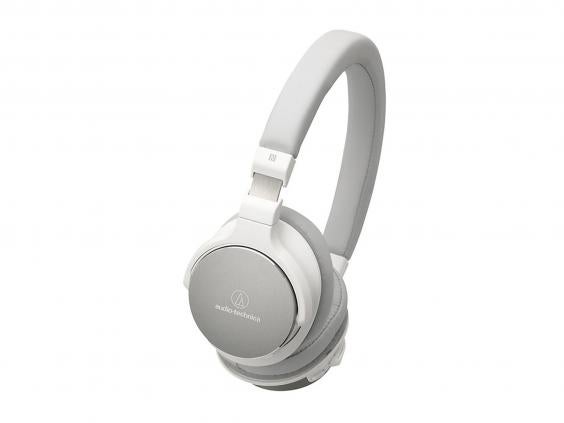 If you're not bothered about forking out the extra cash for noise-cancelling, this pair from Audio-Technica is the one to buy. That said, for a pair of on-ear cans, the noise reduction qualities are impressively noticeable. Hi-res audio can be played through this pair, albeit only via the wired connection, and while this gives discernibly higher quality sound, the wireless listening experience is still excellent. There's great clarity to each facet of the music – snare hits are crisp, orchestras sound fully realised. If it is slightly lacking, it's on the prominence of bass, but this of course isn't too great a problem for a lot of genres. And if there's one stat on which this pair blows its closest wireless competitors out of the water, it's on battery life – a five hour charge will give you a humongous 38 hours of playback time, and with such a lightweight, comfortable design, long listening sessions won't be a problem. The on-ear controls are simple, and the headphones will remember up to eight different devices. Overall, a marvellously good value option. Can connect via NFC.
6. AKG Y50BT: £109, Amazon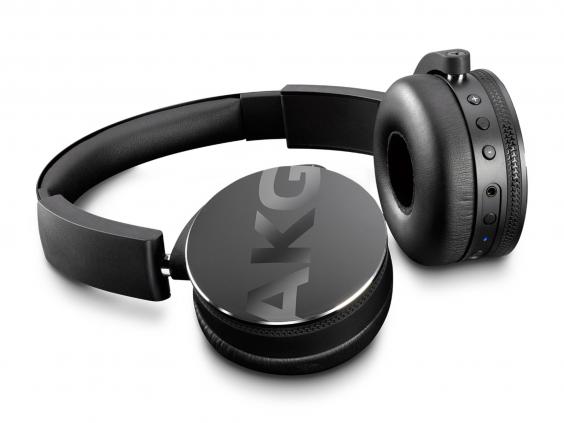 If your budget doesn't stretch that far into three figures, but you still want a highly competent wireless pair, we'd recommend this from AKG. For under £120, you get on-ear headphones which deliver a sound that is nimble, well-balanced and with a clarity not often found at this price point.  As you'd expect, it's not heavy on added features, but there are handy on-ear volume controls for when you can't easily reach your device. The bold lettering on the outside of the cans might not to everyone's taste, but the black colouring available does go some way to achieving an understated look (the same can't be said for the bright blue option). Overall though, we're fans of the sharp, lightweight design. Gives around 20 hours of battery life. 
7. Bowers & Wilkins P7 Wireless: £320, John Lewis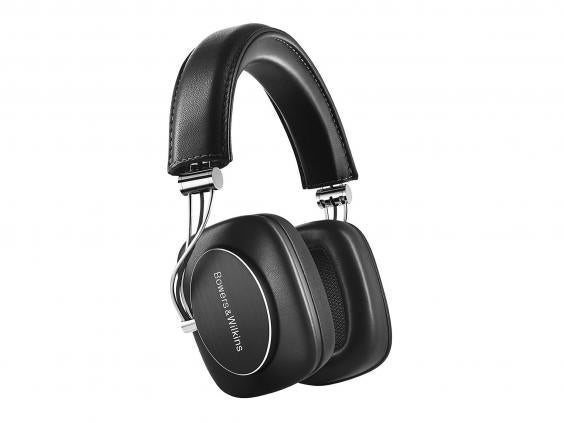 You can feel the quality of this pair from Bowers & Wilkins as soon as you open the box. For one, they look great, clad in genuine leather and with just a hint of exposed hardware. And they feel great too, with a sturdy but manageable headband and memory foam ear cushions. But really, it's all about the sound. There's simply no compromise – while some headphones absolutely nail the highs at the expense of the lows, or vice versa, these are incredible across the board, handling each genre of music we threw at them with style and expertise. Every meticulous detail was picked out. There is no noise-cancelling, but they do a good job of reducing noise passively. And, for the price, we feel the battery life of around 17 hours could've been longer. But, if you're mainly going to be using these inside – or anywhere where there isn't a lot of noise around – and you're simply after astounding sound quality, without contending with the stratospheric prices attached to some professional-grade headphones, this is the pair for you.
The verdict: Wireless headphones
Although they might be tied with the Sennheiser PXC 550 Wireless headphones for the most expensive on our list, we can't look far beyond the Sony MDR-1000X. They're a great combination of everything you could want in a pair of headphones: effective noise cancelling, awesome audio quality and plenty of genuinely useful features. If you're most bothered about noise cancelling, then opt for the Bose QuietComfort 35 pair. The audiophile's choice will be the Bowers & Wilkins P7 Wireless, while an excellent budget buy is the Audio-Technica ATH-SR5BT pair.
IndyBest product reviews are unbiased, independent advice you can trust. On some occasions, we earn revenue if you click the links and buy the products, but we never allow this to bias our coverage. The reviews are compiled through a mix of expert opinion and real-world testing