Yes, they do still exist. Home phones might not be quite as glamorous as today's mobiles, but they're still central to hundreds of thousands of households across the country.
We've come a long way since the days of the rotary dial. The best modern landline handsets are svelte and cordless, with some even featuring large colour touchscreens. Most useful of all, however, has been the emergence of blocking. There's nothing quite like a unwanted call to ruin a moment of peace, and home phones can now save you from nuisance callers automatically. They can sync up with your smartphone via Bluetooth too, allowing you to take mobile calls on your home phone as it charges up, as well as transfer contact details with minimal effort.
Manufacturers haven't forgotten about the basics though. All of the models in this round-up feature an integrated answering machine and excellent quality sound, so you can chat away to your heart's content. 
1. Gigaset C530A: £31.99, Ligo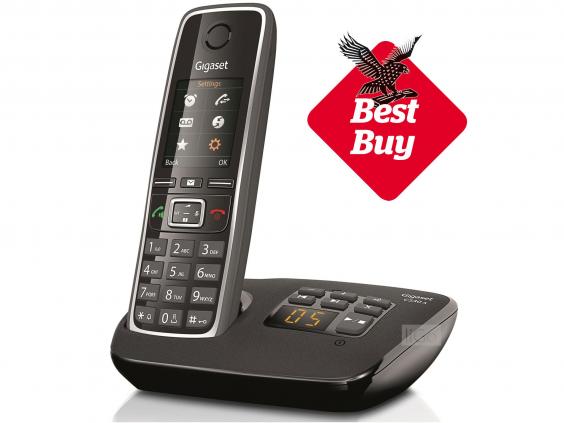 The Gigaset C530A is a good-looking handset, and has the same 50m indoor range and 300m outdoor range as its pricier rivals. Understandably, storage isn't quite as generous, with the C530A promising space for up to 200 contacts and 30 minutes of voice message recordings. It's the advanced features, including anonymous call silencing, HSP technology for clearer calls and the day/night switch that make it really stand out.
2. Gigaset S850A GO: £69.99, Ligo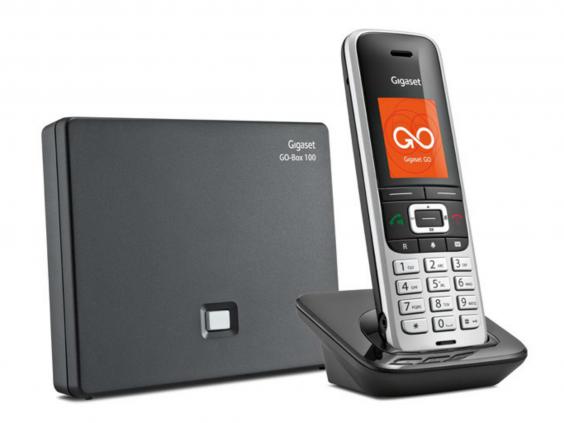 This German firm features heavily in this round-up, and for good reason. The S850A GO can store up to 55 minutes of messages with its integrated answering machine and 500 contacts, each with up to three numbers, an email address and a picture. Better still, you can easily pull your smartphone contacts across to the S850A GO with the ContactsPush app, which will also notify your mobile when you miss a call on your home phone. You can block nuisance callers by adding their numbers to a blacklist too, and silence calls from withheld or anonymous numbers. VoIP means you can use it to make calls over the internet, as well as landline, and the 50m indoor range and 300m outdoor range means you should always have a great connection. 
3. Philips M6 Luceo: £79.95, John Lewis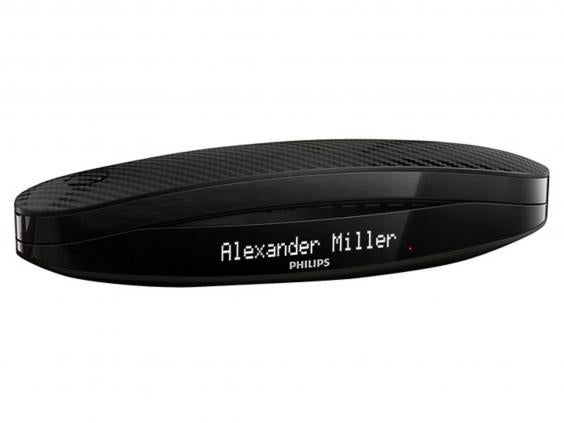 If you think this model looks outrageous, just wait until you see the Idect home phone further down the page. The M6 Luceo may look more like a digital alarm clock than a phone, but we assure you that this one meets the grade. The display on the base shows the caller ID when you get an incoming call, while barring lets you block both specific numbers and up to four groups of numbers. There's also space for up to 30 minutes of voice messages on the answering machine.
4. Gigaset SL910A: £122, Amazon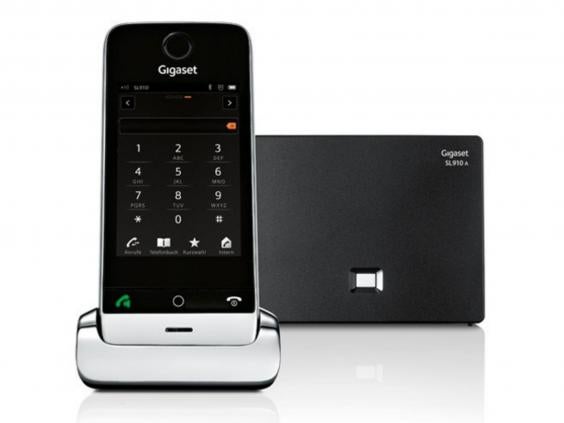 The best-looking model in this round-up has to be the SL910A, which could pass as a smartphone thanks to that sleek metal body and 3.2-inch touchscreen. You have to pay for the superb design though, with Gigaset charging almost twice as much for it as the S850A GO above. Fortunately, the SL910A isn't just a pretty face, offering space for 500 contacts with up to three numbers and a photograph per entry and, like the S850A GO, 50m indoor range, 300m outdoor range and 55 minutes of recording time for messages. You can also sync data, such as Outlook contacts, via Bluetooth or miniUSB.
5. BT Halo: £81, Amazon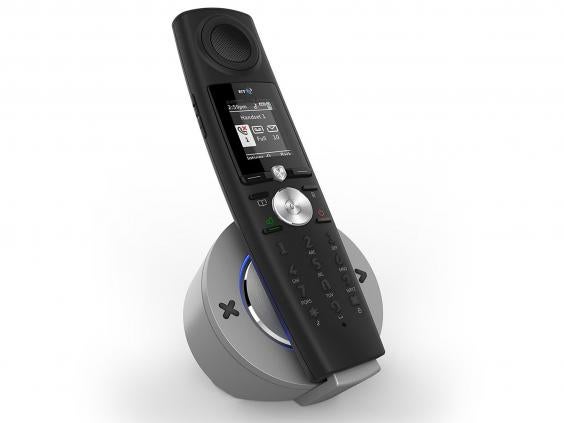 Just behind the SL910A in the aesthetic department, the BT Halo is a very modern-looking handset, and it's a real monster in terms of specs. The Halo can handle up to 3,000 contacts and 60 minutes of voice messages recordings, and you can use it to handle your smartphone calls when you sync them up via Bluetooth. Its standout feature, however, is truCall, which you can use to block up to 1,000 specific numbers, as well as withheld, anonymous and international numbers and calls from payphones. Like the two models above, the Halo has an indoor range of 50m and an outdoor range of 300m.
6. iDECT Eclipse Plus: £58, John Lewis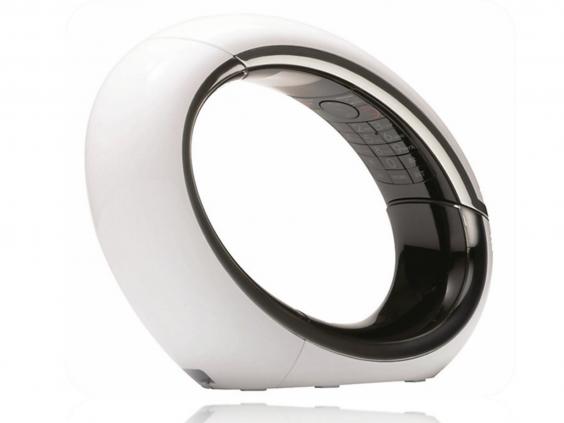 Where to start? The iDECT Eclipse Plus is a unique-looking handset that's guaranteed to polarise opinion. Though it's available in white, black and wooden versions, you'd do well to blend it in with the rest of your furnishings. It's not just eye-catching design up its sleeve either. The Eclipse Plus also comes with space for up to 200 contacts and 30 minutes of voice message recordings, and lets you add 20 numbers to your blacklist and a further 20 to your whitelist. 
7. Panasonic KX-TGH260: £49.99, Amazon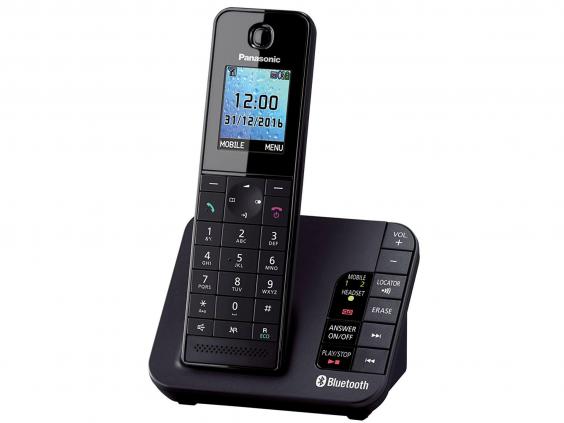 Panasonic prides the KX-TGH260 on Link-to-Mobile, which lets you make and receive smartphone calls on your landline via Bluetooth, a feature that comes in especially handy if your mobile has poor battery life. It features Nuisance Call Block technology too, which lets you add 50 specific numbers or groups of numbers to a blacklist and allows you to block calls from withheld numbers. Its integrated answering machine can handle up to 20 minutes of voice messages, while there's also room for 3,000 contacts. As above, the KX-TGH260 also offers 50m indoor and 300m outdoor range. 
8. Binatone Veva 1700: £14.99, Tesco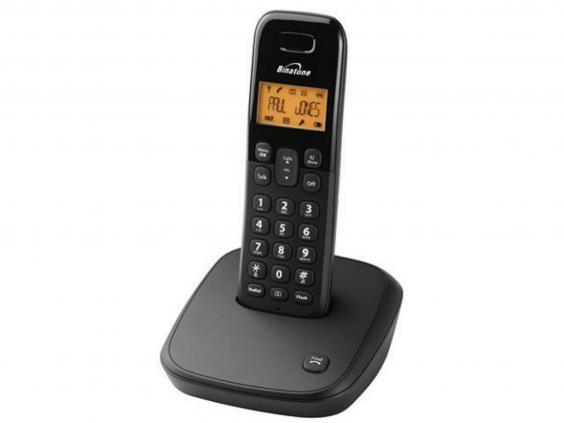 The cheapest model in this round-up by some distance, Binatone's Veva 1700 is a fuss-free choice for anyone who simply needs their home phone to do the basics well. The neat design will help it slot into most surroundings with ease, while talk time of up to seven hours and standby time up to 100 hours means you'll be able to put the world to rights several times a day. Like the pricier models listed above, the Veva 1700 also offers 50m indoor range and 300m outdoors.
The Verdict: Home phones
The pull of the SL910A and Halo is strong, but for sheer value for money, it's tough to look past the Gigaset C530A. It looks great and offers an impressive array of features, yet costs less than half of what you'd pay for most of the other handsets on the list. The S850A GO deserves a special mention too, thanks to its ability to makes calls over the web, as well as landline.
IndyBest product reviews are unbiased, independent advice you can trust. On some occasions, we earn revenue if you click the links and buy the products, but we never allow this to bias our coverage. The reviews are compiled through a mix of expert opinion and real-world testing
Reuse content