There are three types of hedge trimmers available – corded electric, cordless electric and petrol fuelled.
Corded electric ones tend to be light and easy to use and suitable for most small to medium-sized gardens. Do bear in mind they can only be used close to a power socket or with an extension lead and there is a risk of accidentally cutting the cable.
Cordless hedge trimmers provide a solution, as they have a battery that can be removed and recharged. Mind you, some can run out as quickly as 20 minutes on one charge and they tend to be more suitable for regularly trimmed hedges.
Petrol hedge trimmers are another alternative and are particularly good if you have large or overgrown hedges far from a power point. The downsides are that they tend to be heavy and noisy, as well as creating exhaust fumes.
Whichever type you decide on, we have picked the best ones available – from the budget option of the Flymo EasiCut 510 right through to the pricier Mountfield MHJ2424, which boasts a whole host of handy features.
1. Wolf-Garten HSE 45 V, £107, amazon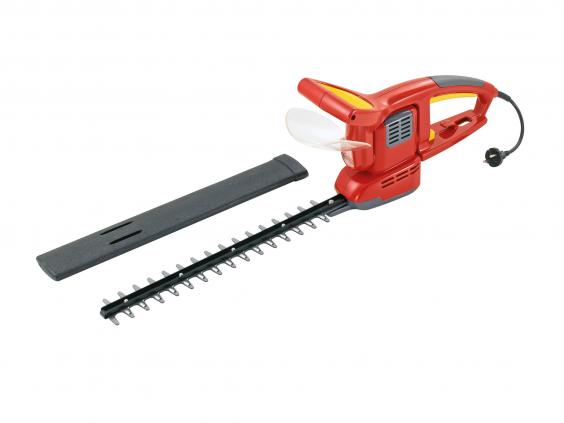 The unique feature of this electric corded trimmer is that the motor and blade rotate, enabling you to keep the same hand grip whether you're cutting vertically or horizontally. This makes it really easy to use, although don't expect to switch seamlessly between the two positions as you have to let go of the front handle to release and rotate the blade.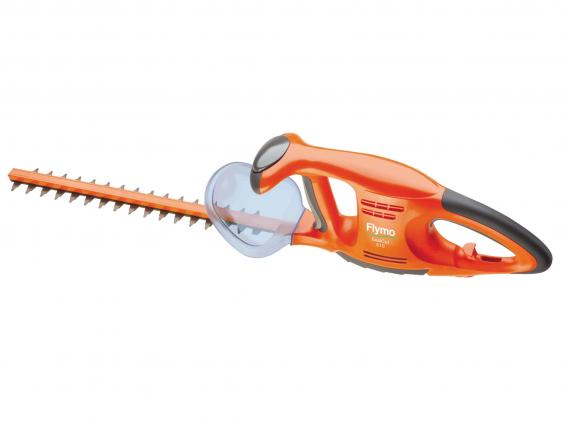 2. Flymo EasiCut 510, £58, amazon
This is a great budget option for a corded electric hedge trimmer, although the unusual front handle means it takes time to get used to. It cuts anything from conifers to deciduous hedges quickly and neatly, as well as branches up to 20mm with no problem. The coiled section of the power cable means it's harder to cut it accidentally.
3. Gtech HT042 2 in 1 Garden Multi Tool, £100, gtech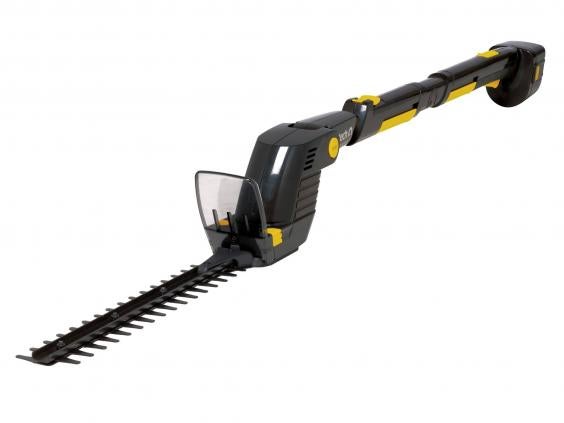 This lightweight, cordless machine isn't just a great hedge trimmer that gives a clean cut and neat finish on all hedge types – it's also a really versatile tool for other jobs in the garden. By simply changing the head, you get a small circular pruning saw, which can deal with most pruning tasks. You can also buy separate attachments for patio edge cleaning and grass sheering.
4. Mountfield MHJ2424, £125, screwfix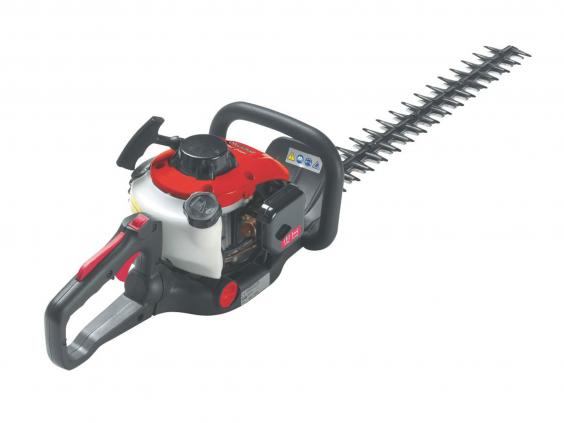 A small and reasonably priced machine, this petrol fuelled hedge trimmer can even manage large branches up to 2.5cm, making it a godsend for unkempt hedges. It's speedy and leaves a neat finish. It's designed to make changing hand positions easy, although the fingers shapings on the rear handle and the heaviness of the machine might irritate some people, so try before you buy if possible.
5. Black and Decker GTC3655L20, £150, amazon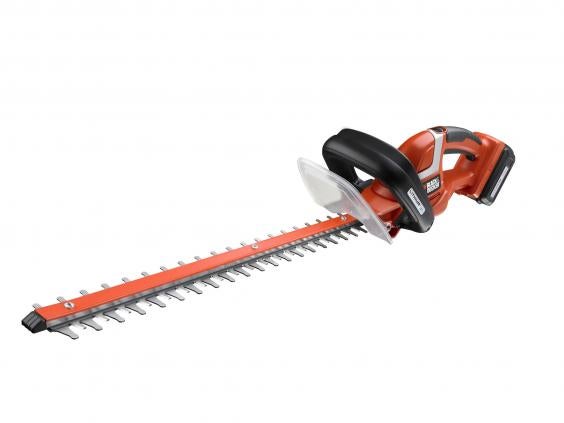 This is a powerful, quiet and lightweight hedge trimmer that cuts quickly and easily, even thick branches, without the hassle of a cord. It's as effective as the best corded machines available and considerably lighter and easier to handle than the best petrol ones. There's an indicator telling you how much charge is left and the battery charges quickly.
6. Bosch AHS 45-15, £63, johnlewis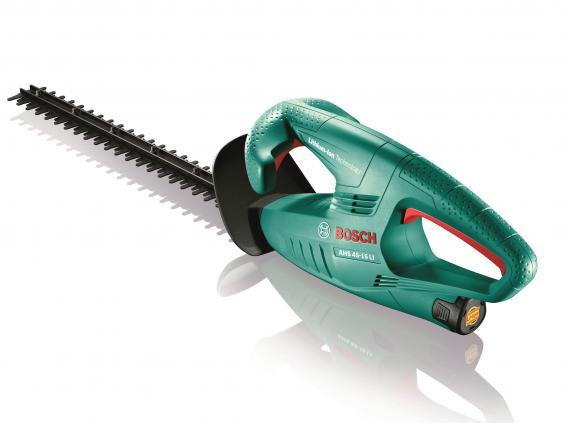 Here's another lightweight, yet powerful cordless hedge trimmer. This one is ideal for smaller hedges, with the 45cm blade and 15mm tooth spacing providing sharp, clean cutting. The unique anti-blocking system is particularly impressive, reversing the blades when necessary and putting an end to stalling.
7. Mac Allister 18v Cordless Hedge Trimmer, £39, b&q.com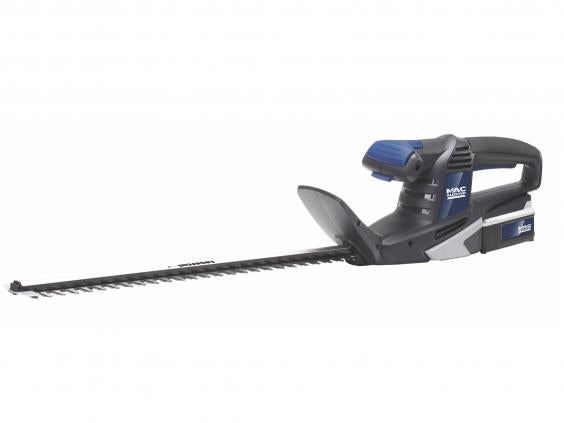 he double safety switch means you can't start this machine accidentally, while the one hour charging time is nice and quick. The laser cutting steel blade is good at cutting neatly and the machine isn't too heavy or noisy. It's a good price too for a machine that will see you through many years of hedge trimming.
8. Flymo EasiCut 6000XT, £60, amazon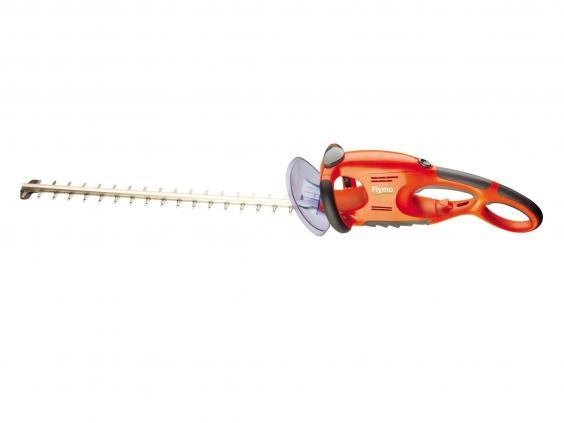 On the downside, this corded electric trimmer is a long, heavy machine that can be tiring to use if you don't have a lot of natural strength. But it is an excellent and indeed fast performer, particularly for the price tag, while the extra extendable handle is brilliant for reaching the top of tall hedges. It leaves a really neat finish and the coiled cable is handy.
Verdict
We found it hard to fault to the cordless Black and Decker GTC3655L20, which is quiet, powerful and effective for keeping hedges neatly trimmed. In second place comes the Flymo EasiCut 6000XT, which is fantastic for taller hedges.