We all know that the right balance of seasoning can really make a dish sing. Grinding your pepper fresh helps release that intense, aromatic kick of flavour that can pep up a simple pasta, soup or stew. We're not saying that there's anything wrong with the pre-ground stuff that's been at the back of the cupboard all year, but it will lose its flavour after a few months. 
Salt, meanwhile, may not change its flavour when ground, but being able to control the coarseness can help you get your seasoning spot on. A good grinder can make all the difference, and by good, we mean from a brand that makes a point of telling you about its mechanism.  
Generally, that will involve ceramic or stainless steel grinders. Cheaper models might have a plastic mechanism but that won't last long. Ceramic on the other hand, is super hard-wearing, won't corrode, can give a really fine grind and can tackle other herbs and spices (though most will say nutmeg is a no-go). 
That said, some chefs swear by stainless steel mechanisms, saying that they stay sharper for longer. Stainless steel, unlike carbon steel shouldn't be corroded by salt. Fun fact: French engineering brand Peugeot was making salt grinders and pepper mills in the nineteenth century, decades before it got going on cars, and the company's grinders are still all stainless steel for both condiments.
Aside from the mechanism itself, what do you need to look out for? All on this list will change the coarseness of the grind so you will want to know how many settings there are and if you really can see the difference between coarseness level nine and 12 (in our experience, not really). You'll also want to consider how easy it is to load as some are trickier than others. Our tip: a funnel will help stop you standing on peppercorns for weeks after a refill. Consider whether you want a set that grinds out the bottom or top and whether it comes with anything to rest on to stop any pesky salt and pepper residue ending up on your table. 
We seasoned a lot of dishes to test these grinders, we tried them with salt and pepper and herbs or anything else they claimed to be able to tackle. Here's our pick of the lot. All of these on this list are manual rather than electric and made claims about their chosen grinding mechanisms, whether it be ceramic, stainless or carbon steel. We judged them on grinding performance, ease of filling and cleaning, as well as looks.  
1. T&G Luna Salt and Pepper Mills: £19 each, Artisanti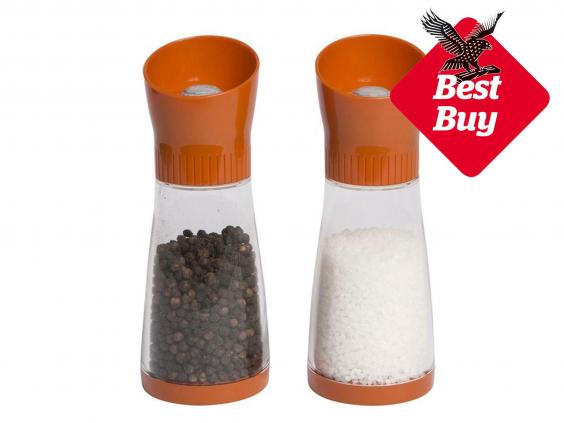 T&G makes a number of traditional-looking and sleek contemporary mills. The cheerful Lunas are new to the range. They have a removable glass base and the brightly coloured tops come in red, green, orange or yellow. This lot use the CrushGrind mechanism, so you know you're getting a quality grinder that can tackle whole herbs and other spices as well as salt and pepper. As you grind from the top, you avoid any mess. While it's still not clear which setting you're on – these claim to have 12 coarseness levels but we challenge you to see the difference between the middle lot – the dial on the top makes it less fiddly than having to turn a mill upside down to adjust. These come with a lifetime guarantee too. But if you want something smaller, try the similar and cheaper Sola, which comes in a coloured, black or stainless steel version. 
2. Le Creuset Classic Pepper and Salt Mills: £25 each, John Lewis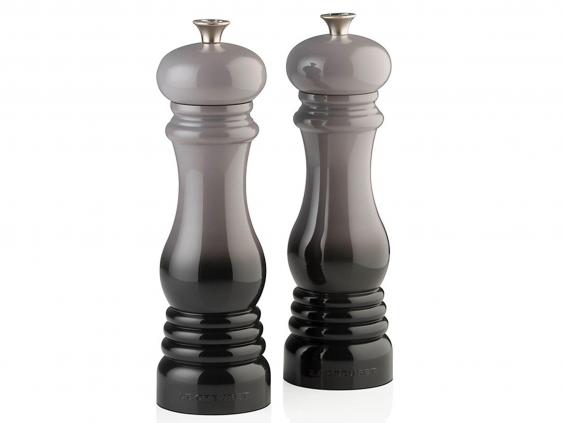 You might know Le Creuset for its superior stoneware dishes, but the brand also makes some decent salt and pepper mills. These 20cm mills have a classic look to them with a large "P" and "S" on the top and come in a range of colours (Le Creuset fans could match their grinder to their casserole dish if they felt that way inclined). These have tough ceramic grinders, they come with a 10-year guarantee, so no one's messing about. You turn the silver knob to change the coarseness of your grind. We could see the difference between the finest and coarsest but in between we'd say there wasn't as much definition as some. Still, these are hard-wearing and the glossy looking finish – plastic without looking plasticy – means they look good on the table. This grey "flint" is a new addition to the collection.  
3. Cole and Mason Derwent Copper Salt and Pepper Gift Set: £89.99, John Lewis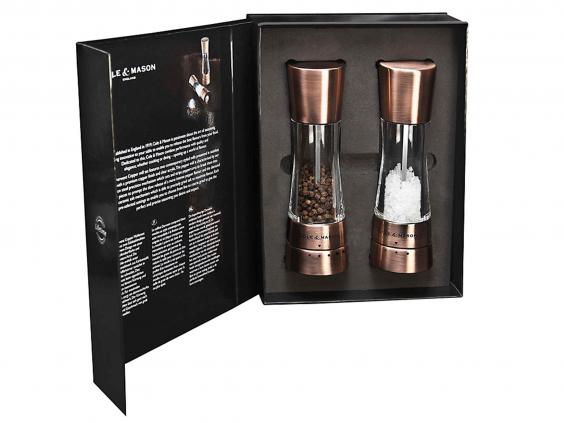 You might have noticed that copper is still having a moment in the kitchenware world. We're partial to a copper accent and think these mills look very smart. They fill easily from the top, are reassuringly weighty to handle and unlike some others on the list, we could really see the difference in the five clearly marked grind-sized settings for the pepper and three for the salt. Cole and Mason would say that was down to the carbon steel mechanism in the pepper grinder and the super-sharp ceramic one in the salt. These aren't cheap but the quality is evident – and would make a generous, very useful house-warming gift. If you can't deal with any residue on your table, Cole and Mason sells either a walnut or acrylic tray to keep things tidy. 
4. Robert Welch Limbrey Salt and Pepper Mill: £78, Amazon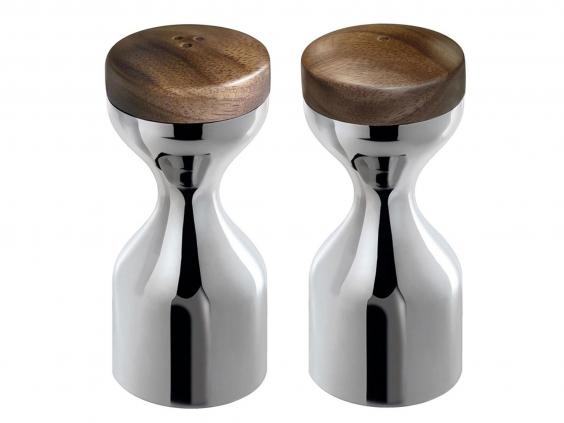 These from the cutlery specialist are our winners in the style stakes. Sixties inspired, you get dazzlingly polished stainless steel (guests will be able to see their faces in them) and smart, smooth walnut tops. There's a wide opening at the top, you just whip the walnut part off. so they are less fiddly to fill than some. They have the effective ceramic CrushGrind mechanism and we saw a discernible difference between the size of flakes when we seasoned our pizza. As with all the CrushGrind models, these are durable mills, but we wish the coarseness levels were more clearly marked. 
5. Culinary Concepts Beech Wood Square Salt and Pepper Mill: £24.95 each, Culinary Concepts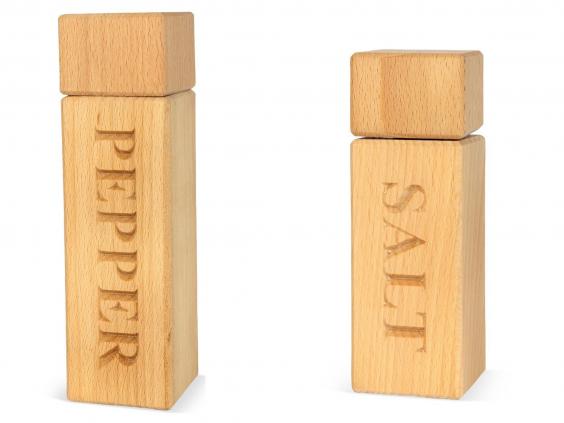 These beech grinders etched with "salt" and "pepper" have a kind of country-kitchen vibe. You unscrew the top to fill, the opening on these is narrower than some on the list, so make sure you have a funnel or similar. Unlike the CrushGrind, these have five coarseness settings, which are clearly marked and you could clearly see the difference (you turn the ring at the bottom to line up with the arrow, one for fine, five for coarse). As you grind out the bottom, we did find that tell-tale ring of pepper on the table, though. 
6. Menu Bottle Grinder Salt and Pepper Mill: £41.74, Amazon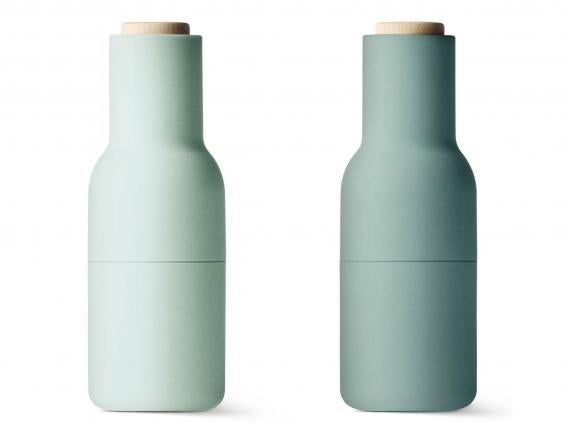 We love the smooth, contemporary look of these rubber-coated bottles from the Danish design house that will keep dinner guests guessing. They are 20cm tall, wider than average and easily filled by pulling off the bottom section. You turn the wooden top to change the coarseness setting and because the grind comes out the top, they're mess free. Menu says that these can tackle herbs, dried fruits and nuts as well as the classic seasoning. We tried ours with flaked almonds and dried cranberries and they proved to be effective for our porridge toppers, but we reckon they're best suited to salt and pepper. They come in a range of subtle shades, including these green hues. 
7. Oxo Good Grips Trip Grinder Mill 2-in1: £12.49, Lakeland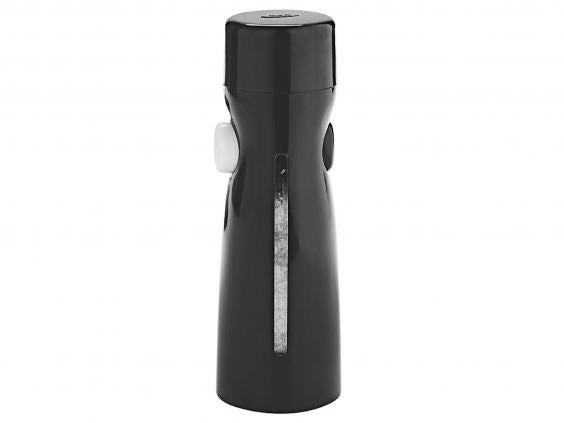 This one comes ready-filled, so you're good to go straight out of the box. It's super-simple to use: Press in the black button and grind and you get pepper and the white and it's salt that comes out. This is one if you want to save space on a kitchen worktop. If you want something that looks a bit more elegant on the table, try Oxo's beechwood grinders. 
8. Lakeland No Spill Grinder: £9.99 each, Lakeland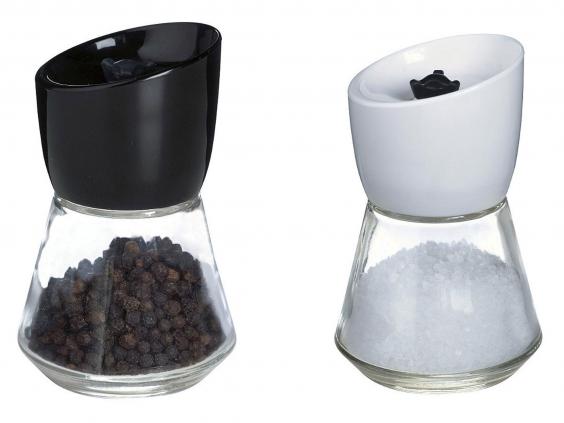 Looking for some fuss-free, small grinders? These are super-easy to fill. You just unscrew the top and you have a wide opening for your condiments. And no salt and pepper residue going all over the table as the decent ceramic grinding mechanism is in the top. You just turn upside down to use and can adjust the coarseness. The main vessel is made of glass (the lid's plastic), so unlike some others it won't bounce, but it feels reassuringly weighty in the hand. 
9. Peugeot Paris Salt and Pepper Mill Set (18cm): £76.15, Wayfair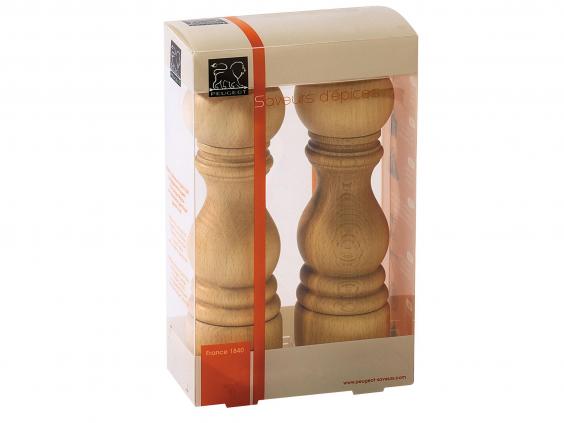 Part of Peugeot's classic Paris range, these 18cm beechwood mills have the aforementioned stainless steel grinders that promise to stay sharp for years (they also come with a lifetime guarantee). There are six adjustment levels for the coarseness of the grind and we did find them more efficient in that department than some on the list. We can't tell you if the pair we tested will last a lifetime but many chefs swear by them and won't buy any other brand. These sets also come in an all-black and a black and white version. 
The Verdict: salt and pepper mills
If we were going on performance, we'd pick Cole and Mason's copper grinders, but we know that they might not be within everyone's budget. So try T&G's brightly coloured, versatile mills that can also handle herbs or Le Creuset's pair. For anyone on a budget, Lakeland's No Spill mills are fuss and mess-free winners. 
IndyBest product reviews are unbiased, independent advice you can trust. On some occasions, we earn revenue if you click the links and buy the products, but we never allow this to bias our coverage. The reviews are compiled through a mix of expert opinion and real-world testing
Reuse content