As part of a winter update for your home, an accent rug in faux fur can bring a timeless touch of warmth and luxury to hard or worn floors. Real skins and hides have been used this way for centuries and the style still endures: particularly for icy Northern European climates. 
If you feel uncomfortable having leather or animal products in your home, or would rather not to fork out for the real thing, this selection of fake – or more fashionably "faux" – floor rugs is a good starter for getting the look.
1. Very Dip Dye Faux Fur Rug: from £19, Very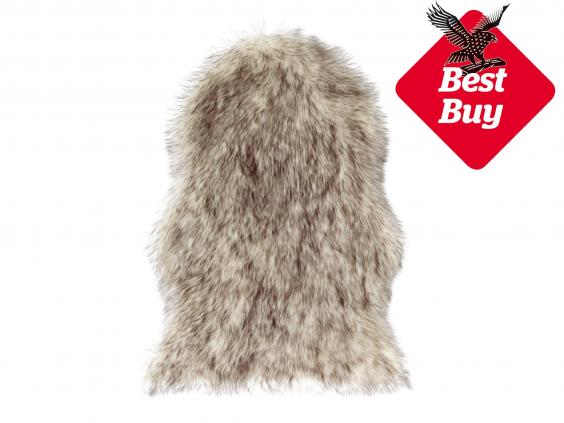 Dip-dyed tips on this acrylic rug from Very is a great little detail that lifts the overall quality. It comes in two sizes and colours – but the patterning on the grey version looks particularly effective. Its softness and depth give a suitably luxurious feeling for the price, but the rug does require a regular shake and vacuum to keep it from shedding. 
2. La Redoute Livio Mock Sheepskin Rug: £69, La Redoute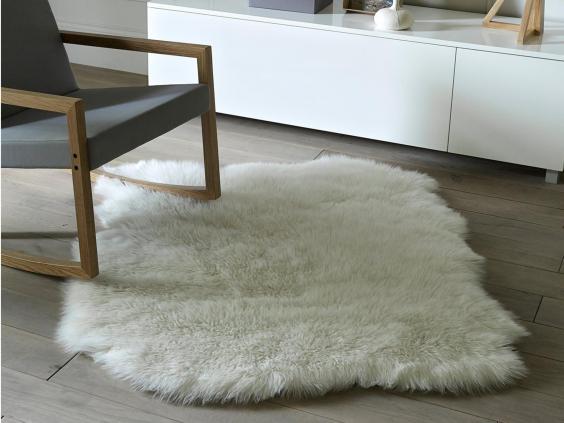 Sheepskins are the most-easily imitated rugs of the faux-fur world. La Redoute's version costs almost as much as a real single skin (typically between £70 and £100) but covers a larger area and is made in washable acrylic and polyester. Its pile depth is 65mm, giving it a plush feel and the kind of movement you would expect from wool or fur. It comes in white or grey.
3. Ikea Tejn Rug: £10, Ikea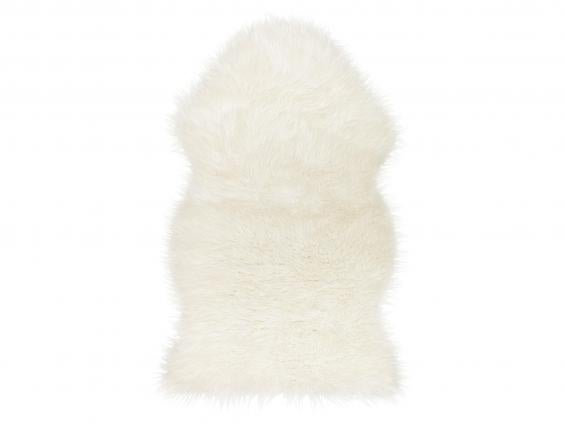 This is a small budget rug that's good for draping over chairs too. The perfect symmetry of Tejn is a slight give-away that it's not a real sheepskin, but if you're after the feel rather than the look you won't be disappointed. A 65mm-deep pile gives it the warmth and cosiness that's expected. This rug looks great as an accent next to fireplaces, or as a floor mat in the nursery.
4. Plantation Rug Company Snuggles: from £100, Plantation Rug Company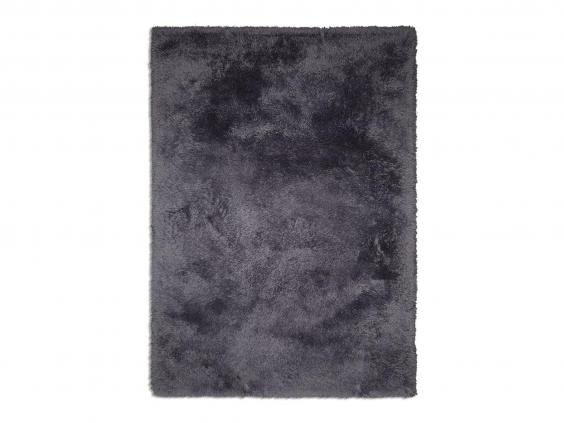 A polyester rug that has the cosy feeling of fur, this comes in three sizes, the largest being 160 x 230cm which works well for larger living rooms. There is a choice of six colours so you can tailor it to your space – but the slate grey is best for recreating a natural look. Unlike a regular shaggy rug, the deep pile has swirls, tufts and colour variations that mimic real fur. 
5. Laura Ashley Mila White Faux Fur Rug: £34.65, Laura Ashley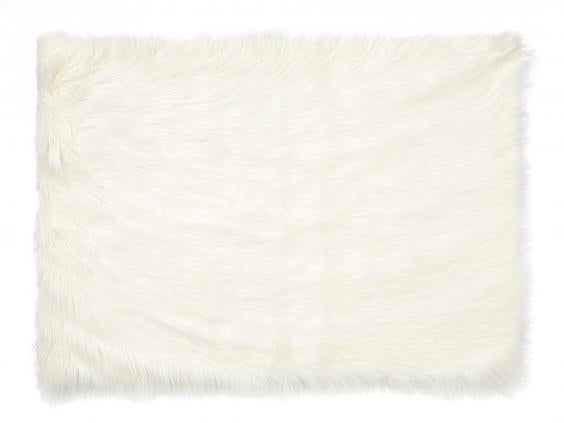 At 70 x 100cm, the Mila rug is small and best used by the bedside or in the kid's room. Like other rugs of a similar price, it's made from acrylic but the directional pile (left to right rather than random tufts and swirls) gives it an authentic feel. It's a good piece for adding a touch of luxury to a room rather than making a statement. There's also a version in silver grey.
6. Fabulous Furs Faux Cowhide Rug: £176.60, Fabulous Furs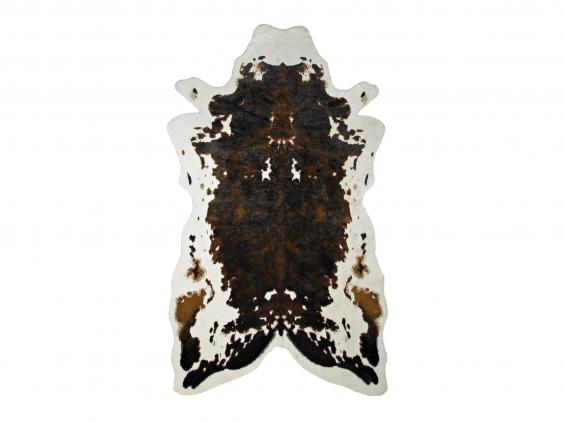 After learning of animal cruelty in the fur trade, Fabulous Furs owner Donna Salyers was inspired to provide realistic-looking alternatives. The patterning and hand-shaping on this faux suede rug has been expertly done to resemble real cowhide, which can cost around £600. Aftercare is easy: the rug machine washes cold and can be hung out to dry. Measures 147 x 236cm.
7. The Rug Seller Faux Fur Grey Tipped Rug: £29.95, The Rug Seller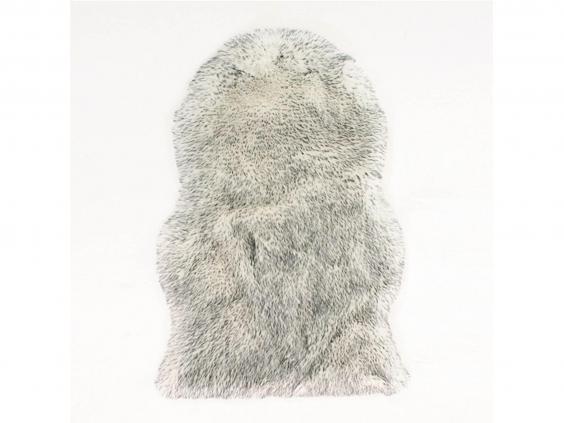 A white pile with grey tips brings an arctic feel to this rug. At 60 x 90cm, it is sized like a single wolf skin and would look good highlighting a small fireside area, or draped over a chair with other layers. The irregular shape is also designed to give the impression of a natural pelt. Other versions in white or pink make good pieces for kids' bedrooms. 
8. Maisons du Monde Sofield Faux Fur Rug: £169.90, Maisons du Monde
This beige and brown rug is a good size for covering larger areas (140 x 200cm). Its rectangular shape and neat trim is great if you want more of a conventional rug without imitating the natural shape of a hide. The depth of the polyester fake fur is just 3cm which doesn't have the extra plush feeling of other rugs, but is easier to care for with less shedding.
9. La Redoute Wulpi Faux Wolf Skin Rug: £85, La Redoute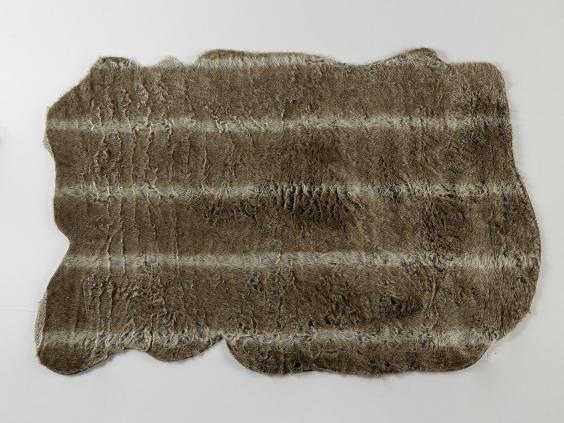 The surprisingly realistic Wulpi rug is designed to look like a wolf skin. It has an irregular shape, is streaked with white, and the linear pattern of tufts all make it look particularly convincing. It would look great as a statement rug on white floorboards for a Nordic- or Scandi-inspired interior. The rug is made in an acrylic and polyester mix. 
The Verdict: Faux fur rugs
Very's faux fur rug is a good budget-friendly option with a feeling of softness and luxury. Its small size makes it versatile enough to drape over a dining chair, use as an accent rug, or layer up with other floor textures. The colouring gives it an authentic feel and can hide the odd mark or spill better than pure white. For larger areas, the Livio mock sheepskin from La Redoute has a good quality and is machine washable.
IndyBest product reviews are unbiased, independent advice you can trust. On some occasions, we earn revenue if you click the links and buy the products, but we never allow this to bias our coverage. The reviews are compiled through a mix of expert opinion and real-world testing