As the grass cutting season begins, there's a good chance you're considering an upgrade to your dusty old mower. After all, scruffy lawns aren't a good look.
First off, consider the size of your garden. The smallest gardens are generally mowable with either a hand push or electric corded mower, while medium to large ones might make the trailing wire annoying, leading you to consider a battery operated or petrol-fuelled cordless. Then, of course, there are those with huge lawns, which puts a ride-on in the running.
You're now ready to think about the different types available. Cylinder mowers have a rotary blade at the front, cutting the grass with a scissor motion. If you cut your lawn regularly, these are great, but if you have longer, damper or tougher grass, they're not the best. Hover mowers, on the other hand, work well for most gardens, particularly those with uneven surfaces or unusually shaped gardens. Rotary mowers, meanwhile, have a blade that rotates under the mower, which sits on wheels and often has a rear roller that gives you stripes and these machines are particularly good for reaching edges too.
Don't forget to consider what will happen to the grass. If you don't want to rake it up afterwards, get a mower with a grass box or bag or one that mulches (chops up the cuttings, pushes them into the turf to decompose to put the nutrients back into the grass). And don't forget detail such as weight, noise, ergonomics and size for storage.
We've tested mowers on small, medium and large lawns to bring you the best of them.
We haven't included ride-on mowers in our round-up (most of us just don't need one that big) and we've also tested robotic mowers in a separate round-up.
1. Viking ME235: £172.98, Amazon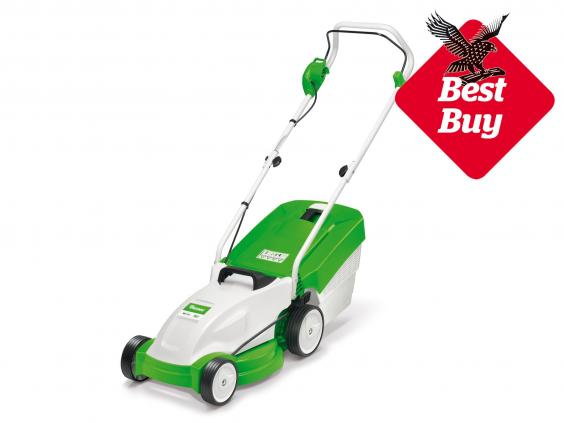 This nifty corded machine is Viking's smallest mower and is just the ticket for giving average size gardens a pristine finish. It quick and pushes easily – even on damp and longer grass - and while it's lighter than many of its contemporaries, it's robust. Avoid it if you have tricky edges, though, as other mowers are better at cutting closely round complicated angles.
2. John Deere RUN 46: £434.99, Garden Machines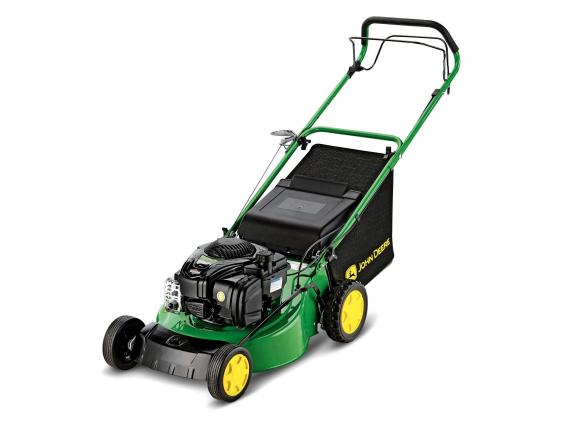 You'll have no problem getting this petrol mower going, thanks to the combination of the lightweight build, powerful engine, ergonomic handle and large rear wheels – and it's a breeze to push and turn round, even at sharp angles. There's no annoying trail of clippings left behind you, although it's not for those who like variable speeds and the mulching kit will set you back another fifty quid. 
3. Vonhaus 30cm Manual Lawnmower: £34.99, Domu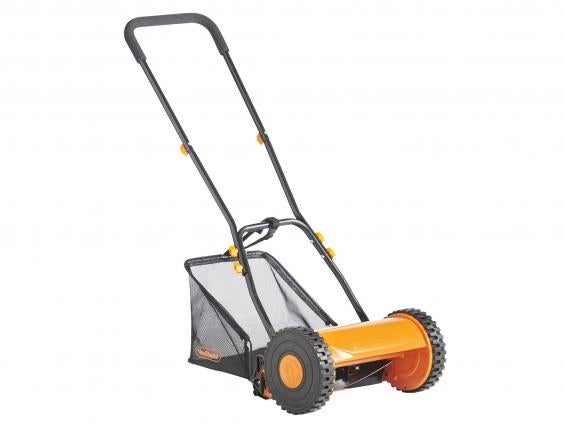 If you've only got a small patch of grass to look after, this basic and lightweight mower is a great buy. Kept wallet-friendly by the lack of need for electricity, petrol or batteries, it's also eco-friendly and it has plenty of handy features including a padded handle, large grass collector and it has easily enough power to keep your lawn looking presentable. It's easy to assemble and store, as well as being quiet and quick.
4. Husqvarna LC 141V Li: £319.98, World of Power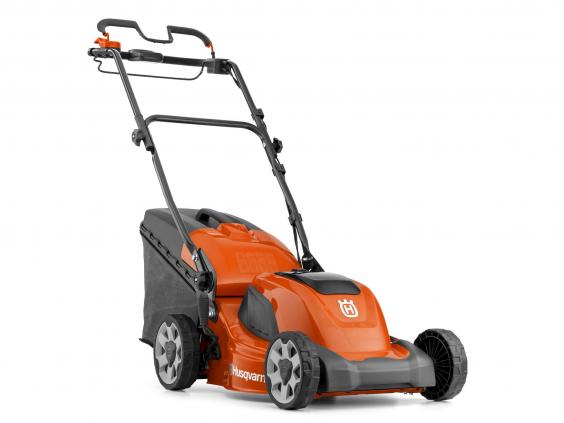 If you've got a small to medium-sized garden that's complicated (lots of flowerbeds or water features etc) then you'll love this battery mower with variable speeds. It's a doddle to navigate around tricky areas and also gets the thumbs up for being able to mow swiftly and it's surprisingly quietly, covering up to 400 square metres on one charge. But you'll need to buy the battery separately and it won't put stripes on your lawn.
5. McCullock 9671739-01: £263, B&Q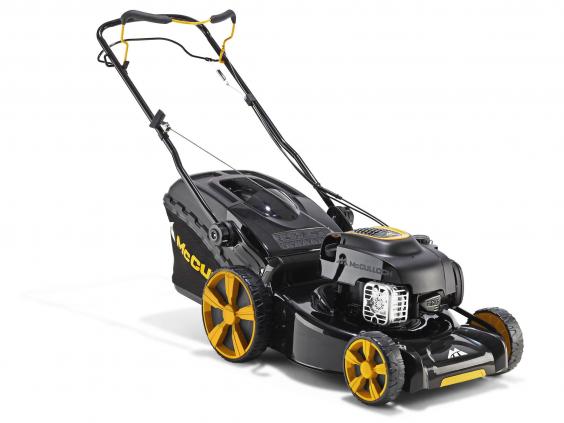 This is a great price for a petrol mower that gives a really smooth finish on a family lawn. The large back wheels help with manoeuvrability, while the handle is nice and comfortable. It's a versatile option, enabling you to collect, mulch or discharge the grass as you go, although the 50L grass box can fall off when it gets too full. Not one for those who like stripes, though.
6. Bosch Rotak 43 Li: £349.99, Amazon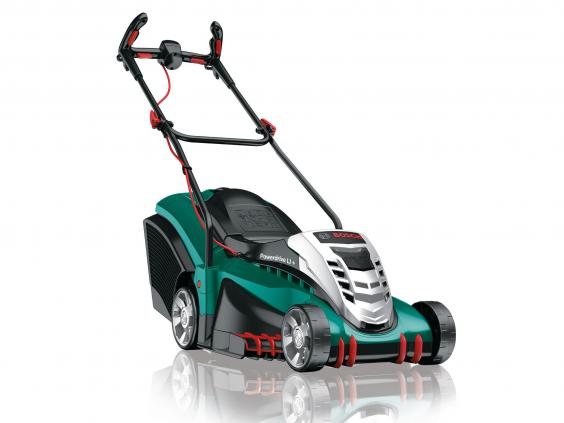 If you take pride in your lawn and you like stripes, this quiet battery-powered mower gives the kind of finish that even the most discerning gardener would be proud of. Tussocky areas cause no challenge and it's surprisingly lightweight and it glides beautifully over grass, working right up to edges. But it takes time to set up and doesn't fold down for storage.
7. Flymo EasiGlide 300V: £77, B&Q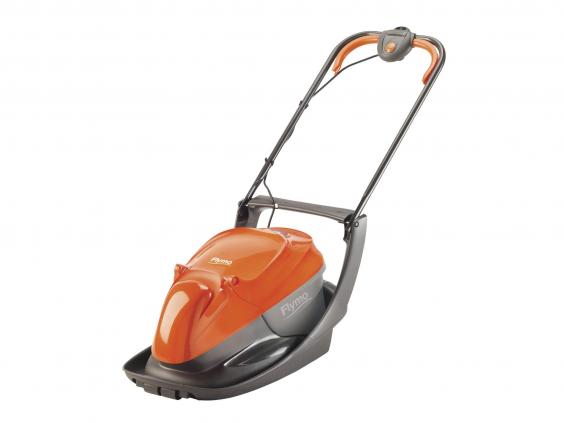 This corded machine is lightweight and easy to push around and we were surprised how well it coped with bumpy ground, slopes and lawn edges. It folds down for easy storage, although it can be a pain switching from the different cutting heights and it has a tendency to throw some of the clippings onto the grass even if the 20-litre grass collection box isn't full. Not for perfectionists, then, but a cheap and cheerful corded option that does a decent enough job for smaller lawns.
8. GTech Falcon: £349, GTech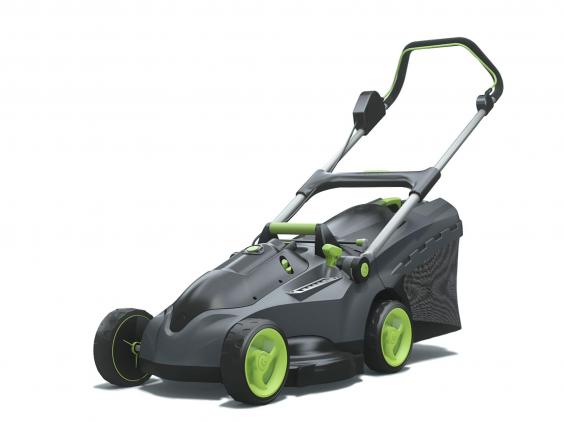 The first thing you notice about this durable battery machine is its oomph, which is good news for effortlessly tackling more demanding lawns with – for example – long, damp or tough patches of grass or challenging angles, giving a neat finish. Ergonomics have clearly been prioritised and the grass box is much easier to fit than on most machines, although the mower is on the heavy side and the lack of big back wheels means it's not quite as easy to manoeuvre as some.
9. Hayter Harrier 41: From £499, Mow Direct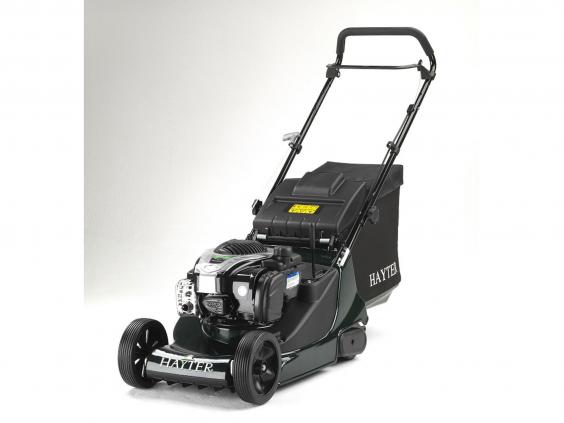 Part of the world-renowned Hayter Harrier range (known for world-class engineering), you'll be hard pushed to find a mower that gives better stripes for average-sized lawns. It is beautifully built, can be used in pretty much any conditions and you can get right up to borders, saving you time on strimming edges afterwards. Plus, it should last you way longer than most mowers. 
10. Cobra AirMow51: £279.99, Mow Direct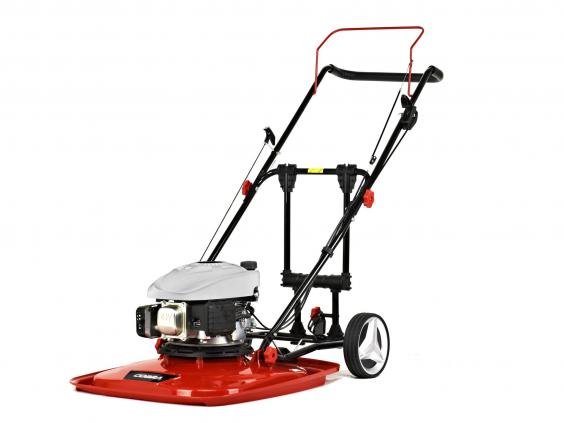 The hover functionality on this new petrol powered machine gives outstanding manoeuvrability and makes it particularly good for smaller gardens with awkward spots, such as rough terrain, or slopes or ditches. It's easy to get going and noticeably quiet and light for a petrol mower. The soft-grip handlebar can be easily adjusted, but not one for larger areas (although there is a pro model available for these) and it won't give you stripes.
11. Cub Cadet LM3 CR46S: £479, Garden Machinery Direct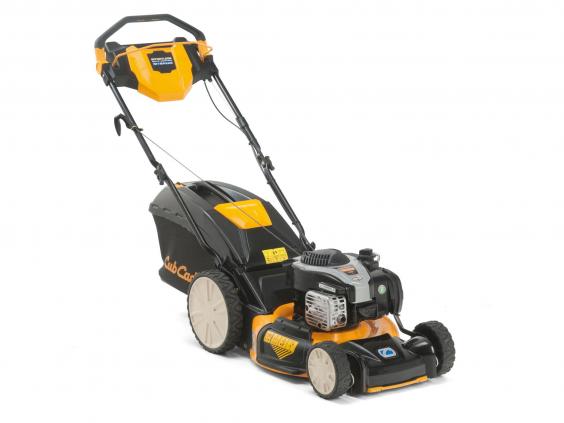 This petrol mower recognises your walking pace and maintains that speed as you mow, speeding up and slowing down as you do – giving you the freedom to work at whatever speed you like without the mower running away from you and having to keep up. It offers the option of mulching, side discharge or collection for clippings and the manoeuvrability is impressive, but there's no option of stripes.
12. Lidl Florabest Petrol Lawnmower: £139, Lidl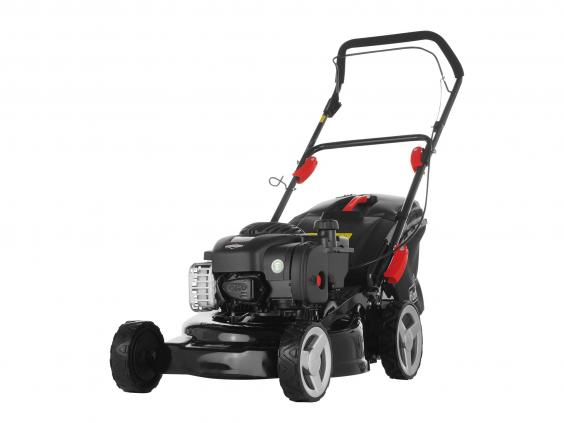 If you're hankering after a petrol mower but find most of them pricey, this may be your solution. Despite its low price tag, we found it both powerful and a good cutter, leaving a neat finish, as well as collecting on the grass with no unexpected spitting out of clippings. It was quick too, although it's not the easiest to put together and doesn't quite feel as sturdy as the other petrol mowers we tested.
13. MacAllister MLM3635 Cordless Li-Ion Rotary Lawnmower: £120, B&Q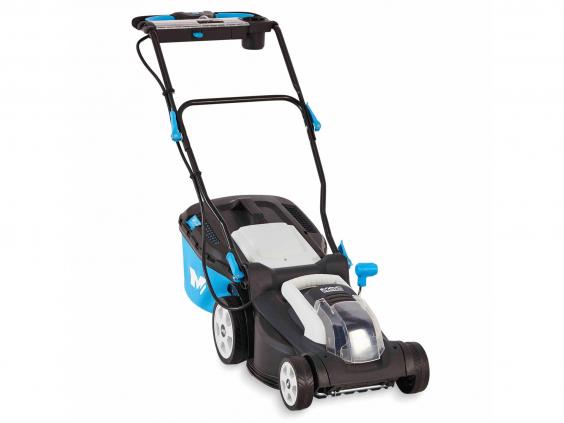 This is a great price for a no-frills cordless mower and it's quick both to set up and start up. It has a decent mulching function and folds down for handy storage too and the engine quality is good. It's not quite as robust as some other more expensive cordless machines, however. Plus, the battery costs extra.
14. Flymo Mighti-Mo 300 Li: £149.99, Amazon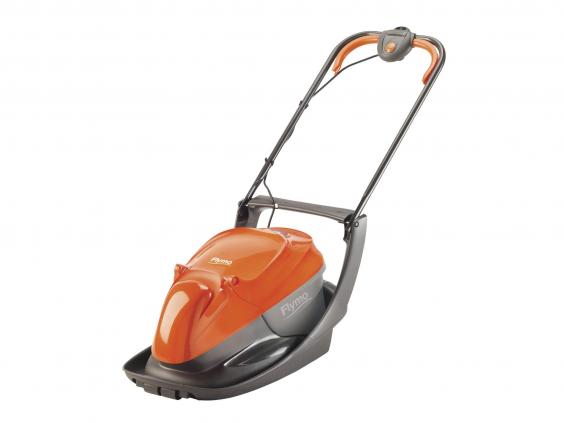 This is Flymo's first battery mower. Like most of their mowers, it's small and lightweight and it lives up to its promise of being able to mow a lawn up to the size of tennis court before you need to change the battery. It's small enough to store easily, but it's a bit more flimsy than some of its more expensive contemporaries and isn't great for rougher terrain.
The Verdict: Lawnmowers
For a corded machine, the Viking ME235 is by far and away the best we tested. For a petrol mower, we were wowed by both the John Deere Run 46 and the Hayter Harrier 41. And for a cordless battery-powered mower, it is the Bosch Rotak 43 Li that won us over.
IndyBest product reviews are unbiased, independent advice you can trust. On some occasions, we earn revenue if you click the links and buy the products, but we never allow this to bias our coverage. The reviews are compiled through a mix of expert opinion and real-world testing
Reuse content