As with so many small appliances, the first rule of buying a new iron is not to assume that the more expensive the machine, the better it is. We've tested steam irons across all price ranges and discovered that some of the no-frills models beat the swanky-looking ones hands down when it comes to banishing creases.
Next up, work out what kind of iron you need. Steam generator irons are designed to pump out continuous steam – and plenty of it – but they tend to be much pricier and bulkier than steam irons. And in fact, we found that some of the best traditional irons actually don't lag far behind when it comes to steam power. 
Ideally, your iron will have a comfy handle and won't be too heavy to hold in your hand for long periods. It will have a thin and tapered soleplate, which is easier to reach under buttons and into tight pleats, as well as being scratch-resistant so rogue zips don't bring an end to your smooth gliding surface. Your dream iron will also have a nice long cord, as well as an easy-to-see water level and easy-to-fill tank. Safety features are good if you're prone to getting distracted or have children around – and if you live in a hard water area, make sure it's limescale resistant. In reality, a single iron is unlikely to tick everything on your wish list, so consider your priorities, read our round-up and take your pick.
1. Philips Azur Performer GC3830/80 Iron: £30, Argos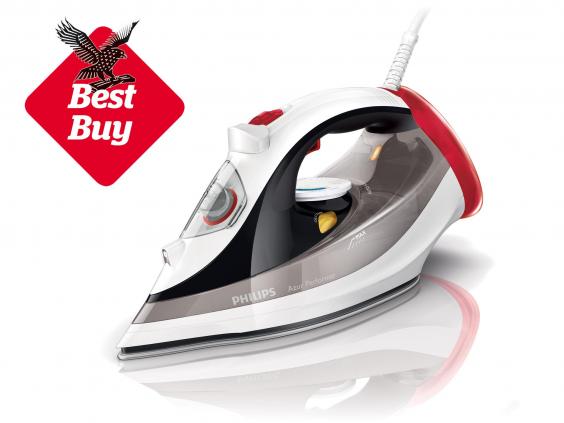 This powerful and effective iron is testament to the fact that high prices and long lists of fancy features don't always mean better products. Indeed, this no-frills, relatively low cost iron does what matters most – providing lots of continuous steam to make short work of de-creasing your clothes. The thin soleplate with pointed tip gets in the trickiest of spots and there's an energy saving setting, as well as good limescale defences. Our only niggle is that it can be hard to see the water level.
2. Tefal FV4970 Smart Protect Iron: £45, Amazon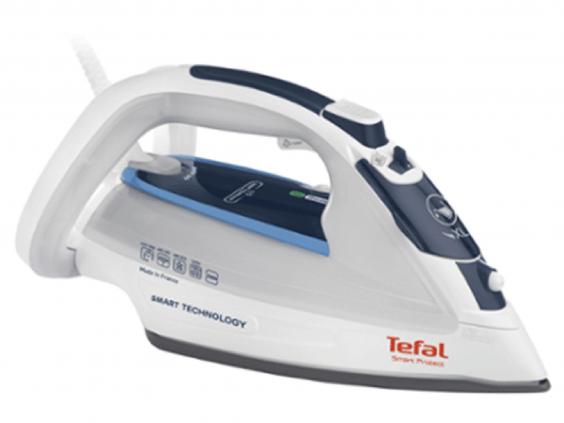 The sheer steaminess of this iron will help you blitz through your ironing pile, giving your clothes a very smooth finish. In fact, it knocks the socks off several far more expensive models we tried that didn't make it into our round-up. There's no need to fiddle with different settings for different fabrics (although there is a steam boost function for really deep creases, plus a handy vertical steamer for suits and curtains) and it's easy to store. As for grumbles, the soleplate is on the thick side and a full water tank only lasts 10 minutes.
3. JML Phoenix Gold Steam Iron: £35, Amazon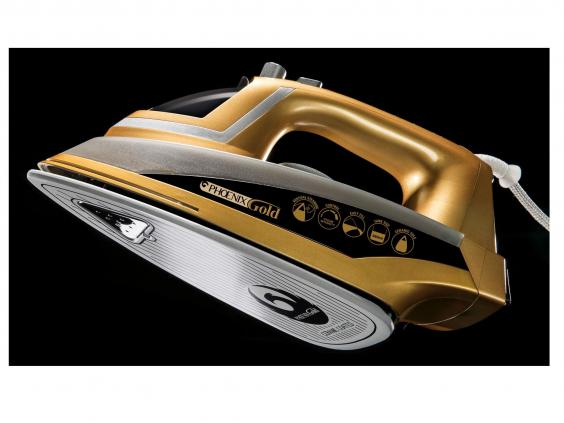 You get a lot of bling for your cha-cha-ching with this one and while it would be easy to assume that it's all show and no substance, that's not the case at all. Beneath the opulent gold finish is a fabulous bit of kit, with lots of steam, a comfortable handle and a great soleplate, all of which combine to expel creases from all fabrics, even jeans that have dried like cardboard. It's resistant to limescale too, but it's not the lightest iron and you'll need patience in waiting for it to heat up as we found it took a good couple of minutes. Plus, there's no automatic shut-off.
4. Russell Hobbs 18617 Easy Store Plug and Wind Iron: £25, Amazon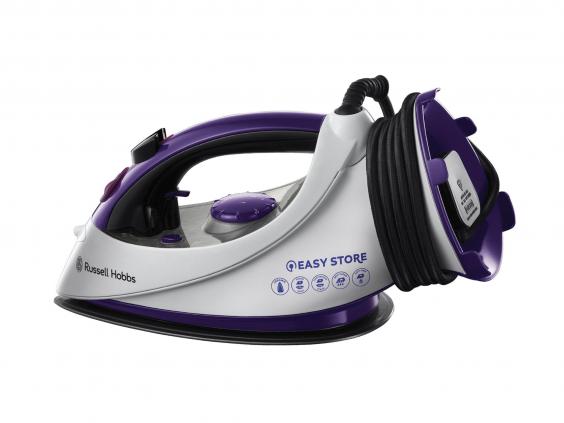 You won't need much elbow grease with this iron, which smoothens out fabric with even the lightest touch, even though it's not the steamiest we've used. You can hit the ground running as it's quick to heat up (around 30 seconds) and it's easy to store away after use, thanks to an innovative cord storage system. Don't go near it if you're in a hard water area, though, as there's no built-in limescale filter, and also be aware that it needs cleaning regularly.
5. Breville Press Xpress Steam Iron VIN339: £39, Amazon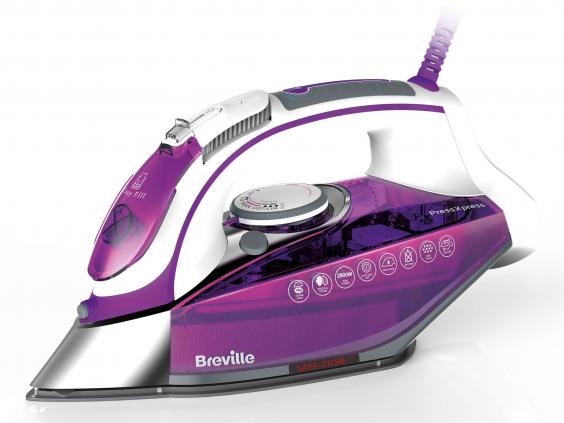 Turn screwed up piles of clothes and sheets into perfectly pressed piles with this iron that's packed with nifty features including a big 400ml, easy-fill tank, comfortable handle, steam shot, extra-sturdy heel to rest it on, self-clean function, long 3m cord and anti-drip technology. It puffs out high levels of steam, with added safety features including an auto shut-off and a safe-store indicator to let you know when it's cool enough to stash away. But it's heavy, needs refilling every 10 minutes and the soleplate is prone to scratching.
6. Braun TS745A TexStyle 7 Steam Iron: £60, John Lewis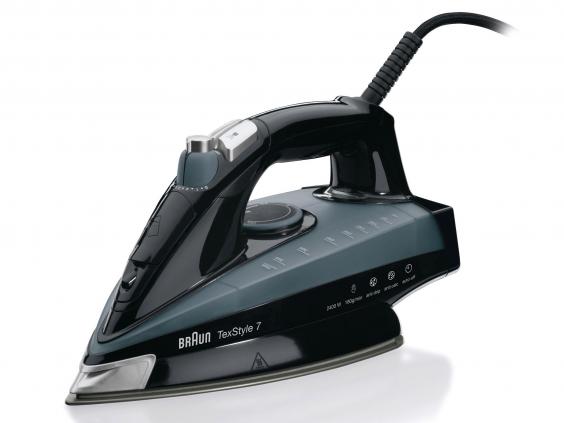 Most people would think twice about spending over 50 quid on a steam iron, but this is a first-rate model from a reliable brand that will leave your laundry without a wrinkle in sight. And although you only get around 12 minutes of continuous steam, it races through fabrics so speedily that it doesn't really matter. The scratch-resistant soleplate has a precision tip (great for reaching between buttons) and a steam boost that can be used vertically. Limescale build-up is kept to a minimum, but it's quite heavy, at 2kg.
7. Morphy Richards 303105 Turbosteam Pro Ionic Steam Iron: £70, John Lewis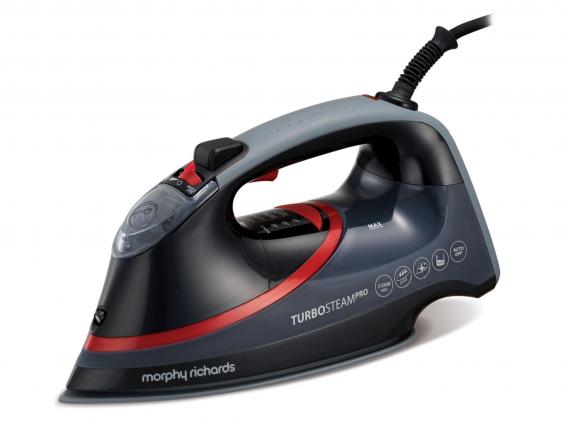 The so-called "tri-zone" soleplate on this iron is designed to tackle creases in three different ways, while removing excess water so that re-creasing doesn't occur – a system that clearly works as this very steamy iron worked a treat on everything from light cotton dresses to heavy denims. We also found it worked brilliantly when used vertically on curtains and it's great for preventing limescale too. Plus, it's ready to go in 30 seconds – ideal if you need to tear out of the door – and there's an extra-long cable. But the soleplate isn't as thin as others we tried, so reaching under buttons can be awkward.
8. Lakeland Easy Fill Iron: £40, Lakeland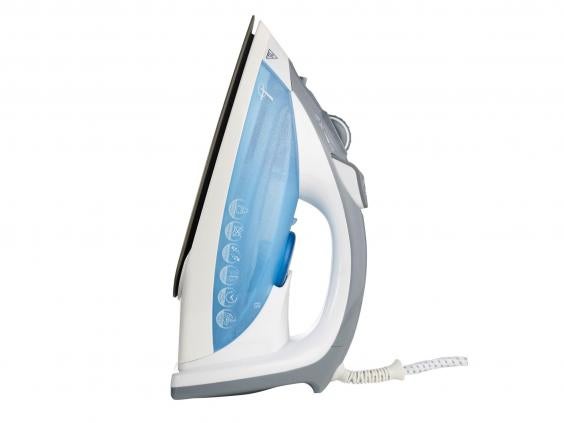 Irons can be a nightmare to fill up with water – with more dribbling down the sides and back into the sink than in the water tank itself. Not so with this iron which has a helpfully big opening. It's lightweight, which can make a world of difference to a large ironing pile, and it doesn't let limescale build up. There's a big water tank, providing a whopping 40 minutes of continuous ironing before it needs refilling, but as it isn't the steamiest, you may need to go over stubborn creases more than once.
9. Bosch TDA3021GB Steam Iron: £60, John Lewis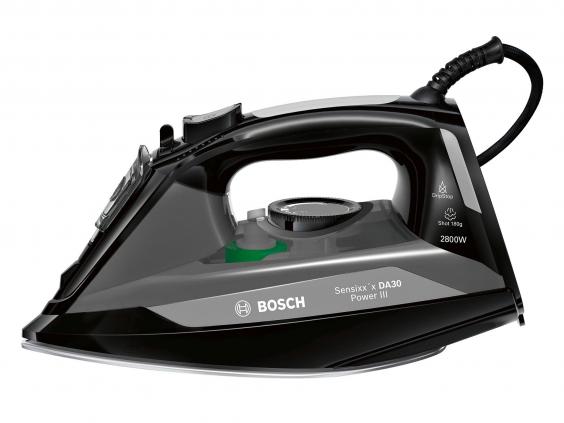 Another pricey iron that we think is worth the extra dosh, this one effortlessly glides over even the most persistent creases, effortlessly transforming them with speed and puffing out continuous steam in its wake. On the rare occasion that a wrinkle gets the better of it, the steam boost – which also works vertically – will win over. The soleplate has been designed to work in any direction and even the sharpest of zips won't scratch it. It's easy to clean, but it's heavy and quite cumbersome to hold for long periods.
10. Tefal Ultraglide Anti-Scale FV2660: £43, Amazon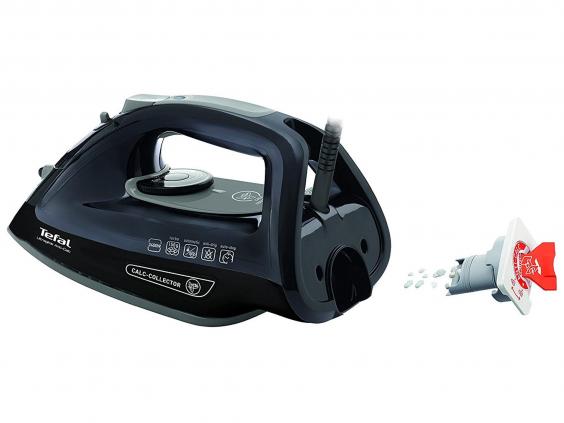 This is Tefal's newest steam iron and it's a godsend for people in hard water areas as the patented technology means the steam holes don't block. It's continuously steamy (some irons are annoyingly irregular in steam distribution), has a long 3m cord and is comfortable to hold, even for long periods, although it's easy to press the spray button inadvertently. We also found it can spit out water, but only occasionally, and the black exterior makes it tricky to see how much water is left in the iron.
The Verdict: Steam irons 
Despite the relatively low price-tag, we became instant fans of the Philips Azur Performer GC3830/80. In fact, the only downside we could find was that the water level isn't that easy to see. The Braun TexStyle TS745A particularly impressed us too, making shorter work of ironing than any other iron in our list. Finally, if you're feeling the pinch, the Russell Hobbs 18617 Plug and Wind is a sound investment, provided you're not in a hard water area.
IndyBest product reviews are unbiased, independent advice you can trust. On some occasions, we earn revenue if you click the links and buy the products, but we never allow this to bias our coverage. The reviews are compiled through a mix of expert opinion and real-world testing
Reuse content