There's no denying that having a baby is messy business. From those endless milk feeds to dreaded teething and the fun of weaning, a bib is an essential item for any new mum to help ease the pressure on the washing machine. Ensure you invest in the right bib for your needs; whether it be ultra-absorbent for a milk-chugging newborn, a wipe-clean solution for those early weaning days or something with a little more coverage for a toddler with a penchant for food-catapulting.
With help from fellow mums and a little one in tow, we've done all the leg-work road-testing these styles to put together a thorough round-up of the best bibs out there.
1. Tommee Tippee Milk Feeding Bibs: £8.99, Boots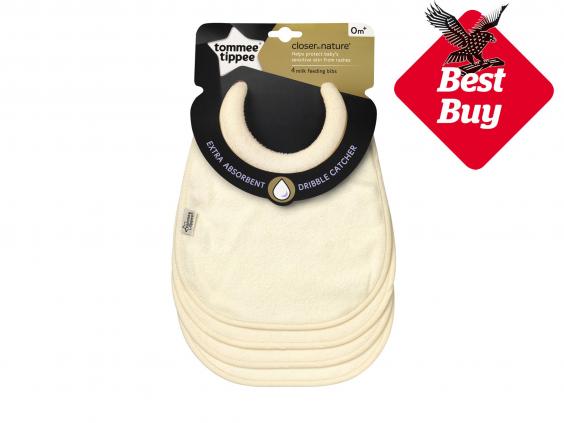 These bibs are especially designed for younger babies to help mop up any milk spills that occur during and after feeding. A padded neckline adds an extra absorbent layer to catch the spills and it also doubles as comfy padding for your newborn's neck. The bib is also made from ultra-soft material, which will help to prevent any rashes occurring on sensitive skin. A Velcro fastening at the neck makes the style easy to put on and it is machine washable for easy maintenance.
2. Baby Bjorn Soft Bibs: £13.98, Amazon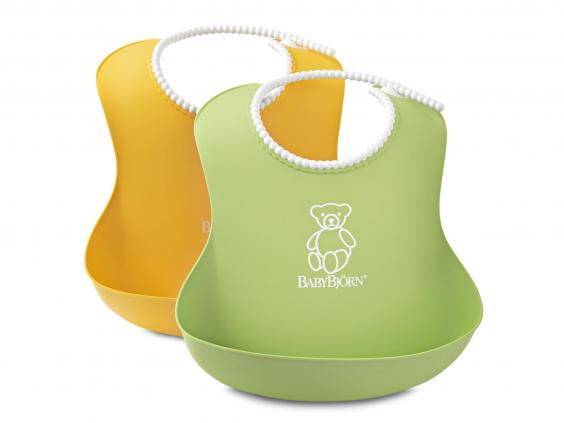 Swedish company Baby Bjorn might be best known for its ergonomically designed slings, but it actually also makes a pretty nifty bib. This style is made from a soft BPA-free plastic for the ultimate easy-clean solution. You simply rinse or you can even pop it in the dishwasher. Designed with a beaded neckline to prevent any chafing, it's also adjustable so it gives good value for money, growing with your little one. A pocket design makes it an ideal choice for baby-led weaning, to catch those inevitable food flyaways. 
3. Mori Milk Bib: £19, Baby Mori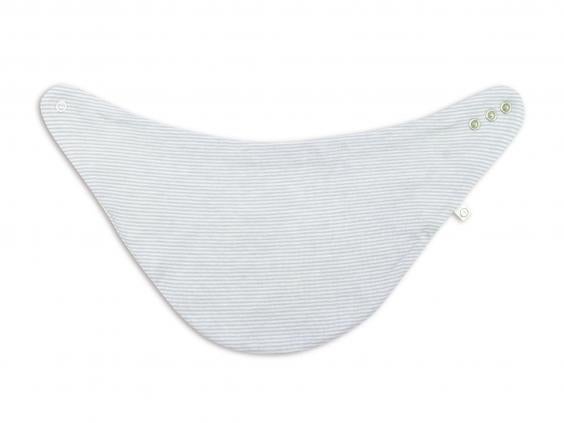 Mori specialises in making sleek, stylish baby clothes from organic cotton and bamboo. This two-pack of bibs are not the cheapest out there but arguably are up there with the most stylish. Designed with a three-ply layer for extra absorbency, these are ideal to leave on your little-one to soak up any milk spills or dribble but best to steer clear of anything more substantial. 
4. Lassig Long Sleeve Bib Little Tree Fox: £8.50, Mamas and Papas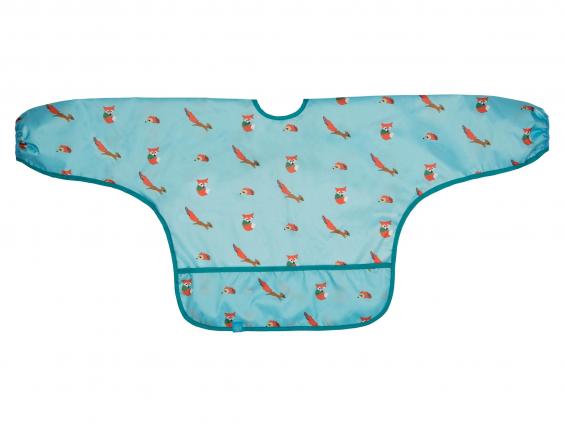 This is one for parents of children who like to get particularly messy with mealtimes. As anyone versed in puree feeding knows, there's no limit to where a baby can smother puree. Minimise the mess with this long-sleeve creation from German brand Lassig. It's constructed from coated polyester so it can easily be wiped clean. Sized slightly larger for older babies from 12 months to two years, the design also handily doubles as an apron for crafts and explorative play. 
5. Zara Yummy Bib Pack: £8.99, Zara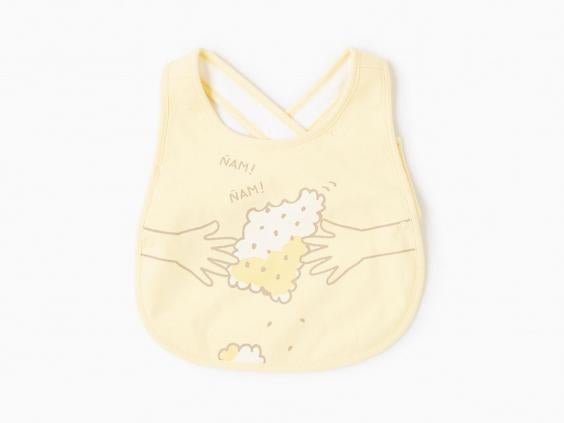 This may look like an ordinary bib but turn it over and you'll see it actually features a clever cross-over strap design. Those with particularly wriggly babies will know that sometimes despite your best efforts, octopus arms can still manage to get food everywhere. The design of these straps ensures the bib is also secure around the middle holding it flush against the body thus minimising the risk of any food sneaking under it. Three different poppers allow for adjustable sizing. 
6. Cissy Wears Design Letters Mint Bib: £13, Cissy Wears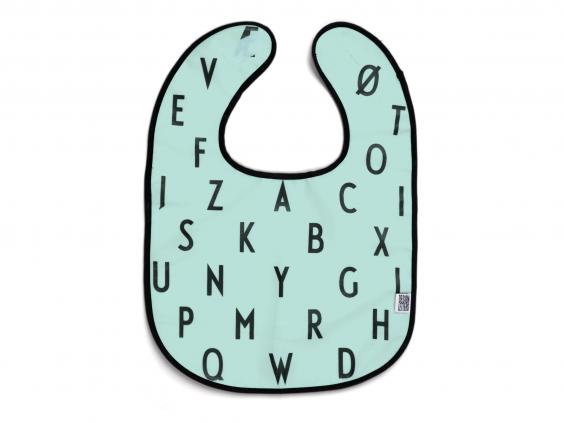 While cute bears and bow designs are lovely, sometimes you might have a hankering to see your little one dressed in something a little different. This bib from London-based Cissy Wears adorned with black letters is a fashionable option if that's what you're after, though with its cotton coating and machine washable at 40 degrees, it still has all the functional aspects you'd expect from a bib. 
7. Naty Disposable Bibs: £3.39, Ethical Superstore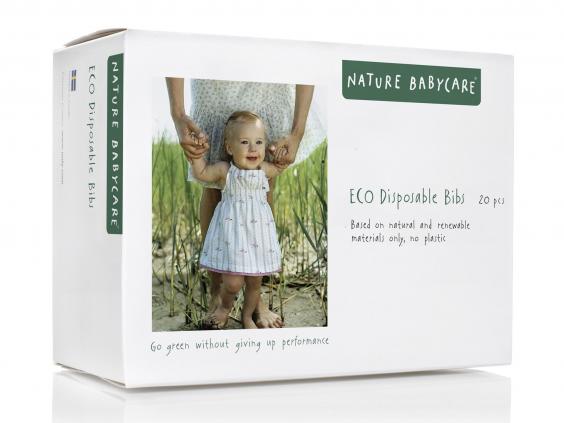 A great option for the parent-on-the-go, this pack of 20 bibs from Naty are disposable. The soft bibs fold open and attach to your baby's clothing with 2 sticky patches on the shoulders, a pocket design on the bottom helps to catch any falling food and they are surprisingly absorbent for such a lightweight design. Once finished, simply throw away, saving on the washing. For those with environmental concerns, rest assured these are fully biodegradable. 
8. Liberty Emilia's Flower Bib: £8, Mamas and Papas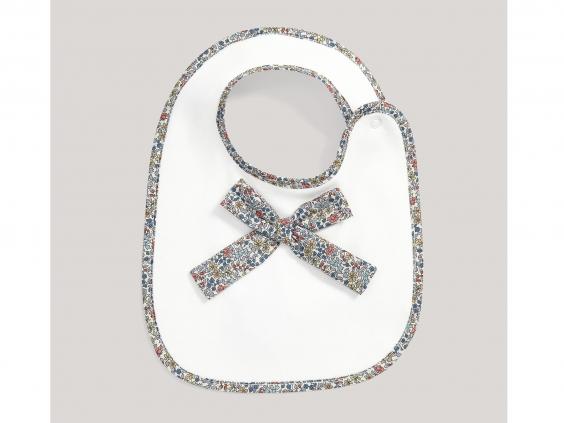 Anyone with a teething baby will know you can spend a vast majority of time mopping up what seems like an inordinate amount of liquid pouring from such a little person's mouth. This beautiful bib is one designed more for look than efficiency. Though it will do a fair job keeping such dribble and milky spills at bay, putting it through its paces with a weaning experiment is not recommended. A terry-cloth reverse adds absorbency and it's machine washable at 40 degrees.
9. Cheeky Chompers Neckerchew Royal Chic: £11.99, Boots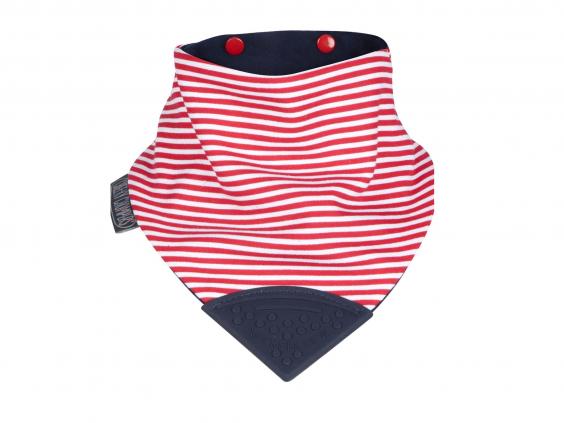 This is a very clever two-in-one design created especially for teething babies. Firstly it acts as a bib with an absorbent triple layer design to keep your baby's clothes underneath dry. Secondly it is also a teether as it comes with an attached teething triangle within easy reach of your little one. Plus, there's the added bonus that it is reversible meaning you get two designs for your money.  
10. Make My Day Baby Dog Bib: £14.99, Kiddicare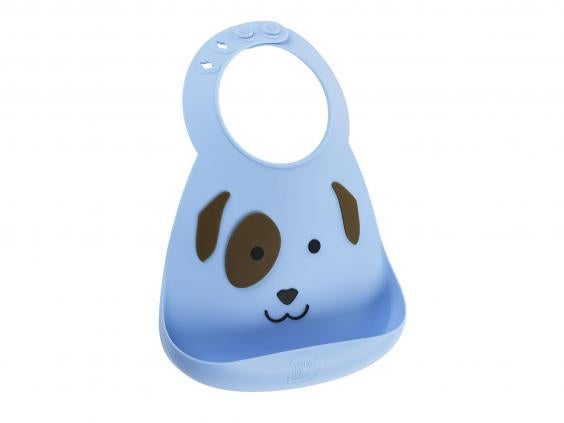 For some parents mealtimes can be a bit of a battle, so introducing a bib with a quirky design like this dog illustration will add an element of fun and hopefully be something your baby will actually want to wear. This soft plastic design is made from BPA-free food-grade silicone so it's entirely safe. It comes with handy design features like a crumb catcher pocket, adjustable neck strap and is easy to wipe or pop in the dishwasher.
The Verdict: Baby bibs
It's an unavoidable fact that babies spend a lot of time dribbling and regurgitating milk before they move onto smearing food in every imaginable location. To avoid outfit changes that rival a Hollywood star, you'll need bibs at your disposal. To get you off to a good start Tommee Tippee's Milk Feeding Bibs are an essential for any new mum. The clever padded neck does its job catching any milk spills and ensuring your baby's outfit stays pristine. For older babies, the two-in-one Cheeky Chompers bib with its attached teething toy is a smart buy for the parent wanting to tackle teething head-on. 
Reuse content