Six-year-olds are great – earnest one minute and silly the next, with obsessions that lend themselves brilliantly to learning facts and lists like a sponge as they begin to attempt to understand the science and politics of the world around them.
We've found some great gifts for six-year-olds that tap into these abilities, as well as some that are just fun for the sake of fun.
1. WatchShop Character Childrens Marvel Avengers Watch: £8, WatchShop
By six, children should have an understanding of time. This easy-to-read digital watch also has a date function, and its plastic Avengers strap makes it cool and practical. Also available in Iron Man, Batman, Hulk and Star Wars designs, it's one of those great presents that parents love for not taking up room in the house and that kids love for feeling grown-up. 
2. Selfish Mother Kids Grey & Floral Love Sweatshirt: £20, The Fmly Store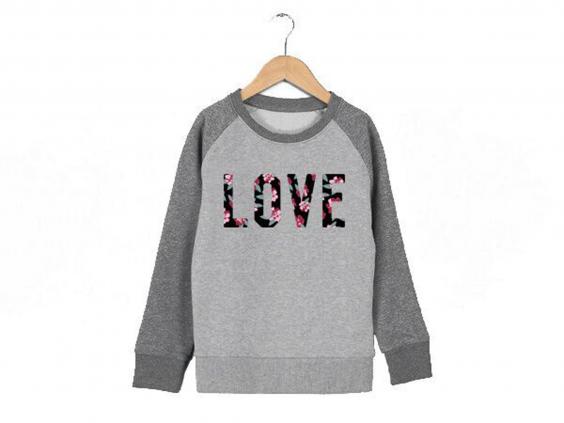 The Selfish Mother website is an online parenting magazine with a sideline in cool "mum" clothes, such as its "Mother" range of t-shirts and sweatshirts that can probably be seen in a baby massage class near you. But now kids can get in on the act too. £5 from the sale of each Love sweatshirt (order a size too big – they come up small) goes to the charity Help Refugees.
3. John Lewis Connect 4 Game, Twin Pack: £14.99, John Lewis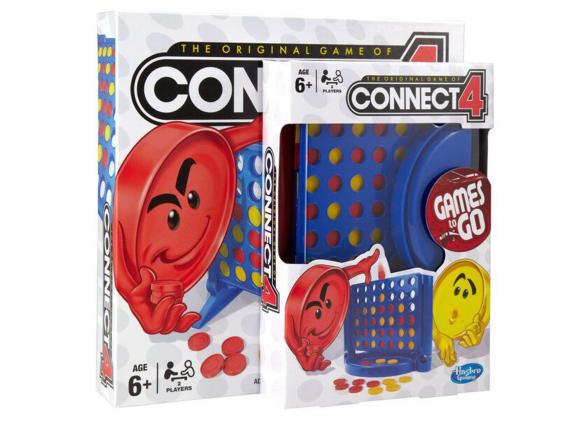 Connect 4 is one of  those great games that kids love learning to master and adults can play for hours without being too bored, plus it's easy for two children to play together without adult supervision. This great twin pack includes a full size version for home and a travel set for journeys and holidays.
4. Transformers Robots in Disguise Power Surge Optimus Prime and Aerobolt: £37.49, Smyths Toys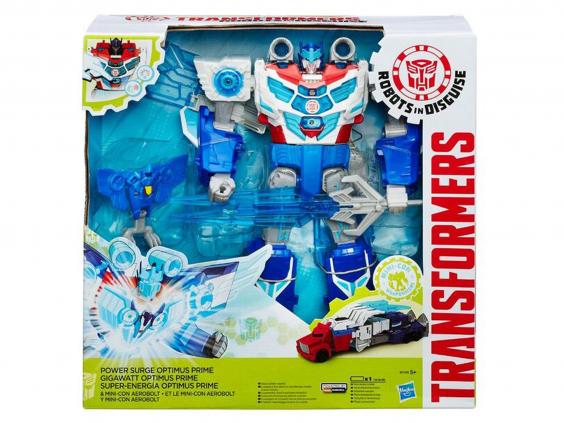 Truck becomes robot in five steps. But this Transformers Robot in Disguise Power Surge Optimus Prime, from the Transformers series and films, does so much more than that. Sounds are activated by attaching the included Aerobolt Mini-Con Weaponizers figure (buy more of these to unlock more sounds) and the toy also features pop- out cannons and wings, lights and phrases. That may be hard for a grown up to comprehend, but for a six-year-old it all makes perfect sense.
5. Snazaroo Ultimate Party Pack Face Painting Kit: £20, Hawkin's Bazaar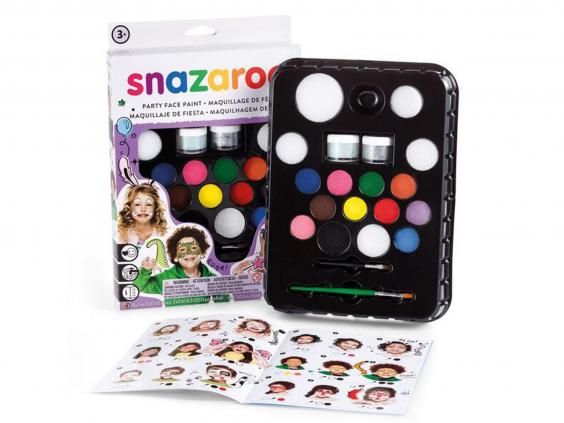 Face painting has come a long way in the last 30 years – now the paints are skin-friendly and easy to wash off, and if the design doesn't include shimmer and glitter then it doesn't count at all. Perfect your own technique with this bumper kit, including twelve colours, glitter gels, sponges and brushes. So whether you're being called upon to create dinosaurs, fairies, superheroes or anything in between, you've got it covered. 
6. Firebox Dino Lamps: £29.99, Firebox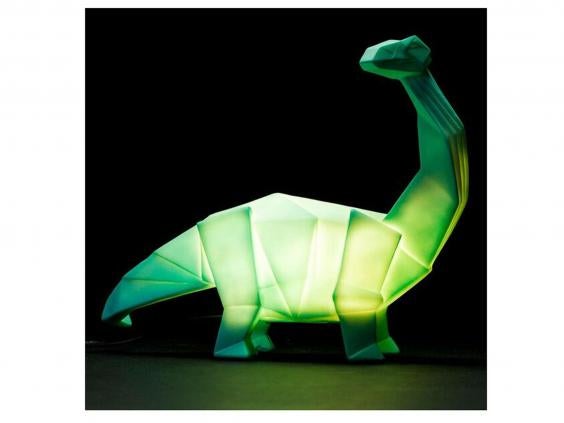 Any dinosaur-loving youngster will want one of these Dino lamps in their bedroom. There are three models – a green diplodocus, an orange T-Rex and a white triceratops (the diplodocus is our favourite), and the plug in lamps come with an energy efficient LED bulb.
7. Lakeland Tin Robot Counting Money Box: £12.99, Lakeland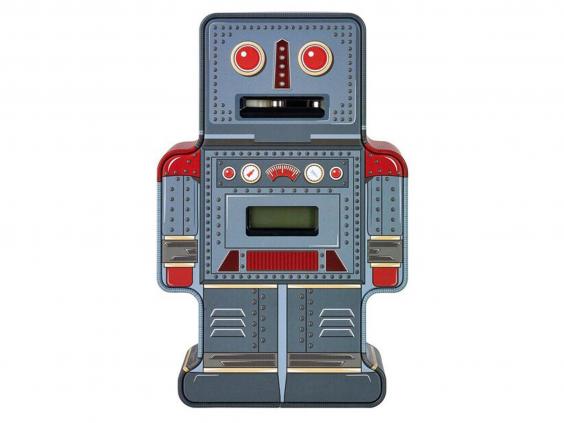 As you put your coins into this money box the robot keeps a running total of the cash inside using its digital display. It's ideal for young savers who are keen to keep track of their pocket money.
8. Wood Like To Play Map of Britain: £33, Wood Like To Play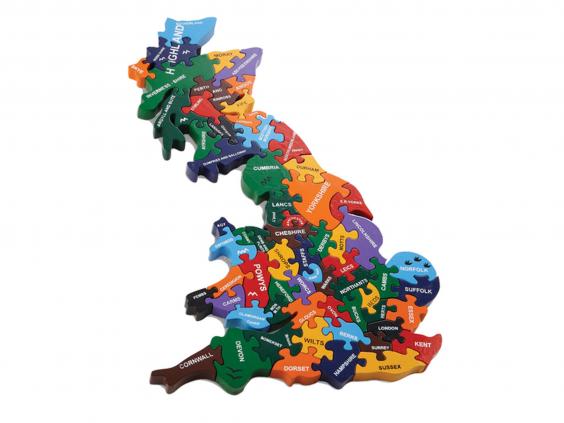 This brightly coloured wooden jigsaw that shows all the counties of Great Britain is ideal for learning where places are and a great introduction to the geography of our island. It also comes in a stylish white drawstring cotton bag. A six-year-old may need some help at first – county borders are hardly intuitive – but they will soon get the hang of it. 
9. Pl-ug Ultimate Den Kit: £44.99, Hippychick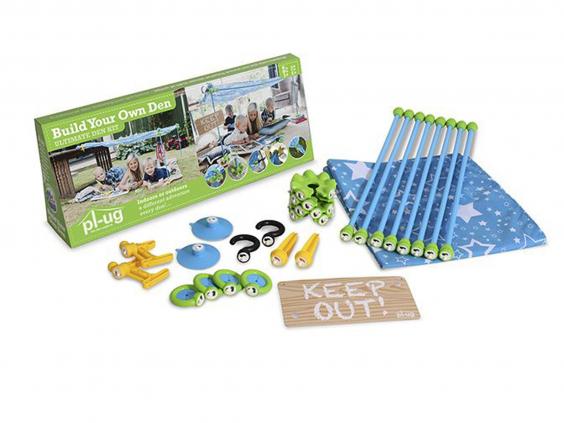 It's true that all you need to build a den is a sheet and a couple of chairs to throw it over. But if you want to take it to a new level then this Pl-ug set includes rods, plugs, clamps and suckers to make a den that will be the envy of the neighbourhood. Smaller cheaper sets are available too.
10. Crayola Supertips Washable Colouring Pens, Assorted Ink: £7.99 for pack of 24, WH Smith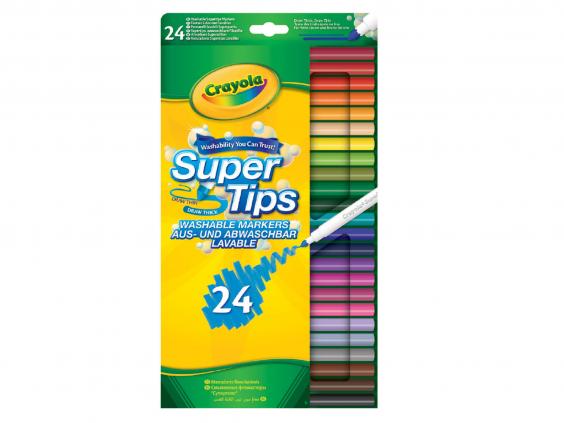 Colouring pens are one of those failsafe presents – kids always want a new set to replace the dried out ones that have lost their lids. Crayola pens are reliably good quality, with bold colours and a smooth feel.
11. Melissa & Doug Fold & Go Wooden Stable: £31.98, Amazon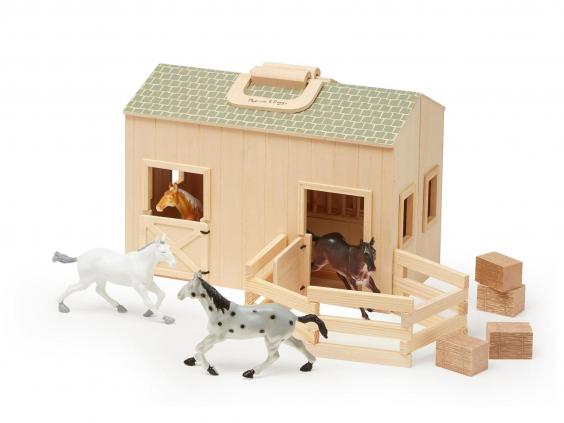 A stable with four plastic horses opens out to reveal stables, a hayloft and an exercise yard. The handle makes it an ideal toy to carry around or combine with any already owned farm sets, to make a larger countryside scene.
12. Lego DC Comics Super Heroes Wonder Woman Key Light: £7.99, Toys R Us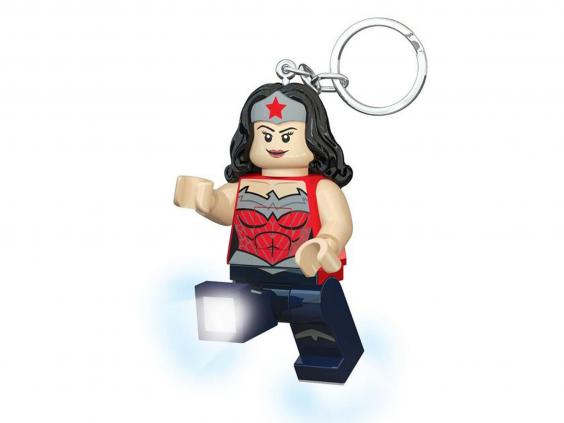 A powerful torch that you activate by touching a button on Wonder Woman's tummy, this Lego key ring ticks all of our boxes when it comes to super hero Lego combinations.
The Verdict: Gifts for 6-year-olds
It's confusing being six – kids start wanting to be grown up yet still love playing with toys, which is where gifts with a dual function, such as the robot money box, and Lego torch come in. But it's the Children's Marvel Avengers Watch that is our Best Buy, as it's affordable, practical and cool, and will make the child feel very grown up.
IndyBest product reviews are unbiased, independent advice you can trust. On some occasions, we earn revenue if you click the links and buy the products, but we never allow this to bias our coverage. The reviews are compiled through a mix of expert opinion and real-world testing
Reuse content