In the world of kids, where a simple stick can become a magic wand, a broom or anything else, all toys are creative. Still, buying toys that specifically target the creative side of our kids makes us feel like we're being responsible, while the kids get some great toys to play with. It's win-win. Here are our favourites. 
1. Seedling New York Fashion Design Kit: £34.95, Harrods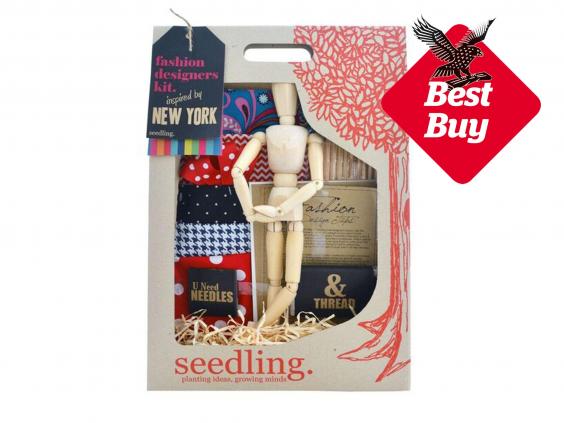 Alongside a small mannequin, this set includes fabrics, pattern shapes and a sketchbook and pencil – everything you need to design and make your own doll-sized clothing. This set comes with red and blue material but there's also one with blue and green fabric, if you'd prefer. 
2. Star Wars Darth Vader Virtual Reality Viewer: £14.99, Argos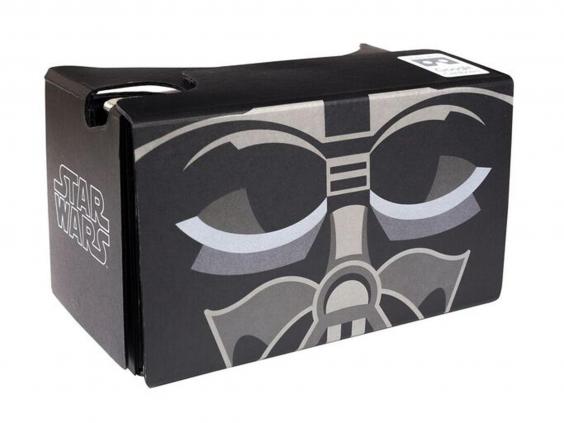 Assemble this cardboard viewer, put your smartphone in it and the lenses will turn it into a virtual reality Star Wars experience, combining the motion tracking technology of the phone with the clarity of the lens technology. This viewer prides itself on clarity, its "capacative" button on the top of the device links to the smartphone and allows users to interact with the virtual world. 
3. The Usborne Creative Writing Book by Louie Stowell: £6.50, Wordery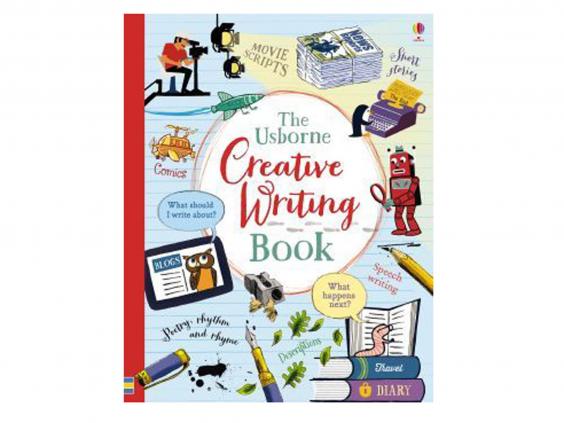 This is an exercise book with a difference. There's plenty of space to write your story but also loads of prompts, activities and tips to help get your little one's creative juices flowing. 
4. Maped 33 Piece Adult Coluring Set: £9.99, Ryman Stationary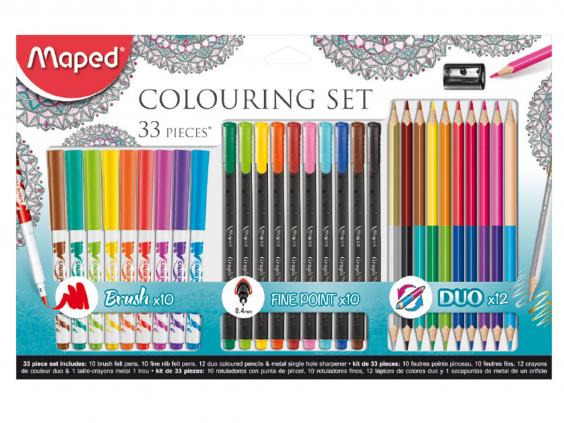 An artist is only as good as their tools, and if drawing is your kid's thing then they'll need some nice pens. This Maped set is billed as being for adults but that's just shorthand for good quality – we'd buy it for any child old enough to remember to put the lids back on their pens. It contains ten fine nib pens, twelve double ended colouring pencils, ten brush pens and a sharpener. 
5. Smartmax Basic 25 Kit: £24.99, Amazon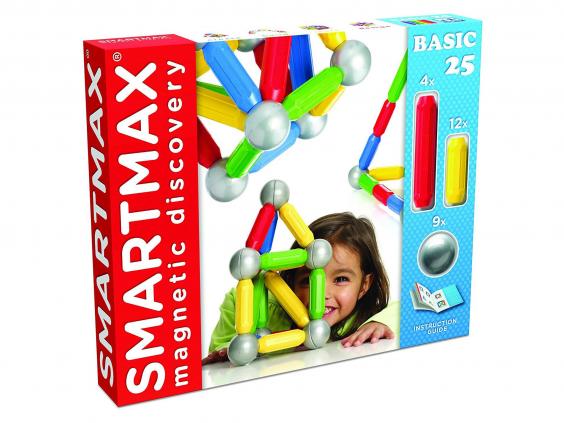 25 chunky magnetic pieces – bars and balls – repel each other and stick together, allowing children from as young as one to hypothesise, experiment and build.
6. Galt Robo Modelling Set: £8.99, John Lewis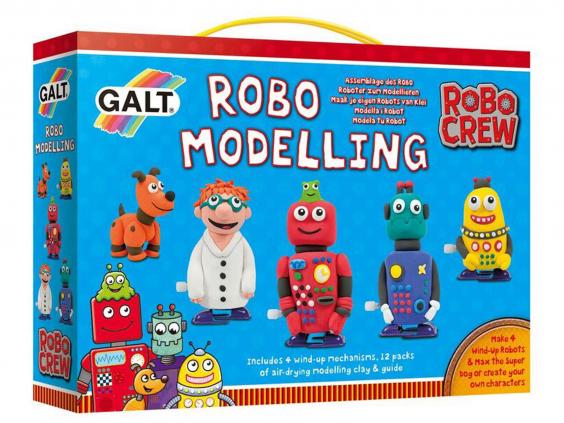 You might think that wind-up toys are old fashioned but these make-your-own wind-up robots are anything but. Model the clay around the mechanisms (four included), let it dry and you're off. And they said making robots was complicated.
7. Toy Shed StikBot Zanimation Studio: £17.50, Amazon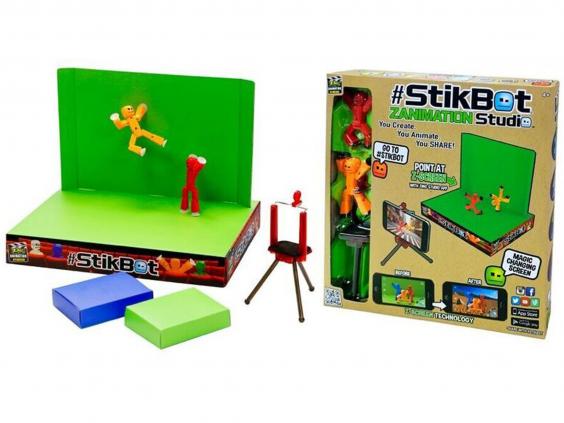 Two little figures with suction cup hands and feet can be positioned in all kinds of ways (including scaling walls Spiderman style) and photographed using the associated app to make animations. The "green screen" function on the app means you can provide your own backgrounds, or use theirs, letting your child's characters inhabit the world of anywhere you photograph. 
8. Play-Doh Pizza Party Set: £12.99, Toys R Us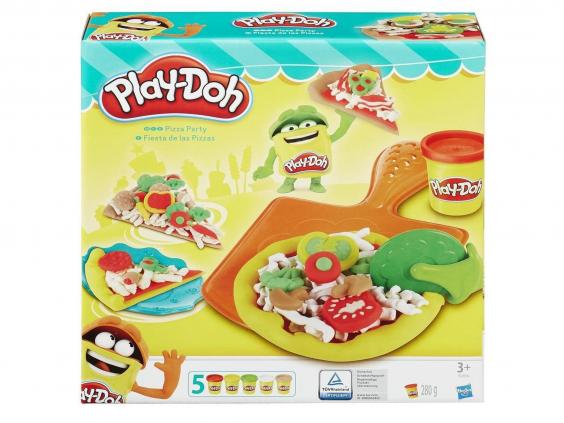 Like worms, snakes and snails, a pizza is one of those easy to make Play-Doh set pieces that every parent should have up their sleeve. This set raises the bar however, with tools to create grated Play-Doh cheese and Play-Doh mushrooms, a paddle for the base and a pizza wheel and box for the finished product. This is one of those toys that kids can respond to at whatever level they are at, so it's great for a whole family activity - although you may want to add some extra pots of Play-Doh to your shopping basket if there are lots of you. 
9. Snazaroo Ultimate Party Pack Face Painting Kit: £20, Hawkin's Bazaar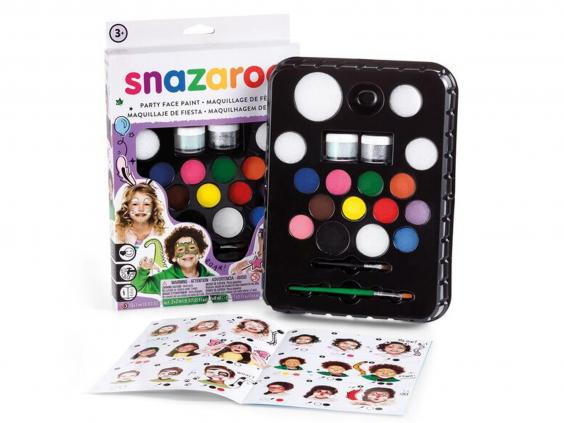 This kit - twelve colours, glitter gels, sponges and brushes - makes it just as easy for kids to apply the face paint as adults, so providing you are willing to be the canvas, this is a gift guaranteed to give them great pleasure. Just remember to wash it off before going to work…
10. SAM Curious - Race and Play: Build and Program Your Own Cars and Games: £149, Amazon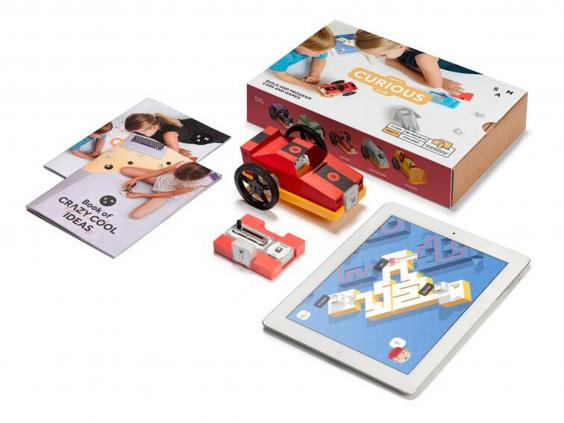 Aimed at kids aged seven to fourteen, you can build and program your own cars with this set of six rechargeable blocks and the associated app, which connects via Bluetooth. They're also compatible with Lego, meaning the possible bodywork design is unlimited.
The Verdict: Creative toys
The joy of these toys is each child uses their creativity to make it what they want it to be, so there is no one type of child each is for. We love the way the SAM Curious kit teaches programming skills but our favourite is the Seedling New York Fashion Design Kit which you can use with any material you have to hand, be it scraps of fabric or ripped up carrier bags. Who knows what fashion creations will come of it.   
IndyBest product reviews are unbiased, independent advice you can trust. On some occasions, we earn revenue if you click the links and buy the products, but we never allow this to bias our coverage. The reviews are compiled through a mix of expert opinion and real-world testing
Reuse content