A good pair of goggles can make all the difference to your swimming, whether that's lengths in the local pool, training for an indoor race or hitting open water.  
You need to be able to see clearly underwater and adjust the fit easily. If you are an outdoor swimmer, you may want UV protection and mirrored or tinted lenses to reduce the amount of light coming in and help keep the glare down.
Many competitive swimmers like smaller goggles that fit snugly around eye sockets. Anti-fog and anti-scratch lenses should be on your list no matter what type of swimming you do. 
We have yet to find a pair of goggles to fit everyone but all on this list have been tested and made the grade for fit, comfort, shape, visibility and durability, as well as looks. We also asked swimming coach and blogger Fiona Ford (fionafordcoaching.com) to pick out two of her favourite and most hard-working pairs.
You'll notice there are a number from Speedo on the list as the brand was repeatedly recommended, and all the pairs here performed well in our test swims. The brand is also favoured by competitive swimmers – more Olympic gold-medal winners have worn Speedo than any other make.   
The range here includes both unisex pairs as well as goggles designed with women in mind. Some have adjustable nose bridges and a range of lens options.
1. Speedo V-Class Mirror Goggles: £45, Amazon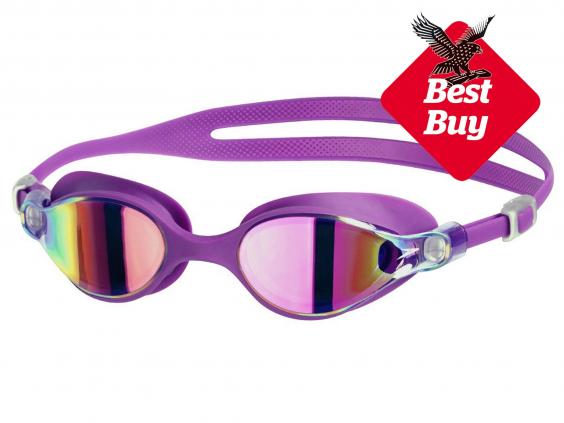 The sci-fi-looking mirrored lenses on these make the pair a stylish option to hit the pool in. And Speedo claims the anti-fog coating on the lens will last twice as long as regular goggles. We couldn't test this but we definitely didn't see any fogging during our one-hour swim. The seal around the eyes is water tight, while the band around the head is easily adjustable and comfortable – there's no chance of your hair getting tangled in the straps. The goggles feel as good as they look, leaving no marks on the face, even after a long swim. 
2. Speedo Fastskin Speedsocket 2 Mirror Goggle: £24.59, Amazon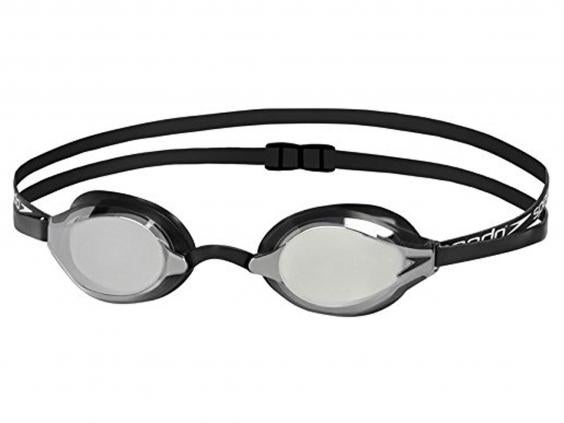 "These goggles offer more peripheral vision and sit low over the eyes than others," says Ford. "They're ideal for speed training sessions and competitions when you want to be more streamlined. The fit is easily adjusted with two straps going around the back of your head and you can comfortably fit a swimming cap over the top if you're using the blocks for a dive start, racing in open water or competing in a triathlon."  
3. Sable RS-924 Women's Goggles: £40.99, Mail Sports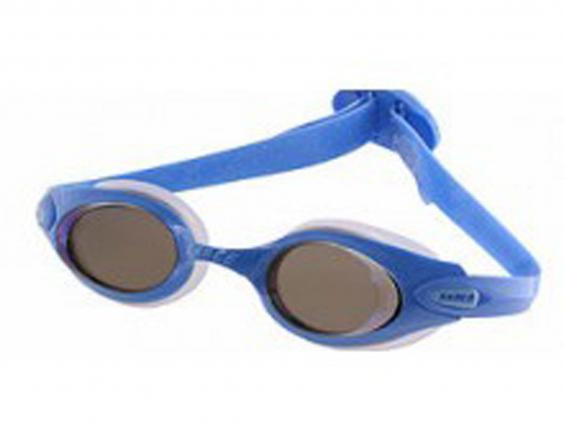 "Sable sells prescription goggles, making it the ideal brand for swimmers or triathletes who normally wear glasses," says Ford. Unsurprisingly, this pair had the highest quality vision out of all the pairs we tested, both in and out the water and in the pool or out in the sea. "The soft fit around the eyes and four different sized nose bridge options mean you can achieve a custom fit too and avoid any unsightly goggle-eye pressure marks after your swim."
4. Aqua Sphere Seal XP2 Swimming Goggles: £10.99, Sweatband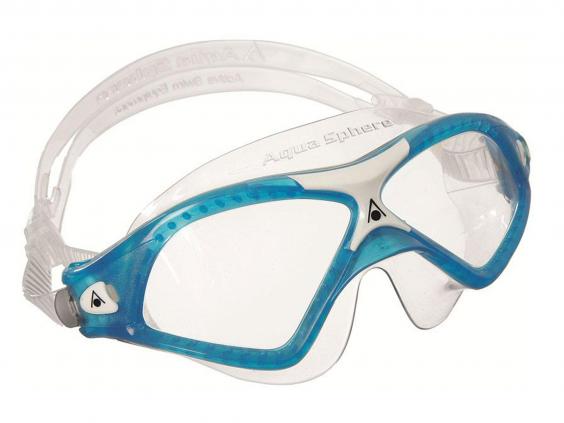 A good budget option for open water swimming if you're new to the sport, the windproof straps on this pair ensure the goggles stay firmly fixed on your head. The wide lenses provide good panoramic vision and stop any water creeping in. They weren't the most comfortable on the list and did fog slightly after a number of lengths, but they're a good budget buy if you're just hitting the pool occasionally. 
5. MP Michael Phelps XCEED Swimming Goggles: £29.99, Amazon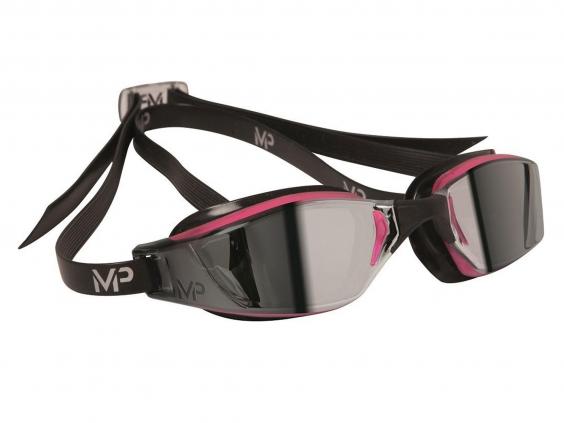 Michael Phelps, the most decorated Olympic swimmer ever, has put his name to a great pair of goggles. The lenses have an anti-fog treatment, anti-scratch treatment and protect against UV rays.  They come with a choice of nose bridges in four different sizes for a snug fit and to minimise the chance of any water getting in. There is a slightly smaller ladies' version, though it's a shame they are only available in pink and black. 
6. Speedo Fast Skin Elite: £45 on Speedo Store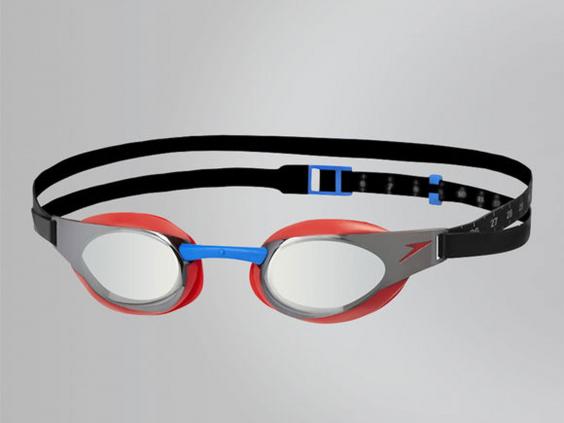 These are the most hydrodynamic goggles produced by Speedo to date. Mirrored lenses reduce the amount of light coming in – making them ideal for outdoor swimming this summer (they look pretty cool too), and the marker on the straps help you get the fit just right when getting ready for a race. These were also winners in the comfort stakes. 
7. Speedo Women's Futura Biofuse 2 Female Goggles: £14.99, Pro Swimwear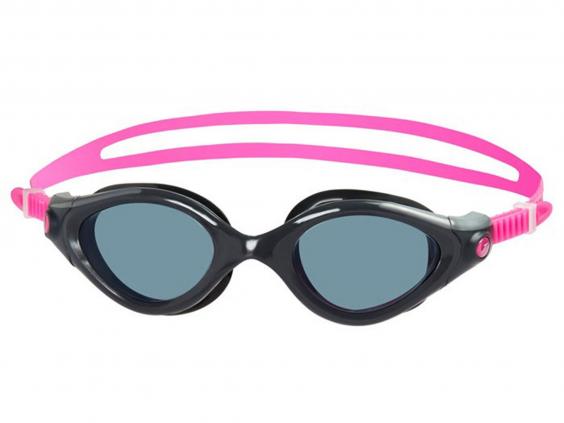 Designed to mimic female face curves, generally smaller proportions than men's, these goggles use super-soft, gel-like materials for ultimate comfort around the eyes. They keep the water out effectively, offer UV protection – ideal for open-water swimming – and the lenses stayed fog-free during our swim. In addition, the eyepieces are a good fit over the eyes with strong suction to the face.
8. Zoggs Predator Flex Polarised Ultra Goggles: £18.40, Wiggle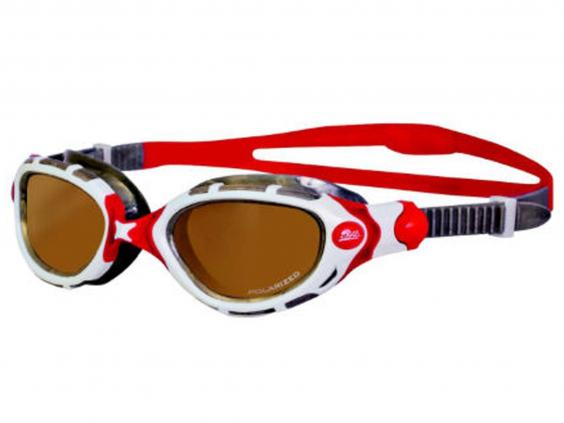 These by the popular Australian brand fitted comfortably on the face with little adjustment needed and didn't leak. Lenses are polarized to reduce glare when swimming outdoors, making them quite dark for indoor swimming. Despite this, visibility in the water was good and there was no condensation or leakage. The goggles are basic but decent looking - and for this price, that's a pretty minor quibble.
9. Huub Varga Race Goggle - Pink with Silver Mirror: £21.99, Amazon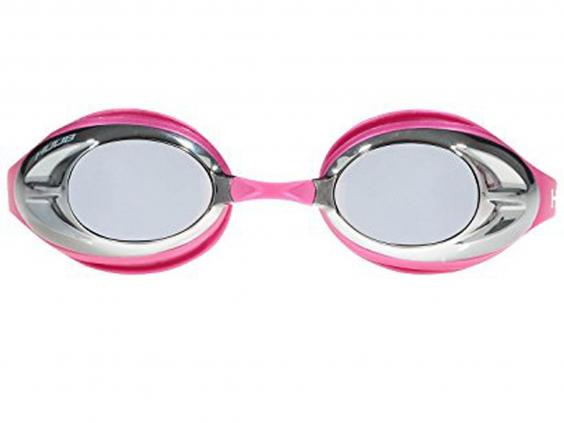 Huub specialises in triathlon gear and this pair was designed with Slovak triathlete and swim specialist Richard Varga. We expected good things and weren't disappointed. The fully adjustable straps and the effective anti-fog coating ensure these don't fog up. They do a great job of forming a solid seal around your eyes, without uncomfortable suction and the three width options on the adjustable nose bridge means you can get the fit just right. Available in mirrored, smoke and clear lens options, these ones are ideal for those looking to get their times down this season. 
10. Arena Cobra Ultra Mirror Goggles: £31.86, Amazon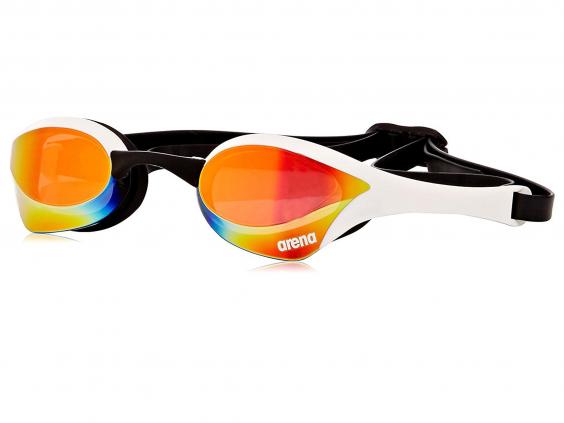 As well as having the kind of lenses that will give you a green/yellow vision (depending on the colour you get) that make you feel like you are swimming in the tropics (and stand out on the blocks), Arena's racing goggles come with five interchangeable nose bridges and a dual silicone strap, so you can find the perfect fit and ensure no water comes in. The shape of the lenses helps with peripheral vision, so you'll get plenty of notice when another swimmer is coming up to overtake you. The green mirrored option – the one we tested – might be too dark for indoor swimming, though. 
The Verdict: Swimming goggles 
Where you plan to swim - in a pool or outdoors - will obviously decide which pair is best for you, but if we had to choose a favourite, we'd opt for the supremely comfortable, effective and  good-looking Speedo V Class that proved they are worth their price on our test swim.
IndyBest product reviews are unbiased, independent advice you can trust. On some occasions, we earn revenue if you click the links and buy the products, but we never allow this to bias our coverage. The reviews are compiled through a mix of expert opinion and real-world testing
Reuse content