Heading for the great outdoors? Make sure you know where you're going to stash all your gear first. A daysack, as the name implies, is a backpack large enough to fit all the essentials you'll need for a ramble in the hills. Larger daysacks will often fit a weekend's worth of clothes, but if you also want to carry a tent and a sleeping bag on your back you'll need something bigger. 
Rucksacks are measured by the capacity they hold in litres, and daysacks usually range in size from 15 litres to 35 litres. Most models aren't labelled as fully waterproof, and are usually showerproof or water resistant instead, meaning that their outer layer will stand up to light rain. It's therefore worth picking a bag with a stashed rain cover you can whip out in a storm. 
Bags which can carry a hydration system (a water pouch with drinking tube) are useful – failing that, make sure the one you buy has a water bottle pocket. Bags can be top-loading (more watertight) or front-loading (easier to access gear), and larger bags sometimes also sport compression straps that cinch them down to a smaller size. 
Ideally, try on rucksacks in person to check they fit your back, and look for fully adjustable straps. Brands increasingly offer male and female versions of the same bag – if you have a smaller back it's worth trying female-specific designs, but you might find unisex bags fit you just as well. Many of the bags on this list are designed for specific uses (climbing, travelling, hiking, etc.), but if you can only afford one, pick a versatile model which can cope with anything from mountain treks to the daily commute.  
1. Mountain Hardwear Scrambler 30 litre: £90, Snow and Rock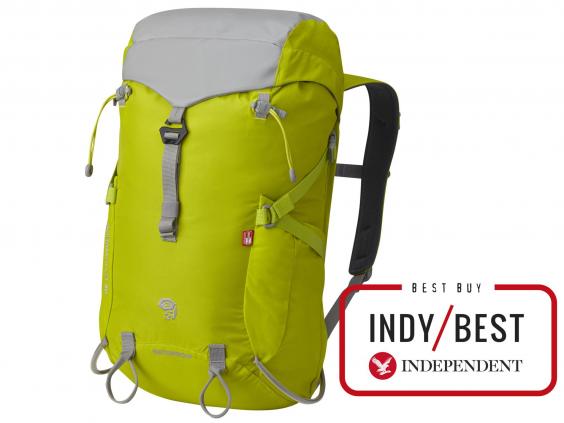 It may be designed with climbers in mind but Mountain Hardwear's Scrambler stands out from the crowded daypack market due to one star quality - its heavy duty outer shell is fully waterproof, so the bag doesn't need a rain cover (it's not submergible though, for that you'll need the Aquapac bag in at number eight). The Scrambler ticks all our daypack design boxes – plenty of roomy pockets, hydration compatibility, compression straps, carry loops for ice axes and trekking poles, and comfortable, adjustable shoulder and waist straps. All for a decent price, too.  
2. Osprey Tempest 30 litre: £100, Osprey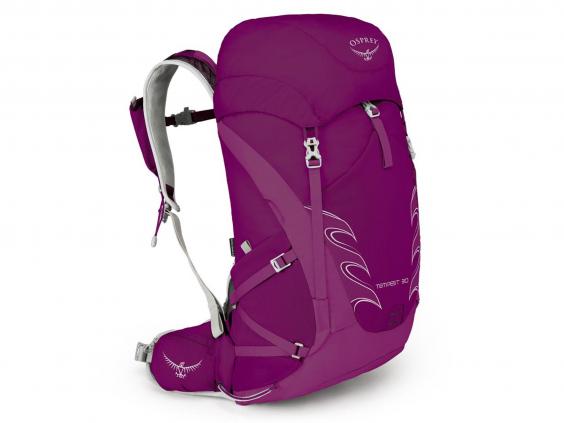 Osprey is one of the biggest names in the rucksack world, offering so many models it's easy to get overwhelmed by the sheer amount of choice on its website. The male Talon 33 litre and female Tempest (we aren't sure why the female design loses three litres of capacity in gender translation) are tried-and-tested favourites you'll see on the backs of outdoors lovers everywhere. They're ideal for hikers, with an adjustable foam back panel, hydration-compatibility, a rain cover, hooks and clips for trekking poles and ice-axes, and a stretchy front pocket for storing layers on the go. Available in four colours. 
3. Thule Capstone 32 litre: £99.95, Webtogs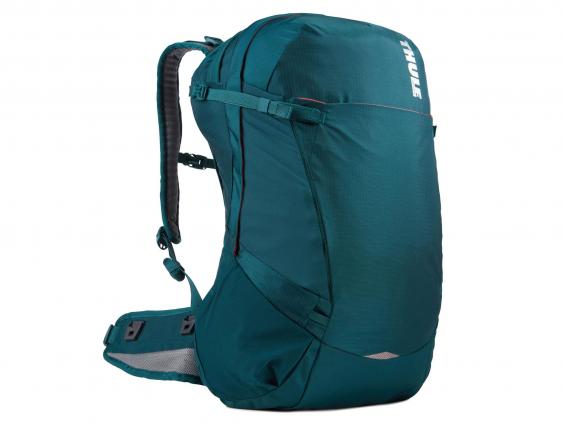 Best known for roof boxes and luggage, Thule's foray into the world of rucksacks has proved the brand can do comfort as well as durability. The most useful size of backpack on offer is the Capstone, available in men's and women's-specific fits. It's full of lovely stuff. The adjustable mesh back panel is cool and comfortable, there are a myriad of useful pockets for laptops, water bottles and other essentials, a rain cover whips out in a storm and the hip belt will carry snacks and a phone for easy access as well as clipping your hiking poles away. Available in blue and green.
4. Burton Day Hiker Men's 25 litre/Women's 23 litre: £55, Burton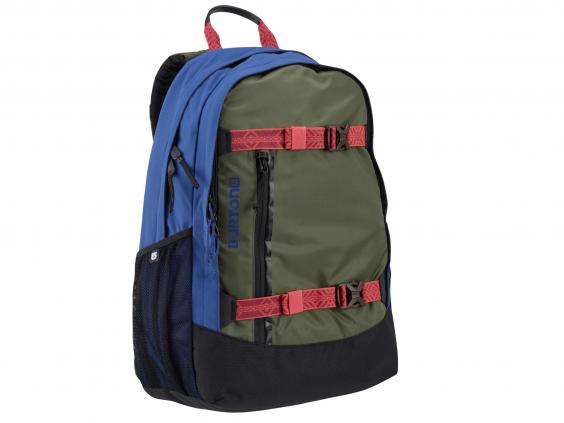 Inspired by the world of snowboarding but just as at home on the trail, this fun rucksack is the ideal size for a short and sweet hike. Both a male and female version are on offer, and the women's incarnation of the bag is a great fit for smaller backs (and comes in nicer colourways than the default purple or turquoise of most female-specific packs). The Day Hiker excels in snow, with a waist strap, hydration compatibility and an outer strap that lets you carry your snowboard on your back. There's a laptop pocket too, making it useful both on and off the piste. 
5. Manhattan Portage Greenbelt Hiking Backpack: £174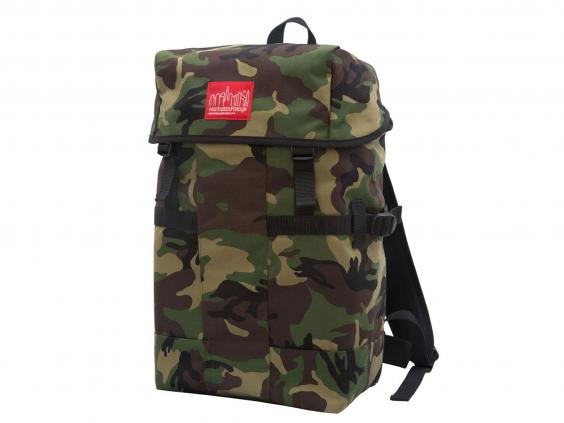 The city slicker of this list is the Manhattan Portage Greenbelt. It may look most at home on its namesake's streets, but it still offers a rugged, water-resistant outer, extremely comfortable padded straps, a waist strap and a massive main compartment ideal for carrying lots of extra layers. It stays close to its urban roots with a big, well-padded laptop sleeve too. Ideal for weekends away. Available in a range of colours.
6. Patagonia Lightweight Black Hole Cinch Pack 20 litre: £65, Asos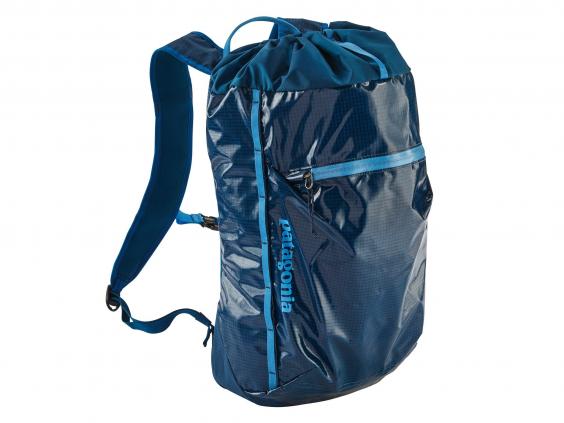 Out for just a few hours? Keep it fast and simple with the small yet perfectly formed Patagonia Black Hole. A single-pull opening makes it quick to stuff with gear, and the shiny rip-proof nylon outer is water repellent. The bag is also hydration compatible and small enough to take cycling or running. If you don't need to weigh yourself down with more than a raincoat and some lunch, this is a comfy, fuss-free choice. 
7. Fjallraven High Coast Trail 26 litre Rucksack: £95, Fjallraven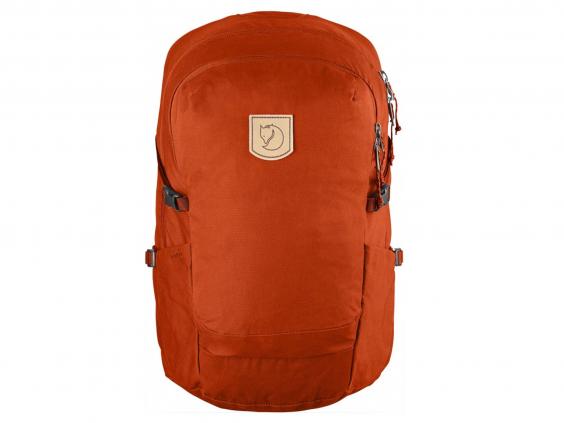 Cult brand Fjallraven makes outdoor gear that manages to be as lovely to look at as it is useful, and the middle-sized Coast Trail is a chip off the old block. It combines style with substance – there are roomy main, side and front pockets, hip straps and chest straps, a laptop pocket and compression straps, and the outer is treated with G-1000 Eco wax, which resists moisture (you'll need to re-wax regularly to keep the daysack waterproof, but a raincover is included as well). A thing of beauty. Available in five colours. 
8. Aquapac Lightweight Waterproof 25 litre Backpack: £65, Amazon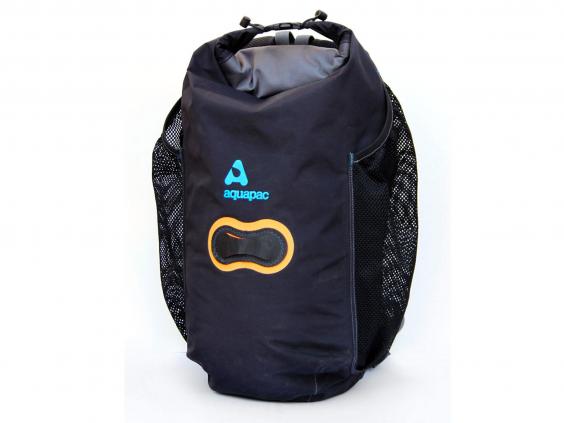 Aquapac's brilliant range of "wet and dry" backpacks (there are also 15 litre and 35 litre sizes available) are fully, reliably waterproof – they're even tested against powerful jets of water. That doesn't mean these are just glorified dry bags with straps though – inside and out are all the design features you'd expect from a great backpack, including a laptop pocket, a separate waterproof internal pocket, breathable straps and hydration compatibility. Ideal for sailors, stand-up paddleboarders or just very wet and miserable hikers. 
9. Vango Trek 35 litre: £40, Vango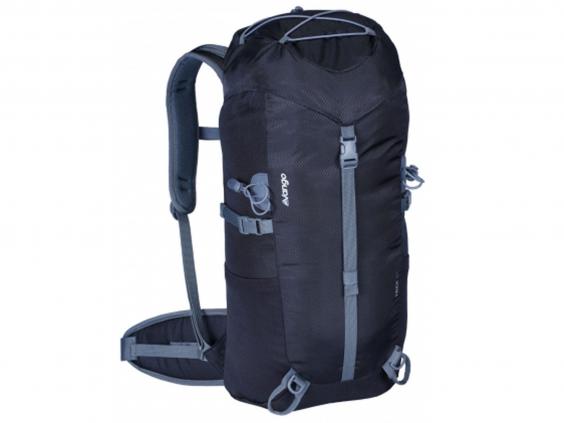 This is a fantastic price for a very useful bag. It's simple and effective and packs in all the basic design features you'll need, including a rain cover, hydration compatibility, an adjustable harness, compression straps and a handy bungee top section for storing layers in a jiffy. Both the straps and back are extremely breathable – ideal if you tend to overheat on the trail. You can't get a better bag for under £50 – a good first buy if you're getting into day hikes.  
10. Mammut Creon Tour 28 litre: £75, Mammut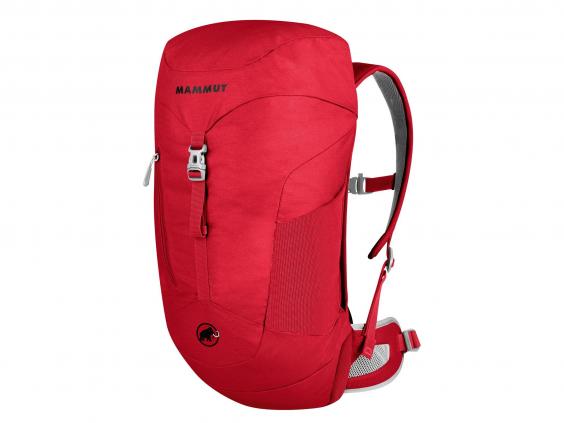 A good-looking, middle-sized, great quality pack, the top loading Creon Tour is just right – the Goldilocks of this list. Light, comfortable and with a simple, useful layout, it includes plenty of space, side pockets, a rain cover and comfortable hip and shoulder straps. It also sports one of the comfiest back supports we tested. A great choice if you suffer with back pain when carrying a hefty bag. Available in a range of colours.
11. Pacsafe Venturesafe X 30 litre: £122.17, Exxpozed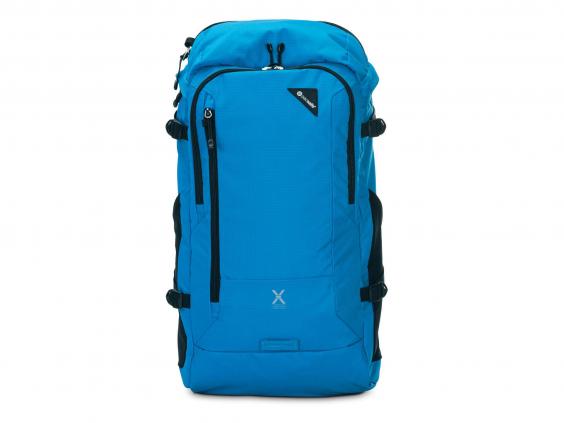 PacSafe specialises in bags with anti-theft features, and its Venturesafe model is a brilliant adventure rucksack that will also keep your belongings safe wherever you roam. The design includes lockable zips, unslashable outer material and webbing straps and a pocket that blocks micro-chip readers. It's also light and comfortable, with a built-in rain cover and plenty of pockets. One to take on a hostel-hopping gap year. 
The Verdict: Daysacks for walking
It's hard to pick a stand-out winner on this list – each bag is ideal for different activities. Aquapac's rugged waterproof bags are perfect for wet weather, Osprey's Talon and Tempest are brilliant on day hikes, PacSafe's clever anti-theft technology makes it ideal for travelling and Patagonia's Black Hole is the best choice for fast-paced adventures. But despite being designed specifically for climbers, Mountain Hardwear's Scrambler stands out on test for general use due to its user-friendly design, comfort and reliable waterproofing. 
Sian Anna Lewis is a travel and outdoors writer and editor of The Girl Outdoors blog
Reuse content