For the past eight years, The Independent on Sunday has shone a light on the kindness and generosity of 100 unsung heroes with its annual Happy List.
In those years, it has been striking that among the Happy Listers, there are so many young people – from small children to teenagers and beyond – who have helped to make Britain a happier and more caring place, often showing extraordinary tenacity and bravery beyond their years.
This year, in partnership with the social-giving platform JustGiving, The IoS is celebrating the volunteers, fundraisers and philanthropists of the future by opening nominations for a special Just Giving Happy List Award.
For the first time, we are putting forward 10 young individuals from the Happy List and we are asking you, our readers, to nominate the person you think is most deserving of a special accolade at the JustGiving 2015 Awards event later this month.
The annual JustGiving Awards recognise outstanding fundraisers in seven different categories who are voted for by the public. This year, JustGiving has added a special Happy List Award, and the hunt is now on for a worthy recipient.
All individuals on the Happy List have done extraordinary deeds to improve the lives of others, and the young people we are celebrating today are no exception.
Please read their stories and cast your vote.
How to vote
Please nominate online at independent.co.uk/happylist, or email happy@independent.co.uk, or write to Lisa Markwell, Editor, The Independent on Sunday, 2 Derry Street, London W8 5HF.
Voting closes at midday on Friday 11 September.
The Happy Lister with the  most votes will be revealed in The Independent on Sunday on 20 September. Individuals cannot nominate themselves.
Follow us at twitter.com/HappyList100 and facebook.com/IndependentHappyList
Abdul Basit, 23
Inspired baker
Islamic Relief volunteer Abdul combines his social media expertise and kitchen know-how in fundraising for the project Cakes4Syria, making and delivering baked goods. After starting in his home town of Bradford in 2013, it soon expanded nationwide, with 7,000 cakes ordered in the first year. Since then, more than £300,000 has been raised to support refugees in Jordan and Lebanon.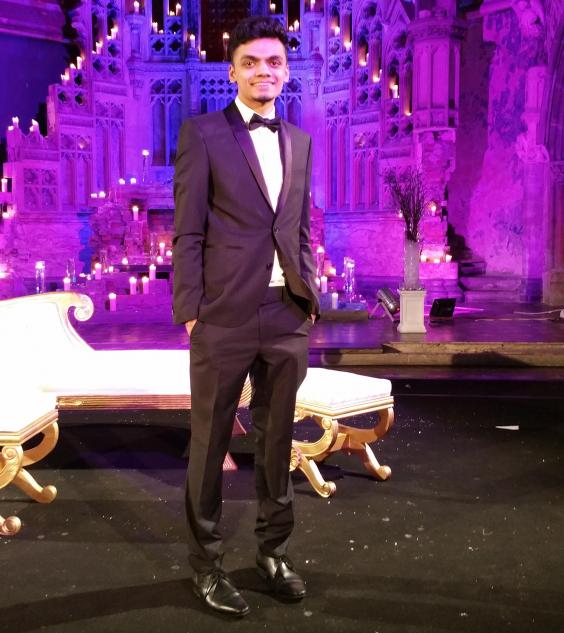 Samuel Bell, 16
Charity founder
After being diagnosed with rare Hirschsprung's disease at birth, Glaswegian Sam was given only three months to live. After more than 60 operations, the 16-year-old is today the UK's oldest surviving sufferer. He set up the Samuel's Smile charity to allow children with rare diseases to enjoy days out and meet their favourite celebrities.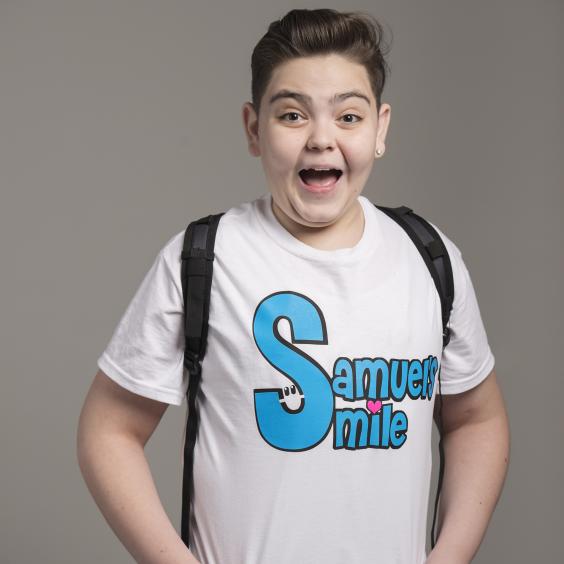 Anthony Bennett, 26
Hospital volunteer
At 16, Great Ormond Street Hospital patient Anthony of Greenford, west London, was given a mere 11 per cent chance of surviving after contracting Strep pneumonia, Influenza B+ and Staphylococcus. Ten years on, Anthony devotes his spare time to helping patients, fundraising, and telling his story to secure important funding partnerships for the hospital.
Katie Cutler, 22
Fundraiser
When Gateshead resident Katie heard that local disabled pensioner Alan Barnes had been mugged on his doorstep, leaving him too afraid to return home, she began raising money for him. More than £330,000 was donated, and Katie has since founded her own charitable foundation to help raise funds for other deserving people.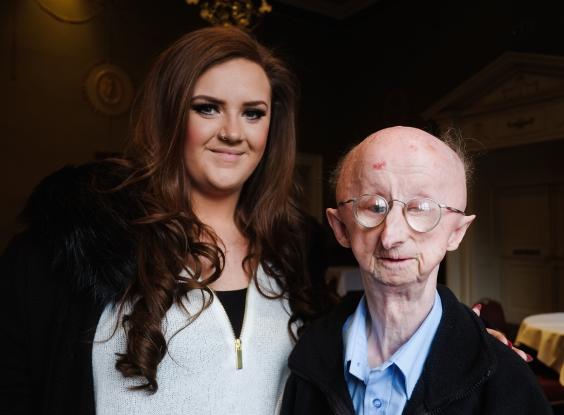 Rajeeb Dey, 17
Social entrepreneur
At 17, Rajeeb set up StudentVoice, a social enterprise which represents the interests of secondary school students in national education policymaking. A champion of young people, Londoner Rajeeb has since founded Enternships.com to aid youngsters find secure paid internships. He also co-founded StartUp Britain to nurture entrepreneurial culture.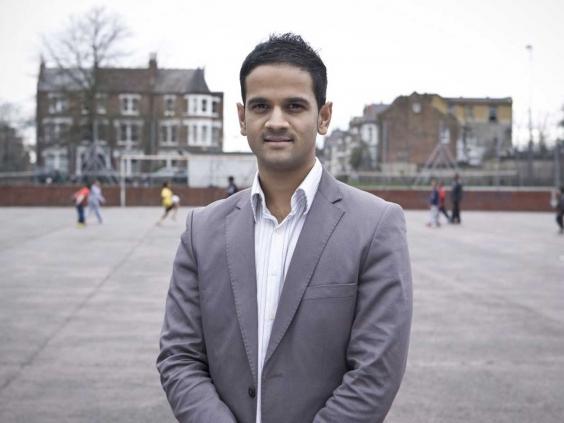 Dominique Harrison-Bentzen, 22
Good samaritan
When art student Dominique lost her bank card in Preston, a homeless man called simply Robbie offered her £3 to help her get home. She was so touched that she launched an appeal to secure him a flat. It raised £42,000, which will enable a local homeless charity to house Robbie and others.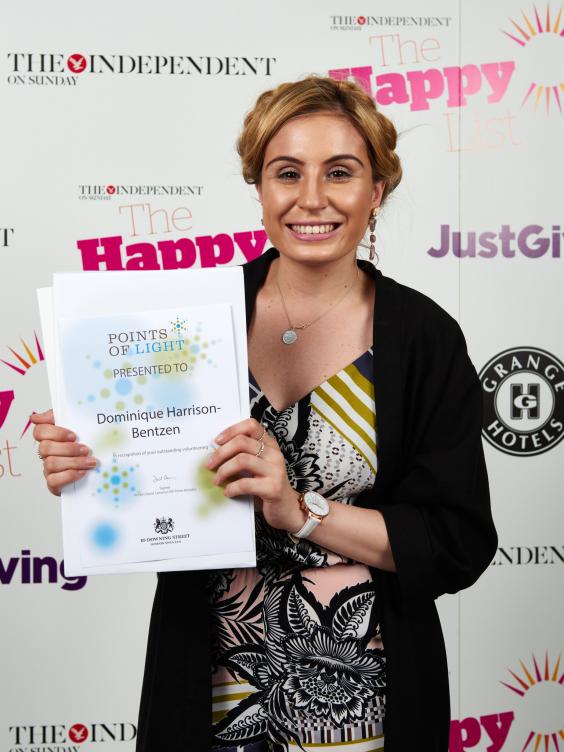 Luke Lancaster, 12
Super-survivor
Dyslexic Luke of Crowhurst, East Sussex, was assaulted in school after saying he "wanted to learn". Determined to make it "cool to care", aged 12 he founded Young Pioneers, which helps turn victims into successful survivors as well as encouraging young people to look after their health.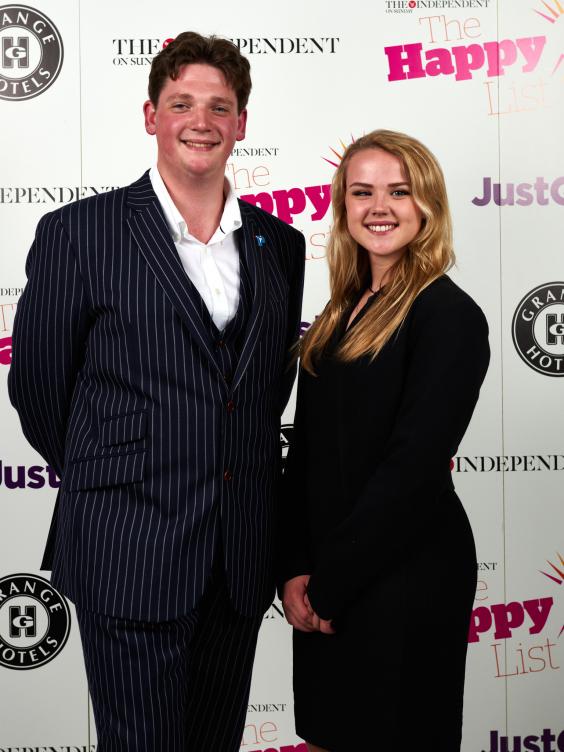 Ted McCaffery, 6
Hospital fundraiser
Before his open-heart surgery, six-year-old Ted from Stockton Heath discovered his television in Alder Hey Children's hospital wasn't working. Just nine weeks after the op, Ted completed a mini-triathlon to raise funds so that other children in hospital wouldn't be bored, and has since raised £20,000.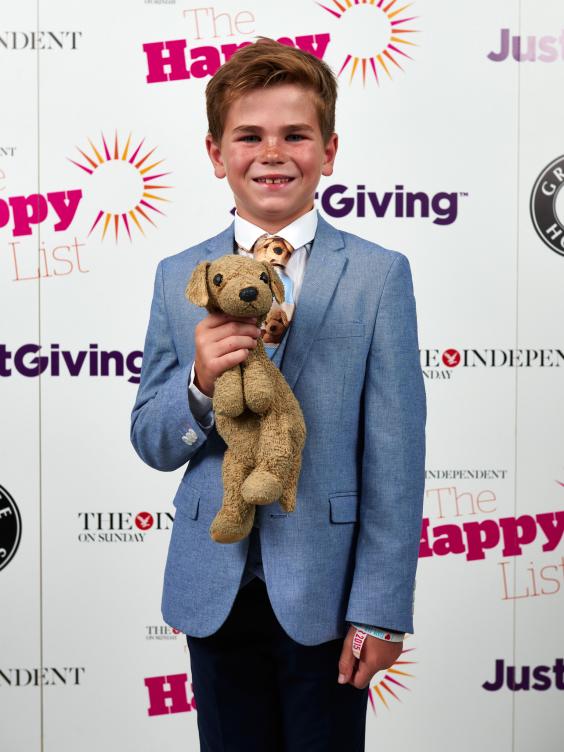 Emily Smith, 26
Environmentalist
The Plastic Challenge saw Londoner Emily give up single-use plastic for 40 days, raising awareness of the harmful impact of our throwaway culture on the oceans. A volunteer for the Marine Conservation Society, she has helped remove tons of litter from UK beaches and campaigned for protected areas.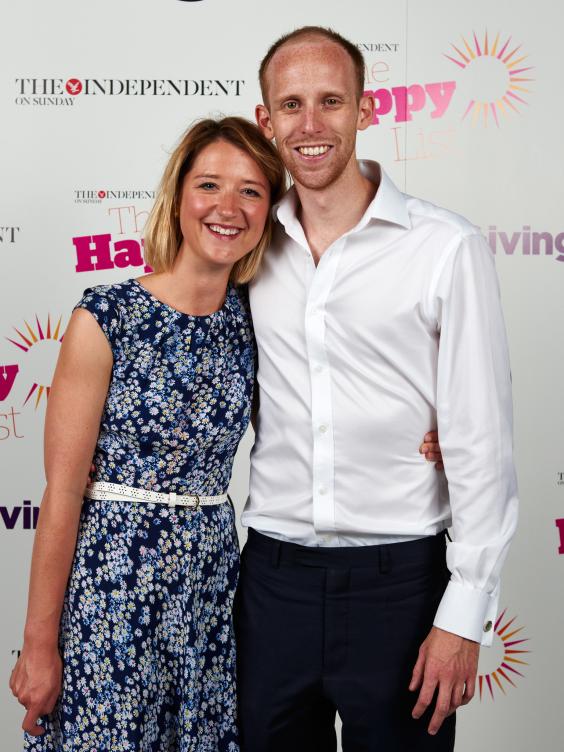 George Rogers, 23
Waterways saver
Derby man George is a canal restoration volunteer for Waterway Recovery Group who has worked on more than 500 miles of UK waterways. Inspired to join WRG after doing a summer canal camp, George now teaches the skills necessary to maintain our waterways as a "canal camp" leader.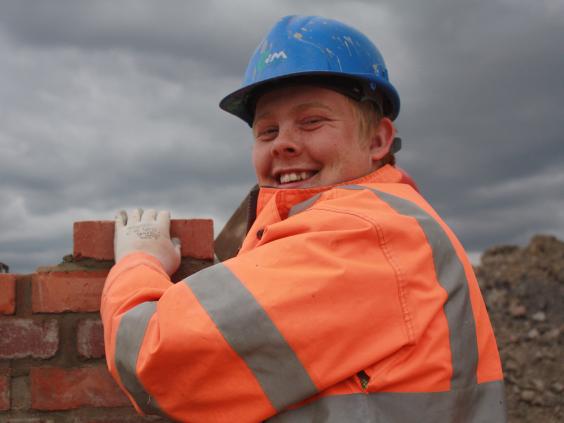 To nominate someone for next  year's Happy List, please go to independent.co.uk/happylist, or email happy@independent.co.uk, or write to Lisa Markwell, Editor, The Independent on Sunday, 2 Derry Street, London W8 5HF.
Reuse content