Across the country, A-level students coping with studies and exams – not to mention results day – feel the pressure to secure a place at their dream university. However their parents often feel just as stressed because they face paying exorbitant tuition fees.
If you've still got a few years before your child sets off for university you may wish to consider investing in stock, shares or funds through your ISA in order to try and build up a pot of money to pay future education costs.
There is no guarantee that your money will increase in value, but history suggests that investing can produce a greater return than the interest paid on cash in a bank or building society account over time. Over the past 10 years, the UK stock market has been by average 5.5 per cent in value each year, according to the Credit Suisse Global Investment Returns Yearbook 2015.
GET SAVING
Universities in the UK can charge up to £9,000 a year for undergraduate degree programmes, so if your son or daughter is going to one of these institutions either they will have to take out a large loan, or you'll be paying out £27,000 for a three-year course.
If your son or daughter is currently 12 years old you'd need to save £250 a month into a stocks and shares ISA and aim to achieve a 6 per cent annual return. Although this is a higher figure than the average return over the past decade, there are many stocks, shares and funds that pay generous dividends each year. It is not uncommon to find investments that pay 6 per cent to 8 per cent income every year although you must understand this is not a guaranteed payment. You must also consider that most quoted investment yields are based on historical dividend payouts.
Our example of £250 monthly investments and 6 per cent annual return would equate to £21,602 by the time they're 18 – you don't pay all the fees at once so you would have a further two years while your child is at university in order to save up the rest.
University costs don't end at tuition fees – you might want to help your child pay for their rent, food, books and social life. According to the University of Oxford, pupils can expect to pay between £951 and £1,405 on living costs per month. Assuming someone is there for eight months of the year, the combined tuition fee and living costs would be up to £20,240 annually and a whopping £60,720 over the three-year studying period.
Using the same six-year investment period you could theoretically invest £600 a month which would give you £51,845 when your child turns 18.
UK University tuition fees
England and Wales: up to £9,000 a year for undergraduate degree programmes, although students from Wales pay £3,810 to study anywhere in the UK.
Scotland: free for students from Scotland; up to £9,000 a year for students from England and Northern Ireland.
Northern Ireland: up to £3,805 for students from Northern Ireland; up to £9,000 for students from Scotland and England.
Source: The Complete University Guide
RISK APPETITE
Now that you have a rough idea of how much you need to save the next step is to work out your risk appetite. Six years is a short-to-medium time frame which means you should stay away from risky stocks like oil companies and cyclical stocks like airlines. Safer investments like funds and investment trusts are a good option because their diversification means you spread your risk.
There are several funds and investment trusts which provide a yield of 6 per cent, thus meeting the investment goal outlined above.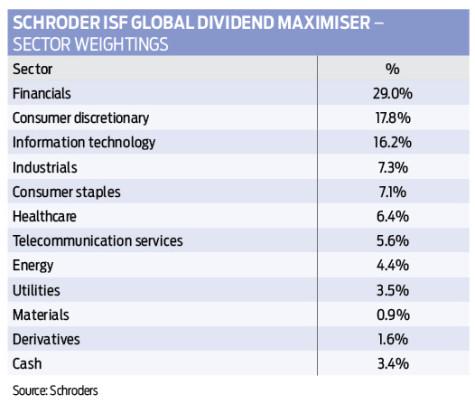 FUNDS
In the fund space, one product you may wish to examine is AXA Global High Income (GB00B0T9V375) – the previous year's dividend payout yielded 6.8 per cent on the accumulation version. The fund invests in the US-dominated, global high-yield corporate bond market. The mandate has historically offered a relatively defensive means of gaining exposure to this asset class, which is characterised by lower exposure and drawdowns.
The portfolio is highly diversified and selects names based on the recommendations of experienced teams in London and the US. The fund's focus is on income generation, seeking to minimise default risk and rating deterioration through broad portfolio diversification, as opposed to targeting high capital returns. Its cumulative performance over five years is 43 per cent and it has an ongoing charge of 0.53 per cent.
To get exposure to equities, Schroder International Selection Fund Global Dividend Maximiser (LU0966866922) is a good example to research further as last year  yielded 6.7 per cent. Its greatest sector weighting is financials at 29 per cent and its key regions are the Americas at 39.5 per cent and Europe ex-UK at 35.7 per cent. Top holdings include Ageas (AGS:EBR), Graham (GHC:NYSE), Staples (SPLS:NDQ), Cisco Systems (CSCO:NDQ) and Tesco (TSCO).
INVESTMENT TRUSTS
On the investment trust side one product that may be of interest is Henderson Diversified Income (HDIV) with a yield last year of 5.7 per cent. It aims to deliver a high level of income and capital growth over the long-term by investing selectively across the full spectrum of fixed income asset classes including secured loans, high yield corporate bonds and investment grade corporate bonds. It has a total of 124 holdings, which include AXA (AXA:BIT), Lloyds (LLOY), Nationwide (CCDS), Virgin Media and AA (AA.)..
An alternative option is Invesco Perpetual's City Merchants High Yield Trust (CMHY), which invests in fixed interest securities, various equity-like securities within fixed income markets, equity-linked securities such as convertible bonds and in direct equities that have a high income yield. Yielding 5.4 per cent last year, many of its holdings are in the financial sector, which it believes have defensive qualities while still achieving a reasonable level of yield. Its exposure is skewed toward higher quality, well-established high yield issuers such as Lloyds Banking, Aviva (AV), General Motors (GM:NYSE), Societe Generale (GLE:EPA) and Premier Farnell (PFL).
DIVIDEND REINVESTMENT
To get the highest return on your investment you should opt for your dividends to be reinvested. The easiest and cheapest way to do this with funds is to choose the accumulation version. Instead of you receiving dividends in cash, the same amount of money is used to buy more units or shares in the fund, thereby increasing your overall holding in the investment collective. For investment trusts and funds which don't have an accumulation class you could sign up to your stockbroker's automatic dividend reinvestment scheme.
Please note the value of investments, and any income from them can go down as well as up and you may not get back your original investment. AJ Bell Youinvest do not offer advice about the suitability of their products or any investments held within them. Should you require financial advice you should consult a suitably qualified financial adviser. Tax rules can change in the future and the tax treatment depends on your personal circumstances. Past performance is not a guide to future performance and some investments need to be held for the long term.
Reuse content