Even monks have fun.
A group of Roman Catholic Franciscan monks in Jerusalem appeared to have been secretly filmed having a snowball fight on a balcony overlooking the Holy City.
It is believed that the video, which has been viewed thousands of times, was filmed by Hector Gonzalo Osses, who later posted the clip titled 'Brothers in the Snow' on Facebook.
In the short video, six monks can be seen walking through the snow-covered grounds, before one of them tentatively balls up a handful of snow and lobs it at his fellow brother.
Soon they are all joining in, and the video – filmed from the roof of what is believed to be the Terra Santa in the Christian Quarter – captures their peals of laughter.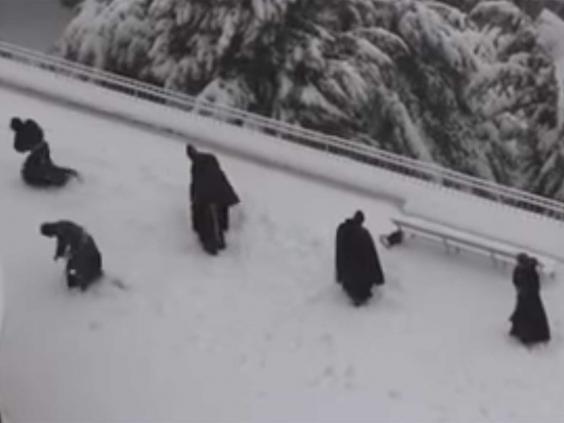 Jerusalem is experiencing some unusual weather for the region, with the Holy City blanketed in snow after an extreme weather warning was issued on Thursday evening last week.
The Franciscan monks are believers who specifically follow the teachings of St Francis Assisi and are most commonly associated with the Roman Catholic Church, although similar branches exist within the Lutheran, Anglican and Old Catholic churches.
Reuse content