News of the suicide of Ian Jordan shocked the nation when it emerged last week after the 60-year-old grandfather from Botley, Southampton, took his life following a relentless pursuit by payday loan companies.
Now, his devastated children speak of their loss, and how – although it will never be known exactly what drove their father to suicide - they blame lenders for tipping their father over the edge.
Sitting in his son Marc's flat in Boscombe, near Bournemouth, with his younger sister Samantha, 36, I am handed one of the few possessions their father Ian had left, a photo album of him in happier times. From black and white pictures of Mr Jordan as a young boy to shots of him with family and friends, it is a poignant reminder of a life cut short.
"He was a normal dad, a normal bloke. He could give you a good clip round the ear and could make a whole room of people laugh, a normal bloke," recalls his son Marc, 41.
Samantha chuckles at the memory of her dad's love of "fancy dress and dressing up", and points out a picture of him in a suit wearing a werewolf mask.
The siblings smile when recalling a happy childhood, with the normal holidays and arguments that characterise family life. Marc, the older of the two, does much of the talking – unconsciously taking the role of big brother.
Video: In 2013 the office of fair trading found widespread problems
The grief-stricken pair are still in shock, just weeks after an inquest ruled their father's death, from an overdose of painkillers, a suicide. It heard how he was thousands of pounds in debt to a number of payday loan companies – despite the fact that he was on benefit and too ill to work. He suffered from a painful condition called Barrett's oesophagus – an inflammation of the gullet which can lead to cancer. Mr Jordan, who was divorced and lived alone, had left a brief note on his computer telling his family: "I'm sorry for being selfish."
Losing their father "so pointlessly" was probably the worst thing, says his son. The brother and sister show me a pile of papers – letters from various companies their father owed money to and his last ever bank statement dated November last year.

It lays bare just how bad things had become for their father, who had 56 pence to his name and within days of having his meagre pension and job seekers allowance paid in, was already overdrawn. Payments taken by loan companies literally left him with less than nothing to live on.
And one of the last letters he received was from the "collections team" at Peachy.co.uk. Dated 11 November last year, it threatens: "we may have no other option but to sanction a Doorstep visit to your property. Alternatively we may issue a Claim against you in your Local Court." The letter states he could face his debt being "increased" and "Seizure of Assets" and concludes, "please pay the full amount in three days." But Mr Jordan never did repay the debt and a week later he took his own life.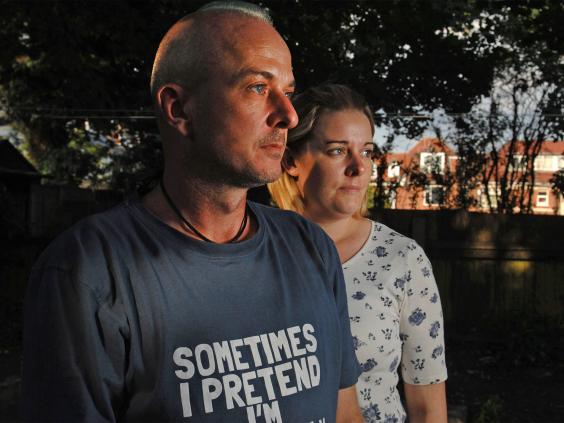 Katre Karrenperk Vanatoa, chief marketing officer at Cash On Go Ltd – the owners of the company concerned - dismissed the correspondence as a "standard letter" and "cannot be connected to his death." She claimed: "We gave Mr. Jordan plenty of time to pay the loan back."
The payday loan firm was just one of a number their father was in debt to. Yet Marc and Sam had no idea of his predicament. Mr Jordan spent most of his working life as a milkman before his health started to suffer and he could no longer work full-time. Even then he continued to volunteer for charities and was well known as a DJ in the local area. Mr Jordan was from a generation where there was a stigma attached to debt – something which has changed in the space of just a few decades, with the saturation advertising of loan companies encouraging people to borrow borrow borrow in the quest to spend spend spend.
His children have tried to piece together the pieces of a complicated financial jigsaw. In one case, they discovered how one firm was charging their father interest at an annual percentage rate of more than 7,000 per cent.
Marc recalls clearing out his father's house after his death. "His tobacco tin was empty, he'd literally scraped the last bits of tobacco out of it. There was nothing in the house really food wise. There was nothing left, he'd already sold the things he had before he'd gone to the loan companies. He'd already gone through the process of removing everything valuable he had to get by. There wasn't anything left."
He says there must have seemed "no escape" for his father from the attentions of the payday loan companies he was in debt to. And the pursuit did not stop after his father's death. Some companies even tried to pressure his relatives into paying off the debts to begin with, says Marc. "Sam got phone call after phone call and text after text. They were chasing Sam to see if the estate had been sorted and when they were going to get their money back."
Payday loans become "nooses" when you cannot pay them, he warned. "I can say they had a big deal with pushing him over the edge, very much so." He adds: "I feel angry that anyone should be put in that situation, that anyone at all should die feeling so alone, and so helpless. For it to be that big bloke that was my dad, that was so strong, so hard and would always be what you looked up to as a son, to see him crumble like that because of things like this is horrible."
And his sister describes how loan firms bombarded her father with texts even after he had died – some demanding repayment of debts and other offering new loans. "There were hundreds of texts, they were coming through every ten minutes, it was all night as well." It went on for "months" along with demands for proof that her father had died, and only finally ended earlier this year.
There are no tears, the pain they feel is too deep for that. Yet the trauma is evident in the shocked bewilderment which dominates their expressions.
The pressures brought to bear on people who fall into the clutches of payday loan companies were highlighted just last week when debt charity StepChange revealed how some payday loan firms target people with phone calls – with one in three of those it helps complaining of this. On average, people suffering financial problems are being offered expensive loans over the phone 10 times a week.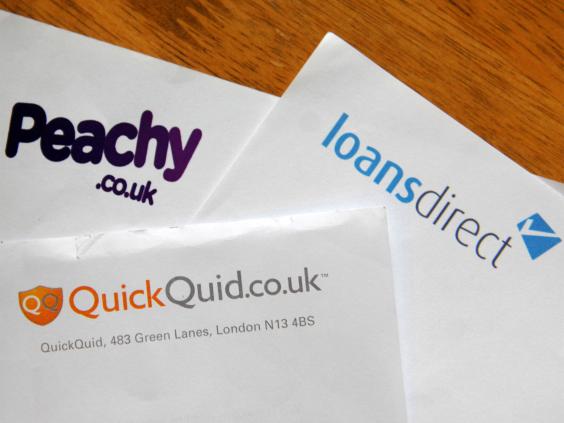 And Marc spoke of his horror at the prospect of any other family suffering what his have gone through. "Hundreds of people a week are committing suicide so while we've been sat here today one or two of them will be because of money, possibly more, possibly because of the same companies."
Neither he or his sister "are expecting someone to jump up and change the laws and change the rules any time soon but if we can get somewhere down the line where these companies are a bit softened, if their approach has been reorganised somewhat to make it more people friendly and these companies can be providing a service for people in this country without the other end of it – destroying people when it goes wrong – it'll be a good thing."
There are signs of change. Mr Jordan's case highlights the misery of hundreds of thousands of people taking out payday loans to make ends meet. Last year 1.6 million took out the short-term loans. Amid growing concern over the dangers of loans which can swiftly escalate  to sums far in excess of those borrowed, the Financial Conduct Authority recently announced new rules to curb the amounts payday lenders can charge. From next January, interest and fees charged by short-term lenders must not exceed 0.8 per cent of the amount borrowed per day. Fixed default fees will be capped at £15 and the total cost of a loan should never be more than double the amount borrowed.
The move is a "step in the right direction" but Mr Jordan's son Marc said: "I would quite like to see invasive, hounding advertising removed. We don't advertise drinking, smoking or sex toys during Blue Peter, why can my children recite entire Wonga Adverts at ages five and 10?"
They do not want to see payday loan companies banned, he insists. "We understand that some people can borrow money between now and payday and be lucky enough to get to payday and clear it off and there's no problems but we also know there are other people that are being taken advantage of by these companies and that's the bit that needs to stop."
He adds: "If everyone can just take five minutes out of their day to look at how we as a nation want to live and how we want to be treating people in this country with things like this then maybe we can change it for the better."
Debt crisis: a tangled web
A spokesperson for Peachy.co.uk (part of Cash On Go Ltd) said: "We are very sorry to hear about the death of Mr Jordan and extend our condolences ... with regards texts or letters sent to a person after they have died, we would never do this unless we are unaware of their passing ... these sad circumstances highlight the need for payday loan companies to share data."
At Payday Express, a spokesperson said: "Mr Jordan took two loans with us last year. His unfortunate death was reported to the company in November and, as is standard practice, a death certificate was requested ... Payday Express will examine its practices to see how such circumstances are best verified without further upsetting next of kin."
Mr Jordan owed several hundred pounds to Payday UK (part of Mem Consumer Finance Ltd) and owed money to CFO Lending (formerly Capital Finance One).
Wage Day Advance charged Mr Jordan interest at an APR of 7,069 per cent. And a £900 loan from QuickQuid rose to more than £2,000.
SOBS (Survivors of Bereavement by Suicide) www.uk-sobs.org.uk; 0300 111 5065
Free debt advice: stepchange.org; 0800 138111
samaritans.org 08457 90 90 90