More than 186 million Indonesians go to the polls tomorrow to choose a new president in the world's third largest democracy. The race is tight between the two contenders, Jakarta governor Joko Widodo and former general Prabowo Subianto, in an election experts say is critical to determining whether Indonesia will consolidate its democracy, or move backwards.
It is the first time since dictator Suharto fell 15 years ago that a directly elected leader will hand over power to another.
President Susilo Bambamg Yudhoyono, who has been in charge for a decade during which time he has failed to live up to the expectations of many, is not allowed to run for another term. Indonesians now face the choice of two potentially very different presidencies.
To Indonesia specialist Edward Aspinall, while Joko Widodo, known as Jokowi, would follow his predecessor on the path of governance reform and wouldn't enforce "major, dramatic policy change," a Prabowo presidency is "much less predictable".
"His political instincts are deeply authoritarian," he says, believing a Prabowo presidency "would have regressive instincts in terms of democratic reforms".
A general under Suharto's regime and a commander to the country's special forces, Mr Prabowo, has been accused of human rights violations in Indonesia and East Timor, which he has repeatedly denied.
When Suharto fell, he was dismissed from the military for ordering the kidnapping of anti-regime activists, but has never faced trial. He was later banned from entering the US.
But far from attempting to downplay his military past, Mr Prabowo has presented himself as the "strong man" throughout his campaign. His electoral meetings have resembled extravagant military shows.
He arrived at one of his political meetings first by helicopter and then on the back of a thoroughbred stallion, greets his supporters with military salutes, and enjoys shouting incendiary nationalist diatribes into vintage microphones.
Mr Prabowo also raised a few eyebrows by recently suggesting that Western ideas, such as direct presidential elections, "aren't appropriate for us". He quickly retracted his statement and assured everyone he "believe[-d] in democracy," but Mr Aspinall is not convinced.
"He has repeated many times that he wants to take the country back to the original version of the 1945 constitution, a very vague document that strips away most of the core institutional foundations of democracy," he argued.
Mr Prabowo, he said, has promised in all of his campaign speeches to "restore strong leadership".
But what worries some political observers is also what seduces Prabowo's supporters.
"Indonesia is a vast country with many different people," said Syamsul, a manager at a palm oil company. "Only a military man can lead the country and maintain peace and order."
While Prabowo Subianto is a pure product of Suharto's three decade regime (he was even married to the former dictator's daughter), Jokowi is considered by many as a "new type of leader", explained political analyst Maswadi Rauf. 
Jokowi is the first high-ranking politician with no links to the former regime and is seen as a "breathe of fresh air" by many Indonesians tired of a same political elite that has barely been renewed in past years.
"Jokowi is younger, has no dark past and no connection with Suharto's old regime," said Tetty, a teacher in Jakarta, who believes that Jokowi's election could be a "first big step" towards a "better Indonesia".
Maswadi Rauf explained that Jokowi's popularity also hails from a "new" political style. "All of our leaders are very formal," he said. "They dress like leaders, they act like leaders... but not Jokowi."
Charismatic, ordinary looking – he's almost always seen with a simple red check shirt – Indonesians see him as "one of them," Mr Rauf added.
While Mr Prabowo hails from one of the richest and most powerful families in Indonesia, Jokowi comes from a modest background. He is a former furniture seller, and has gained a reputation as a problem solver and a "clean politician", which has resonated with many Indonesians tired of the country's rampant corruption.
"Indonesia is a very rich country in terms of natural resources. It could be a very strong nation but the problem is that much has been taken by individuals," Tetty argued.
But while Jokowi's rise in popularity was at first spectacular – he was credited with more than four times more votes than Mr Prabowo just a few months ago – his lead has shrunk considerably in the past weeks.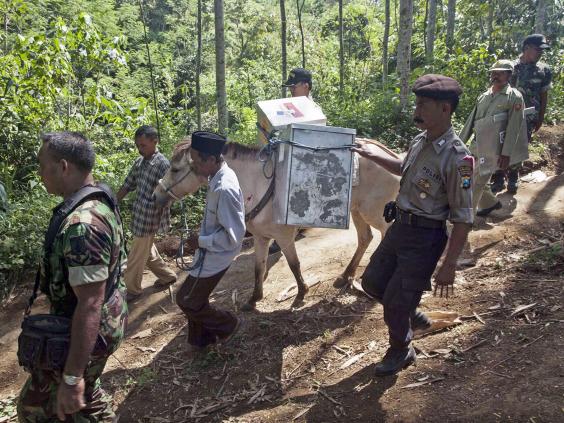 He has blamed smear campaigns, especially rumours that he is a Christian of Chinese descent that have resonated in the world's largest Muslim country, but his campaign has been undeniably messy compared to the political machine that Prabowo has put in place.
"Jokowi's campaign has not been well organised and run, not particularly well funded. In contrast the Mr Prabowo campaign has just been formidable," said Mr Aspinall, who compared the two campaigns as being between one of an amateur and a professional.
The election is mapping out to be the tightest in Indonesia's history, with Jokowi believed to be only four points ahead of Mr Prabowo, and the country's authorities have said they hope the margin between the two candidates will be wide enough to avoid the potential for violence that a close result might bring.