The pilot who crash landed on a busy road during the Shoreham Air Show was "at the top of his game", an expert has said.
The aerobatic display expert said Andy Hill, who is in critical condition in hospital after the fighter jet he was flying crash landed - killing at least 11 people - was a "very safe" pilot and that air shows were not dangerous.
The 1950s Hawker Hunter jet Mr Hill was flying was performing a loop-the-loop as part of the annual air show on Saturday afternoon when something went wrong and the plane crashed on the A27, leaving 400 metres of debris strewn across the road and many cars destroyed.
Police have said the death toll could reach 20 as emergency services prepare to use a special crane to move the debris on Monday.
Several drivers in the cars hit by the falling debris are still unaccounted for, including a wedding chauffeur and 49-year-old motorcyclist Mark Trussler, according to the Mirror.
Neil McCarthy, who has flown planes similar to the one that crashed, said display pilots such as Mr Hill were "so highly trained" throughout the year that during August they are "at the top of our game".
Speaking to Sky News, he said: "It's not dangerous, it's a calculated risk. We're flying fast jets at low level but when you get to the kind of level Andy is at these are not issues.
"If you do get a bird strike you turn away and recover the aircraft. At the end of the day you don't want to die and if you save yourself you'll save anyone else in the immediate area."
He said the majority of accidents at air shows do come down to pilot error but "accidents can and will happen".
It comes as the mother of one of the victims, Sue Grimstone, told the Daily Telegraph that the death of her son Matthew, who was on his way to play in a match for Worthing United, was a "waste" and that "air shows should be over the sea".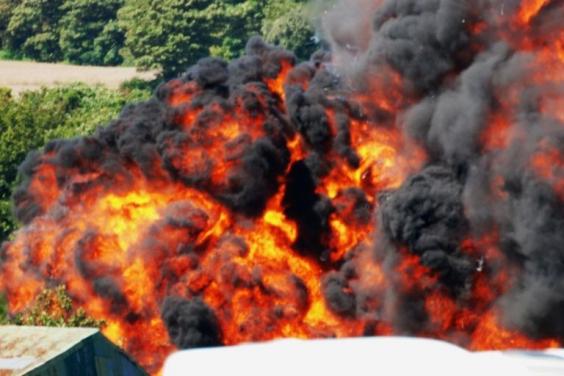 "It should never have been over that road," she said.
Labour MP and former member of the Commons Transport Committee, Grahame Morris told the Mirror that he believed airs hows should only be allowed to perform at sea.
He said: "I think when an event like this kills 11 people - and it's not the first time there have been fatalities at an air show - there should be a serious look at the regulations with a view to tightening them up."
The Civil Aviation Authority authority said it would be assisting the Air Accidents Investigations Branch in determining the cause of the accident.
Additional reporting by PA
Shoreham plane crash - In pictures
Shoreham plane crash - In pictures
1/24 Shoreham plane crash

The damaged remains of the fuselage of a Hawker Hunter fighter jet are lifted by a crane and put on a pick up truck

Getty

2/24 Shoreham plane crash

A fireball erupted at the Shoreham Air Show in Sussex after a fighter jet crashed

EPA/PAUL JARRETT

3/24 Shoreham plane crash

Sussex Police and Specialist officers examine vehicles that were caught in the explosion

Reuters

4/24 Shoreham plane crash

Floral tributes and a football shirt in memory of victim Matt Grimstone are placed on a bridge over the river Adur

Getty

5/24 Shoreham plane crash

A fireball erupted at the Shoreham Air Show in Sussex after a fighter jet crashed

6/24 Shoreham plane crash

Andy Hill, who was the pilot of the plane

Swords Aviation

7/24 Shoreham plane crash

A 1950s Hawker Hunter jet, the plane involved in the crash

Paul Jarrett/EPA

8/24 Shoreham plane crash

The scene at the A27 following the accident

Richard Blackmore

9/24 Shoreham plane crash

Smoke rises from the scene of the crash

10/24 Shoreham plane crash

Smoke rises from the scene of the crash

PA

11/24 Shoreham plane crash

Smoke rises from the scene of the crash

YouTube

12/24 Shoreham plane crash

Smoke rises from the scene of the crash

@Orchidflower

13/24 Shoreham plane crash

Smoke rises from the scene of the crash

EPA

14/24 Shoreham plane crash

Smoke rises from the scene of the crash

@Cromwell606/PA

15/24 Shoreham plane crash

Worthing United footballer Jacob Schilt was named as one of the victims

16/24 Shoreham plane crash

Another Worthing United footballer, Matthew Grimestone, was also named

17/24 Shoreham plane crash

Matt Jones, a 24-year-old personal trainer, was another victim of the crash

Facebook

18/24 Shoreham plane crash

Police and RAF representatives address the media following the accident

PA

19/24 Shoreham plane crash

Police tape marks the scene on the morning after the crash

PA

20/24 Shoreham plane crash

Emergency services attend the scene on the day following the crash

PA

21/24 Shoreham plane crash

Emergency services attend the scene on the day following the crash

Reuters

22/24 Shoreham plane crash

Emergency services attend the scene on the day following the crash

Reuters

23/24 Shoreham plane crash

Flowers laid near the scene of the crash

PA

24/24 Shoreham plane crash

Flowers laid near the scene of the crash

PA