Suites with sofas, fancy hotel restaurants and the attentive concierge were once the hallmark of luxury at the world's grand hotels. That might be about to change. A new breed try to appeal to a generation of customers who want fewer frills and tech-friendly communal areas and have set aside £150 billion to spend on it.
The Los Angeles Times reports that multiple hotel chains are ditching tradition in favour of high-tech alternatives. The Aloft hotel near Apple's headquarters in California employs a 3-foot-tall robot to deliver snacks to rooms, while the Yotel New York keeps a robot behind glass to transport luggage to the storage room.
Millennials, aged between 18 and 35, are more likely to take one or two large holidays in 2015 than those aged 45 to 54, according to poll by Hotwire, a discount travel site, at the end of last year. Hotel chains are looking to appeal to this market with rooms up to one-third smaller than in traditional rooms, modern, minimalist furniture and smaller fixtures. They compensate with lots of plug sockets and fast, free wifi.
Meanwhile the fancy hotel restaurant has been replaced with coffee bars and take-out food outlets that guests eat in communal areas, sharing desk space with others in the lobby.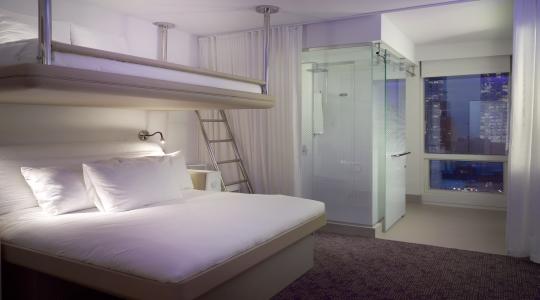 Legacy hotel chains Hilton and Marriott are launching new brands like Moxy, AC and Edition that have a more boutique style. Moxy is Marriott's mid-priced boutique hotel that will open in eight US cities including New York and San Francisco from next year.
New contenders are cropping up too, like Richard Branson, whose Virgin Hotel chain launched in Chicago in January. Guests at Virgin hotels use an app called Lucy to check in, control room temperature, order food and switch TV programmes. Meanwhile Yotel hotel rooms are smaller than traditional hotel rooms but offer free wifi, lots of plug sockets, flat screen TVs and automated check in.
Virgin Hotels have rooms starting at £140 a night. This is typical of the new breed of hotels that are more expensive than a budget option but still affordable. One minimalist new chain called Citizen M even boasts, "We sold the hotel clichés and used the money to make your stay cheaper."
Reuse content