Those who knew Steven Sotloff, the American-Israeli journalist murdered by Islamic State (Isis) militants in Syria, have described the 31-year-old as a brave and conscientious reporter, who loved the Islamic world and felt compelled to cover the conflicts there despite inherent dangers.
US President Barack Obama joined the tributes to Mr Sotloff today, saying the whole country was grieving with his family and friends. The President said Mr Sotloff had "[risked] his life to tell the story of Muslim men and women demanding justice and dignity".
His comments came as the White House confirmed the authenticity of a video released on Tuesday, showing Mr Sotloff beheaded by a militant who said the murder was a response to US airstrikes on Isis forces in Iraq.
Mr Sotloff was a freelancer who contributed to publications including Time, Foreign Policy and the Christian Science Monitor from across the Middle East and North Africa. He was kidnapped near Aleppo in northern Syria in August 2013.
Last month Mr Sotloff was paraded before the camera by Isis fighters, in a video depicting the beheading of 40-year-old James Foley, a US journalist with whom he was held.
In pictures: Steven Sotloff
In pictures: Steven Sotloff
1/7 Steven Sotloff

Steven Sotloff inside Al-Fateh Mosque in Manama, Bahrain, in 2010

EPA

2/7 Steven Sotloff

Journalist Steven Sotloff, left, pictured in Libya in 2011

Getty Images

3/7 Steven Sotloff

Steven Sotloff pictured in 2010 near Lulu Roundabout in Manama, which later became the iconic center for the 2011 pro-reform protests in Bahrain

EPA

4/7 Steven Sotloff

Journalist Steven Sotloff pictured in Egypt

5/7 Steven Sotloff

Media gather outside Steven Sotloff's family home in Pinecrest, Florida

AP

6/7 Steven Sotloff

Shirley Sotloff during a recent appeal to the captors of her son

AP

7/7 Steven Sotloff

Pinecrest police officers are positioned at the home of Arthur B. Sotloff and Shirley Sotloff, the parents of American freelance journalist Steven Sotloff, in Pinecrest, Florida
Mr Sotloff's mother then released a video pleading directly with Isis figurehead Abu Bakr al-Baghdadi to show clemency. Shirley Sotloff said her son had "travelled to the Middle East to cover the suffering of Muslims at the hands of tyrants. Steven is a loyal and generous son, brother and grandson. He is an honourable man and has always tried to help the weak."
Foreign Policy editor David Kenner said in a statement that Mr Sotloff was a "brave and talented journalist" with "a deep concern for the civilians caught in the middle of a brutal war".
Mr Sotloff's parents were Holocaust survivors who later settled in the US, and Israel's foreign ministry confirmed that Mr Sotloff held dual US-Israeli citizenship.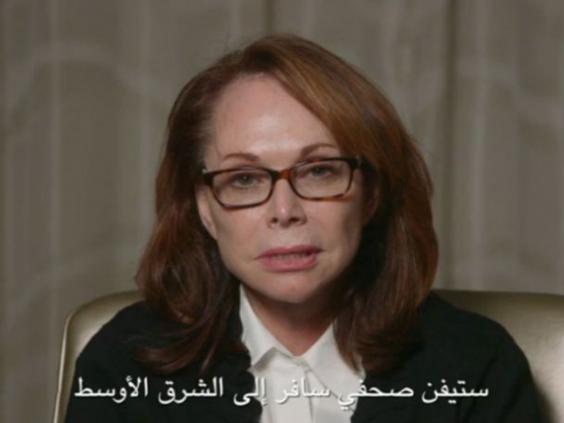 One former fellow hostage told the Yedioth Ahronoth newspaper that Mr Sotloff had disguised his Jewish faith from his captors by feigning an illness while fasting during Yom Kippur.
The authorities reportedly expunged all traces of his links to Israel from the internet during his captivity.
Born and raised in Miami, Mr Sotloff studied journalism at the University of Central Florida until 2004. In 2008, he moved to Israel as an undergraduate at the Interdisciplinary Centre Herzliya (IDC), near Tel Aviv.
His fellow student Hillary Glaser told the Times of Israel that he developed a complex view of the country. "Like most of us, he came here and became very critical of the government," she said. "He didn't hate it enough to not come visit... He still considered it his home."
A sports fan who played rugby in college, Mr Sotloff was in Israel cheering on the national rugby team only two weeks before his abduction in Syria. His tweets about the conflicts he covered were occasionally interrupted by comments regarding the Miami Heat basketball team.
Following his graduation from the IDC, Sotloff began covering the Arab uprisings and the Libyan civil war for Israeli publications such as the Jerusalem Post and the Jerusalem Report. Michael Sapir, who met Mr Sotloff in 2005 at a rugby club, said his friend – who spoke fluent Arabic – had quickly crafted a journalism career from scratch. "He had no journalistic background, he was just interested from a world affairs perspective and by witnessing things first hand he started writing about it," Mr Sapir said.
Mr Sotloff was thought so fearless that editors would urge him to be more careful. "He was not the kind of reporter to sit in a hotel and get things second hand," Mr Hoffman said. "We would e-mail him: 'Look after yourself, don't go there. Take care, don't put yourself in danger.'"
Reuse content