At least three people are dead and 12 missing following heavy rain and flooding in Houston, Texas.
More than 10 inches of rain slammed the Houston area overnight, leaving three pronounced dead and 12 missing on Tuesday morning.
Wind gusts were also as high as 100 mph and hail sizes as large as three-quarters of an inch fell in Houston, the Houston Chronicle reported.
"We've seen lots of flooding — nothing to this magnitude," Mayor Daniel Guerrero of San Marcos told CNN.
Houston's Metro transit system suspended all services during the extreme weather and the Houston Independent School District closed all of its schools and activities on Tuesday, the New York Times reported.
Houstonians were encouraged to stay in their homes, but some still ended up driving, trapped in massive traffic jams. On Monday night, following the Houston Rockets 128-115 victory against the Golden State Warriors, fans were also encouraged to stay at the town's Toyota Center until the dangerous weather had subsided.
Here are photos from the devastation on Monday and Tuesday morning.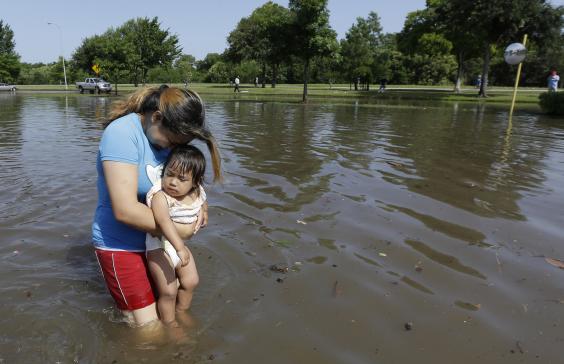 #houstonflood #khou Flooded underpass, Hempstead Highway just north of Old Katy Road & I-10 pic.twitter.com/NkBgpYzMa0

hyphen; Doug Miller (@DougMillerKHOU) May 26, 2015
UNBELIEVABLE photo that came to news station, North Freeway at North Main. #HoustonFlood pic.twitter.com/N5QD7dATIq

hyphen; YOUNG GREEN (@AlexGreen713) May 26, 2015
Today, Buffalo Bayou crossed the road and came to #khou11 #houstonflood https://t.co/SH7gYmcXKi

hyphen; The Bishop (@BillBishopKHOU) May 26, 2015
Pic from Jesse B. shows I10 and bunker hill - tree fell on truck #HoustonFlood #KHOU11 pic.twitter.com/8Aqx6Zxtut

hyphen; Doug Delony (@DougDelonyKHOU) May 26, 2015
Another shot of the flooding inside the lower parking level at the Galleria. From Derrick J. #HoustonFlood #KHOU pic.twitter.com/0F9NbvIGuH

hyphen; Doug Delony (@DougDelonyKHOU) May 26, 2015
Folks, I-45 is a water park this morning. #HoustonFlood #houwx #hounews pic.twitter.com/IIdMOiLT7e

hyphen; Ronnie Crocker (@rcrocker) May 26, 2015
Posted to my FB page by a reader. 45@ N Main this morning. #houstonflood pic.twitter.com/Z1qs61pYAb

hyphen; The Heights Life (@heightslife) May 26, 2015
How bad is the #flooding in #Houston? This pic via @mrsraee sums it up. We have latest on @AMHQ! #houstonflood #TXwx pic.twitter.com/TyFrprIGLl

hyphen; The Weather Channel (@weatherchannel) May 26, 2015
#houstonflood water at Allen Pkwy and Taft pic.twitter.com/C5fcm1LyYC

hyphen; Dane Schiller (@Daneschiller) May 26, 2015
Areas around Reliant Stadium completely under water. #houstonflood pic.twitter.com/UP8eoAJ8go

hyphen; Beer and Bae sball (@astrosguy) May 26, 2015
The sun rises and..... :/ #HoustonFlood pic.twitter.com/kgifRHTUin

hyphen; Kyle Nowotny (@ElNaranja22) May 26, 2015
This photo by a #KPRC2 viewer has eerie similarities to Tropical Storm Allison http://t.co/oEAtDB7nQg #Houstonflood pic.twitter.com/GBtZnNLPHY

hyphen; KPRC 2 Houston (@KPRC2) May 26, 2015
Reuse content