Foreign Secretary William Hague has defended promoting British weapons sales to India on the same day he announced plans to erect a statue of pacifist icon Mohandas Gandhi in London. The statue has been dismissed by Gandhi's great grandson as "false worship".
On a two day visit to India during which they confirmed a £250m missile deal deal and pushed the merits of the Eurofighter Typhoon jet, Mr Hague and Chancellor George Osborne visited the site where the independence leader was assassinated in 1948.
"Gandhi's view of communal peace and resistance to division, his desire to drive India forward, and his commitment to non-violence left a legacy that is as relevant today as it was during his life," said Mr Hague. "He remains a towering inspiration."
The ministers said that the statue of the man who opposed the British Empire, to be sculpted by Philip Jackson, will be placed in Parliament Square. Among other statues already located there is one of Sir Winston Churchill, who once described Gandhi as "a half-naked fakir".
The announcement came a day after Mr Osborne confirmed a £250m deal for British manufacturers to provide missiles to the Indian Air Force. The Indian authorities will receive the air-to-air missiles from MBDA, a weapons maker that is a joint venture between BAE Systems, the Franco-German group Airbus and Finmeccanica of Italy.
The ministers have also been promoting the Eurofighter Typhoon jet, which is partly built in Britain. India is looking to buy 126 fighter jets and had identified the French Rafale as its preferred choice. Yet repeated delays on signing the deal have left Britain hopeful that India may yet opt to buy the Typhoon.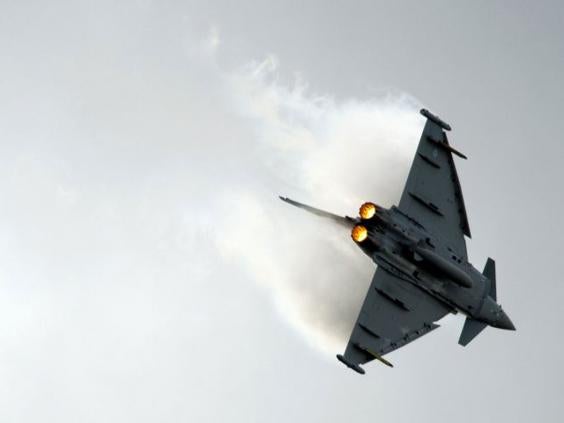 Asked whether it was morally appropriate to be pushing arms deals to a nation with widespread social challenges while citing the inspiration of Gandhi, Mr Hague said Britain followed strict rules relating to weapons sales.
He said every nation had the right to defend itself. "There is no moral conflict over this."
Mr Osborne, who also announced plans for a £1 billion credit-line for projects in India involving UK companies, claimed it was fitting the statue of Gandhi should be placed at Westminster. "He is a figure of inspiration, not just in Britain and India, but around the world," he said.
Yet many have questioned the plans, including Gandhi's great grandson, Tushar Gandhi.
"It's a nice way to apply a soothing balm to their consciences, to raise a statute," said Mr Gandhi, a social activist who said he hoped some people might be inspired by Gandhi's message of non-violence when they saw the statue. "I have seen such false worship for 60 years, so I have stopped feeling queasy."
India is the world's largest importer of arms, accounting for 14 per cent of total sales. It has increased imports by more than 100 per cent over the last five years. Its purchases far exceed those of China and Pakistan, which are the second and third largest importers of arms, according to data collated by the Stockholm International Peace Research Institute
Ann Feltham of the Campaign Against the Arms Trade, said that there was a clear contradiction between the UK selling arms to India and promoting the values of Gandhi.
"Gandhi would undoubtedly have advocated restraint on all military sales to India," she said. "He would not have promoted sales to India, nor have armed what the Chancellor has described as its "very difficult" neighbours, presumably China and Pakistan."
Reuse content