Mo Farah completed a spectacular 'double double' after he clinched Gold in the 5,000m at the World Athletics Championships in Moscow to back up his 10,000m success last week.
The British long-distance runner, who completed the same result in last year's London Olympics, ran a near perfect race to add the shorter distance format to his lengthening roll of honour, and become just the second man in history to hold both the Olympic and World Championship Gold's at 5,000m and 10,000m after Ethiopian great Kenenisa Bekele.
He won in 13 minutes 26.98 seconds, crossing the line ahead of Ethiopia's Hagos Gebrhiwet and Kenya's Isaiah Kiplangat Koech.
His last lap was timed at a typically blistering 53.51s.
Farah started his success on the world stage with a Silver medal back in the 2011 World Athletics Championships in the 10,000m but his maiden Gold medal came just a week later in the 5,000m, and he hasn't looked back since having dominated the long-distance track scene for the last two years.
Farah held off the challenge from Ibrahim Jeilan of Ethiopia – the man who beat him back in 2011 – to secure Gold last Saturday.
And both he and training partner Galen Rupp, who took Silver in the 10,000m behind Farah in the Olympic Stadium last year, headed to the front early on before easing back into the pack as the two Kenyans Koech and Thomas Longosiwa attempted to stretch the field in an effort to break Farah.
At the halfway stage, the double-Olympic champion made his way to the front once again, but this time without Rupp as he started to assert his dominance over his closest rivals.
With two laps to go, Farah quickened the pace in an attempt to string out the field, but the Kenyans refused to drop back and left a 400m shootout for the Gold medal.
Known for his incredible sprint finishes, Farah was going and going, but still they refused to go away along with Gebrhiwet, and with just 50m the race was still up for grabs.
But Farah, as he has shown time and time again, proved to have too much for his competitors and held on to solidify his place at the top of the long-distance running world.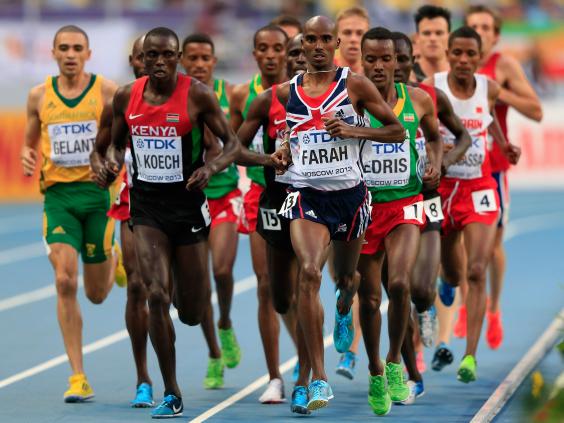 Farah told BBC2 immediately after the race: "It's amazing that Brendan and the team are saying great things about me.
"It's something I've worked so hard for and all I was thinking about was my kids and how much time I have been away from them.
"And all the hard work I have put in so I wasn't going to let that go.
"It's very difficult. They (his twin baby daughters) are growing so fast and I haven't been around for the last four or five months.
"They don't really recognise me so I'm looking forward to spending time with them."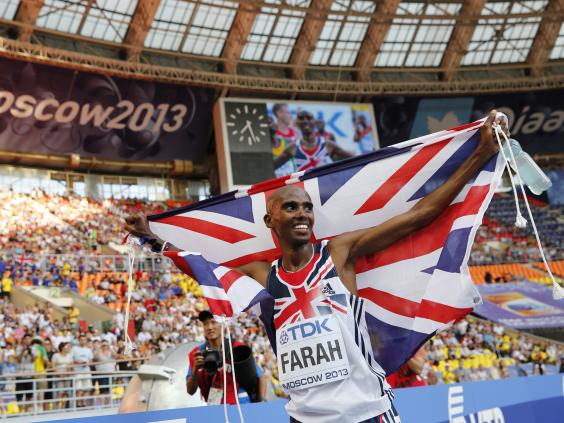 Reuse content