Students: start thinking about your future now. i, the concise, quality newspaper, is on the look-out for self-motivated, energetic, and organised iStudents across selected UK university campuses (see below for full list of universities).
This is your chance to come and work for an innovative national newspaper and create excitement and awareness about our brand across your campus and among your fellow students.
We want you to be our eyes and ears on campus, managing a range of promotional tasks, as well as coordinating events and helping to generate student content for the Indy Students website and the i newspaper.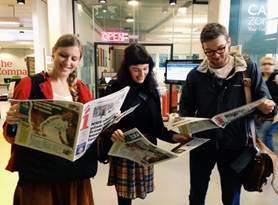 You will have the support and guidance of our regional sales and marketing managers and you will report in to our marketing executive.
This is a truly exciting opportunity for undergraduates interested in a career in newspapers, who are keen to start accruing their experience now.
We are looking for second-year undergraduates who are enthusiastic and self-starting individuals with a passion for our brand and the world of newspapers and journalism.
You must have good contacts at your university, have your ear to the ground, be in-the-know as to what's coming up, and be great at networking. An interest in the arts and music would be an advantage. You will need to have strong writing skills and be well-organised, balancing your work schedule with your academic commitments. Also, this is a paid-for role.
What are the criteria?
Applicants should:
Be second year undergraduates, looking to pursue a career in media, marketing, or newspapers

Have an interest in music and the arts

Be skilled in writing and be able to provide evidence of published work i.e. university newspaper

Be able to work during term-time

Have access to a computer with high-speed Internet access

Have a good Twitter presence

Be eligible to work in the UK
What are the benefits of being an iStudent?
The benefits of being an iStudent are:
Chance to work for an award-winning national newspaper

Gain invaluable experience in marketing and event management

The chance to have your work published in the i newspaper or on Indy Students

Build contacts and wider networks on campus

Free i subscription

This is a paid-for role

Possible incentives, including festival tickets
There is also the chance for iStudents to gain work experience with the editorial team during vacations (based on iStudents performance), helping out on both the print and online desks.
How to apply
Please email your CV along with a feature, no longer than 250 words, about something you feel is current and topical right now to istudents@independent.co.uk.
Please include your name and your university in the subject heading.
Where are we recruiting?
Birmingham City University

Bournemouth University

Glasgow Caledonian University

Kings College London

Kingston University

Newcastle University

Plymouth University

Queen Mary

Royal Holloway

Sheffield Hallam University

Teesside University

The University of Aberdeen

The University of Glasgow

University of Birmingham

University of Cardiff

University of East Anglia

University of Edinburgh

University of Exeter

University of Kent

University of Leeds

University of Liverpool

University of Manchester

University of Nottingham

University of Southampton

University of Sunderland

University of Sussex

University of Warwick

University of Westminster

UWE Bristol
Reuse content