Losing weight can be a minefield with conflicting advice and fad diets coming from every direction.
However, the weight-loss process may have just got a lot easier thanks to a new invention by the US government.
The National Institute of Health, an off shoot of the US Department of Health, has revealed a new calculator to guide those on a health kick.
The organisation has released a free Body Weight Planner which is believed to be one of the most scientifically precise yet. It uses a mathematical model informed by the latest research on weight loss in order to give users a realistic idea of how much they can lose and what they have to do to ensure the weight falls off.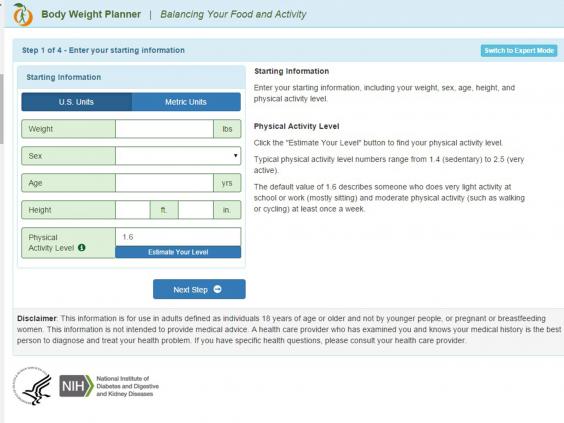 Users enter their current weight, their goal weight and the date by which they wish to lose it. They also give details of additional factors such as age, height and physical activity level.
It then calculates precisely how many calories you can have per day in order to achieve your weight-loss goal.
Kevin Hall PHD, a senior investigator at the National Institute of Diabetes and Digestive and Kidney Diseases, who created the tool, said: "We originally intended the Body Weight Planner as a research tool, but so many people wanted to use it for their own weight management that we knew we needed to adapt it with more information about how to achieve a healthy lifestyle."
More than two-thirds of American adults are either overweight or obese, a total of 78.6 million.
The UK has the highest obesity levels in Europe. According to the NHS, obesity levels have more than trebled in the last 30 years and more than half of the population could be obese by 2050.
Reuse content